Smarter retail logistics with self-driving robot retrieval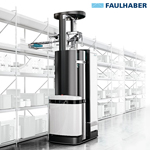 Small motors and motion controllers from FAULHABER are what make the TORU picker robot so versatile. With an eye on the relentlessly growing sector of online retail, logistics and material-handling companies are eager for ways to increase efficiency, particularly through automation and digitalization. For the handling operations inside the self-driving logistics robot, TORU relies on FAULHABER motion systems with integrated motion control.
Read the full article.
---
Explosion-proof DC brush motors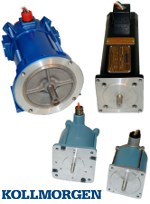 The Kollmorgen EP series of explosion-proof, SCR-rated, permanent magnet direct current (PMDC) brush motors meets the requirements of Division 1 and 2, Class I (Group C, D), Class II (Groups E, F), and Class III environments. The EP motors are equipped with standard NEMA 56C face mounting with removable base and Class H insulation. They are UL recognized and meet CSA standards. Available in several voltages (12, 24, 90, 180 VDC) and power ranges (1/4 to 3/4 HP) operating at 1,750 rpm.
Learn more.
---
Budget-friendly SmartMotor servos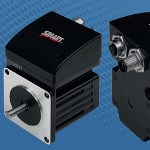 Moog Animatics recently introduced the Class 5 S-Style SmartMotor servos in frame sizes NEMA 23 and 34 (the SM23165S and SM34165S, respectively). This fully featured and integrated motor line is built around an IP65-sealed, value-added, budget-friendly design that combines some of the best features from the Class 5 D-style and M-style motors, including: field-proven, D-style components; robust, industry-standard M connectors; a compact D-style footprint; and DE power as standard. This line is easily programmed and available with optional brake (ideal for vertical applications) and high-torque versions. These motors have full Class 5 controls, which means they can handle the full complement of complex Class 5 operations such as gearing and camming, stand-alone, multi-axis coordinated motion, and more.
Learn more.
---
Introducing the long-reach C12XL 6-axis robot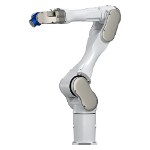 Packed with next-gen technology, the C12XL 6-Axis robot with SlimLine design is the newest addition to Epson's popular C-Series. Featuring a 1,400-mm reach and up to 12-kg payload, the C12XL is ideal for a variety of applications including packaging, load/unload, material handling, and more. Powered by proprietary Epson gyro sensors, the powerful servo system allows for low residual vibration and minimizes overshoot with smooth end-of-arm motion.
Learn more.
---
Direct drive linear motor with integrated encoder and temperature sensor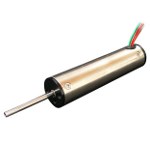 The new, patented SDLM-019-070-01-01 direct drive linear motor with integrated position and temperature sensors is the latest addition to the series of zero-backlash, zero-cogging, high-acceleration, high-speed, high-resolution, long-life motors from Moticont. Also known as an electric cylinder, this compact direct drive linear motor is just 0.75 in. (19.1 mm) in diameter and 2.75 in. (69.9 mm) long. Protected inside the motor housing, the linear optical quadrature encoder is directly connected to the shaft for the greatest possible accuracy. Highest throughputs are achieved by this motor when operating at peak efficiency, monitoring the data from the internal temperature sensor.
Learn more.
---
50,000 lb of force: Tolomatic expands hydraulic-class electric actuator range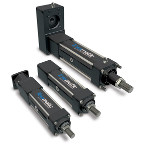 Tolomatic's expanded extreme-force electric actuator family now includes the RSX128 actuator, rated up to 50,000 lb of force (222.4 kN). Ideal for replacing hydraulic cylinders and designed for 100 percent duty cycle, the RSX actuator features Tolomatic's precision-ground planetary roller screws for long, consistent operating life in challenging environments. Applications include assembly, metal fabrication (pressing, punching, clamping), automotive manufacturing, timber processing, motion simulators, and more.
Learn more.
---
Depend on FAULHABER drives for critical medical applications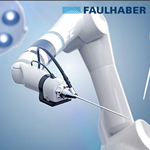 Surgical robotics systems offer an overwhelming advantage over traditional methods: improved precision and speed, faster patient healing, and a reduced margin of error. For minimally invasive procedures requiring this level of precision, performance and quality, the engineers of surgical robotics systems rely on FAULHABER brushless dc motors.
Learn more.
---
Brakes for automated guided vehicles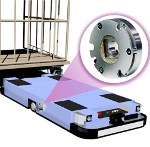 Today's latest automated guided vehicles (AGVs) require highly responsive braking and holding power while minimizing battery usage. The Miki Pulley BXR-LE brake is a power-off engaged brake that will hold the AGV in place when not in use. When the AGV must navigate the production floor, the brake is energized, which disengages the rotor disc and allows free rotation of the AGV drive wheels. The BXR-LE brake uses 24 VDC for a split second to overcome compression spring inertia to open the brake, then consumes only 7 VDC by utilizing the BEM power control module. This saves battery power and minimizes the number of battery recharging operations needed to keep the AGV in continuous operation.
Learn more.
---
Tolomatic develops open-source, low-cost ventilator actuation prototypes for COVID-19 patients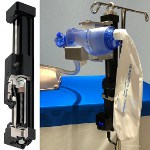 Tolomatic has applied its linear motion expertise to develop prototypes of a new type of ventilator that uses an electric linear actuator to automate a non-invasive, positive-pressure resuscitator known as an Ambu bag. The company is looking for partners to develop this equipment to help fight COVID-19.
Learn more and see how the Tolomatic designs work.
---
New motion platform offers four degrees of freedom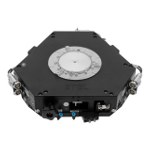 The new Z3TM from ETEL is a compact motion platform that provides a surface with four degrees of freedom into a stacked architecture and is an alternative to piezoelectric solutions. It was designed in response to the needs of advanced wafer positioning in the semiconductor industry, but can also be used in a variety of industries such as medical, pharmaceutical, and general inspection. The Z3TM platform uses a combination of three flexures and a rotary module to provide rotary, Z-axis, and two oblique axis motions to a plate that can be anchored to a supporting table for multiaxial motion solutions.
Learn more.
---
High-force linear actuator makes muscle car simulation possible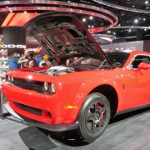 Tolomatic linear actuators are used worldwide in a myriad of industries for automation tasks like conveying, sorting, and filling, but they are also used in demanding, non-industrial applications such as simulators for flight, driving, testing, and entertainment. Learn how electric high-force linear actuators helped simulate the experience of popping a wheelie in a true muscle car.
Read this informative Tolomatic blog post.
---
New low-cost high-speed robot from DENSO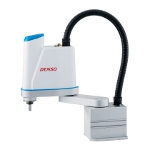 DENSO Robotics developed the entry-level LPH to meet the demand for precision robots needed for light-duty manufacturing applications. Equipment manufacturers who are new to automation, companies reinventing their product lines, and entrepreneurs launching new devices are among those who make up the growing market for high-quality robots that don't break the bank. Compact and lightweight, the LPH is a 4-axis selective compliance assembly robot arm (SCARA) built to handle a maximum payload of no more than 6.6 lb (3 kg) with a maximum arm reach of 1.3 ft (400 mm). When operated routinely at the highest rated payload, the LPH has a life cycle of up to five years. For lighter loads, the LPH has a longer life cycle.
Learn more.
---
High-power-density outer-rotor brushless motor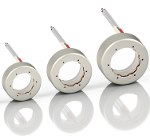 Allied Motion Technologies has released the new KinetiMax High Power Density (HPD) motor series. This outer-rotor brushless motor is designed for high-torque, low-cogging applications like robotics, AGVs, and handheld power tools. With an efficiency rating of over 85 percent and a high power-to-weight ratio, it's an ideal motor choice for any application where weight and battery life are critical. They are available in six frame sizes, with three stack lengths per size and three windings per stack length.
Learn more.
---
Maximize automation efforts for machine tending applications with OnRobot's 3FG15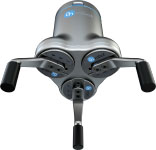 See how the three-finger gripper is ideal for gripping a wide range of cylindrical objects in machine-tending applications such as CNC lathe machines. Its design automatically centers workpieces, resulting in fast deployment with a strong, stable grip and precise placement. The 3FG15 offers seamless integration with the robots of your choice.
Learn more and see it in action.
---
Cart, adapter, top module for new MiR250 Mobile Robot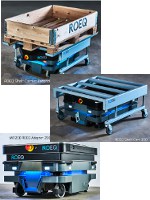 Denmark-based robotics company ROEQ has just launched three new products simultaneously with the reveal of Mobile Industrial Robots' new MiR250 mobile robot. The Shelf-Cart 300 is a vehicle for carrying up to 300 kg (661 lb) that the MiR250 can pick up and deliver anywhere in the workplace, even without a docking station. The new Adapter Module 250 enables the use of three of the existing ROEQ top modules on the new MiR250 robot. The Shelf Carrier 300 Extended is an extended top module specifically designed for the MiR250 robot, making it long enough to carry Euro pallets without compromising safety.
Learn more about these and other ROEQ products.
---
Advanced CFD modeling and more: Argonne and Raytheon Technologies collaborating to accelerate aircraft engine design
By Jared Sagoff, Argonne National Lab
As fuel is burned in aircraft engines, temperatures reach extremely high levels, necessitating the use of thermal management strategies, such as effusion or film cooling, to prevent damage to aircraft components. At the thin boundary layers near the walls of an aircraft turbine and combustor, the interaction between cooling air and hot gases creates a variable mixing environment that scientists need to study in order to ensure better design and durability of engine components.
Thanks to a new Cooperative Research and Development Agreement (CRADA) between the U.S. Department of Energy's (DOE) Argonne National Laboratory and the Raytheon Technologies Research Center, researchers are using high-performance computing and machine learning algorithms to do this. These tools will dramatically improve and reduce the computational expense of fluid dynamics models that look at coolant flow mixing and heat transfer in near-wall environments.
"The overarching goal of this project is geared towards optimizing the combustor and turbine cooling designs for modern engines," said Argonne research scientist Pinaki Pal, who leads the project with co-investigators Prithwish Kundu and postdoctoral appointee Opeoluwa Owoyele.
"Typically, aircraft engines operate at very high pressures with small-sized engine cores, and this tends to bring a lot of hot gases closer to the walls and increase the heat loads on combustor liner and turbine blades. This then requires a focus on thermal management," said Michael Joly, principal investigator and research engineer at the Raytheon Technologies Research Center. "Design improvements to reduce the cooling air flow requirements can increase the engine's thermal efficiency."
Researchers attempting to design aircraft engines need to consider several factors when it comes to cooling. For example, to optimize these cooling designs, they need to take into account how the cooling air is injected by selecting particular angles and the arrangement of cooling holes.
Until now, scientists only had two general classes of models for looking at these flow questions. They could opt to use highly resolved computational fluid dynamics (CFD) simulations, which can achieve great accuracy but require tremendous computational expense (particularly in the boundary regions near the walls), or they could opt for under-resolved simulations with models applied to capture near-wall flow dynamics, which produce a somewhat less-accurate solution more quickly.
"The problem with the simulations that are computationally cheaper is that the wall models are not able to capture the rich flow physics prevalent in practical configurations," Pal said. "For these geometries, where you have effects due to pressure gradients and curvature, these complex phenomena are not necessarily picked up by current models."
By leveraging the power of advanced CFD modeling, high-performance computing, and deep learning, Pal and his colleagues along with industry partners from Raytheon Technologies intend to create a harmonious merger of both approaches.
First, they will perform wall-resolved simulations of a number of engine configurations using a massively parallel CFD code called Nek5000, which has been recently enhanced for engine flow and combustion modeling. Researchers will use Argonne supercomputing resources, including the Theta system at the Argonne Leadership Computing Facility, a DOE Office of Science User Facility.
Then, they will take the high-fidelity data generated from these simulations to train faster and less computationally expensive deep-learning-based spatial emulators to capture near-wall heat transfer. The surrogate models will be able to realize many of the accuracy benefits of a high-fidelity simulation while performing computations at a fraction of its cost, according to Kundu.
"This is all about trying to bridge a gap," Pal said. "We are creating physics-informed deep-learning models that can be trained on a wide range of initial conditions to solve problems much more efficiently without sacrificing predictive capability."
By ensuring that physics is embedded in these models, researchers can expect to transfer the learned model to conditions that are outside the training régime, Owoyele explained. "In other words, you're making the model able to generalize better," he said.
The CRADA is part of the High Performance Computing for Energy Innovation (HPC4EI) program funded by the DOE Energy Efficiency and Renewable Energy's Advanced Manufacturing Office.
Published June 2020
Rate this article