Thermal cameras for elevated skin-temp screening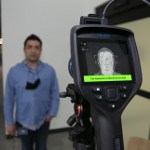 FLIR Systems has just announced the availability of their modified thermal cameras for fast and safe non-contact elevated skin-temperature screening. The FLIR EST thermal screening solutions provide front-line screening at building entries and in high-traffic areas to improve safety and help curb the spread of COVID-19. The EST series cameras are designed to simplify the screening process, reducing the burden on screening operators and adhering to recommended social distancing guidelines. Handheld, fixed-mounted, and custom integrated solutions available.
Learn more.
---
BAE Systems delivers radiation-hardened radios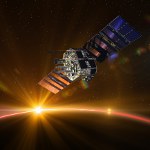 BAE Systems has delivered its first shipment of next-gen radiation-hardened software defined radios (SDR) enabled by its RAD5545 computer to Lockheed Martin Space. The radios provide spacecraft with the on-board signals-processing capacity needed to support future space missions -- from planetary exploration to communications, national security, surveillance, and weather missions. These radios can be easily customized. The system leverages modular and standard building blocks including the RAD5545 single board computer (SBC), a SpaceVPX chassis and backplane electrical connectors, Serial RapidIO and Spacewire interfaces, and a fully supported expansion port for a custom interface card.
Learn more about BAE Systems' radiation-hardened electronics.
---
Solenoid valves for spaceflight applications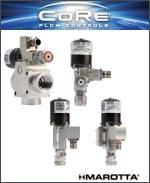 Marotta Controls has introduced four new solenoid valves to its CoRe Flow Controls series -- one of the only valve catalogs available for spaceflight. These new products support the commercial space industry's growing use of more efficient in-vehicle system designs and propellants that deliver better performance and greater ROI. CoRe pneumatic valves operate with 1/4-in. to 3/4-in. lines; handle fluids such as helium, methane, nitrogen, and oxygen; and are qualified to the Air Force Space Command's (AFSC) SMC-S-016 standard. These valves include Marotta's customer Qualification-by-Similarity (Qual-by-Sim) support, designed to get customers into orbit faster and with less upfront investment.
Learn more.
---
World's lowest-power PDM microphone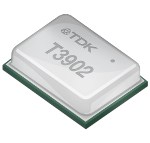 TDK has just introduced InvenSense T3902, the world's lowest-power Pulse Density Modulation (PDM) microphone for mobile, IoT, and other consumer devices. The T3902 is an ultra-low-power, low-noise, multi-mode bottom-port MEMS microphone that enhances voice-based services that are now commonplace in many devices. The microphone's AlwaysOn functionality in low-power mode enables immediate accessibility upon wake command. This microphone enables OEM partners to differentiate their product offerings by improving the consumer experience with reduced power consumption.
Learn more.
---
Image sensor for automotive viewing cameras boasts top LED flicker-mitigation performance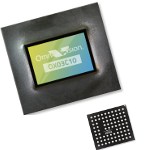 OmniVision Technologies recently announced the OX03C10 ASIL-C automotive image sensor -- the world's first for viewing applications that combines a large 3.0-micron pixel size with a high dynamic range (HDR) of 140dB and the best LED flicker-mitigation (LFM) performance for viewing applications with minimized motion artifacts. This is also the first viewing image sensor with HDR and LFM that can deliver 1920 x 1280p resolution at the highest rate of 60 fps, enabling greater design flexibility and faster camera-view switching for drivers.
Learn more.
---
Tiniest load cell yet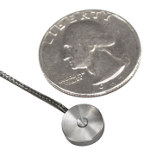 The LLB130 Miniature Load Button from FUTEK has a capacity range from 1,000 g to 50 lb and is RoHS compliant. This mini load cell features low deflection and fast response time, and it is fully internally temperature compensated. These units achieve great accuracy and stiffness. Can be modified or customized to meet your requirements.
Learn more.
---
Retrofit legacy devices for wireless, off-premise monitoring and control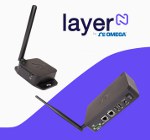 Layer N from Omega is a simple, smart, and flexible way to monitor a wide range of industrial equipment such as freezers, ovens, and furnaces without requiring users to be on-premise. Temperature, humidity, light, and barometric pressure readings are captured, stored, processed, and transported in real time to the cloud via wireless smart sensors and gateways, allowing reports to be accessed from anywhere at any time. Using Message Queuing Telemetry Transport, one of the most commonly applied protocols for IoT data transport, Layer N products offer a cost-effective and simple way to retrofit and integrate legacy devices into the digital world.
Learn more.
---
New programmable angle sensors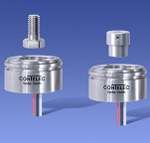 Novotechnik U.S. has just introduced the Vert-X 37E Series of programmable touchless rotary sensors that use a magnetic pick-up secured to the rotating object, so there is no direct mechanical linkage between the shaft and the measuring system -- and therefore no wear. The hermetically sealed Vert-X 37E Series can be programmed by customers or at the factory, so customers can order angle sensors optimized for their specific application. These sensors can help achieve time and cost savings by eliminating the need for other components to specify the angle end points, choose an intermediate plateau, sense of rotation function, CW or CCW, or create V-output.
Learn more.
---
Guard against Li-ion battery overcurrent and overcharging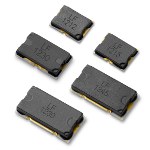 The ITV Series from Littelfuse is a three-terminal, surface-mountable Li-ion battery protector designed to guard against the damage caused by both overcurrent and overcharging. It's a good solution for protecting power tools, robotic appliances, e-bikes and e-scooters, uninterruptible power supplies (UPS), emergency radios, and more. The innovative design provides fast response and reliable performance to interrupt the charging or discharging circuit before the battery pack becomes overcharged or overheated. Five packages available with current ratings from 12 A to 45 A.
Learn more.
---
Remote access VPN router for machines and systems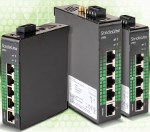 Automation-Direct StrideLinx VPN routers provide an outgoing, secure connection from remote machines or systems to the StrideLinx platform. Routers are easily configured and have a built-in firewall to isolate company and control networks. These easy-to-use, IT-friendly industrial VPN routers minimize costly field support by providing remote programming, monitoring, and troubleshooting. Multiple router connection options are available including wired (gigabit), WiFi, and AT&T or T-Mobile 4G cellular where Internet connections are not readily available.
Learn more.
---
Electrical components for medical equipment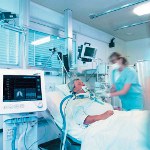 SCHURTER's high-performance AC connectors, circuit protection, switches, and EMC products safely and reliably optimize performance for critically needed COVID-19 medical equipment including ventilators, respirators, diagnostic, therapeutic, and medical laboratory equipment. Examples include the compact and versatile DG12 series power entry modules that integrate an IEC inlet, EMC filter, and rocker-style circuit breaker with optional IP67 protection, making them suitable for use in environments exposed to splashing water. The TA35 series of miniature circuit breakers, filtered Power Entry Modules, and metal line switches resistant to harsh cleaning processes are other offerings. Many more solutions available.
Learn more.
---
High-speed camera for manufacturing analysis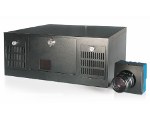 High-speed video capture can help engineers troubleshoot manufacturing processes and researchers analyze fast-acting events, but traditional large-format, high-speed cameras can quickly run out of storage. Mikrotron has solved this problem with its MotionBLITZ CVR recording system that combines an EoSens 4MP CoaXPress color camera remotely connected to an industrial-grade DVR. The MotionBLITZ CVR is capable of recording video sequences of up to 12 sec at 560 fps and 2,336 x 1,728-pixel resolution directly into RAM, then quickly downloaded to the 2-TB RAID drive. It also can be configured to record up to 35,000 fps in smaller image formats. The detachable camera easily fits into tight spaces.
Learn more.
---
Cabinet coolers with digital control resist heat and corrosion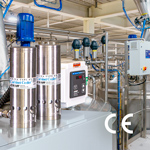 EXAIR's new Dual 316 Stainless Steel Cabinet Cooler Systems with ETC (Electronic Temperature Control) are a low-cost and reliable way to keep electrical enclosures cool with 20F (-7C) air while maintaining the NEMA 4X rating of the enclosure and removing the heat that could adversely affect the internal components. The wear, corrosion, and oxidation resistance of Type 316 stainless steel assures long life and maintenance-free operation within food, medical, pharmaceutical, chemical, and other harsh environments. Cooling capacities up to 5,600 Btu/hr are ideal for larger enclosures and heat loads.
Learn more.
---
New ultra-bright miniature bayonet-based LED bulbs
LEDtronics' miniature solid-state bulbs are used for critical applications in industries such as defense and aerospace, transportation, and power plants. The BSD-1118/1318/1319 series directly replaces similar Ba9s bayonet-base incandescent lamps. These LEDs offer up to 90 percent energy savings, higher intensity, more even lighting, and reduced heat and relamping costs in critical status-indication applications such as indicator lights for instrumentation, panel-mount pilot lights, accent lighting, automotive indicators, and more.
Learn more.
---
New low-noise, solid-state relays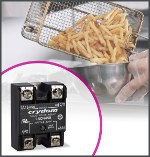 Instead of using moving components as mechanical power relays do, solid-state relays (SSRs) from Sensata Technologies rely on silicon-controlled rectifier (SCR) technology that allows SSRs to provide quieter operation (no clicking), longer life, and more precise switching control. The new LN series SSRs from Sensata's Crydom brand conform with IEC 60947-4-3 Environment B and CISPR 11 standards for low-voltage domestic, commercial, and light industrial locations and installations, and are compliant with C-UL-US and TUV certifications. The LN Series of panel-mounted solid-state relays offers reliable back-to-back SCR switching up to 75 A at 528 VAC.
Learn more.
Read the Sensata application note: SSRs for Professional Food Equipment.
---
5G network slicing technology poised to transform Army networks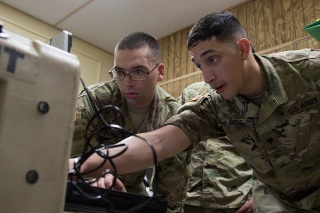 New Mexico Guardsmen check the link for the satellite they had just set up on the roof of the military police headquarters in Vieques, Puerto Rico on Dec. 1, 2017. The C5ISR Center is exploring how network slicing technology can be used to help transform the tactical network from a rigid and slow-to-adapt one into a high-performance and flexible network that can be configured on demand. [Photo Credit: Spc. Samuel Keenan]
By Jasmyne Douglas, U.S. Army CCDC
The U.S. Army will use next-generation cellular network technology to improve the versatility and flexibility of tactical networks and gain an advantage during multi-domain operations.
The Combat Capabilities Development Command's (CCDC) Command, Control, Communications, Computers, Cyber, Intelligence, Surveillance and Reconnaissance (C5ISR) Center -- part of Army Futures Command -- is studying network slicing, a 5G technology that enables the creation of multiple virtual networks, known as "slices," over a shared physical network.
Network slicing uses software to orchestrate and customize the capacity, latency, and cybersecurity of each slice to support mission-specific needs.
"This technology will give our Army networks almost instantaneous adaptability," said Michael Monteleone, the C5ISR Center's director of Space and Terrestrial Communications. "It is going to be a tremendous upgrade to how we're currently operating our networks."
The Army's current networks consist of many stove-piped transport networks that were developed for specific purposes, Monteleone said. They lack the scale, throughput, speed, mobility, and availability needed to connect multiple devices on the battlefield into a seamless network.
"Dominance against near peer threats in future operating environments requires a highly agile and secure network connecting every Soldier, sensor, weapon, device, autonomous platform, and manned vehicle," said Dr. Akber Qureshi, chief engineer for the C5ISR Center's Tactical Communications Division. "Network slicing will transform the tactical network from a rigid and slow-to-adapt network into a high-performance and flexible network that can be configured on demand."
The Army will leverage commercial investments in the technologies that enable network slicing: software-defined networking, network function virtualization, and network programmability.
As those technologies mature, the C5ISR Center will help to incorporate them in Army science and technology programs and deliver tactical capabilities as early as fiscal year 2023.
"We are addressing military-specific requirements of security, infrastructure mobility, and resilience in congested and contested operating conditions," said Qureshi. "Leveraging commercial 5G efforts and surgically investing in gap technologies will allow for the realization of a more capable, flexible, intelligent, and tactical network."
Ultimately, network slicing will be used to support autonomous vehicles, time-critical sensor-to-shooter connectivity, heads-up displays, high-resolution video feeds, and intelligence data retrieval -- all on the same network.
"We have a need and desire to partner with industry to explore what they are doing and how we can use what is normally created for a commercial use and repurpose it for the military," Monteleone said.
He encourages industry representatives with an interest in supporting the Army's research to request a Technical Interchange Meeting via the organization's website at https://c5isr.ccdc.army.mil/opportunities_and_services/business_opportunities/.
Published July 2020
Rate this article