Automation: ECONOmaster drilling units help build trailers
On a recent project for Mid-State Engineering, Suhner custom ECONOmaster drill units were used to automatically drill holes into fiberglass panels for a truck trailer body. The quill-feed drill unit has selectable drill heads that can be used in combination or individually. Using servo drive motors, the machine auto indexes down a table to ensure precision hole locations across a 60-ft span.
Read the full article.
---
Great Resources: Unit Conversion Tool

Convert popular spring units such as force or retaining ring thrust capacities into metric units with Smalley's engineering tools. Convert units such as mass and weight, angular measurements, velocities, temperatures, pressures and densities, and more.
Click here to learn more. You should bookmark this one.
---
Assembly pins help build in safety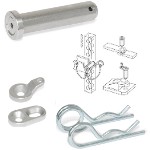 Assembly pins are not new, but JW Winco has been able to make them even better by enhancing fully developed parts according to the application and combining them with other standard securing parts. See what's new, including assembly pins with different end washer forms, spring cotter pins with specific wire-gauge sizing, and more.
Read the full article.
---
Reduce component failure with the HELI-CAL Flexure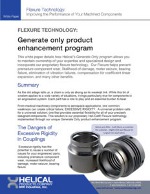 Discover how to eliminate vibrating failure, prevent premature component wear, prevent motor seizure, and stop bearing failure by incorporating Helical Products' flexure technology into your machinery components. With the Generate Only program, companies can maintain ownership of their specialized design while incorporating Helical's proprietary flexure technology.
Learn more in this informative white paper.
---
New cable reel with worm guide increases safety in assembly areas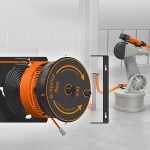 igus has just introduced a clever cable reel that can guide cables and hoses for the transmission of energy, media, and data without interruption. The e-spool flex increases safety at manual workstations and operating panels. For quick installation of the cable reel, the developers opted for a worm guide. The cable is inserted in a few simple steps, and the e-spool is ready for use. No complicated slip rings are required, so bus cables and hoses for air and liquids can also be guided without interruption. Both manual and automatic return options available. Extension lengths to 15 m possible.
Learn more.
---
Self-lubricating polymers improve surf machines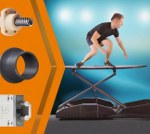 A company in Brazil that designs fitness training equipment that simulates the movements of a surfboard reduced costs by 70 percent by switching to bearings manufactured by igus, the Germany-based motion plastics expert. The bearings also cut down on maintenance significantly.
Read the full article.
---
CNC machining for prototypes or low-volume parts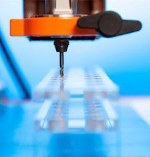 For plastic parts, CNC machining allows you to test the form, fit, and function of prototypes prior to tooling up for the injection molded production parts. For both plastic and metal, CNC machining provides fast turnaround and low cost for small quantities of parts. Learn all about ICOMold's CNC machining capabilities, which typically include tolerances to within +/- 0.2 to 0.3 mm for plastics and +/- 0.05 mm for metals. Parts that are CNC machined can also exhibit better structural integrity than those that are 3D printed, due to the nature of the manufacturing process. Secondary processes also available from ICOMold.
Learn more.
---
Reverse engineering software with never-before-seen features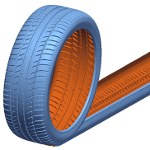 3D Systems' Geomagic Design X 2020 combines robust 3D scan processing and complete CAD design functionality to enable faster, more accurate, and reliable reverse engineering. Using the software's newest features, engineers will benefit from streamlined modeling workflows as well as expanded modeling pathways for complex, revolved parts. The newest Geomagic Design X release includes an Unroll/Reroll function that enables an engineer to unroll the mesh to automatically extract a 2D sketch, make the modifications needed, and then re-roll the sketch for additional engineering. Wait, what? Wow. The software also includes a new Selective Surfacing feature that combines very fast organic surfacing with high-precision feature modeling methods.
Learn more.
---
Great Resources: One guide for all your retaining ring questions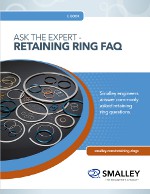 Finding the best possible solution for your design challenge is no easy task. Smalley engineers have created a brand new Ask the Expert - Retaining Ring FAQ E-book that answers all of your retaining questions in one simple guide.
Get the guide today.
---
All about lead screws and how to apply them

Lead screws use the helix angle of the thread to convert rotary motion to linear motion. Learn all about their benefits, performance characteristics, design choices, life cycles, and more in this in-depth article from Thomson Industries.
Read the full article.
---
No Drip Spray Nozzles sanitize, clean, and cool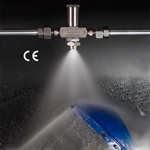 EXAIR's new 1/2 NPT No Drip External Mix Air Atomizing Spray Nozzles work in the same way the company's standard atomizing nozzles do, but have the added benefit of positively stopping liquid flow when compressed air is shut off. External Mix Air Atomizing Spray Nozzles have the highest flow rates and allow the air and liquid flow to be adjusted independently. They can be used on liquids above 300 centipoise. The patented No Drip design requires no additional air line to control the No Drip feature.
Learn more.
---
New from Ruland: Slit couplings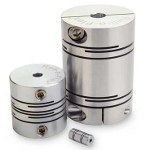 Reliance Precision Limited is now offering its slit couplings through Ruland's eCommerce platform and extensive worldwide distribution network. Slit couplings are zero-backlash and manufactured from a single piece of aluminum with intermittent slit cuts, allowing for high torque and torsional stiffness capabilities, low inertia, and long life. Reliance's design uses a proprietary slit pattern that has radiused as opposed to squared edges, reducing stresses that build up during misalignment conditions and torque loads. Equipment designers in industries such as packaging, scientific, semiconductor, solar, medical, and automation benefit from the wide range of sizes and performance characteristics offered by slit couplings.
Learn more.
---
Function-integrated machine frames from Rexroth include internal cable guide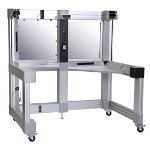 Bosch Rexroth's new function-integrated profiles (FIPs) include a completely internal cable guide that allows for the safe and space-saving laying of cables, data lines, and hoses. Thanks to the new profile junctions, they can even be laid through profile connectors. The FIP range comprises four profile cross-sections with a host of accessories to build on the modular system. The entire solution can be combined with the established Rexroth modular profile system and provides an unprecedented level of design flexibility.
Learn more.
---
Intelligent chain monitoring avoids downtimes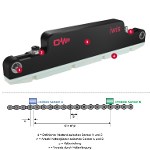 Developed in-house by iwis, the non-contact chain elongation monitoring system (CCM-S) continuously measures the wear elongation of chains during operation and gives maintenance staff a timely warning that a chain needs to be replaced. If chains stretch and wear as a result of temperature and load, or if chains running in parallel have different lengths, even a deviation of one percent from the nominal chain pitch can lead to problems in a machine. With CCM-S, users can continuously monitor the elongation of chain drives using sensors without having to compromise production because of interruptions. Can be used with simplex, duplex, and triplex chains.
Learn more.
---
Hood latch comes in new ultra-slim design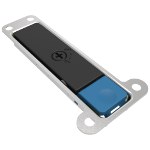 SOUTHCO has refreshed its successful line of hood latches to accommodate the space limitations of next-generation servers, data centers, and similar applications. The new and improved HH Hood Latch features a thin profile, maintaining robust performance with a form factor of just 8 mm. The redesigned latch features an easy-to-use pop-up handle for intuitive operation. This unit offers a dual-engagement hole-mounting design, allowing for convenient installation with pin allocation at either location.
Learn more.
---
Study says switching from aluminum to zinc alloys could improve longevity, sustainability of automotive parts
A new research effort reveals that switching from aluminum to zinc alloys in the production of automotive parts could greatly enhance their longevity and sustainability.
The study, conducted by Cranfield University's Sustainable Manufacturing Systems Center in England, compared three different alloys (Aluminum-A380, Magnesium-AZ91D, and Zinc-ZA8). Over recent years, aluminum alloys have been favored by the automotive manufacturing industry for their lightweight properties and lower cost.
The study, published in the International Journal of Sustainable Manufacturing, suggests that aluminum is frequently chosen ahead of other alloys because of a failure to fully factor in the sustainability of the end product into material considerations. When examining sustainability alongside traditional factors such as time, cost, and flexibility, Cranfield's research demonstrated that the zinc rather than the aluminum or magnesium alloys offered the better choice for automotive manufacturers.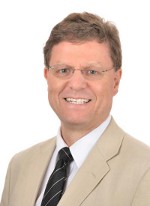 Professor Mark Jolly, Director of Manufacturing at Cranfield University. [Credit: Cranfield University]
The zinc alloy proved to be a more sustainable and higher-performing option, when considering measures such as the environmental impact caused by the extraction of the metal and the quality of the parts it produces. Despite the aluminum alloy being a lower-cost option, the study found that the zinc alloy also offered better value for money because the parts it creates are likely to have a much longer life than the other alloys.
Previous Cranfield research has demonstrated that the automotive industry's focus on increasingly lighter-weight cars to increase fuel efficiency, often through lightweight aluminum, may not actually be a more environmentally sustainable option.
"Aluminum has become the favored material of the automotive industry for its lightweight properties and comparatively low cost," said Professor Konstantinos Salonitis, Head of Sustainable Manufacturing Systems Center at Cranfield University. "However, our study, which looked in depth at sustainability, alongside traditional factors such as time, cost, and flexibilty, showed that actually a zinc alloy can be better value for money as well as being more sustainable."
Professor Mark Jolly, Director of Manufacturing at Cranfield University, added, "With the pressing climate crisis and consumers becoming ever more interested in the impact that the products they purchase have on the environment, manufacturers need to have a greater understanding of not just how they keep costs down but how they find the more sustainable option."
Source: Cranfield University
Published July 2020
Rate this article