250-mph Speedtail is fastest McLaren road car ever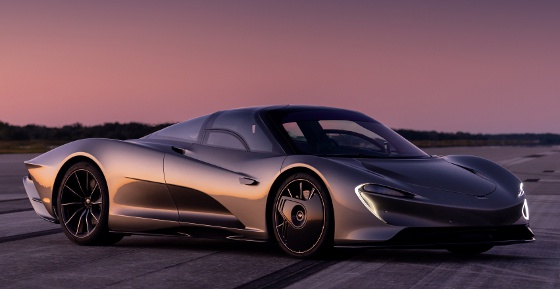 With a silhouette like something from a 1950s issue of Popular Mechanics, the new Speedtail is McLaren's fastest road car ever and its first Hyper-GT model. The 250-mph three-seater is way more than retro-futuristic chic, though. It provides a glimpse into the latest developments in lightweighting and hybrid-drive technology, featuring titanium woven into its carbon fiber, a Formula E-derived electric motor, and a special high-voltage battery design.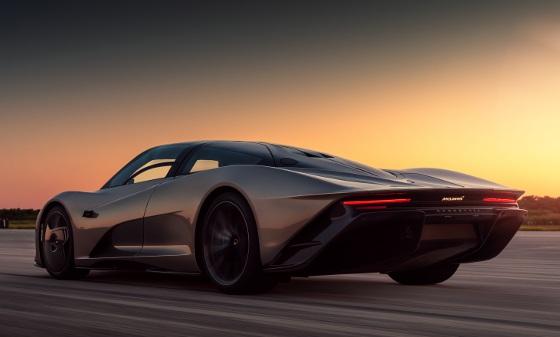 The rear mid-engine, rear-wheel-drive car is hand-assembled in Woking, Surrey, UK. It is the fourth vehicle in McLaren's Ultimate Series and is limited to 106 units. It is also the most powerful and most aerodynamically drag-efficient McLaren, and it proved its maximum-speed capabilities during special testing runs on the space shuttle landing runway at Kennedy Space Center in Florida last December. The almost 17-ft-long coupe goes from 0 to 186 mph in 13 sec.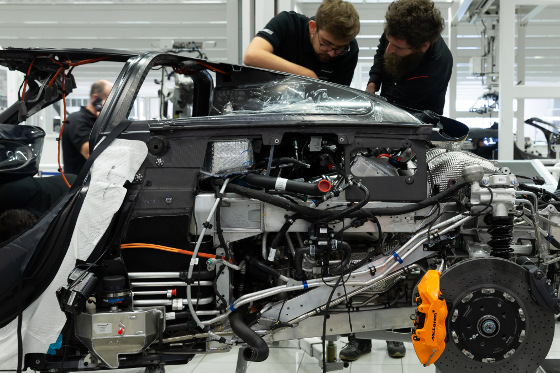 McLaren says the M840TQ powertrain is made up of a 4.0-liter twin-turbocharged V8 internal combustion engine and an electric drive unit. Together, they produce up to 1,055 bhp and maximum torque of 848 lb-ft. The V8 engine features technology that has evolved from McLaren's first hybrid hypercar, the McLaren P1. A new lightweight air-intake system, improved cylinder head cooling, and a revised piston design contribute 747 bhp and 590 lb-ft of "traditional" gas-powered output to the Speedtail.
The electric motor, which uses Formula E-derived tech, generates more than 308 bhp (230 kW). It gives the Speedtail the highest performance installation, including cooling and integration, of any electric motor currently in use on a production road car. Power delivery is 8.3 kW/kg, which McLaren says is twice the efficiency of an average sports car.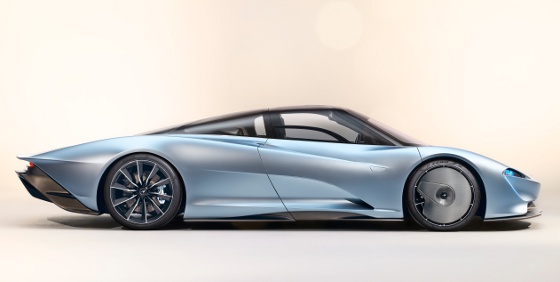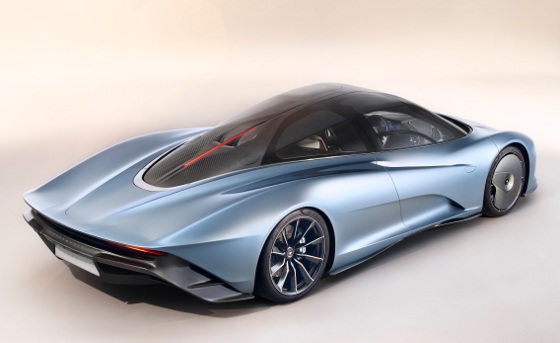 The Speedtail also features special motorsport-developed inverter and DC/DC converter technology integrated with the electric drive system. The system contains a high-power cylindrical cell arranged in a unique array. The extremely compact 1.647-kWh unit is at the leading edge of battery technology. McLaren says the power density of this battery is four times that of the unit in the original McLaren P1, providing 5.2 kW/kg and an output of 362 bhp (270 kW).
The battery cells, which are recharged when driven, are thermally controlled by a dielectrical cooling system and permanently immersed in a lightweight, electrically insulative oil that quickly transfers heat away from the cells. This system, the first of its kind in a production road car, is highly efficient and allows the cells to run harder and for longer.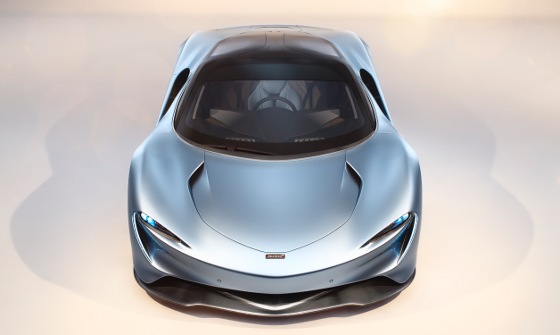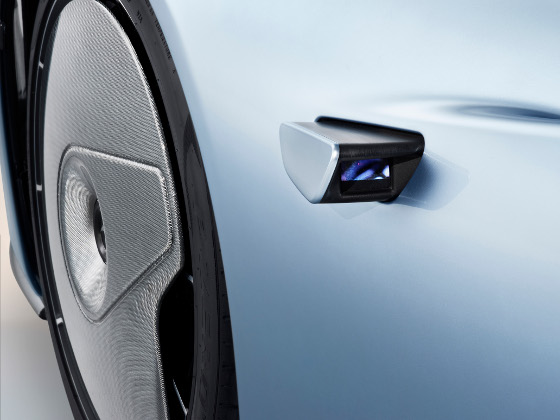 Outside, every body panel is carbon fiber and has been sculpted to reduce drag, Retractable digital rear-view cameras replace traditional door mirrors to further aid aerodynamic performance, while carbon fiber front-wheel static aero covers on its 20-in. wheels reduce air turbulence around the wheel arches. Speedtail has an aluminum active suspension and carbon ceramic brakes.
For the front splitter, diffuser, and side skirts, McLaren has develop a unique carbon fiber and titanium weave that it calls Titanium Deposition Carbon Fiber, where a micron-thin layer of titanium is fused directly onto the weave and becomes an integral part of the carbon fiber's construction. McLaren says the titanium deposition process maintains immense strength and low weight and creates a unique finish of visual carbon fiber with a chrome-effect shimmer.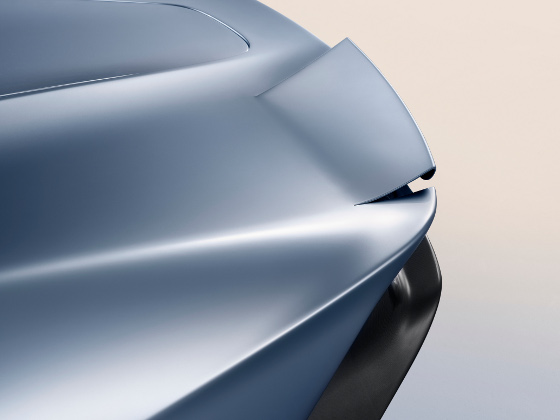 The trailing edge of the Speedtail showcases a pair of active rear ailerons. These dynamic elements are hydraulically actuated and form an integral part of the rear clamshell, formed in flexible carbon fiber. McLaren says the body of the Speedtail "can quite literally bend." The twin active ailerons adjust to move the center of pressure and provide the required level of downforce precisely when airbraking is needed.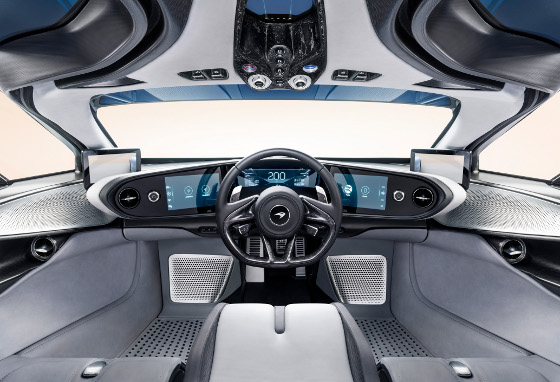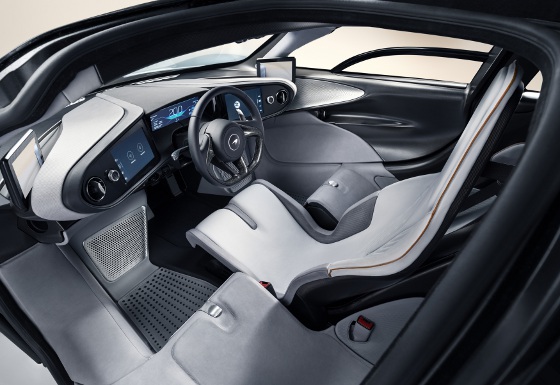 Inside, the center-drive cockpit position means the "pilot" goes it alone. Well, sort of. There are two small passenger seats pushed back to the left and right of the driver position -- a weird setup that has the "rear" passengers almost share the front floorboard with the driver.
The interior is a mix of metal and leather. The leather has been infused with air during a special production process to make it 30 percent lighter yet still thick, supple, and hardy.
High-definition displays and touchscreens sweep across the dashboard, while airplane-inspired pushbutton controls to start the engine, turn on the Active Dynamics Panel, and engage "Velocity mode" are positioned on the inside roof of the cabin.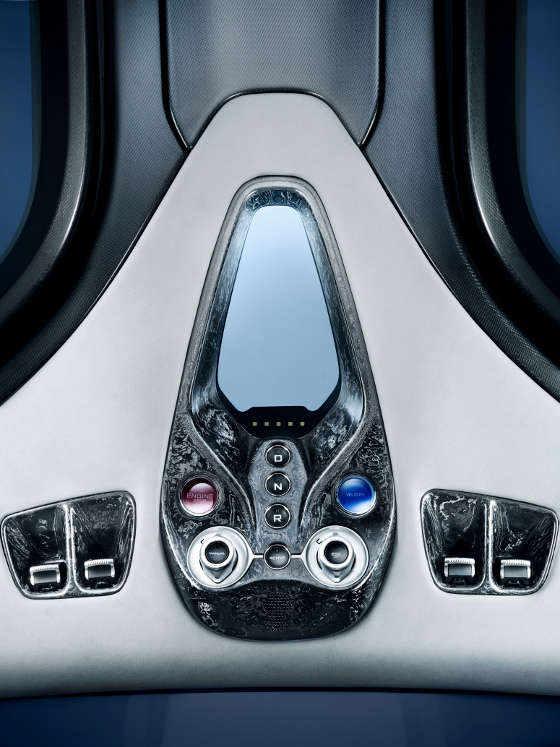 For just over $2 million, the Speedtail is a real mashup of speed, technology, and design. It's weird. For Americans, it's also highly impractical, because it is not street legal in the United States. You can keep it at your secret international lair, though, and drive it in a country far, far away.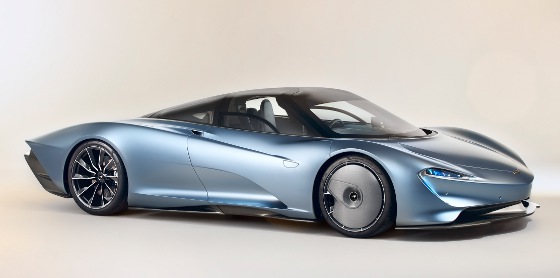 Source: McLaren Automotive Limited
Published May 2020
Rate this article