Air Force partnering for 'flying car' tech development through its new Agility Prime program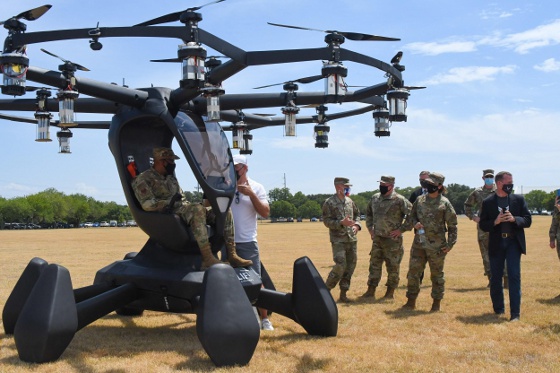 Air Force Chief of Staff Charles Q. Brown, Jr., sits in a LIFT Aircraft Hexa aircraft during a visit to Camp Mabry, Texas, Aug. 20, 2020. During the visit, Col. Nathan Diller, AFWERX director, spoke about Agility Prime, a U.S. Air Force program seeking to accelerate the commercial market for advanced air mobility vehicles. [Air National Guard photo by Staff. Sgt. Sean Kornegay]
The U.S. Air Force is partnering with private-sector small businesses to develop, test, and help with the FAA certification process for electric vertical takeoff and landing (eVTOL) flight vehicles through its new Agility Prime program officially launched in April. Top brass were treated to a demo of LIFT Aircraft's Hexa model on Aug. 20 at Camp Mabry, Texas. LIFT is an Agility Prime partner company.
Dr. Will Roper, assistant secretary of the Air Force for acquisition, technology, and logistics, told the House Armed Services Committee on March 11 that Agility Prime is a "nontraditional program" that seeks to "operationalize commercial electric vertical takeoff and landing vehicles for military missions, and accelerate the emerging commercial eVTOL market in the United States."
"Now is the perfect time to make Jetsons cars real," he said, according to an April Air Force article.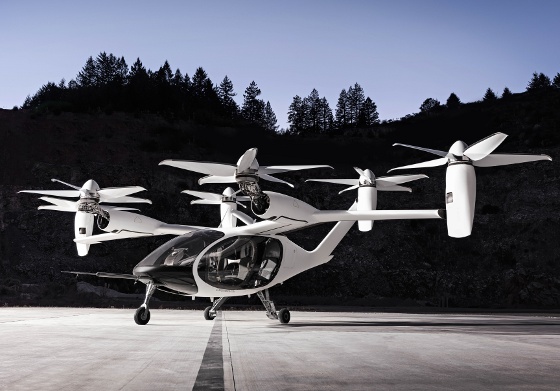 Joby Aviation of Santa Cruz, CA, is a participant in the Agility Prime program. The company announced in January 2020 that it had secured $590 million in Series C financing. Investors include Toyota Motor Corp. and JetBlue Technology Ventures. Their piloted, five-seat vehicle is capable of speeds of 200 mph and can fly over 150 miles on a single charge. [Credit: Joby Aviation]
On the Agility Prime website, the program says it "aims to bring together industry, investor, and government communities to establish safety and security standards while accelerating commercialization of this revolutionary technology." This goes beyond "flying cars," though, which is a term that seems to be used more to help covey the overall concept to the public than what the full scale of the endeavor entails for the Air Force at large.
In one use case, according to Miitary.com, "The DoD is exploring options to replace or reduce the usage of the V-22 Osprey with a flying car." There are many other application possibilities.
The program is a collaboration between Air Force Life Cycle Management Center Mobility PEO, AFRL (research lab), Air Force Warfighting Integrating Capability, and Air Force Ventures. A big part of the value proposition for companies that get involved is not only in possibly securing a faster track to FAA certification (or at least help to move the process forward) and future government contracts, but in getting access to the Air Force's extensive test and research facilities. Although some participating small businesses are flush with venture capital cash, they lack access to top-level test and research assets.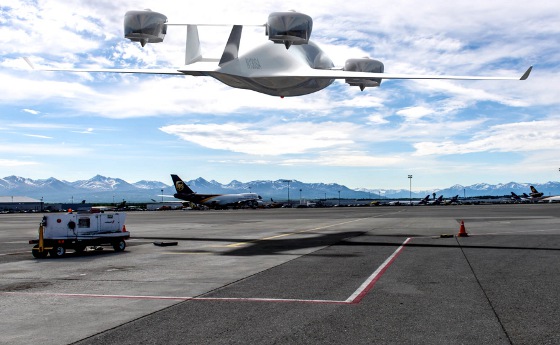 Sabrewing Aircraft Co., a startup from Camarillo, CA, is another Agility Prime participant. The company is working on a gas-electric hybrid unmanned Vertical Take Off and Landing (VTOL) Group 5 regional cargo carrier drone that can deliver an 800-lb payload flying at altitudes up to 22,000 ft and a range up to 360 nautical miles. [Credit: Sabrewing]
A May 2020 Inside Defense article says the current budget request for the Agility Prime program is $25 million. A "Race to Certification" series will be used to drive government procurement of operational capability by 2023. This means the Air Force will, in part, help fund development in exchange for technology sharing in the future. The program's Innovative Capabilities Opening (ICO) document states, "At least one-third of the total cost of the prototype project is to be paid out of funds provided by sources other than the Federal Government."
In general, the vehicles involved, which are referred to under the catch-all term "ORBs" (which could be an acronym but remains to be officially defined by the AF) include: distributed electric propulsion; an electric power source (could be a hybrid); manned, remote, or autonomous; vertical takeoff and landing; modular; feature aspects of commercial off-the-shelf technology; all hover on rotors, with some also using wings.
So far, the Air Force says it has 15 companies (submissions) that have applied to the program, with five of 14 applicants moving to Phase 2 of the program and two selected for Phase 3. The ICO document states, "All significant participants in the transaction other than the Federal Government are small businesses." Companies apply based on vehicle capability sets:
Area of Interest 1 includes a payload of 3 to 8 people, a range greater than 100 miles, speed greater than 100 mph, and endurance greater than 60 minutes.
Area of Interest 2 includes cargo aircraft (not necessarily designed to carry people), a range greater than 10 miles, speed greater than 45 mph, and endurance greater than 15 minutes.
Area of Interest 3 includes a payload of 1 to 2 people (equivalent), maximum takeoff gross weight greater than 1,320 lb, payload greater than 500 lb, a range greater than 200 miles, speed greater than 100 mph, and endurance greater than 100 minutes.

VIDEO: A Dec. 2019 beta test of the LIFT Hexa multi-rotor aircraft. [Credit: LIFT Aircraft]

Besides LIFT Aircraft, applicants so far include Joby Aviation (who has also partnered with Uber Air), Elroy Air, Plaseki Aircraft, Sabrewing Aircraft Company, BETA, and Phenix Solutions. Universities are also signing up to be involved in aspects of the program.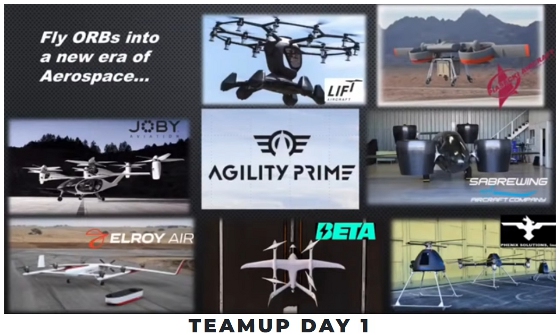 At its Team-Up virtual event held July 15-16, Agility Prime organizers said 15 companies had already applied for its program. [Air Force Team-Up screenshot]
The focus for the Air Force is not just on development of the electric flying vehicles themselves. Rather, the whole Agility Prime project is being looked at holistically, and is meant to foster innovations in communications, data networks and RF waveforms, autonomy, advanced aircraft materials and manufacturing, novel acoustics techniques, subsystems, command and control, robotic landing gear, mission planning and logistics, modular payload designs, sense and avoidance sensors, electrical power (storage, generation, and charging), distributed electric propulsion control, and more -- the whole ball of wax.

VIDEO: You can learn a lot more about the Agility Prime program in this video from the Team-Up (Day 1) virtual event held July 15-16. We would suggest skipping to the 1-hour mark for specific details.
Sources: USAF, Agility Prime, NASA, Military.com, Inside Defense, LIFT Aircraft, Joby Aviation, Sabrewing Aircraft Co.