3-finger gripper ideal for handling cylindrical objects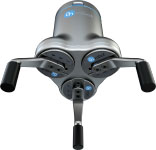 See how OnRobot's three-finger gripper is ideal for gripping a wide range of cylindrical objects in machine-tending applications such as CNC lathe machines. Its design automatically centers workpieces, resulting in fast deployment with a strong, stable grip and precise placement. The 3FG15 offers seamless integration with the robots of your choice. Also available is OnRobot's dual gripper, which can handle two parts and two tasks at the same time.
View the video.
---
Zirconia: Toughest of technical ceramics also allows very fine features
Zirconia partially stabilized with yttria (PSZ) features a self-healing effect that fights micro cracks and therefore makes this material tough against impact. The extremely fine available grain size is also recommended where fabrication of very fine features and thin edges is required to hold up well in applications that include medical, aerospace, semiconductor, instrumentation, and industrial.
Learn more and view an informative video from Insaco.
---
How Xometry manufacturing is changing the way NASA develops parts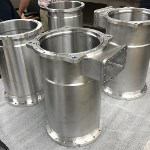 Learn how NASA engineers at the Marshall Space Flight Center employed Xometry's large-format CNC machining capabilities to build mission-critical air purification units for the International Space Station (ISS). Abandoning the traditional welded construction in favor of a one-piece barrel design required the fabrication to be outsourced in order to get the job done on time.
Read the full Xometry article.
---
Top Tech Tip: Innovative way to take up tolerances!

Smalley Linear Springs are a continuous wave formed (marcelled) wire length produced from spring tempered materials. They act as a load-bearing device, having approximately the same load/deflection characteristics as a wave spring. Linear Springs are now available as a standard part in carbon and stainless steel, with over 200 sizes.
Learn more.
---
Adjustable levers lift, swing, and latch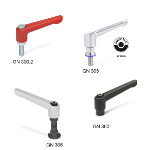 Adjustable levers are among the most important standard parts for clamping and fixing in place. They are found in all kinds of applications, and the JW Winco portfolio is correspondingly diverse -- now even more so with new, more versatile models. Learn about the latest designs, including those for specific applications or with special dimensions and additional functions.
Read the full article.
---
THK develops smoothest moving miniature LM guide, the type RSX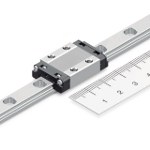 Featuring an optimized circulation structure, the new Type RSX Miniature LM Guide from THK offers the smoothest movement in its class, and its compact outer dimensions enable the realization of space-saving designs. Its design includes a built-in retaining wire that prevents balls from falling out and a groove contact structure that receives loads in all four directions. Suitable for a range of applications, the Type RSX offers customization of surface treatment, metal circulation parts, block length, effective stroke type, and more. It is available in a standard Type RSX-M and a Type RSX-WM with a longer overall LM block length, wider width, and higher rated load and permissible moment.
Learn more.
---
Add conductive performance to thermoset and thermoplastic composites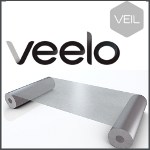 VeeloVEIL from Veelo Technologies is an extremely light and conductive metallized nonwoven material engineered to add conductive performance to thermoset and thermoplastic composites. It is used by the aerospace industry to protect composite aerostructures from environmental and man-made hazards, and improve survivability. Available in 12- and 36-in.-wide roll stock, VeeloVEIL is electrically uniform and conforms to complex curves. This specialty material is used for lightning strike protection and electromagnetic effects protection, including EMI shielding, asset hardening, and repairing electrical networks on composite-skinned air vehicles.
Learn more.
---
5 facts about hydraulics that may surprise automators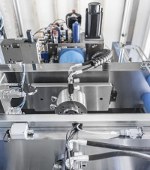 Hydraulics come into their own whenever large forces and robustness are required, however many young designers and engineers are not very familiar with this technology. Here are some convincing arguments and capabilities from Bosch Rexroth that show why the use of modern, connected hydraulics is easier and more cost effective than many engineers may realize.
Read the full article.
---
Design Tip: Thermoplastic vs. thermoset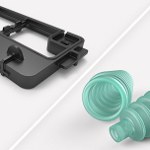 Two broad categories of plastic materials exist: thermoplastics and thermosets, which are differentiated based on their behaviors in the presence of heat. This informative design tip from Protolabs offers a few considerations to keep in mind when using these materials. Includes guidelines for using thermoplastics and considerations for thermosets.
Read the Protolabs design tip.
---
Compressed-air vac simplifies vacuuming wet and dry materials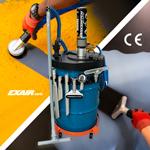 EXAIR's new 55-gal EasySwitch Wet-Dry Vac is designed to handle the toughest of industrial cleanup jobs with ease. Utilizing minimal compressed air, the EasySwitch is a powerful pneumatic vacuum that is ideal for any application -- wet, dry, light, or heavy. The fast and tool-less conversion to vacuuming liquids is done by releasing one latch, removing the filter element, and securing the latch. Simply reinstall the filter into the lid assembly for dry materials. Because the vacuum generator has no moving parts and uses no electricity, there is little concern for failed parts, motor failure, or working with liquids associated with electric industrial vacuums.
Learn more.
---
You asked. We answered.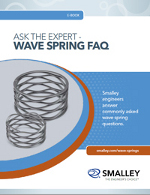 Finding the best possible solution for your design challenge is no easy task. Smalley engineers have created a brand new Ask the Expert - Wave Spring FAQ E-book that answers all of your wave spring questions in one simple guide.
Download Now!
---
No hard tooling required: Photo Etching Precision Parts Guide

This Tech-Etch guide describes how photo etching produces prototype quantities and large production runs of precision parts for many mechanical and electrical applications -- without the high cost and long lead times of hard tooling. Custom metal parts from .0005" thick and up are produced with intricate patterns, precise tolerances, and burr-free edges, in addition to exact repeatability. By combining photo etching for blanking with inexpensive or universal tooling for forming, Tech-Etch produces complex designs and shapes with complete in-house finishing.
Download the Parts Guide (no registration required).
---
Knob with a twist makes for easier operation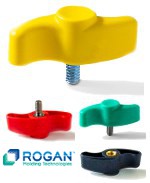 Created with ergonomics in mind, Rogan's new ST series clamping knobs feature a contoured design that allows for more comfortable operation and ease of function. Perfectly engineered for applications in industrial, medical, lawn and garden, and consumer, ST knobs are made of glass-reinforced polypropylene with zinc-plated brass inserts or zinc-plated steel studs. Available in black, grey, white, blue, yellow, green, or red. Completely customizable too.
Learn more.
---
Redesigned jaw bucket is more productive for grab-and-go work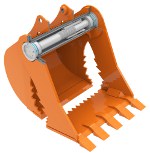 Bob Brooks, an expert in residential and commercial site preparation in the Pacific Northwest, says no other equipment accessory he has used compares to Parker's Helac PowerGrip Multi-Purpose Jaw Bucket when it comes to productivity. With PowerGrip, all the moving parts are fully enclosed, and there are no obstructions in the bucket shell (unlike competing units). It is equipped with a durable, enclosed rotary actuator hinge that offers 120 degrees of smooth jaw movement and constant clamping force.
Read this informative Parker blog.
---
World's smallest precision ball bearings
SPB-USA, located in Sarasota, FL, has the world's smallest ball bearings available. Manufactured in Japan by Sapporo Precision Inc. under the EZO-SPB brand name, each bearing has an inside shaft diameter of just .06 mm or .0236 in. and outside diameter of just 2.5 mm and a width of 1 mm. Each ball, and there are five in each race, is smaller than those found in a ballpoint pen, and each is precision ground to an exacting specification to ensure long life at operating speeds of between 142,000 rpm and 160,000 rpm. Applications include medical, aerospace, electro-mechanical, and packaging equipment.
Learn more.
---
So thin they can sit on a soap bubble: Solar cells are printed with inkjet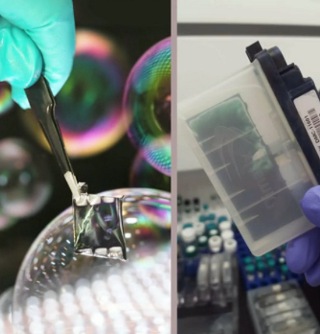 KAUST researchers have made ultra-thin organic solar cells using inkjet printing.
Solar cells can now be made so thin, light, and flexible that they can rest on a soap bubble. The new cells, which efficiently capture energy from light, could offer an alternative way to power novel electronic devices, such as medical skin patches, where conventional energy sources are unsuitable.
"The tremendous developments in electronic skin for robots, sensors for flying devices, and biosensors to detect illness are all limited in terms of energy sources," says Eloise Bihar, a postdoc in the team of Derya Baran, who led the research, at King Abdullah University of Science and Technology (KAUST) in Saudi Arabia. "Rather than bulky batteries or a connection to an electrical grid, we thought of using lightweight, ultra-thin organic solar cells to harvest energy from light, whether indoors or outdoors."
Until now, ultrathin organic solar cells were typically made by spin-coating or thermal evaporation, which are not scalable and which limit device geometry. This technique involved using a transparent and conductive, but brittle and inflexible, material called indium tin oxide (ITO) as an electrode. To overcome these limitations, the team applied inkjet printing. "We formulated functional inks for each layer of the solar cell architecture," says Daniel Corzo, a Ph.D. student in Baran's team.
Instead of ITO, the team printed a transparent, flexible, conductive polymer called PEDOT:PSS, or poly(3,4-ethylenedioxythiophene) polystyrene sulfonate. The electrode layers sandwiched a light-capturing organic photovoltaic material. The whole device could be sealed within parylene, a flexible, waterproof, biocompatible protective coating.
Although inkjet printing is very amenable to scaling up and low-cost manufacturing, developing the functional inks was a challenge, Corzo notes. "Inkjet printing is a science on its own," he says. "The intermolecular forces within the cartridge and the ink need to be overcome to eject very fine droplets from the very small nozzle. Solvents also play an important role once the ink is deposited, because the drying behavior affects the film quality."
After optimizing the ink composition for each layer of the device, the solar cells were printed onto glass to test their performance. They achieved a power conversion efficiency (PCE) of 4.73%, beating the previous record of 4.1% for a fully printed cell. For the first time, the team also showed that they could print a cell onto an ultra-thin flexible substrate, reaching a PCE of 3.6%.
"Our findings mark a stepping stone for a new generation of versatile, ultra-lightweight, printed solar cells that can be used as a power source or be integrated into skin-based or implantable medical devices," Bihar says.
Source: King Abdullah University of Science and Technology
Published September 2020
Rate this article