Rugged CAN keypad and rotary cursor controller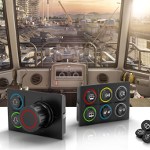 EAO has just introduced its new Series 09 Rugged CAN Keypad and Rotary Cursor Controller aimed at construction equipment, emergency vehicles, agricultural equipment, and the like. The products offer functional safety compliance and CANbus integration for use in harsh environments. The Rugged CAN Keypads are available in multicolor RGB 4-segment halo-ring illumination. Colors can be set for specific functions, animated with chasing/running or flashing sequences, and are easily programmable. The Rugged CAN Rotary Cursor Controller features full rotary function with 22 maintained positions and a push function. It also features LED symbol illumination on the pushbuttons and LED halo illumination on both pushbuttons and the rotary cursor.
Learn more.
---
Cool Tools: New Bosch thermal camera for industry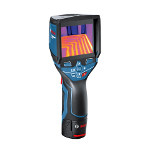 The Bosch GTC400C 12V Max Connected Thermal Camera is easy to use, determining temperatures in seconds and documenting the results with convenience. Featuring a large, illuminated color display, it delivers a 160 x 120 thermal graphic image accurate to +/- 3 C. It features simple operation: Just squeeze the trigger to shoot an image, and use the click wheel for the functions. The thermal graphic image features more than 19,000 measurement points for precision to show hot and cold spots, with the temperature at the center and an adjustable temp scale. The integrated visual camera records actual images, so the user can document the work area visually as well as thermally. This allows side-by-side comparison, picture-in-picture, and overlay of picture and thermal graphic. Nice long battery life.
Learn more.
---
Self-service fever scanner uses fist or wrist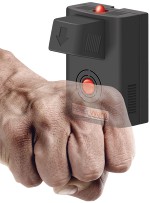 FeverWarn is a new, non-contact device that determines if a user has a fever instantly -- simply by scanning the wrist or fist. The technology's creators at MachineSense, along with some university studies, say these hand areas are consistently some of the most reliable on the body for accurate temperature scanning. The FDA-compliant FeverWarn unit can be installed in front lobbies, security checkpoints, manufacturing entrances, school entrances, and any other place where the initial entryway is your first line of defense. A red or green light indicates pass or fail. Provides outputs for triggering auxiliary doors or gates.
Learn more about this exciting technology.
---
Thermally conductive elastomer for electric cars developed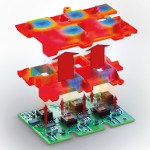 Freudenberg Sealing Technologies has developed a material that combines seemingly contradictory properties: It conducts heat well, but it is also electrically insulating. The company is already testing initial applications for charging sockets, control units, and batteries in electric cars.
Read the full article.
---
Cool Tools: Newly designed electronic digital micrometers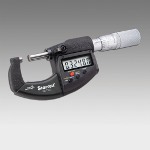 The L.S. Starrett Company has introduced more than 100 Electronic Digital Micrometers with new features for improved ergonomics, functionality, and productivity. They offer upgraded electronics, a longer battery life, an advanced locking mechanism, and a large, easy-to-read LCD display. The micrometers are available in a 0-1" (25-mm) model up to 24" (600 mm), and in 0-6" (152-mm) and 0-12" (304-mm) sets of individual micrometers. Some include IP67 protection. Industry 4.0 ready, these micrometers are equipped with an RS232 output, ideal for use with data-collection systems such as Starrett DataSure.
Learn more.
---
Why convert a tube-bending machine from hydraulic to electric?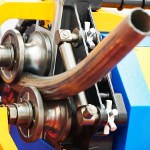 Tube-bending machines have been driven by hydraulics for the past 80 years. Operators know how to get the best out of their machines, so why switch to electric cylinders? There are some disadvantages to going electric, but the fundamental reason to consider making the switch is simple: You can make better parts. By Brian Sondergeld
Read this informative Tolomatic blog.
---
Mini toggle switch features never-slip grip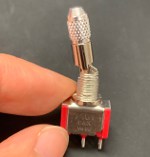 Electro-mechanical switch manufacturer C&K has expanded its miniature 7000 Series locking toggle switch to include an optional knurled cap. The textured pattern provides a non-slip surface that enables customers to move from one position to another without the toggle lever slipping from their grip. Offering reliable and long-term operation up to 100K cycles, the 7000 Series locking toggle switch is available with and without the IP67 sealing to meet application requirements.
Learn more.
---
TDK brings redundancy to its TMR angle sensor portfolio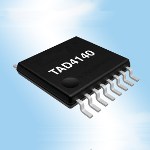 TDK has announced the expansion of its tunnel-magneto-resistance (TMR) angle sensor portfolio with the new digital TAD4140 sensor, designed for demanding automotive and industrial applications. Compared to TDK's existing digital angle sensor (the TAD2141), the new TAD4140 features full redundancy with two signal processor units and 2x2 TMR bridges in a single TSSOP16 package. Both angle sensors are capable of contactless sensing up to 360 degrees. The new sensor is able to simultaneously measure speed, direction, and motor position, making it suitable for motor-control applications such as Brushless DC (BLDC) motor commutation in electric power-assisted steering (EPAS) systems.
Learn more.
---
Thermal cameras for elevated skin-temp screening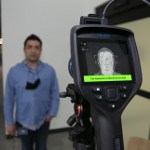 FLIR Systems has just announced the availability of their modified thermal cameras for fast and safe non-contact elevated skin-temperature screening. The FLIR EST thermal screening solutions provide front-line screening at building entries and in high-traffic areas to improve safety and help curb the spread of COVID-19. The EST series cameras are designed to simplify the screening process, reducing the burden on screening operators and adhering to recommended social distancing guidelines. Handheld, fixed-mounted, and custom integrated solutions available.
Learn more.
---
BAE Systems delivers radiation-hardened radios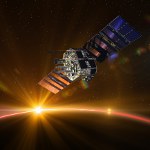 BAE Systems has delivered its first shipment of next-gen radiation-hardened software defined radios (SDR) enabled by its RAD5545 computer to Lockheed Martin Space. The radios provide spacecraft with the on-board signals-processing capacity needed to support future space missions -- from planetary exploration to communications, national security, surveillance, and weather missions. These radios can be easily customized. The system leverages modular and standard building blocks including the RAD5545 single board computer (SBC), a SpaceVPX chassis and backplane electrical connectors, Serial RapidIO and Spacewire interfaces, and a fully supported expansion port for a custom interface card.
Learn more about BAE Systems' radiation-hardened electronics.
---
Solenoid valves for spaceflight applications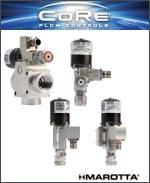 Marotta Controls has introduced four new solenoid valves to its CoRe Flow Controls series -- one of the only valve catalogs available for spaceflight. These new products support the commercial space industry's growing use of more efficient in-vehicle system designs and propellants that deliver better performance and greater ROI. CoRe pneumatic valves operate with 1/4-in. to 3/4-in. lines; handle fluids such as helium, methane, nitrogen, and oxygen; and are qualified to the Air Force Space Command's (AFSC) SMC-S-016 standard. These valves include Marotta's customer Qualification-by-Similarity (Qual-by-Sim) support, designed to get customers into orbit faster and with less upfront investment.
Learn more.
---
World's lowest-power PDM microphone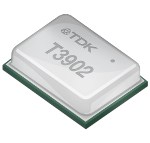 TDK has just introduced InvenSense T3902, the world's lowest-power Pulse Density Modulation (PDM) microphone for mobile, IoT, and other consumer devices. The T3902 is an ultra-low-power, low-noise, multi-mode bottom-port MEMS microphone that enhances voice-based services that are now commonplace in many devices. The microphone's AlwaysOn functionality in low-power mode enables immediate accessibility upon wake command. This microphone enables OEM partners to differentiate their product offerings by improving the consumer experience with reduced power consumption.
Learn more.
---
Image sensor for automotive viewing cameras boasts top LED flicker-mitigation performance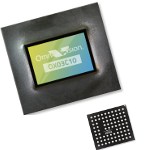 OmniVision Technologies recently announced the OX03C10 ASIL-C automotive image sensor -- the world's first for viewing applications that combines a large 3.0-micron pixel size with a high dynamic range (HDR) of 140dB and the best LED flicker-mitigation (LFM) performance for viewing applications with minimized motion artifacts. This is also the first viewing image sensor with HDR and LFM that can deliver 1920 x 1280p resolution at the highest rate of 60 fps, enabling greater design flexibility and faster camera-view switching for drivers.
Learn more.
---
Tiniest load cell yet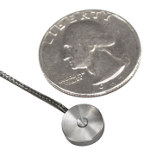 The LLB130 Miniature Load Button from FUTEK has a capacity range from 1,000 g to 50 lb and is RoHS compliant. This mini load cell features low deflection and fast response time, and it is fully internally temperature compensated. These units achieve great accuracy and stiffness. Can be modified or customized to meet your requirements.
Learn more.
---
Retrofit legacy devices for wireless, off-premise monitoring and control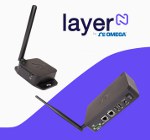 Layer N from Omega is a simple, smart, and flexible way to monitor a wide range of industrial equipment such as freezers, ovens, and furnaces without requiring users to be on-premise. Temperature, humidity, light, and barometric pressure readings are captured, stored, processed, and transported in real time to the cloud via wireless smart sensors and gateways, allowing reports to be accessed from anywhere at any time. Using Message Queuing Telemetry Transport, one of the most commonly applied protocols for IoT data transport, Layer N products offer a cost-effective and simple way to retrofit and integrate legacy devices into the digital world.
Learn more.
---
Air Force research team awarded patent for new tunable radio frequency filter
By Mary Pacinda, Air Force Research Laboratory
Air Force Research Laboratory (AFRL) scientists recently patented a new tunable radio frequency (RF) filter design. The new design is for a smaller, lighter, less expensive device that requires much less power than current technology. As the Air Force moves to smaller, more "agile" flying vehicles such as hand-launched drones, reducing size, weight, and power (SWaP) for all components becomes more critical.
RF filters are a standard component in any device that transmits or receives RF signals. A cell phone, for example, operates within a certain frequency range, or bandwidth, assigned by the government. RF filters ensure that a cell phone operates within a particular bandwidth, preventing interference with or from other devices. However, for military applications, the ideal RF filter needs to be tunable.
"If you are on the battlefield, your adversary will likely try to contaminate your signal, something that's not very hard to do," said project team leader Dr. Michael Page. "We have the ability in place right now to tune the filter to remove undesirable signals while preserving intended functionality."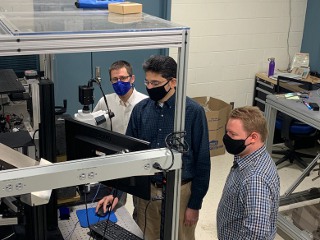 From left to right: Dr. Derek Bas, Dr. Piyush Shah, and Dr. Michael Page examine a potential acoustically driven ferromagnetic resonance material under a microscope in the magneto-optics lab. The microscope is designed to observe magnetic properties on a small scale. [U.S. Air Force photo/Michael Wolf]
Although the RF filter can be tunable by an operator, the best technology is "intelligent," that is, it automatically searches for the best "noise-free frequency," and then automatically switches to it. The most common tunable RF filter currently in use is a bandpass filter.
"A bandpass filter is based on an electromagnet," said Page. "It has a little magnetic sphere about the size of the point of a pen. That little sphere sits inside an electromagnet. When you change the magnetic field of the electromagnet, that changes the way the sphere behaves, which changes the operating frequency of the filter."
Even though it works well, there are practical problems with the current technology.
"Electromagnets are fairly large," said Page. "They can't be miniaturized, and they use a lot of power. On a larger platform, that's not an issue, but the way the Air Force is moving, we expect to have a lot of smaller autonomous platforms, drones, where you can't use a big bulky filter with an electromagnet and a big power supply."
Current technology is based on an yttrium iron garnet (YIG) magnetic sphere, which is, according to team member Dr. Piyush Shah, about the size of a hockey puck. "The power unit currently used is about the size of a shoebox," added Shah. "Our filter is about half the size of a matchbox, everything integrated."
Instead of a YIG electromagnet, the new design uses a layer of piezoelectric material, a material that becomes electrically charged when subjected to pressure. That layer is coupled with a very thin film of permanently magnetized material. "The result," said Page, "is a low-power, frequency-agile, small, lightweight, RF-tunable device at a much lower cost. Maybe one percent of the cost of current technology."
"At its heart," said Page, "the technology we're looking at is actually very similar to what's used in modern cell phones. Cell phones have these types of filter banks, but they're not tunable. The tunable technology depends on big bulky components. We're trying to get the tunable capability in a compact device similar to the size of a cell phone."
"Today's top-tier smartphones use about 50 to 70 tiny filters to operate in different frequency bands," said Shah. "More RF filters occupy too much valuable space on the smartphone circuit board, and therefore we believe our invention could potentially decrease the number of RF filters by replacing them with tunable filters."
"The technology is not restricted for cell phone devices, but other forms of wireless communication systems as well," added Shah.
"AFRL began work on this technology about five years ago, but specifically the idea of the patented technology evolved in December 2016," said Shah. "We have shown the fundamental physics of the device and possible functionality of the proposed invention," said Shah. "Our next goal is to improve the application-relevant performance metrics of our device."
Page hopes to have a workable prototype in three to six months. "We submitted the patent on the concept in 2017," he said, "and we've been working on it ever since. So, we are actually farther ahead on the project now than we were when we filed the patent's paperwork."
The team hopes that their progress in developing the technology will be significantly accelerated as a result of their newly formed partnership with Sandia National Laboratory.
"The prototype will be as good as the type of technology it is replacing," said Page, "but of course it will have its own advantages. It will be much smaller in size and weight and it will need much less power."
Published September 2020
Rate this article