3-finger gripper ideal for handling cylindrical objects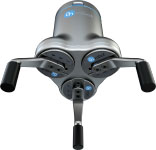 See how OnRobot's three-finger gripper is ideal for gripping a wide range of cylindrical objects in machine-tending applications such as CNC lathe machines. Its design automatically centers workpieces, resulting in fast deployment with a strong, stable grip and precise placement. The 3FG15 offers seamless integration with the robots of your choice. Also available is OnRobot's dual gripper, which can handle two parts and two tasks at the same time.
View the video.
---
Zirconia: Toughest of technical ceramics also allows very fine features
Zirconia partially stabilized with yttria (PSZ) features a self-healing effect that fights micro cracks and therefore makes this material tough against impact. The extremely fine available grain size is also recommended where fabrication of very fine features and thin edges is required to hold up well in applications that include medical, aerospace, semiconductor, instrumentation, and industrial.
Learn more and view an informative video from Insaco.
---
How Xometry manufacturing is changing the way NASA develops parts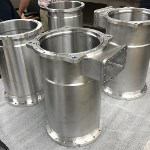 Learn how NASA engineers at the Marshall Space Flight Center employed Xometry's large-format CNC machining capabilities to build mission-critical air purification units for the International Space Station (ISS). Abandoning the traditional welded construction in favor of a one-piece barrel design required the fabrication to be outsourced in order to get the job done on time.
Read the full Xometry article.
---
Top Tech Tip: Innovative way to take up tolerances!

Smalley Linear Springs are a continuous wave formed (marcelled) wire length produced from spring tempered materials. They act as a load-bearing device, having approximately the same load/deflection characteristics as a wave spring. Linear Springs are now available as a standard part in carbon and stainless steel, with over 200 sizes.
Learn more.
---
Adjustable levers lift, swing, and latch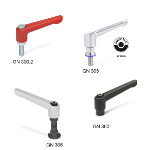 Adjustable levers are among the most important standard parts for clamping and fixing in place. They are found in all kinds of applications, and the JW Winco portfolio is correspondingly diverse -- now even more so with new, more versatile models. Learn about the latest designs, including those for specific applications or with special dimensions and additional functions.
Read the full article.
---
THK develops smoothest moving miniature LM guide, the type RSX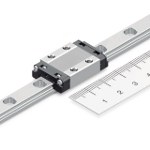 Featuring an optimized circulation structure, the new Type RSX Miniature LM Guide from THK offers the smoothest movement in its class, and its compact outer dimensions enable the realization of space-saving designs. Its design includes a built-in retaining wire that prevents balls from falling out and a groove contact structure that receives loads in all four directions. Suitable for a range of applications, the Type RSX offers customization of surface treatment, metal circulation parts, block length, effective stroke type, and more. It is available in a standard Type RSX-M and a Type RSX-WM with a longer overall LM block length, wider width, and higher rated load and permissible moment.
Learn more.
---
Add conductive performance to thermoset and thermoplastic composites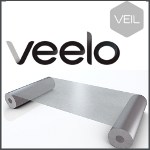 VeeloVEIL from Veelo Technologies is an extremely light and conductive metallized nonwoven material engineered to add conductive performance to thermoset and thermoplastic composites. It is used by the aerospace industry to protect composite aerostructures from environmental and man-made hazards, and improve survivability. Available in 12- and 36-in.-wide roll stock, VeeloVEIL is electrically uniform and conforms to complex curves. This specialty material is used for lightning strike protection and electromagnetic effects protection, including EMI shielding, asset hardening, and repairing electrical networks on composite-skinned air vehicles.
Learn more.
---
5 facts about hydraulics that may surprise automators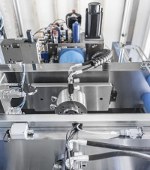 Hydraulics come into their own whenever large forces and robustness are required, however many young designers and engineers are not very familiar with this technology. Here are some convincing arguments and capabilities from Bosch Rexroth that show why the use of modern, connected hydraulics is easier and more cost effective than many engineers may realize.
Read the full article.
---
Design Tip: Thermoplastic vs. thermoset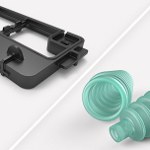 Two broad categories of plastic materials exist: thermoplastics and thermosets, which are differentiated based on their behaviors in the presence of heat. This informative design tip from Protolabs offers a few considerations to keep in mind when using these materials. Includes guidelines for using thermoplastics and considerations for thermosets.
Read the Protolabs design tip.
---
Compressed-air vac simplifies vacuuming wet and dry materials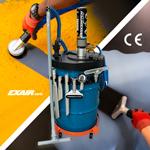 EXAIR's new 55-gal EasySwitch Wet-Dry Vac is designed to handle the toughest of industrial cleanup jobs with ease. Utilizing minimal compressed air, the EasySwitch is a powerful pneumatic vacuum that is ideal for any application -- wet, dry, light, or heavy. The fast and tool-less conversion to vacuuming liquids is done by releasing one latch, removing the filter element, and securing the latch. Simply reinstall the filter into the lid assembly for dry materials. Because the vacuum generator has no moving parts and uses no electricity, there is little concern for failed parts, motor failure, or working with liquids associated with electric industrial vacuums.
Learn more.
---
You asked. We answered.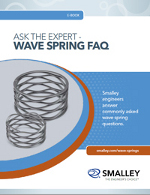 Finding the best possible solution for your design challenge is no easy task. Smalley engineers have created a brand new Ask the Expert - Wave Spring FAQ E-book that answers all of your wave spring questions in one simple guide.
Download Now!
---
No hard tooling required: Photo Etching Precision Parts Guide

This Tech-Etch guide describes how photo etching produces prototype quantities and large production runs of precision parts for many mechanical and electrical applications -- without the high cost and long lead times of hard tooling. Custom metal parts from .0005" thick and up are produced with intricate patterns, precise tolerances, and burr-free edges, in addition to exact repeatability. By combining photo etching for blanking with inexpensive or universal tooling for forming, Tech-Etch produces complex designs and shapes with complete in-house finishing.
Download the Parts Guide (no registration required).
---
Knob with a twist makes for easier operation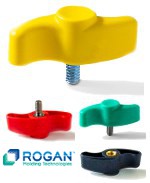 Created with ergonomics in mind, Rogan's new ST series clamping knobs feature a contoured design that allows for more comfortable operation and ease of function. Perfectly engineered for applications in industrial, medical, lawn and garden, and consumer, ST knobs are made of glass-reinforced polypropylene with zinc-plated brass inserts or zinc-plated steel studs. Available in black, grey, white, blue, yellow, green, or red. Completely customizable too.
Learn more.
---
Redesigned jaw bucket is more productive for grab-and-go work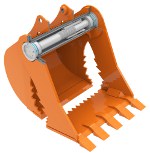 Bob Brooks, an expert in residential and commercial site preparation in the Pacific Northwest, says no other equipment accessory he has used compares to Parker's Helac PowerGrip Multi-Purpose Jaw Bucket when it comes to productivity. With PowerGrip, all the moving parts are fully enclosed, and there are no obstructions in the bucket shell (unlike competing units). It is equipped with a durable, enclosed rotary actuator hinge that offers 120 degrees of smooth jaw movement and constant clamping force.
Read this informative Parker blog.
---
World's smallest precision ball bearings
SPB-USA, located in Sarasota, FL, has the world's smallest ball bearings available. Manufactured in Japan by Sapporo Precision Inc. under the EZO-SPB brand name, each bearing has an inside shaft diameter of just .06 mm or .0236 in. and outside diameter of just 2.5 mm and a width of 1 mm. Each ball, and there are five in each race, is smaller than those found in a ballpoint pen, and each is precision ground to an exacting specification to ensure long life at operating speeds of between 142,000 rpm and 160,000 rpm. Applications include medical, aerospace, electro-mechanical, and packaging equipment.
Learn more.
---
Better than activated carbon: Anti-bacterial graphene face masks developed by Hong Kong researchers
Face masks have become an important tool in fighting against the COVID-19 pandemic. However, improper use or disposal of masks could lead to "secondary transmission."
A research team from City University of Hong Kong (CityU) has successfully produced graphene masks with an anti-bacterial efficiency of 80%, which can be enhanced to almost 100% with exposure to sunlight for around 10 minutes.
Initial tests also showed very promising results in the deactivation of two species of coronaviruses. The graphene masks are easily produced at low cost, and can help to resolve the problems of sourcing raw materials and disposing of non-biodegradable masks.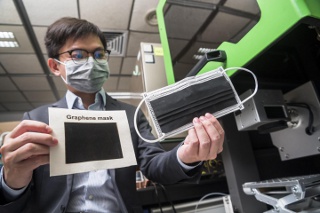 The CityU team uses a CO2 infrared laser system to generate graphene. Experiment results show that the graphene they produced exhibits a much better anti-bacterial efficiency than activated carbon fiber and melt-blown fabrics. [Credit: City University of Hong Kong]
The research was conducted by Dr. Ye Ruquan, assistant professor from CityU's Department of Chemistry, in collaboration with other researchers. The findings were published in the scientific journal ACS Nano, titled "Self-Reporting and Photothermally Enhanced Rapid Bacterial Killing on a Laser-Induced Graphene Mask."
Commonly used surgical masks are not anti-bacterial. This may lead to the risk of secondary transmission of bacterial infection when people touch the contaminated surfaces of the used masks or discard them improperly. Moreover, the melt-blown fabrics used as a bacterial filter pose an impact on the environment because they do not decompose easily. Therefore, scientists have been looking for alternative materials to make masks.
Converting other materials into graphene by laser
Ye has been studying the use of laser-induced graphene in developing sustainable energy. When he was studying for his PhD degree at Rice University several years ago, the research team he participated in discovered an easy way to produce graphene. They found that direct writing on carbon-containing polyimide films (a polymeric plastic material with high thermal stability) using a commercial CO2 infrared laser system can generate 3D porous graphene. The laser changes the structure of the raw material and generates graphene. That's why it is named laser-induced graphene.
Graphene is known for its anti-bacterial properties, so as early as last September, before the outbreak of COVID-19, producing outperforming masks with laser-induced graphene already came across Ye's mind. He then kick-started the study in collaboration with researchers from the Hong Kong University of Science and Technology (HKUST), Nankai University, and other organizations.
Excellent anti-bacterial efficiency
The research team tested their laser-induced graphene with E. coli, and it achieved high anti-bacterial efficiency of about 82%. In comparison, the anti-bacterial efficiency of activated carbon fiber and melt-blown fabrics, both commonly used materials in masks, was only 2% and 9%, respectively. Experiment results also showed that over 90% of the E. coli deposited on them remained alive even after eight hours, while most of the E. coli deposited on the graphene surface were dead after eight hours. Moreover, the laser-induced graphene showed a superior anti-bacterial capacity for aerosolized bacteria.
Ye said that more research on the exact mechanism of graphene's bacteria-killing property is needed. He thinks it might be related to the damage of bacterial cell membranes by graphene's sharp edge. The bacteria may also be killed by dehydration induced by the hydrophobic (water-repelling) property of graphene.
Previous studies suggested that COVID-19 would lose its infectivity at high temperatures. So the team carried out experiments to test if graphene's photothermal effect (producing heat after absorbing light) can enhance the anti-bacterial effect. The results showed that the anti-bacterial efficiency of the graphene material could be improved to 99.998% within 10 minutes under sunlight, while activated carbon fiber and melt-blown fabrics only showed an efficiency of 67% and 85%, respectively.
The team is currently working with laboratories to test the graphene material with two species of human coronaviruses. Initial tests showed that it inactivated over 90% of the virus in five minutes and almost 100% in 10 minutes under sunlight. The team plans to conduct tests with the COVID-19 virus later.
Their next step is to further enhance the anti-virus efficiency and develop a reusable strategy for the mask. They hope to release it to the market shortly after designing an optimal structure for the mask and obtaining the certifications.
Ye described the production of laser-induced graphene as a "green technique." All carbon-containing materials, such as cellulose or paper, can be converted into graphene using this technique. The conversion can be carried out under ambient conditions without using chemicals other than the raw materials. The energy consumption is low.
"Laser-induced graphene masks are reusable. If biomaterials are used for producing graphene, it can help to resolve the problem of sourcing raw material for masks. And it can lessen the environmental impact caused by the non-biodegradable disposable masks," he added.
Ye said producing laser-induced graphene is easy. Within just a minute and a half, an area of 100 cm² can be converted into graphene as the outer or inner layer of the mask. Depending on the raw materials for producing the graphene, the price of the laser-induced graphene mask is expected to be between that of surgical mask and N95 mask. He added that by adjusting laser power, the size of the pores of the graphene material can be modified so that the breathability would be similar to surgical masks.
A new way to check the condition of the mask
To help users check whether graphene masks are still in good condition after being used for a period of time, the team fabricated a hydroelectric generator. It is powered by electricity generated from the moisture in human breath. By measuring the change in the moisture-induced voltage when the user breathes through a graphene mask, it provides an indicator of the condition of the mask. Experiment results showed that the more the bacteria and atmospheric particles accumulated on the surface of the mask, the lower the voltage resulted. "The standard of how frequently a mask should be changed is better to be decided by the professionals. Yet, this method we used may serve as a reference," said Ye.
Source: City University of Hong Kong
Published September 2020
Rate this article