Miniature motors for Mars -- what does it take?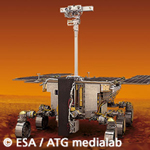 When developing the high-resolution Panoramic Camera on the ExoMars Rover, engineers looked for motors that were extremely compact and could also deliver reliable and precise positioning for the camera-focusing mechanism. FAULHABER Stepper motors were selected for the job, as they precisely position objects with a resolution of 1,280 steps per revolution without the need for a separate feedback system, and are more rugged and sturdy than conventional servo motors.
Read the full article.
---
Tips for creating gantry and multi-axis systems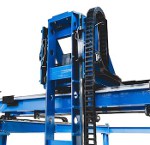 Gantry and multi-axis systems are used throughout manufacturing to lift, position, and move loads. They can be two-dimensional with a simple XY axis or three-dimensional with XYZ axis, and carry loads from a few pounds to a few thousand, slow or fast, once a day or many times a day. Andrew Zaske from Tolomatic runs through the basics of creating these multi-component systems, including sizing and selection, linear actuator types, and real-world application examples that demonstrate successful systems.
Read this informative Tolomatic blog.
---
Direct-drive linear motors reduce operating costs and increase productivity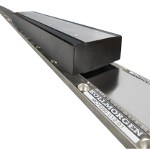 Kollmorgen's new ICH family of Direct Drive Linear (DDL) servo motors improves overall equipment effectiveness by increasing productivity, reducing operating costs, and lowering maintenance costs through the reduction of mechanical components inherent in a direct-drive solution. When compared to conventional rotary systems, ICH linear servomotors increase throughput by up to 40% and enable the design of smaller, lighter machines with increased energy efficiency. The unique anti-cogging coil design provides smooth and quiet travel and delivers continuous forces ranging from 175N to 5341N and peak forces from 405N to 12,726N with voltage ratings up to 480 VAC.
Learn more.
---
New line of slotless BLDC motors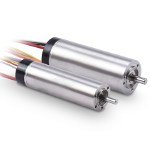 Lin Engineering high-performance slotless BLDC motors use independent, patented ironless windings. This special design enables high-speed, high-torque, and low-noise performance. The compact structure and low cogging allow these slotless BLDC motors to achieve smoother operation at both high and low speeds, more accurate control, higher efficiency, and higher power density. They feature a wide speed range up to 50,000 rpm. Other benefits include reliable long life, nearly silent operation, and a modular design for better customization.
Learn more.
---
How to increase accuracy in stepper motors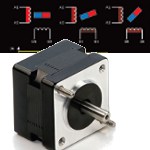 The motor experts at Lin Engineering have put together some very useful advice for design engineers interested in stepper motors. In this short but informative article, they review micro stepping for accuracy and its effects, including torque ripple, resonance, and noise. They also hit on inertia load sizes and controller choices. Very good info.
Read the full Lin Engineering article.
---
MathWorks introduces Motor Control Blockset for algorithm development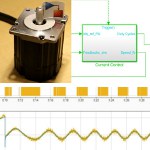 MathWorks has just released Motor Control Blockset, an add-on product for Simulink for designing and implementing motor control algorithms. Now, motor control engineers can use reference examples and Simulink blocks for developing field-oriented control algorithms to spin brushless motors. The blockset extends the set of Simulink products for motor control design, enabling engineers to test algorithms with each design change, generate fast and compact ANSI/ISO C code, and use simulation to validate software, which can reduce certification testing cycles.
Learn more.
---
The always-on magnetic encoder!

Novotechnik's RSM2800 Series measures up to 5,760&deg of rotation (16 turns) while measuring angles to less than 0.1&deg resolution. The RSM2800 continues to count turns and measure angle -- even when you lose power! There are no gears, optics, or batteries. Applications include robotics, material handling, forklifts, overhead doors, agricultural machines, and more.
Learn more.
---
New Service: Custom-designed motion controllers
Nippon Pulse is pleased to offer a new service to its OEM customers: custom-designed motion controller boards that utilize the Nippon Pulse Commander core for multi-axis applications. The boards can be designed to meet unique specifications, helping streamline the design process to bring a new product to market faster or reduce the manufacture/testing time on an existing product. Fewer cables are a benefit too.
Learn more.
---
Robots improve electric vehicle charging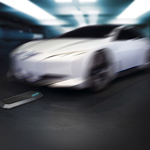 While electric vehicle adoption continues to increase, some of the logistics of owning one remain less than ideal. Charging stations can be an eyesore along city streets, and bulky cables and plugs remain inconvenient for consumers' garages. While inductive charger pads help address some of the issues, they come with a hefty price tag and require extended, slower charging times. A technology prototype could be the new solution: a charging platform with an automatic robot arm, driven by FAULHABER DC motors.
Read the full article.
---
Linear rotary actuator for capping, screw driving, thread inspection, and more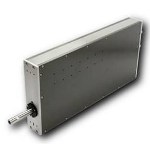 The LBR40 is a slim, stackable linear rotary actuator that provides a long life cycle, high linear force, and high rotary torque. It includes an SMAC HT35 direct-drive brushless motor. Standard encoder resolution is 5 micrometers (with a 1-micrometer option) for application flexibility to optimize position control. Priced competitively, with the added benefit of real-time feedback of data required to ensure quality. IP67 protection is available, as well as a built-in controller with popular communication protocols. Available from Electromate.
Learn more.
---
Boost your ball screw knowledge with two new webinar recordings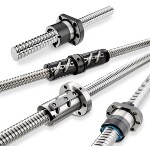 Whether you're new to ball screws or a seasoned pro, it's always good to continue learning about linear components and how they can improve your designs. Recently, Thomson hosted and recorded a couple of webinars focused on ball screws that could benefit your projects. Give either or both a listen when you've got some time. We bet you'll learn a bunch.
1. Considerations and calculations for choosing the right ball screw.
2. Maximize load capacity, lifecycle, and compactness.
---
Why convert a tube-bending machine from hydraulic to electric?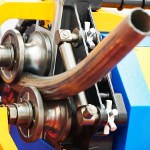 Tube-bending machines have been driven by hydraulics for the past 80 years. Operators know how to get the best out of their machines, so why switch to electric cylinders? There are some disadvantages to going electric, but the fundamental reason to consider making the switch is simple: You can make better parts. By Brian Sondergeld
Read this informative Tolomatic blog.
---
New servo drive system simplifies motion control for machine builders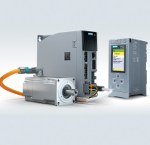 With its Sinamics S210 converter designed specifically for use with the newly developed Simotics S-1FK2 motors, Siemens is offering a new and innovative servo drive system in an initial offering from 50 to 750 W. The converters come with integrated safety functions and enable rapid engineering via motion technology objects in Simatic S7-1500 controllers. They are connected to higher-level controllers via Profinet and are quickly and easily programmed by automatic motor parameterization and one-button tuning. Typical uses for this new drive system include packaging machines; handling applications such as pick and place, wood, and plastics processing; as well as life sciences and digital printing.
Learn more.
---
Efficient, powerful, compact: Hypoid PMDC gearmotors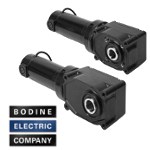 More efficient than comparable worm-gear models, Bodine's new hypoid gearmotors can deliver up to 1,535 lb-in. (173 Nm) torque while using 40% to 60% less energy than a same-size worm gearmotor. Side-by-side tests have shown that hypoid gearmotors can run as much as 15% cooler than worm-gear gearboxes, resulting in lower power consumption and longer lubricant life. The hollow-shaft design eliminates expensive shaft couplings and mounting hardware. Hardened steel gears ensure long life and maximum performance. The initial product launch includes 60 standard models with gear ratios from 5:1 to 240:1.
Learn more.
---
New flexible, food-grade soft gripper handles tricky pick-and-place jobs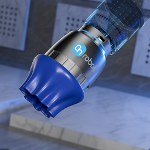 Automation just got easier for food and beverage and other "clean" applications. The flexible, electric OnRobot Soft Gripper uses three interchangeable silicon-molded cups in star and four-finger configurations to pick up almost any small object under 2.2 kg with a delicate, precise touch. One great feature is that no external air supply is needed.
Read the full article and see how it works.
---
GM's electric vehicles will include industry's first wireless battery management system
General Motors will be the first automaker to use an almost completely wireless battery management system, or wBMS, for production electric vehicles. This wireless system, developed with Analog Devices, will be a primary driver of GM's ability to ultimately power many different types of electric vehicles from a common set of battery components.
The wBMS is expected to drive GM's Ultium-powered EVs to market faster, as time won't be needed to develop specific communications systems or redesign complex wiring schemes for each new vehicle. Instead, the wBMS helps to ensure the scalability of Ultium batteries across GM's future lineup, encompassing different brands and vehicle segments, from heavy-duty trucks to performance vehicles.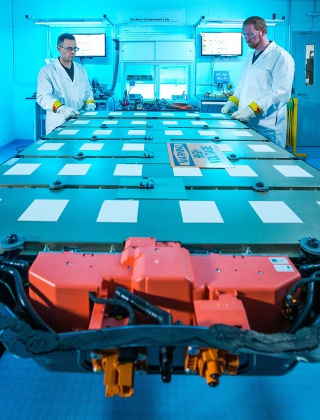 GM's wireless battery management system is expected to drive the company's Ultium-powered EVs to market faster, because time won't be needed to develop specific communications systems or redesign complex wiring schemes for each new vehicle. [Photo: Jeffrey Sauger for General Motors]
Much like the pack design of GM's Ultium batteries, which is flexible enough to incorporate new chemistry over time as technology changes, the wBMS' basic structure can easily receive new features as software becomes available. With expanded over-the-air updates provided by GM's all-new Vehicle Intelligence Platform, the system could even be upgraded over time with new software-based features via smartphone-like updates.
"Scalability and complexity reduction are a theme with our Ultium batteries -- the wireless battery management system is the critical enabler of this amazing flexibility," said Kent Helfrich, GM executive director of Global Electrification and Battery Systems. "The wireless system represents the epitome of Ultium's configurability and should help GM build profitable EVs at scale."
The wBMS will help GM's electric vehicles balance chemistry within the individual battery cell groups for optimal performance. It can also conduct real-time battery-pack health checks and refocus the network of modules and sensors as needed -- this helps safeguard battery health over the vehicle's lifespan.
By reducing wires within the batteries by up to 90 percent, the wireless system can help extend charging range by creating lighter vehicles overall and opening extra room for more batteries. The space and flexibility created by this reduction in wires not only enables a cleaner design, but also simpler and more streamlined battery restructuring as needed and more robust manufacturing processes.
This wireless system also provides a unique repurposing capability for battery reuse in secondary applications more easily than conventional wired monitoring systems. When the wireless packs are capacity-reduced to the point where they are no longer ideal for optimum vehicle performance, but still functional as consistent power supplies, they can be combined with other wireless battery packs to form clean power generators. This can be done without a redesign or overhaul of the battery management system traditionally required in second-life usage.
GM's wireless battery management system is protected by cybersecurity measures that are foundational to the company's all-new electrical architecture, called the Vehicle Intelligence Platform. The DNA of this system includes protective features within the hardware and software layers, including protection of wireless communications.
The wireless battery monitoring system will be standard on all planned GM vehicles powered by Ultium batteries.
Source: General Motors
Published September 2020
Rate this article