Tech Tip: Wave spring vs. coil spring -- what's the difference?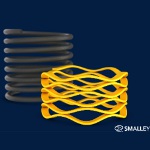 The key advantage of using a wave spring is in the axial space savings. Whether it is a static or dynamic application, a wave spring can provide the same force and deflection as a coil spring -- but in considerably less space. There are many other advantages of using wave springs, including cost savings when considering the whole assembly.
Learn more in this informative Smalley blog.
---
IKO expands line of CFKR cam followers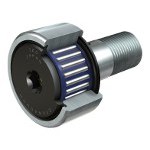 IKO International has expanded its line of CFKR series of Double Hex Hole Cam Followers. The outside diameter of the outer ring is now available in 22 and 26 mm, with current models as high as 90 mm. These bearings are designed for outer-ring rotation and have superior rotational performance with a small coefficient of friction and high load capacity. Consider the CFKR 90 model, which features a dynamic load rating in excess of 45,000 N, compared to 40,500 N for similar cam followers on the market. Because the structure of the CFKR series features hexagon holes on both stud ends, it can be tightened from the roller or stud end. Other variations available.
Learn more.
---
Powder and e-coat-compatible seam sealant provides toughness and flexibility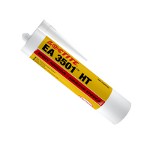 Designed to prohibit liquids, solids, and gases from entering through gaps and voids in metal seams, Henkel's new Loctite EA 3501 HT is a one-part, heat-cure epoxy seam sealant that offers excellent adhesion to primed or bare oily metals. This grey sealant maintains its flexibility, adhesion, and color after exposure to paint bake processes up to 225 C, and is ideal for use on a range of outdoor power and heavy-equipment vehicles including agricultural, construction, utility, marine, and sports/leisure, as well as work trucks and trailers. This epoxy provides a tough, flexible bond on metal seams between welded or bonded joints, butt joints, and other visible seams to prevent rust and corrosion.
Learn more.
---
Convert any standard pipe into a powerful, high-volume conveyor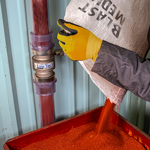 EXAIR's new 2-1/2 NPT Heavy Duty Threaded Line Vac is a powerful in-line conveyor that transports high volumes of material through ordinary pipe. Designed for rugged, industrial applications, it has a hardened alloy construction that helps prevent premature wear when transporting abrasive or heavy materials like shot blast, tumbling media, or metal fittings. These units feature large throat diameters that make it possible to convey more material over longer vertical and horizontal lengths. The conveying rate is typically twice that of ordinary air-powered conveyors.
Learn more.
---
Robot Ready: How automation is driving the future of fastener installation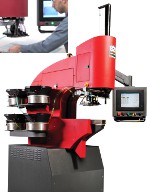 Robotic automation is the biggest way in which fastener installation equipment has changed in recent years. The Haeger® line of insertion systems, part of the PennEngineering® family of brands since 2018, is a great example of technology that utilizes robotic automation to insert nearly every type and size of self-clinching fastener out there. Learn all about this capable and flexible system. An example cost study is included.
Read the full article.
---
Ice Blast cleans and deburs parts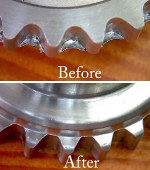 When you mix an IceStorm machine from Coulson Ice Blast with a KUKA articulated robot, you get a neat and efficient system that carries out cleaning, deburring, and deflashing of metal parts automatically -- using real ice (the same type of ice cubes you can put in your drink). The combination of pressurized air and wet ice in the blast stream allows for a non-toxic and non-abrasive process. There is a dry ice option too. Many more applications.
View the video.
Learn all the things this system can do.
---
3-finger gripper ideal for handling cylindrical objects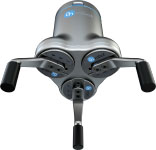 See how OnRobot's three-finger gripper is ideal for gripping a wide range of cylindrical objects in machine-tending applications such as CNC lathe machines. Its design automatically centers workpieces, resulting in fast deployment with a strong, stable grip and precise placement. The 3FG15 offers seamless integration with the robots of your choice. Also available is OnRobot's dual gripper, which can handle two parts and two tasks at the same time.
View the video.
---
Zirconia: Toughest of technical ceramics also allows very fine features
Zirconia partially stabilized with yttria (PSZ) features a self-healing effect that fights micro cracks and therefore makes this material tough against impact. The extremely fine available grain size is also recommended where fabrication of very fine features and thin edges is required to hold up well in applications that include medical, aerospace, semiconductor, instrumentation, and industrial.
Learn more and view an informative video from Insaco.
---
How Xometry manufacturing is changing the way NASA develops parts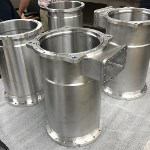 Learn how NASA engineers at the Marshall Space Flight Center employed Xometry's large-format CNC machining capabilities to build mission-critical air purification units for the International Space Station (ISS). Abandoning the traditional welded construction in favor of a one-piece barrel design required the fabrication to be outsourced in order to get the job done on time.
Read the full Xometry article.
---
Top Tech Tip: Innovative way to take up tolerances!

Smalley Linear Springs are a continuous wave formed (marcelled) wire length produced from spring tempered materials. They act as a load-bearing device, having approximately the same load/deflection characteristics as a wave spring. Linear Springs are now available as a standard part in carbon and stainless steel, with over 200 sizes.
Learn more.
---
Adjustable levers lift, swing, and latch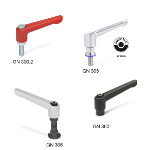 Adjustable levers are among the most important standard parts for clamping and fixing in place. They are found in all kinds of applications, and the JW Winco portfolio is correspondingly diverse -- now even more so with new, more versatile models. Learn about the latest designs, including those for specific applications or with special dimensions and additional functions.
Read the full article.
---
THK develops smoothest moving miniature LM guide, the type RSX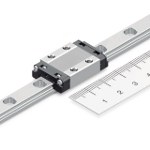 Featuring an optimized circulation structure, the new Type RSX Miniature LM Guide from THK offers the smoothest movement in its class, and its compact outer dimensions enable the realization of space-saving designs. Its design includes a built-in retaining wire that prevents balls from falling out and a groove contact structure that receives loads in all four directions. Suitable for a range of applications, the Type RSX offers customization of surface treatment, metal circulation parts, block length, effective stroke type, and more. It is available in a standard Type RSX-M and a Type RSX-WM with a longer overall LM block length, wider width, and higher rated load and permissible moment.
Learn more.
---
Add conductive performance to thermoset and thermoplastic composites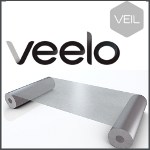 VeeloVEIL from Veelo Technologies is an extremely light and conductive metallized nonwoven material engineered to add conductive performance to thermoset and thermoplastic composites. It is used by the aerospace industry to protect composite aerostructures from environmental and man-made hazards, and improve survivability. Available in 12- and 36-in.-wide roll stock, VeeloVEIL is electrically uniform and conforms to complex curves. This specialty material is used for lightning strike protection and electromagnetic effects protection, including EMI shielding, asset hardening, and repairing electrical networks on composite-skinned air vehicles.
Learn more.
---
5 facts about hydraulics that may surprise automators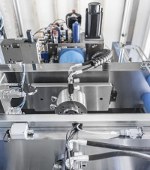 Hydraulics come into their own whenever large forces and robustness are required, however many young designers and engineers are not very familiar with this technology. Here are some convincing arguments and capabilities from Bosch Rexroth that show why the use of modern, connected hydraulics is easier and more cost effective than many engineers may realize.
Read the full article.
---
Design Tip: Thermoplastic vs. thermoset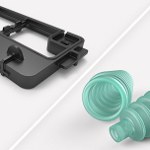 Two broad categories of plastic materials exist: thermoplastics and thermosets, which are differentiated based on their behaviors in the presence of heat. This informative design tip from Protolabs offers a few considerations to keep in mind when using these materials. Includes guidelines for using thermoplastics and considerations for thermosets.
Read the Protolabs design tip.
---
MIT tries turning diamond metallic to make next-gen semiconductor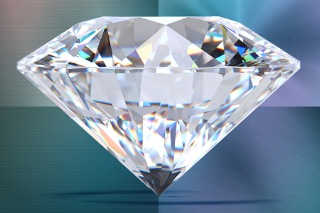 Researchers have discovered a way to transform the electronic properties of nanoscale needles of diamond. [Image: MIT News]
Long known as the hardest of all natural materials, diamonds are also exceptional thermal conductors and electrical insulators. Now, researchers have discovered a way to tweak tiny needles of diamond in a controlled way to transform their electronic properties, dialing them from insulating, through semiconducting, all the way to highly conductive, or metallic. This can be induced dynamically and reversed at will, with no degradation of the diamond material.
The research, though still at an early proof-of-concept stage, may open up a wide array of potential applications, including new kinds of broadband solar cells, highly efficient LEDs and power electronics, and new optical devices or quantum sensors, the researchers say.
Their findings, which are based on simulations, calculations, and previous experimental results, are reported in the Proceedings of the National Academy of Sciences in October 2020. The paper is by MIT Professor Ju Li and graduate student Zhe Shi; Principal Research Scientist Ming Dao; Professor Subra Suresh, who is president of Nanyang Technological University in Singapore as well as former dean of engineering and Vannevar Bush Professor Emeritus at MIT; and Evgenii Tsymbalov and Alexander Shapeev at the Skolkovo Institute of Science and Technology in Moscow.
The team used a combination of quantum mechanical calculations, analyses of mechanical deformation, and machine learning to demonstrate that the phenomenon, long theorized as a possibility, really can occur in nanosized diamond.
The concept of straining a semiconductor material such as silicon to improve its performance found applications in the microelectronics industry more than two decades ago. However, that approach entailed small strains on the order of about 1%. Li and his collaborators have spent years developing the concept of elastic strain engineering. This is based on the ability to cause significant changes in the electrical, optical, thermal, and other properties of materials simply by deforming them -- putting them under moderate to large mechanical strain, enough to alter the geometric arrangement of atoms in the material's crystal lattice, but without disrupting that lattice.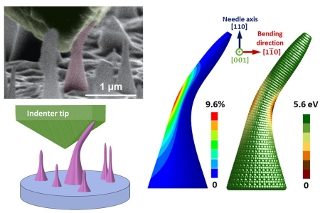 Tiny needles of diamond are strained by bending, as seen in this electron microscope image, top left. Computer simulations show the effects, with normal insulating properties in green, and areas with metallic properties, never seen before in diamond, in deep red. [Image: Courtesy of the researchers. Edited by MIT News]
In a major advance in 2018, a team led by Suresh, Dao, and Yang Lu from the City University of Hong Kong showed that tiny needles of diamond, just a few hundred nanometers across, could be bent without fracture at room temperature to large strains. They were able to repeatedly bend these nanoneedles to tensile strain as much as 10%; the needles can then return intact to their original shape.
Key to this work is a property known as bandgap, which essentially determines how readily electrons can move through a material. This property is thus key to the material's electrical conductivity. Diamond normally has a very wide bandgap of 5.6 electron volts, meaning that it is a strong electrical insulator that electrons do not move through readily. In their latest simulations, the researchers show that diamond's bandgap can be gradually, continuously, and reversibly changed, providing a wide range of electrical properties, from insulator through semiconductor to metal.
"We found that it's possible to reduce the bandgap from 5.6 electron volts all the way to zero," Li says. "The point of this is that if you can change continuously from 5.6 to 0 electron volts, then you cover all the range of bandgaps. Through strain engineering, you can make diamond have the bandgap of silicon, which is most widely used as a semiconductor, or gallium nitride, which is used for LEDs. You can even have it become an infrared detector or detect a whole range of light all the way from the infrared to the ultraviolet part of the spectrum."
"The ability to engineer and design electrical conductivity in diamond without changing its chemical composition and stability offers unprecedented flexibility to custom design its functions," says Suresh. "The methods demonstrated in this work could be applied to a broad range of other semiconductor materials of technological interest in mechanical, microelectronics, biomedical, energy, and photonics applications through strain engineering."
So, for example, a single tiny piece of diamond, bent so that it has a gradient of strain across it, could become a solar cell capable of capturing all frequencies of light on a single device -- something that currently can only be achieved through tandem devices that couple different kinds of solar cell materials together in layers to combine their different absorption bands. These might someday be used as broad-spectrum photodetectors for industrial or scientific applications.
One constraint, which required not only the right amount of strain but also the right orientation of the diamond's crystalline lattice, was to prevent the strain from causing the atomic configuration to cross a tipping point and turning into graphite, the soft material used in pencils.
The process can also make diamond into two types of semiconductors, either "direct" or "indirect" bandgap semiconductors, depending on the intended application. For solar cells, for example, direct bandgaps provide a much more efficient collection of energy from light, allowing them to be much thinner than materials such as silicon, whose indirect bandgap requires a much longer pathway to collect a photon's energy.
The process could be relevant for a wide variety of potential applications, Li suggests, such as for highly sensitive quantum-based detectors that use defects and dopant atoms in a diamond. "Using strain, we can control the emission and absorption levels of these point defects," he says, allowing novel ways of controlling their electronic and nuclear quantum states.
But given the great variety of conditions made possible by the different dimensions of strain variations, Li says, "if we have a particular application in mind, then we could optimize toward that application target. And what is nice about the elastic straining approach is that it is dynamic," so that it can be continuously varied in real time as needed.
This early-stage proof-of-concept work is not yet at the point where they can begin to design practical devices, the researchers say, but with the ongoing research they expect that practical applications could be possible, partly because of promising work being done around the world on the growth of homogeneous diamond materials.
The work was supported by the U.S. Office of Naval Research.
Source: MIT
Published October 2020
Rate this article