Pick, measure, and sort small parts with one robotic workstation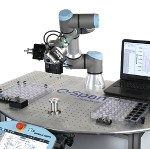 New Scale Robotics has introduced its Q-Span Automated Small-Part Measurement Systems for quality control (QC) teams in high-mix, small-batch manufacturing environments. Q-Span Systems combine robotic pick-and-place with automated measurement of small parts. They easily integrate into existing workflows in the QC lab or on the production floor, automating the tedious manual process of measuring parts with digital calipers. Neat.
Learn more.
---
Making motors safer and easier to control in explosive atmospheres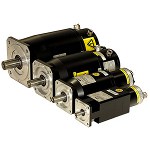 Motors and sensors go hand in hand. The EX range of motors already feature a wide range of sensors that deliver feedback on various parameters. Now, Parker has added a HIPERFACE DSL encoder to the EX range of motors with explosion-proof enclosures. This makes it even simpler to control and monitor the EX servo motors using a Parker Servo Drive controller.
Red this informative Parker blog.
---
Specifying actuators 101: Actuator know-how for machine design engineers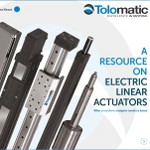 If you're designing a new machine, these tips on actuator know-how from Tolomatic will simplify your process -- plus give you lots of resources to consult. Learn about selecting the right actuator (rod or rodless), tips for specifying rod actuators, and which screw to choose. This information is also provided in a detailed ebook for you to save.
Read this informative Tolomatic blog.
---
New beltless conveyor is a pretty slick system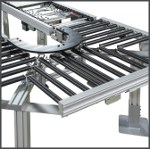 Dorner's new ERT250 Conveyors use Edge Roller Technology and sliding trays to provide low back pressure accumulation, non-contact zoning, and conventional transport -- all without a belt. This clever conveying system features a clean, open roller design and is ideal for assembly automation and cleanroom applications.
Learn more and see it work.
---
Gantry vs. Split Bridge system: What's the difference?

Gantry motion systems and split bridge motion systems are often used in industrial production, testing, and additive manufacturing, but what makes one better than another for a given application? The experts at PI (Physik Instrumente) run through the basics.
Read this informative PI blog.
---
Brushless DC motor with integrated driver saves space and time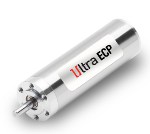 Portescap's newest addition to their Ultra EC mini brushless DC motor platform is the 16 ECP motor with integrated driver. These 16-mm diameter motors are available in two lengths (36 and 52 mm) and offer almost 50% more continuous torque over comparable motors, without compromising on smooth operation and long life. The integrated driver reduces many of the complexities associated with motor operation, cuts down installation time, lowers overall footprint, minimizes wiring, and offers cost-optimization benefits. These motors are a good fit for respiratory and ventilation devices, miniature pumps, medical hand tools, clinical diagnostics, and valve actuation, as well as many other applications.
Learn more.
---
Off-highway: Rotary actuator steering combines power and precision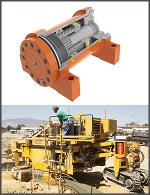 To steer the four tracks on its Easi-Pour Compact 880 slipform paver, Huron Manufacturing replaced the traditional hydraulic cylinders with Parker's Helac sliding spine rotary actuator technology. The new design not only accomplished what the old machine could do, but it provided additional functions as well.
Read this informative Parker blog.
---
New MiniSlide series of linear actuators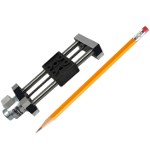 The new MiniSlide series from Haydon Kerk Pittman provides pre-engineered versatility for a variety of single and multi-axis applications. In one example, it can help lab equipment and automation designers solve the challenge of fitting sophisticated motion control solutions into compact spaces. MiniSlide assemblies are highly configurable, simple to integrate, and offer a compact low profile with a stable platform -- all at an economical price point. Two motor options are available: a 21-mm size 8 hybrid stepper and a 20-mm 19000 series Can-Stack stepper.
Learn more.
---
Cobots vs. Covid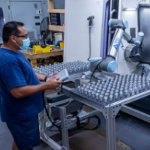 Wondering how you can leverage collaborative robots to create safe zones for workers returning to production lines? This whitepaper discusses how manufacturers across industries now turn to cobots for business resilience, improving both uptime and the work environment.
Download the whitepaper here:
Want to learn more about cobots? Get our ebooks and find out how:
Ready to get started?
---
New ROEQ GuardCom system delivers faster transfer of goods between mobile robots and stationary conveyors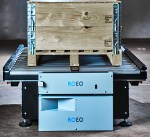 ROEQ has just launched GuardCom, an impressive system that leverages robust sensor technology for instant communication between ROEQ's top rollers (conveyors atop mobile robots) and stationary conveyors. This new solution replaces cumbersome, Wi-Fi-dependent third-party setups that often cause delays and mismanagement in the transfer of goods from mobile robots onto conveyors and vice versa.
Read the full article.
---
Roller coaster tech: HeavyDuty encoders deliver reliable speed data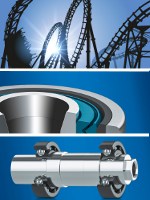 In Europe's biggest roller coaster, the Helix, POG 10 HeavyDuty incremental encoders from Baumer monitor the speed of the carriage's drive as it approaches the start ramp. The HeavyDuty technology guarantees high reliability and precision under extreme environmental conditions -- serving up thrills and reassuring safety for riders.
Read the full article.
---
Safety: Electromechanical actuators vs. hydraulic cylinders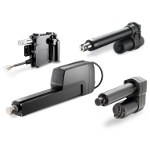 Linear motion machine designers are increasingly specifying electromech-anical actuators because they are cleaner, easier to control, and require less maintenance than hydraulic cylinders. Often overlooked, however, are the many intrinsic safety benefits that come with using electromechanical solutions.
Read this informative Thomson article.
---
Cobot with vision camera inspects engine sub-assemblies
When you're assembling a part of a car's engine that controls the power steering, you have no choice but to be perfect. Anything less than 100% quality could result in a tragic failure. To meet that expectation, Comprehensive Logistics receives a helping hand -- from a Universal Robots cobot arm that can see.
Read the full article.
---
Cool Tools: Easy-setup orbital sander for cobots launched by OnRobot
The new Sander package from OnRobot includes everything customers need to get their robotic sanding application started quickly and easily: a plug-and-play sanding tool, a variety of standard 3M sanding and polishing pads, easy-to-use programming software, an optional force/torque sensor, and a Grit Changer that enables automated switching between different sanding grits without operator intervention. All of the advanced features are supported on Universal Robots cobots, but the tool is easily integrated with any major robot brand.
Read the full article.
---
Solutions for robotic pick and place, packaging automation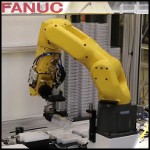 FANUC America's team of authorized system integrators provide turnkey solutions that help both small and large customers quickly respond to market demands in a wide range of industries and applications. If you're considering automation, FANUC can help you address any challenge you face. Learn about Easy Robotic Picking and Packaging Customization, Robotic Sorting and Picking, Food-Safe Robots, Robot Types, and more.
Learn more.
---
NYC to D.C. in 30 minutes: Virgin Hyperloop plans to build Hyperloop Certification Center in West Virginia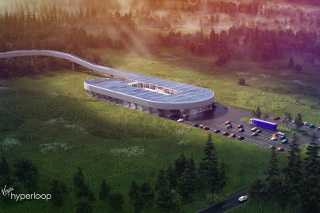 Rendering of planned Hyperloop Certification Center in West Virginia. [Virgin Hyperloop]
West Virginia, birth place of Chuck Yeager, the first person to fly faster than the speed of sound, will now be at the center of developing the next innovation in barrier-breaking transportation.
Virgin Hyperloop announced Thursday, Oct. 8, that it will locate a certification facility (HCC) on nearly 800 acres of land spanning Tucker and Grant counties. There, it will leverage intellectual capital and resources from West Virginia University (WVU), Marshall University, and from across the state.
"West Virginia is well positioned to provide a fully integrated solution that advances the nationwide opportunity for hyperloop," said Jay Walder, CEO of Virgin Hyperloop. "The engineering and scientific talent, combined with the skilled workforce and collaborative spirit we know is critical to this project, is all right here."
Hyperloop moves people and goods in pods through a vacuum tube at speeds exceeding 600 mph, enabling travel from Pittsburgh to Chicago in 41 minutes or New York City to Washington, D.C. in just 30 minutes.
Walder noted that the Hyperloop Certification Center's role is critical, a necessary next step in taking proven technology and demonstrating to regulators and certifiers that it works and is safe for passengers.
Work on the HCC is expected to begin in 2021 with a planned Welcome Center, Certification Track and Operations Center, Pod Final Assembly Facility, Production Development Test Center, and Operations and Maintenance and Safety Training Center.
Virgin Hyperloop plans to hire 150 to 200 engineers and technicians for the facility, with plans to source talent locally. In addition, the construction and manufacturing of the project will create 7,300 jobs throughout the region over the next five years, and the longer-term operation phase aims to create 6,000 positions.
WVU's Bureau of Business and Economic Research predicts the total economic impact of the Center's ongoing operation on the West Virginia economy to be $48 million annually.
The land, owned by Western Pocahontas Properties and located near Mt. Storm, is being donated to the WVU Foundation in partnership with Virgin Hyperloop.
Marshall University has worked closely with WVU and others throughout the process. The West Virginia Community and Technical College System will also play a key role in helping to create education and job training programs
Sarah Biller, executive director of Vantage Ventures at WVU, explained these partnerships will help to generate additional interest in a number of innovative projects starting up across West Virginia.
"This is another example that proves we actually can attract investors, attract the talent, and really reframe the conversation for our future," Biller said.
Source: West Virginia University
Published October 2020
Rate this article