Most compact 1500-W integrated servo motor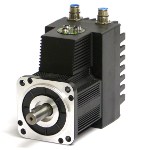 The MAC1500 motor from JVL sets completely new standards for the performance and size of servo controls. It is only 182 mm long. For a 1500-W motor with a torque of 4.78/14.3 Nm at 3,000 rpm, the MAC motor matches the size of traditional servo motors without built-in controllers. Both the motor and all electronic components have been specifically selected to withstand the rigorous demands required by industrial use. Advantages include savings on space and cabling, minimized noise, and no installation errors between driver and motor. Servicing is easier too.
Learn more.
---
Selecting linear actuators for robotics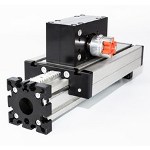 Nick Novotny over at Nook Industries has put together a handy and very useful short guide on selecting linear actuators for robotic applications. Besides addressing the primary considerations, he also explains motor types, linear actuator types, modularity, and advantages and disadvantages.
Read this informative Nook Industries blog.
---
Motor monitors for hazardous environs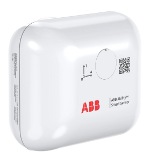 ABB has extended the scope of applications for its Smart Sensors with a new-generation design for motors in hazardous areas. The high-performance wireless ABB Ability Smart Sensor monitors key parameters to provide detailed insights into the performance and health of assets -- including advanced warning of bearing damage. Combining connectivity and data analytics means operators can plan their maintenance activities in advance, reduce downtime, and extend equipment lifetime. This sensor offers a battery life of up to three times longer than most competing designs. It is sealed for life (IP66/67) and can be mounted directly to the equipment in a matter of minutes -- no wiring or machining is needed. It communicates with smartphones, tablets, PCs, and plant gateways using low-energy Bluetooth or WirelessHART.
Learn more.
---
Mini linear voice coil motor is smaller than a penny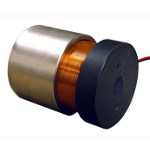 Moticont continues to add more linear DC motors to its LVCM line of Linear Voice Coil Actuators. The new addition is the LVCM-016-010-01 Linear Voice Coil Actuator. At 0.625 in. (15.9 mm), it is smaller in diameter than a penny, and the length at mid-stroke is just 0.63 in. (15.9 mm) long, which is less than a stack of 12 pennies. This mini voice coil actuator has a continuous force of 5.9 oz (1.6 N) and a peak force of 18.6 oz (5.2 N), and features a 0.125-in. (3.2-mm) stroke. It has high acceleration/deceleration, low inertia, and zero cogging. It is ideal for haptic feedback in medical/surgical instruments, assembly, work holding and clamping, sorting, scanning, and more.
Learn more.
---
Slotless motors vs. standard stepper motors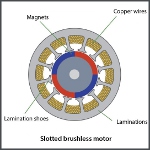 Lin Engineering has put together a quick, informative guide on the differences between slotless and standard motors. Slotless motors have seen new innovations in design and manufacturing in the past few years, making them a good choice for specific applications. This article spells out their benefits and drawbacks, and it provides information that may help in knowing when to -- and when not to -- select them as a solution.
Read the Lin Engineering article.
---
Pick, measure, and sort small parts with one robotic workstation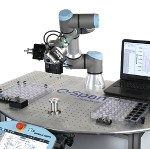 New Scale Robotics has introduced its Q-Span Automated Small-Part Measurement Systems for quality control (QC) teams in high-mix, small-batch manufacturing environments. Q-Span Systems combine robotic pick-and-place with automated measurement of small parts. They easily integrate into existing workflows in the QC lab or on the production floor, automating the tedious manual process of measuring parts with digital calipers. Neat.
Learn more.
---
Making motors safer and easier to control in explosive atmospheres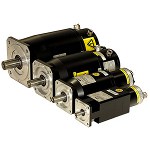 Motors and sensors go hand in hand. The EX range of motors already feature a wide range of sensors that deliver feedback on various parameters. Now, Parker has added a HIPERFACE DSL encoder to the EX range of motors with explosion-proof enclosures. This makes it even simpler to control and monitor the EX servo motors using a Parker Servo Drive controller.
Red this informative Parker blog.
---
Specifying actuators 101: Actuator know-how for machine design engineers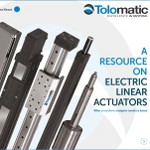 If you're designing a new machine, these tips on actuator know-how from Tolomatic will simplify your process -- plus give you lots of resources to consult. Learn about selecting the right actuator (rod or rodless), tips for specifying rod actuators, and which screw to choose. This information is also provided in a detailed ebook for you to save.
Read this informative Tolomatic blog.
---
New beltless conveyor is a pretty slick system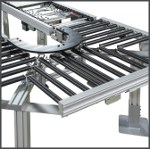 Dorner's new ERT250 Conveyors use Edge Roller Technology and sliding trays to provide low back pressure accumulation, non-contact zoning, and conventional transport -- all without a belt. This clever conveying system features a clean, open roller design and is ideal for assembly automation and cleanroom applications.
Learn more and see it work.
---
Gantry vs. Split Bridge system: What's the difference?

Gantry motion systems and split bridge motion systems are often used in industrial production, testing, and additive manufacturing, but what makes one better than another for a given application? The experts at PI (Physik Instrumente) run through the basics.
Read this informative PI blog.
---
Brushless DC motor with integrated driver saves space and time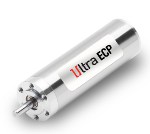 Portescap's newest addition to their Ultra EC mini brushless DC motor platform is the 16 ECP motor with integrated driver. These 16-mm diameter motors are available in two lengths (36 and 52 mm) and offer almost 50% more continuous torque over comparable motors, without compromising on smooth operation and long life. The integrated driver reduces many of the complexities associated with motor operation, cuts down installation time, lowers overall footprint, minimizes wiring, and offers cost-optimization benefits. These motors are a good fit for respiratory and ventilation devices, miniature pumps, medical hand tools, clinical diagnostics, and valve actuation, as well as many other applications.
Learn more.
---
Off-highway: Rotary actuator steering combines power and precision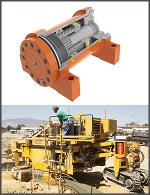 To steer the four tracks on its Easi-Pour Compact 880 slipform paver, Huron Manufacturing replaced the traditional hydraulic cylinders with Parker's Helac sliding spine rotary actuator technology. The new design not only accomplished what the old machine could do, but it provided additional functions as well.
Read this informative Parker blog.
---
New MiniSlide series of linear actuators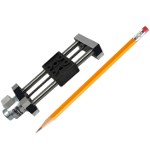 The new MiniSlide series from Haydon Kerk Pittman provides pre-engineered versatility for a variety of single and multi-axis applications. In one example, it can help lab equipment and automation designers solve the challenge of fitting sophisticated motion control solutions into compact spaces. MiniSlide assemblies are highly configurable, simple to integrate, and offer a compact low profile with a stable platform -- all at an economical price point. Two motor options are available: a 21-mm size 8 hybrid stepper and a 20-mm 19000 series Can-Stack stepper.
Learn more.
---
Cobots vs. Covid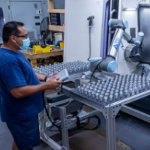 Wondering how you can leverage collaborative robots to create safe zones for workers returning to production lines? This whitepaper discusses how manufacturers across industries now turn to cobots for business resilience, improving both uptime and the work environment.
Download the whitepaper here:
Want to learn more about cobots? Get our ebooks and find out how:
Ready to get started?
---
New ROEQ GuardCom system delivers faster transfer of goods between mobile robots and stationary conveyors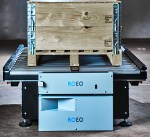 ROEQ has just launched GuardCom, an impressive system that leverages robust sensor technology for instant communication between ROEQ's top rollers (conveyors atop mobile robots) and stationary conveyors. This new solution replaces cumbersome, Wi-Fi-dependent third-party setups that often cause delays and mismanagement in the transfer of goods from mobile robots onto conveyors and vice versa.
Read the full article.
---
Texas A&M University researchers creating robots that can transform their wheels into legs for military applications
A team of researchers is creating mobile robots for military applications that can determine, with or without human intervention, whether wheels or legs are more suitable to travel across terrains. The Defense Advanced Research Projects Agency (DARPA) has partnered with Dr. Kiju Lee at Texas A&M University to enhance these robots' ability to travel through urban military environments self-sufficiently.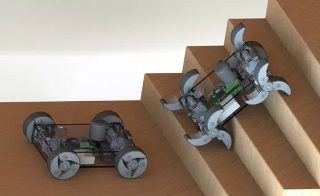 The adaptable Wheel-and-Leg Transformable Robot sports wheels that can transform for climbing.
The DARPA OFFensive Swarm-Enabled Tactics (OFFSET) program awarded Lee, associate professor in Texas A&M's Department of Engineering Technology and Industrial Distribution, and a team of graduate students the opportunity after her prior successful accomplishments on developing a mixed-reality swarm simulator with embedded consensus-based decision-making for adaptive human-swarm teaming as part of the OFFSET Sprint-3. This project was showcased at OFFSET's third field experiment (FX3) together with other participating teams.
Lee and her team are developing an adaptable Wheel-and-Leg Transformable Robot (α-WaLTR) that can traverse over varying surfaces, including staircases, more efficiently. The α-WaLTR will move with wheels or legs depending on the immediate need and will be able to decide for itself which to use.
"Legged locomotion is more versatile, but suffers from inherent structural, mechanical, and control complexities," Lee said. "The proposed testbed will be equipped with novel wheel/leg transformable mechanisms, which can switch between the two locomotion modes actively adapting to its environment, but without needing any additional actuator."
The team is rapidly developing prototypes and will showcase this new hardware platform at the OFFSET FX5 tentatively scheduled for February 2021.
Although created for military use, the team hopes this technology will transcend this field.
"While the current focus is on defense and other military applications, these types of adaptable mobile robots can be applied to many other areas, such as space, domestic service, surveillance, and agriculture," said Lee.
The OFFSET Sprint-5 effort is led by Lee along with the help of five graduate students and one undergraduate student: Chuanqi Zheng, Siddharth Sane, Vishnu Kalyanram, Kangneoung Lee, Sohil Parsana, and Jenna Horn.
Source: Texas A&M University
Published November 2020
Rate this article