Heart transplant: Chevy converts 1977 K5 Blazer to electric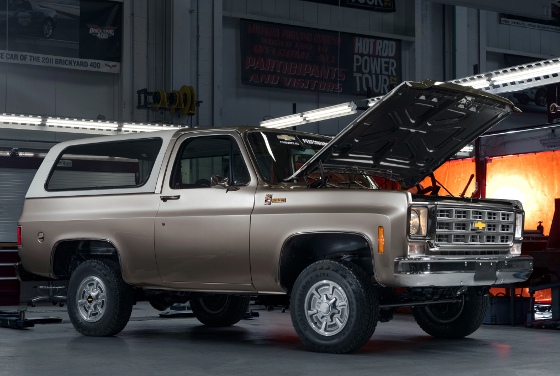 To demonstrate the possibilities of bringing electric vehicle (EV) technology to aftermarket cars, Chevrolet Performance has used its new eCrate conversion package to give a 1977 K5 Blazer a fully electric propulsion makeover. With an increase of 25 hp from the original, the classic two-door SUV retains as much of the stock Blazer as possible, with about 90 percent of the new parts installed being factory components from the Chevrolet Bolt EV.
The project was a special undertaking that was revealed at this year's annual Specialty Equipment Market Association (SEMA) show in November, which was held as a virtual event called SEMA 360.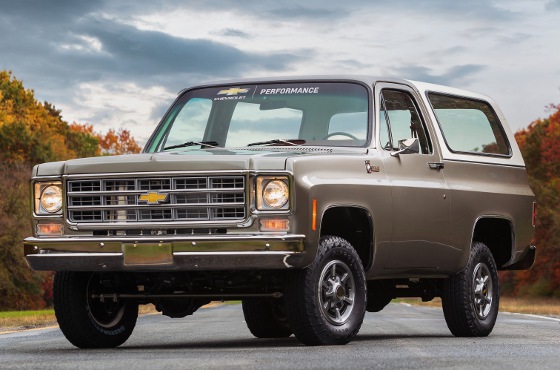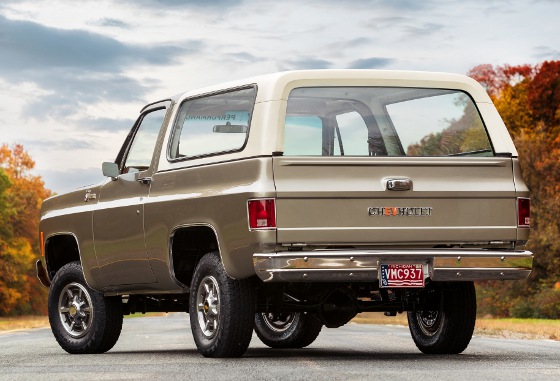 For the conversion, Chevy says a team first removed the original 175-hp 400-cubic-in. V8 from the Blazer. Its three-speed automatic, fuel system, and exhaust went as well. They then installed a Bolt EV electric motor, delivering 200 hp and 266 lb-ft of torque, paired with a Chevrolet Performance electronically controlled four-speed automatic. The rest of the Blazer drivetrain remains untouched, including the transfer case, driveshaft, and axles.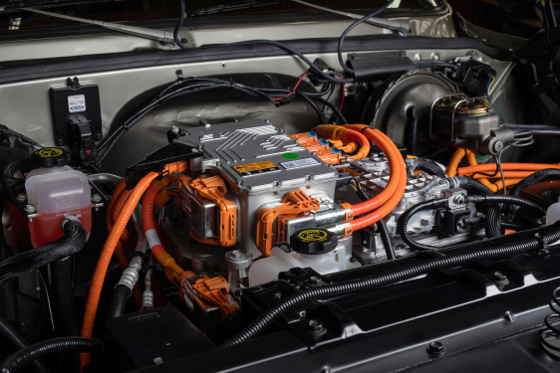 The power is supplied by a 400-V Bolt lithium-ion battery pack with 60 kWh of usable energy. The tradeoff? It's installed in the cargo area.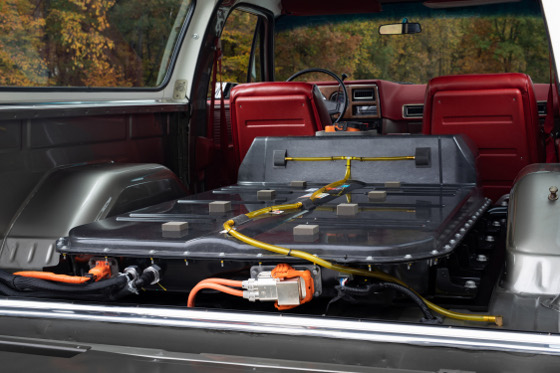 Monte Doran, GM Design Communications Manager, told Designfax, "The Bolt battery is fairly large, so it lends itself well to pickups or SUVs like the Blazer where you can mount it to the bed. Obviously, you could do more body and frame work to adapt it to other vehicles."

VIDEO: Time lapse of 1977 K5 Blazer-E conversion.
Doran said the team hopes to offer more modular battery packs in the future, which would make it easier to fit the batteries in a wide array of vehicles.
Using production controllers and wiring harnesses preserves many Bolt EV features, including shock protection, battery heating and cooling, battery-overcharge protection, and even regenerative braking.
Aftermarket components include an electric power steering kit, an electric pump providing vacuum to the stock brake system, and an electronic controller to drive inputs to the retained vintage Blazer gauges. In a nice touch, the battery's state of charge is registered on the original fuel gauge.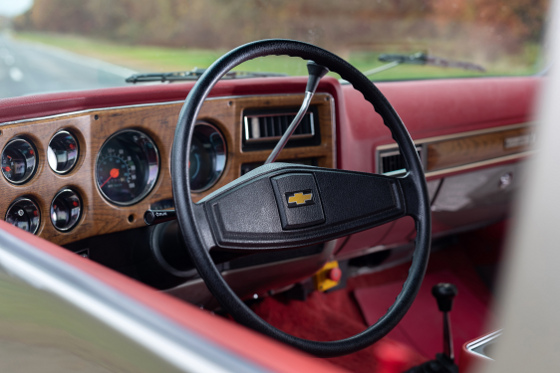 The Chevrolet Performance 60-kWh Electric Connect and Cruise package (eCrate) is projected to be available in the second half of 2021. It includes:
A 60-kWh battery pack,
A 200-hp electric motor,
A DC-to-AC power inverter to drive the electric motor,
A DC-to-DC power converter to power low-voltage systems, and
The wiring harnesses, controllers, and water pumps for battery heating and cooling.
"The eCrate can be charged using any charge station with a universal adapter," said Doran. "That includes a 120-volt, 240-volt, and DC fast-charging stations. Charge times obviously vary based on the charger you are using, so overnight for 120 volts or in an hour for DC fast charging."
Chevrolet estimates the converted Blazer will do 100 to 150 miles on a full charge (see video below). The 2019 Chevy Bolt EV offered the same size battery back (weighing 960 lb!) along with 200 hp and had an EPA-estimated 238 miles of range on a full charge. (In 2020, the Bolt battery pack was updated to provide 66 kWh of power.)
For any conversion of this type, "It's also important to note that your range will vary based on what vehicle you use. Both vehicle aerodynamics and weight play a role in battery range," Doran said.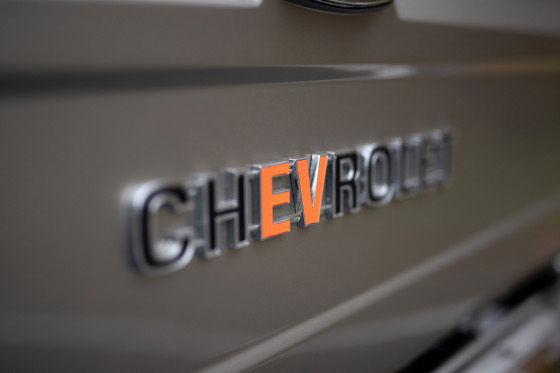 Chevrolet Performance is also evaluating additional eCrate packages with higher-performance options and new battery configurations to fit a wider range of aftermarket applications. It has also begun certifying Electric Connect and Cruise installers. Participating Chevrolet dealers and aftermarket companies will receive the training, tools, and equipment needed to work with high-voltage systems and charging stations to service customers' vehicles.
So how much will it cost to convert your vintage Chevy out back? For now, Doran and Chevrolet Performance aren't saying. That's a disappointment. But what won't disappoint is probably the off-the-line pickup this 1977 Blazer now has, not to mention the quiet ride and zero emissions.

VIDEO: Powertrain overview for the Chevrolet Performance K5 Blazer-E.
If you're interested, you should check in with Chevrolet Performance periodically for possible eCrate package updates.
Sources: Chevrolet, Chevrolet Performance
Published November 2020
Rate this article