Top Tech Tip: Innovative way to take up tolerances!

Smalley Linear Springs are a continuous wave formed (marcelled) wire length produced from spring tempered materials. They act as a load-bearing device with approximately the same load/deflection characteristics as a wave spring. Linear Springs are now available as a standard part in carbon and stainless steel, with over 200 sizes.
Learn more.
---
ESPRIT CNC programming Learning Center online
The ESPRIT Learning Center is a new online training platform with on-demand, self-paced training courses created specifically for ESPRIT CAM programmers. ESPRIT's top engineers and instructors have poured a huge amount of effort and energy into creating these courses. The first learning path to be released is New User Milling, with New User Turning and New User Mill-Turn to follow. Each learning path includes five to seven training courses that guide users through several different machine models and part models to introduce different machining processes in ESPRIT. These are paid courses.
Learn more.
---
Cool Tools: OnRobot Screwdriver for cobots/robot arms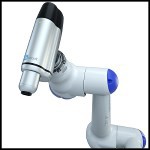 Automated precision assembly using cobots and robot arms just got easier with the introduction of an impressive new screwdriver unit from OnRobot. The OnRobot Screwdriver allows manufacturers to automate a wide range of assembly processes quickly, simply, and flexibly. It includes precise torque control, a nifty screw retraction system, and Quick Changer mounting.
View the video.
---
Universal positioning system with endless possibilities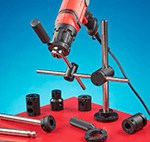 Designed for holding cameras, tools, and other devices, Stafford's universal positioning system features more than 25 standard components that are easy to configure and position. This system is suitable for laboratory, material handling, optical, packaging, process, prototyping, and other applications. It includes a base that can mount to virtually any surface and accepts 0.5-, 0.75-, and 1-in. shafts that fit stepped and straight-through couplings that can be inserted 90 degrees or parallel. Tilt-and-swivel mounts, hinge collar mounts, and Grip & Go adjustment handles are available. Custom parts can also be made.
Learn more.
---
Advanced bearing tech: SPRINGLIDE energized bearings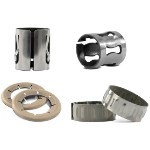 The new SPRINGLIDE from Saint-Gobain combines the low-friction properties of PTFE-lined NORGLIDE Bearings and the radial spring characteristics of RENCOL Tolerance Rings. This solution provides less risk for clearance conditions, which can otherwise cause rattle. This means that automotive manufacturers no longer have to create a tight bearing fit that would increase the adjustment force to undesirable levels, and they get a controlled-friction component that helps to create a high-quality interior. A thorough on-demand webinar on the specifics is available too.
Learn more.
---
World's tallest production metal-powder 3D printer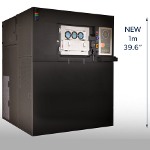 VELO3D's next-gen Sapphire metal 3D printer with cylindrical 315-mm diameter build chamber is now available in 400-mm and 1,000-mm configurations. That means users can create SupportFree parts that are up to 1 m tall with the biggest machine -- with no tradeoff in part quality. Sapphire features dual 1-kW lasers and in-situ metrology sensors that enable visibility into the quality of every layer of the build. This system is compatible with nickel-based alloys.
Learn more.
---
Enclosures with stainless steel corrosion-resistant latch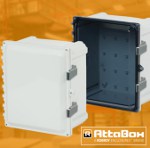 AttaBox Enclosures has just introduced a new, corrosion-resistant 316 stainless steel latch that is standard for all sizes of its Heartland Series of polycarbonate enclosures. The strong, secure-fitting latch maintains a 4X rating. It is not affected by UV degradation, features high tensile and impact strength, and performs reliably within a wide temperature range. It is available for both opaque and clear Heartland polycarbonate enclosures. AttaBox includes 12 full non-metallic enclosure product lines encompassing more than 800 part numbers and more than 30 configurations.
Learn more.
---
Graphite fire-retardant additive for plastics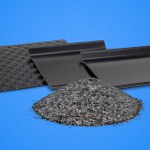 NeoGraf Solutions has just announced the addition of GrafGuard 280-50N to its lineup of expandable graphite flake, non-halogenated, non-flammable, fire-retardant additives. This product is specifically targeted toward the thermoplastics industry, especially polymers with high processing temps including composites and multi-functional systems with high melting points for both injection-molded and thermoformed applications. It offers a much wider range of polymer systems -- such as polypropylene, polystyrene, PET, nylon, and ABS -- than the company's previous products. The graphite expansion, initiated by a fire, can be more than 100 times its original thickness, resulting in a non-burnable, insulating layer.
Learn more.
---
Monitor mounts and locking slide connectors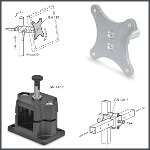 JW Winco's new monitor mounts GN 197, including VESA adapter plates and locking slide units GN 134.7 and GN 147.7, open up new possibilities for diverse customer needs. The monitor mount includes a connection stud that makes it extremely simple to fasten the mount to all tube clamp connectors. In combination with rotary or flanged joints, users can realize any number of degrees of freedom and adjustment options for touch screens, panels, displays, and monitors on production machines. Locking slide units based on universal or flanged tube clamp connectors allow for quick and easy movement to recurring positions on a square construction tube via a moving slide.
Learn more.
---
New sealing solution for small appliances, power tools, and even drones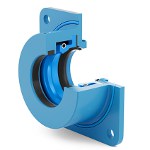 Freudenberg Sealing Technologies has launched series production of a modular sealing unit that combines a classic radial shaft seal with a plastic outer case. The design promotes better long-term seal performance and longevity, is easier to assemble, and significantly lowers manufacturing costs in comparison with traditional metal-encased radial shaft seal units. The innovative sealing concept has been developed for use in general industry applications that are especially focused on small, electric household appliances, but power tools and drones may benefit too.
Learn more.
---
Low-viscosity epoxy coating features acid resistance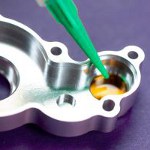 Master Bond EP21ARLV is a two-part epoxy that may be used as an adhesive, sealant, coating, or encapsulant. It bonds well to a variety of substrates including metals, ceramics, composites, and many plastics and rubbers. The product is capable of withstanding prolonged exposure to a wide range of chemicals, such as 70% sulfuric acid, 10% hydrochloric acid, 10% nitric acid, and butyl acetate. "With its low-viscosity and acid resistance, EP21ARLV is a go-to material for potting and encapsulations in battery applications," says Rohit Ramnath, Senior Product Engineer. "This combination is especially useful in applications where protection from acids is crucial."
Learn more.
---
No. 1 reason for retaining ring failure -- and how to overcome it

Drills, saws, sanders, and grinders -- what do all of these power tools have in common? Retaining rings keep them from falling apart. A retaining ring's function is to hold components or assemblies in place. For a retaining ring in a power tool, this is no easy feat because it is regularly exposed to high axial and vibrational force. Understanding why failure happens and how to prevent it is imperative. The most common point of failure may surprise you.
Read this informative Smalley blog.
---
Automated deburring tool from SCHUNK uses proven blade tech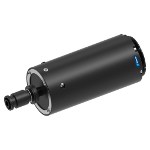 The CDB robot deburring tool from SCHUNK is suitable for robot-assisted deburring of workpieces made of plastic, aluminum, steel, brass, and other materials in a wide variety of geometries. It can be used for deburring stamped parts, for household and industrial fittings, as well as for plastic or metal components in the automotive or aviation industry. Being able to insert conventional deburring blades that were previously used manually 1:1 into the robot tool makes quick and uncomplicated changeovers from manual to automated operation possible. Compared to manual deburring, robot-assisted deburring offers a vast range of advantages, including that employees no longer need to endure difficult, dangerous, and lengthy deburring tasks.
Learn more.
---
Reverse engineering with Geomagic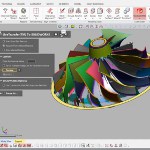 See how 3D Systems' Geomagic Design X software can break down a typical reverse engineering job. Geomagic Design X makes it easy to create CAD models from 3D scans faster, more accurately, and more reliably. It handles large scan data sets and makes complex 3D models with hybrid modeling for solid, surface, and mesh. Users can convert physical parts into CAD for new product designs or make existing parts fit with new parts. This short presentation is a helpful way to view the tool capabilities and functionality using real-world examples.
View the video.
---
Expanded range of bellows couplings

Ruland Manufacturing has expanded its line of bellows couplings to include an outer diameter of 2 1/4 in. (57 mm), allowing for larger bore sizes and increased torque and torsional stiffness capabilities. Designers prefer to specify bellows couplings in servo-driven systems due to their high accuracy and repeatability. This size expansion allows for bore sizes up to 1 1/4 in. (32 mm) in a clamp-style design with or without keyways. Ruland bellows couplings are an assembly of two hubs and a thin-walled metallic bellows. Hubs are manufactured from aluminum for light weight and low inertia. They are joined by a thin-walled stainless steel bellows, allowing the coupling to remain flexible under high torsional loads.
Learn more.
---
Army tests aluminum foam for blast protection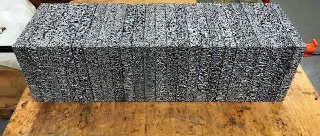 Aluminum foam is inexpensive to produce, and it can be made into various sizes and shapes, including panels. While it is currently manufactured and shipped from South Korea and Canada, several companies in the United States are interested in expanding production to make aluminum foam. [Photo: U.S. Army]
By Argie Sarantinos, U.S. Army CCDC
Forward Operating Bases are typically surrounded by barbed wire, concrete barriers, gates, watchtowers, and other infrastructures. A new material -- aluminum foam -- may be a possible solution for additional force protection, due to its ability to absorb energy from blasts.
The aluminum foam is added to panels clad with steel that are part of existing structures or bolted together to create larger structures. The panels are also used in jersey-style barriers to protect against truck bombs.
Aluminum foam was recently tested in a lab and at an explosives testing range at Picatinny Arsenal, New Jersey, with funding from the Office of the Under Secretary of Defense - Global Capability Programs Foreign Comparative Testing program. The FCT program provides funding to acquire, test and evaluate mature products from foreign industry that may fill a capability gap or satisfy an urgent need. The aluminum foam is manufactured in South Korea and Canada.
"In products where you need a good amount of strength and stiffness that aluminum provides but not all the weight, using the foam opens up a lot of engineering design space without increasing cost," said Calvin Lim, engineer at Picatinny Arsenal.
Aluminum foam is inexpensive to produce, and it can be made into various sizes and shapes, including panels. While it is currently manufactured and shipped from South Korea and Canada, several companies in the United States are interested in expanding production to make aluminum foam. Creating an affordable supply chain in the U.S. will eliminate difficulties with shipping the product outside the country and create additional jobs in the U.S.
Testing to verify and confirm the manufacturers' claims was conducted at Picatinny Arsenal. Explosives were initiated next to the aluminum foam panels, which were held in place with I-beams.
"These tests showed how the aluminum foam prevents energy from being transmitted to the other side. To fully replicate previous test data, a higher amount of explosives is needed,'' Lim said.
Testing was initially conducted in South Korea; during testing, the panels absorbed the energy from the blast, collapsing the material's cellular structure and preventing any damage from transmitting to the other side. The tests at Picatinny Arsenal, as well as upcoming tests, will determine if aluminum foam will be beneficial for the Army overall, as well as other services.
The FCT program provided funding to purchase additional aluminum foam for Insensitive Munitions testing with XM1128 artillery. This was proposed as a low-cost, easy-to-implement packaging solution to reduce the sensitivity and collateral damage in sympathetic reaction and fragment impact scenarios. This testing has been slated but delayed due to the coronavirus pandemic.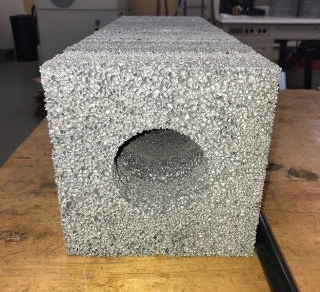 The Foreign Comparative Testing program purchased aluminum foam to ship and/or store 155-mm XM1128 artillery for an Insensitive Munitions Testing. (U.S. Army)[Photo: U.S. Army]
In addition to military uses, aluminum foam is used in a variety of applications including sound mitigation, highway barriers, and storm debris mitigation because of its unique properties.
Because of its versatility, aluminum foam has sparked interest and possible use for military ground vehicles, aircraft, and watercraft due to its low weight, stiffness, and buoyancy. Lighter vessels and vehicles will not only move faster and use less fuel, they will require fewer refueling trips and enable Soldiers to maneuver more easily.
The Army is working with several companies on additional energy and resource savings, including an energy-conscious solution that melts raw scrap aluminum to create aluminum foam. This will reduce steps in the recycling supply chain, which will lead to cost savings.
Future efforts could include using aluminum foam to rapidly manufacture, ship, and erect buildings quickly in key locations. Recent research shows many allied countries and adversarial countries have already been using aluminum foam to protect civilian and defense employees.
Published December 2020
Rate this article