Integrated servo motor: Power, precision, and control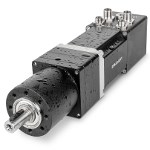 Maxon's new IDX compact integrated servo gearmotor + drive combines a powerful, brushless EC-i motor and an EPOS4 positioning controller, which can be complemented with a maxon planetary gearhead when required. This motor with an operating voltage from 12 to 48 VDC stands out for its high torque density, high efficiency, maintenance-free components, and a high-quality industrial housing providing IP65 protection. The IDX also features configurable digital and analog inputs and outputs, and intuitive software enabling easy commissioning and integration into master systems.
Learn more.
---
Cool Tools: OnRobot Screwdriver for cobots/robot arms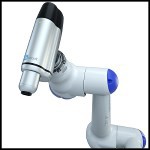 Automated precision assembly using cobots and robot arms just got easier with the introduction of an impressive new screwdriver unit from OnRobot. The OnRobot Screwdriver allows manufacturers to automate a wide range of assembly processes quickly, simply, and flexibly. It includes precise torque control, a nifty screw retraction system, and Quick Changer mounting.
View the video.
---
All-in-one controller with integrated drives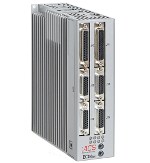 ACS Motion Control has launched the first in a new line of Economical Control Module products. The ECMsm is a compact, all-in-one, 2- or 4-axis motion controller with internal drives, designed for OEMs with cost-sensitive motion control applications. The ECMsm provides up to 5/10 A per axis with 12-48 VDC drive supply. This solution is ideal for small-footprint equipment in biomedical, semiconductor, and other high-tech industries. It provides the flexibility to interface with multiple motor types for the best technology fit on each axis: brushless, brush, voice coil, or stepper.
Learn more.
---
Blog: Evolving planetary roller screw applications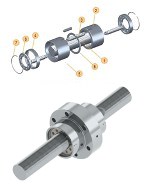 According to Nick Novotny at Nook Industries, planetary roller screws -- which convert rotary motion into axial force or vice versa -- are being used in an ever-increasing range of applications in various industries, including machine tool and fabrication, robotics, industrial automation, and the oil and gas industry. However, the fastest-growing segment involves electric vehicles and aircraft, where this technology is often used to enhance efficiency of embedded applications such as flight control and vehicle control sub systems. Learn about the multiple advantages and reliability of planetary roller screws.
Read this informative Nook Industries blog.
---
Modular angle encoders improved for machine feedback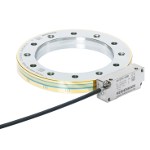 HEIDENHAIN's ERA 4000 series of bearingless angle encoders, which are used heavily in machines in the metrology, machine tool, semiconductor, and robotic industries, have new upgrades to reliability and functionality. These encoders consist of a steel drum at various diameters with the 20-, 40-, or 80-micron graduation on the outer diameter, and a scanning unit that reads the graduation. As an incremental system, there are reference marks available as distance-coded or one per revolution. Improvements include adding HEIDENHAIN Signal Processing (HSP) to the scanning units that visually shows the quality of signal coming back from the drum, a status LED on the side of the scanning unit, and the addition of a smaller M12 connector that saves space and is more robust.
Learn more.
---
Motor development kit aims for energy efficiency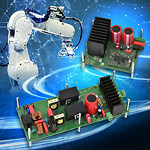 ON Semiconductor has introduced its advanced and flexible Motor Development Kit (MDK) to accelerate the development of more efficient motor control solutions for applications ranging from less than 1 kW to over 10 kW. It comprises one of a growing number of Power Boards connected to a Universal Controller Board (UCB). The Power Boards feature various incarnations of ON Semiconductor inverter solutions for motor drive, from high-voltage integrated modules to low-voltage, discrete MOSFETs. The UCB is a common control platform that interfaces with any Power Board to enable engineers to evaluate alternative motor control techniques for various types of motors and at a wide variety of power levels.
Learn more.
---
Most compact 1500-W integrated servo motor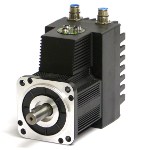 The MAC1500 motor from JVL sets completely new standards for the performance and size of servo controls. It is only 182 mm long. For a 1500-W motor with a torque of 4.78/14.3 Nm at 3,000 rpm, the MAC motor matches the size of traditional servo motors without built-in controllers. Both the motor and all electronic components have been specifically selected to withstand the rigorous demands required by industrial use. Advantages include savings on space and cabling, minimized noise, and no installation errors between driver and motor. Servicing is easier too.
Learn more.
---
Selecting linear actuators for robotics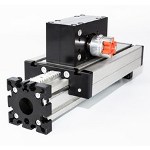 Nick Novotny over at Nook Industries has put together a handy and very useful short guide on selecting linear actuators for robotic applications. Besides addressing the primary considerations, he also explains motor types, linear actuator types, modularity, and advantages and disadvantages.
Read this informative Nook Industries blog.
---
Motor monitors for hazardous environs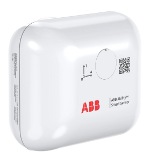 ABB has extended the scope of applications for its Smart Sensors with a new-generation design for motors in hazardous areas. The high-performance wireless ABB Ability Smart Sensor monitors key parameters to provide detailed insights into the performance and health of assets -- including advanced warning of bearing damage. Combining connectivity and data analytics means operators can plan their maintenance activities in advance, reduce downtime, and extend equipment lifetime. This sensor offers a battery life of up to three times longer than most competing designs. It is sealed for life (IP66/67) and can be mounted directly to the equipment in a matter of minutes -- no wiring or machining is needed. It communicates with smartphones, tablets, PCs, and plant gateways using low-energy Bluetooth or WirelessHART.
Learn more.
---
Mini linear voice coil motor is smaller than a penny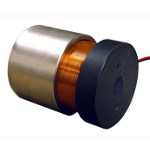 Moticont continues to add more linear DC motors to its LVCM line of Linear Voice Coil Actuators. The new addition is the LVCM-016-010-01 Linear Voice Coil Actuator. At 0.625 in. (15.9 mm), it is smaller in diameter than a penny, and the length at mid-stroke is just 0.63 in. (15.9 mm) long, which is less than a stack of 12 pennies. This mini voice coil actuator has a continuous force of 5.9 oz (1.6 N) and a peak force of 18.6 oz (5.2 N), and features a 0.125-in. (3.2-mm) stroke. It has high acceleration/deceleration, low inertia, and zero cogging. It is ideal for haptic feedback in medical/surgical instruments, assembly, work holding and clamping, sorting, scanning, and more.
Learn more.
---
Slotless motors vs. standard stepper motors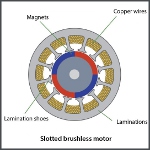 Lin Engineering has put together a quick, informative guide on the differences between slotless and standard motors. Slotless motors have seen new innovations in design and manufacturing in the past few years, making them a good choice for specific applications. This article spells out their benefits and drawbacks, and it provides information that may help in knowing when to -- and when not to -- select them as a solution.
Read the Lin Engineering article.
---
Pick, measure, and sort small parts with one robotic workstation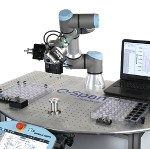 New Scale Robotics has introduced its Q-Span Automated Small-Part Measurement Systems for quality control (QC) teams in high-mix, small-batch manufacturing environments. Q-Span Systems combine robotic pick-and-place with automated measurement of small parts. They easily integrate into existing workflows in the QC lab or on the production floor, automating the tedious manual process of measuring parts with digital calipers. Neat.
Learn more.
---
Making motors safer and easier to control in explosive atmospheres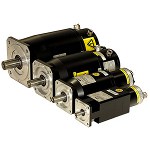 Motors and sensors go hand in hand. The EX range of motors already feature a wide range of sensors that deliver feedback on various parameters. Now, Parker has added a HIPERFACE DSL encoder to the EX range of motors with explosion-proof enclosures. This makes it even simpler to control and monitor the EX servo motors using a Parker Servo Drive controller.
Red this informative Parker blog.
---
Specifying actuators 101: Actuator know-how for machine design engineers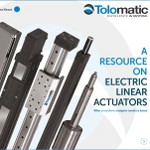 If you're designing a new machine, these tips on actuator know-how from Tolomatic will simplify your process -- plus give you lots of resources to consult. Learn about selecting the right actuator (rod or rodless), tips for specifying rod actuators, and which screw to choose. This information is also provided in a detailed ebook for you to save.
Read this informative Tolomatic blog.
---
New beltless conveyor is a pretty slick system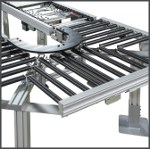 Dorner's new ERT250 Conveyors use Edge Roller Technology and sliding trays to provide low back pressure accumulation, non-contact zoning, and conventional transport -- all without a belt. This clever conveying system features a clean, open roller design and is ideal for assembly automation and cleanroom applications.
Learn more and see it work.
---
GM's electric vehicles will include industry's first wireless battery management system
General Motors will be the first automaker to use an almost completely wireless battery management system, or wBMS, for production electric vehicles. This wireless system, developed with Analog Devices, will be a primary driver of GM's ability to ultimately power many different types of electric vehicles from a common set of battery components.
The wBMS is expected to drive GM's Ultium-powered EVs to market faster, as time won't be needed to develop specific communications systems or redesign complex wiring schemes for each new vehicle. Instead, the wBMS helps to ensure the scalability of Ultium batteries across GM's future lineup, encompassing different brands and vehicle segments, from heavy-duty trucks to performance vehicles.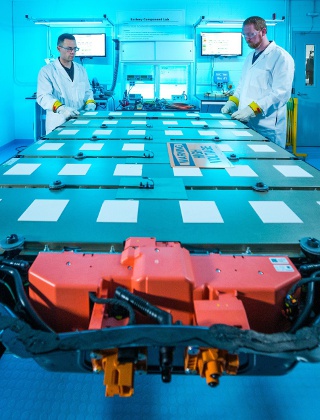 GM's wireless battery management system is expected to drive the company's Ultium-powered EVs to market faster, because time won't be needed to develop specific communications systems or redesign complex wiring schemes for each new vehicle. [Photo: Jeffrey Sauger for General Motors]
Much like the pack design of GM's Ultium batteries, which is flexible enough to incorporate new chemistry over time as technology changes, the wBMS' basic structure can easily receive new features as software becomes available. With expanded over-the-air updates provided by GM's all-new Vehicle Intelligence Platform, the system could even be upgraded over time with new software-based features via smartphone-like updates.
"Scalability and complexity reduction are a theme with our Ultium batteries -- the wireless battery management system is the critical enabler of this amazing flexibility," said Kent Helfrich, GM executive director of Global Electrification and Battery Systems. "The wireless system represents the epitome of Ultium's configurability and should help GM build profitable EVs at scale."
The wBMS will help GM's electric vehicles balance chemistry within the individual battery cell groups for optimal performance. It can also conduct real-time battery-pack health checks and refocus the network of modules and sensors as needed -- this helps safeguard battery health over the vehicle's lifespan.
By reducing wires within the batteries by up to 90 percent, the wireless system can help extend charging range by creating lighter vehicles overall and opening extra room for more batteries. The space and flexibility created by this reduction in wires not only enables a cleaner design, but also simpler and more streamlined battery restructuring as needed and more robust manufacturing processes.
This wireless system also provides a unique repurposing capability for battery reuse in secondary applications more easily than conventional wired monitoring systems. When the wireless packs are capacity-reduced to the point where they are no longer ideal for optimum vehicle performance, but still functional as consistent power supplies, they can be combined with other wireless battery packs to form clean power generators. This can be done without a redesign or overhaul of the battery management system traditionally required in second-life usage.
GM's wireless battery management system is protected by cybersecurity measures that are foundational to the company's all-new electrical architecture, called the Vehicle Intelligence Platform. The DNA of this system includes protective features within the hardware and software layers, including protection of wireless communications.
The wireless battery monitoring system will be standard on all planned GM vehicles powered by Ultium batteries.
Source: General Motors
Published September 2020
Rate this article