Super-cool muscle mash-up: Aston Martin Victor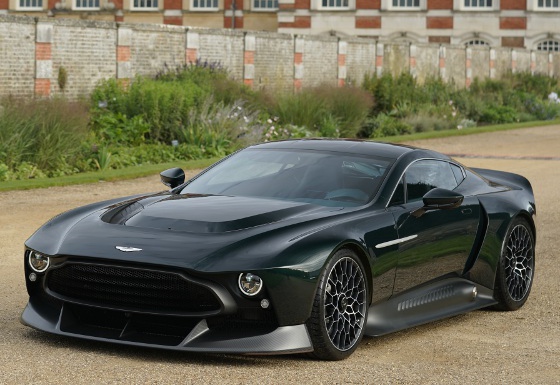 Are two supercars mashed together better than one original? In the case of the one-off Aston Martin Victor, we'd have to say yes! Like some delicious mega peanut-butter-and-chocolate creation, the Victor combines elements of the track-only Aston Martin Vulcan and the company's flagship One-77 sports cars to create a throwback 70s- and 80s-inspired 847-hp muscle car that is super cool and modern.
What is neat about the two-door, front-engine Victor is that even though it is a singular commission design and manufactured by an iconic British brand, if you stare at it long enough you might see some American muscle car in there. Is it a mirage? Is that a hint of a 1976 Trans AM in there? Do I see some widened Mustang or Camaro in there too? What is it? And yet the Victor is its own distinctive and beefy English prowler -- full of surprises.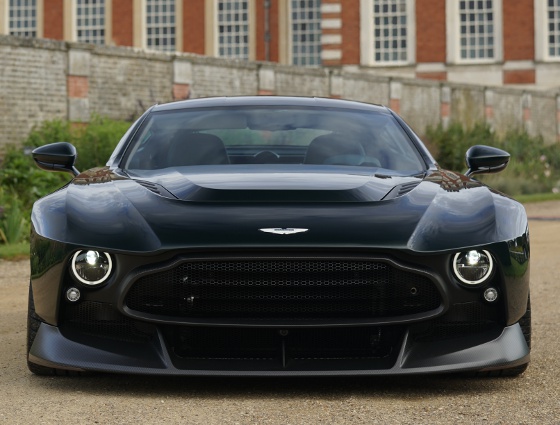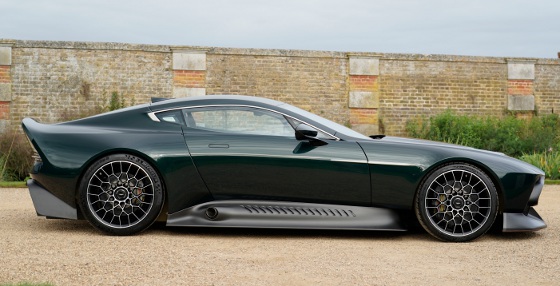 Take the Pentland Green paint, for example, which is so rich and deep it reads black until you are right up on it (it kind of blooms), and the satin carbon fiber, which screams elevated refinement. The car is all carbon fiber, but you might not guess that at first look.
Under the hood is an original One-77 7.3-liter V12 engine -- specially rebuilt and retuned by Cosworth -- that cranks out almost 850 hp, making it the most powerful road-going naturally aspirated vehicle and the highest performing manual powertrain that Aston Martin has ever produced. It features a six-speed manual transmission that is supplied by Graziano. It also boasts "twin coolers and a bespoke motorsport clutch that delivers a performance-focused and unique driving experience."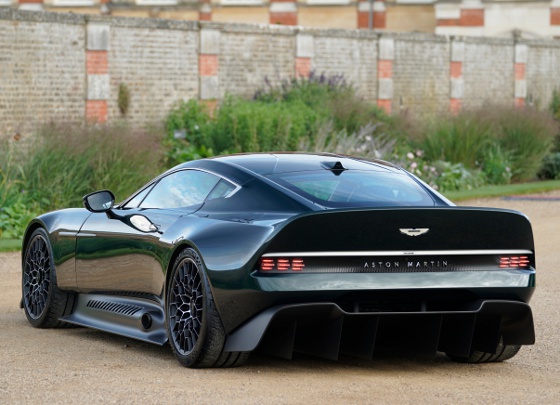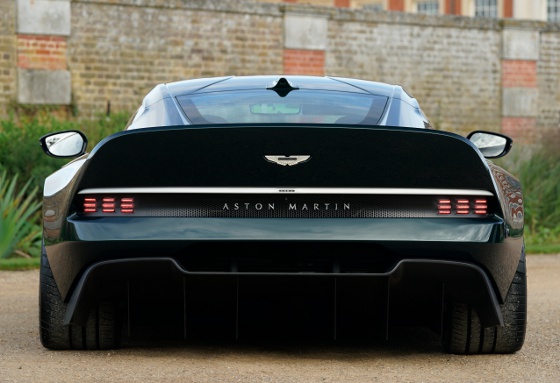 Built by Aston Martin's bespoke Q division, the Victor was inspired by the iconic Aston Martin V8 Vantage of the 1970s and 80s and the 1970's DBS V8 that was developed to race in the 24 Hours of Le Mans as the RHAM/1.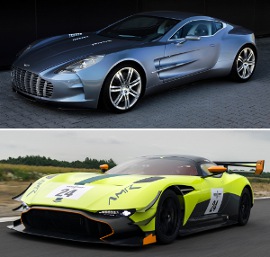 Aston Martin One-77 (top) and Vulcan (bottom).
For the build, though, the car combines elements of the brand's more recent One-77 (model years sold 2009-2012) and Aston Martin Vulcan (24-unit run starting in 2015) under the body to form a "melting pot of technical highlights from each of these highly limited iconic models." The car also benefited from the technical expertise of the engineers and technicians who have been working on the Aston Martin Valkyrie line (V12 street-legal Red Bull Racing collaboration coming soon and limited to 150 units).
Victor was built from an original fully refurbished One-77 carbon fiber monocoque and rear housing. The entire chassis and bodywork weighs less than an original One-77, though. The designers relied heavily on computer fluid dynamic (CFD) testing to deliver "GT4 levels of downforce" while providing the necessary cooling requirements for the car. Despite its muscle-car styling, Aston Martin says the Victor can achieve 842 Nm of downforce at 100 mph, compared to 525 Nm from the race-prepared Vantage GT4 -- and this is a legal road car! The original One-77 engine put out 760 hp and 750 Nm.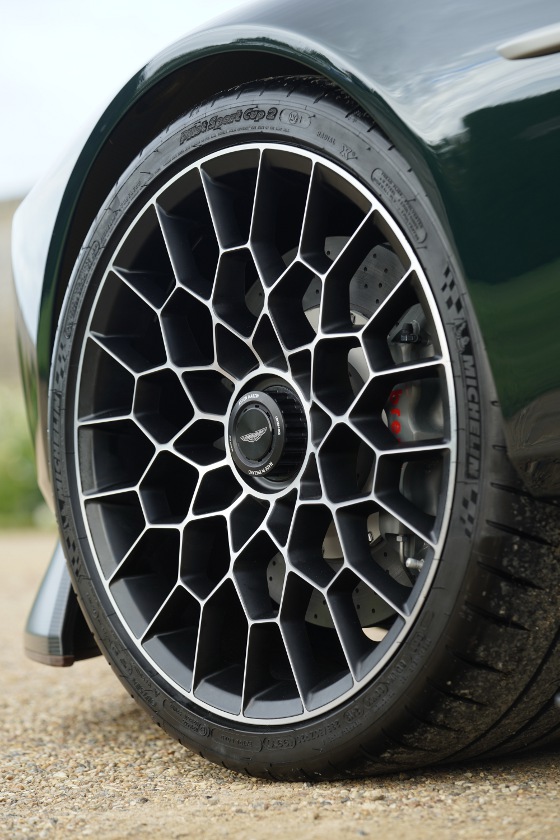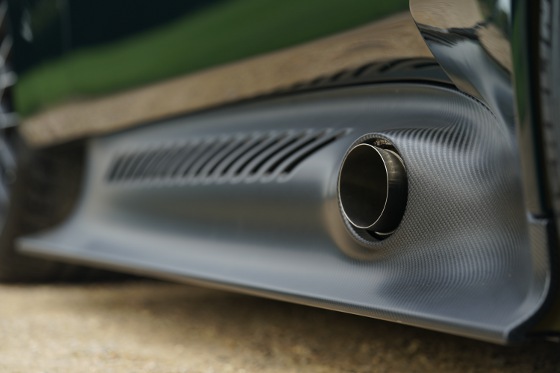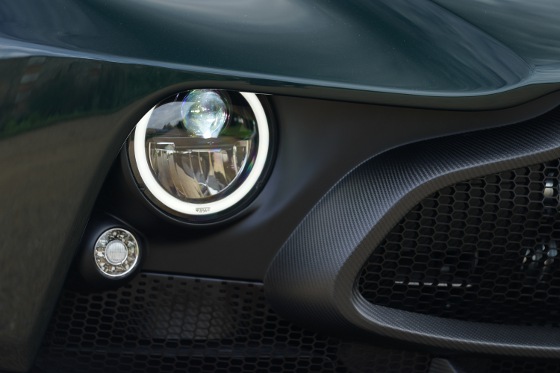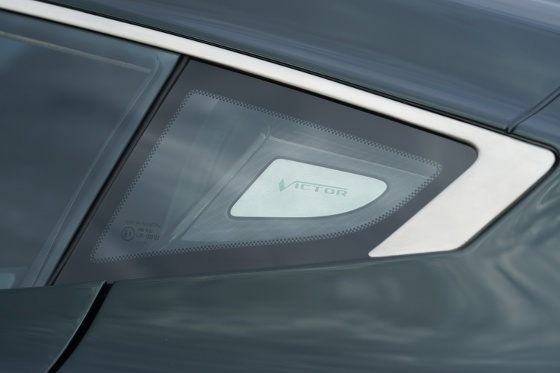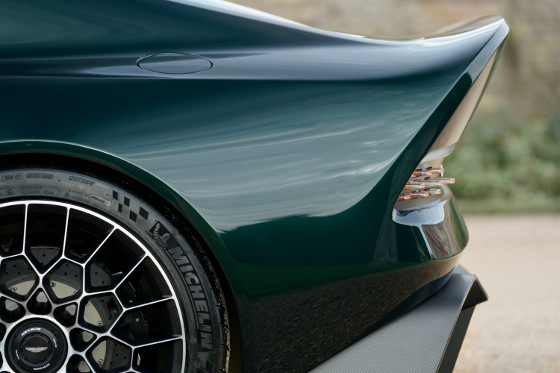 The Victor is equipped with the same inboard springs and dampers as the track-only Aston Martin Vulcan. Available with six-stage settings, the setup has been honed to meet the demands of imperfect road-driving conditions. Fitted with center-lock wheels, the car's 380-mm front and 360-mm rear Brembo CMM-R Carbon Ceramic brakes are set to deliver GT3 race car levels of braking capability as each caliper's six pistons engage.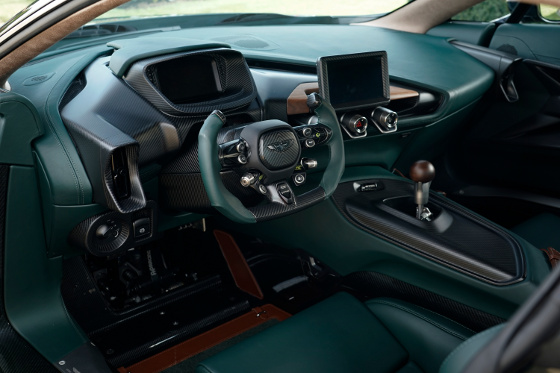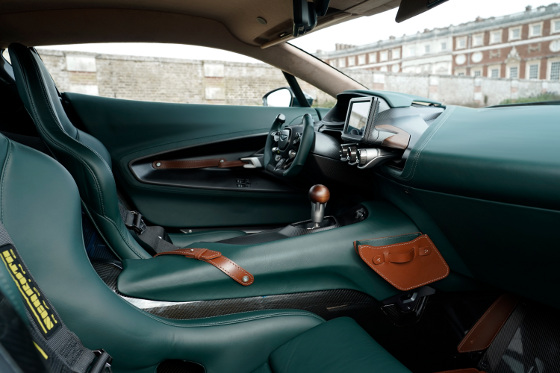 Inside, the cabin is decked out in high-grade forest green and British tan leathers, while the interior uppers are lined in Cashmere (now that is cush). You can see the carbon fiber chassis throughout the cabin too, and the Aston Martin Vulcan motorsport-derived steering wheel accentuates the car's racing pedigree. Anodized aluminum and machined and polished titanium hardware finish out the look, along with touches of walnut.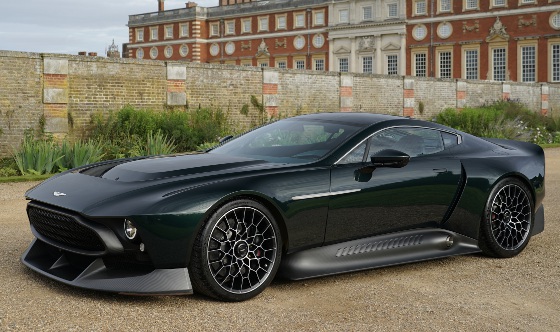 With an Aston Martin Vulcan originally costing $2.3 million and an Aston Martin One-77 originally costing $1.5 million, who knows what the Victor's final price tag was. No one is telling. Regardless, it's neat just to see it. It really gets you thinking about what you're ultimate mash-up ride might be if money were no object.
Source: Aston Martin
Published January 2021
Rate this article