3D printing for vehicle components using tribologically optimized polymers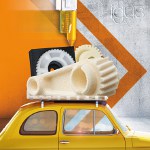 igus, the manufacturer of motion plastics, now offers lightweight and durable wear-resistant parts from its 3D-printing service. Customers can order their special part made of tribologically optimized polymers online in seconds. Material options include more than 55 lubrication-free iglide materials. This 3D-printing service is particularly suitable for the short-term production of wear-resistant parts and prototypes. Turnaround is usually a few days.
Learn more.
---
Perfectly positioned with stainless steel adjusting screws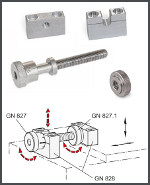 For precisely secure and simple adjustments as well as for quick changing of mechanisms or tools, JW Winco now offers three new parts that complement each other perfectly: stainless steel adjusting screws with an adjustment scale plus matching bearing blocks and knurled nuts. The innovative stainless steel adjusting screw GN 827 is intended for use with bearing blocks GN 828 and simplifies fixing of parts to various processing and assembly mechanisms in machines, installations, and jigs. Once the optimal setting has been found, the adjusting screw can be locked in place with a stainless steel knurled nut GN 827.1 designed specifically for this purpose.
Learn more.
---
Metal 3D printer and furnace made for office use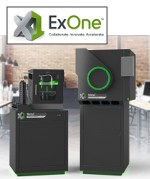 In partnership with Rapidia, the ExOne Company has launched the ExOne Metal Designlab printer and X1F advanced furnace, which can produce metal parts in a day. Its 3D printer operates with the ease of an entry-level plastic printer, and the parts it produces go directly into the furnace, skipping the long chemical or thermal debinding steps required by competing systems that can take three to five days to deliver final parts.
Read the full article.
---
Retaining rings and wave springs samples

Finding the best possible solution for your design challenge is no easy task -- that's why we're here to help you find the right wave spring, retaining ring, or constant section ring for all of your applications. Choose from one of our 12 product types, 400 sizes, and 10,000+ standard parts in carbon and stainless steel, or challenge our team of engineers to tailor a custom part fit to your exact application requirements.
Request free samples from Smalley today!
---
Neat! New Press-N-Lok™ Pin for plastic housings

The new Press-N-Lok™ Pin from SPIROL was designed to permanently retain two plastic components to each other. As the pin is inserted, the plastic backfills into the area around the two opposing barbs, resulting in maximum retention. Assembly time is quicker, and it requires lower assembly equipment costs as compared to screws and adhesives -- just Press-N-Lok!
Learn more about the new Press-N-Lok Pin.

---
Tray tables and more: New bifold torque hinge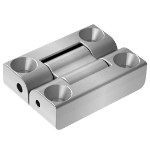 Southco's AH-2E Bifold Constant Torque Hinge achieves a new level of safety and performance for fold-out tables in passenger transit applications in the rail, RV, bus and coach, and aerospace industries. With its integrated constant-torque technology, the AH-2E enables controlled motion that keeps the table from falling open onto the passenger's lap. Additionally, its improved aesthetics and enhanced reliability make it an ideal upgrade from traditional free-swinging hinges and dampening devices.
Learn more.
---
Aero: Thermoplastic tape reaches thermoset laydown speeds -- no autoclave required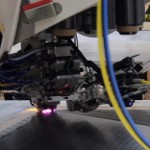 Using their enhanced Automated Fiber Placement processing technology, Electroimpact, a highly experienced provider of factory automation and tooling solutions, was able to increase laydown speeds of thermoplastic uni-directional tape (TP UDT) from Victrex to 4,000 in./min.
Read the full article.
---
Specialty hinges expand design possibilities for opening and closing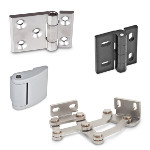 From the simplest of hinges to multi-joint hinges with complex kinematics, the JW Winco selection has everything needed for superior door and flap solutions -- including extra functions. Popular choices include the heavy-duty stainless steel GN 237.3 with 180-degree range of motion and the GN 235, which can be mounted with socket head cap screws and -- thanks to its offset axis -- still swivels 180 degrees without collision. Additional functionality is offered by hinges with variable friction, and in another Winco part, an integrated spring ensures independent return of the hinge. This special product range, which also includes integrated damping, indexing, and locking functions, is being continually expanded. One kinematic highlight is already available from Winco: the multiple-joint hinge with either a 4x, 7x, or 10x joint mechanism, which opens flaps and shifts their position at the same time, while still offering 180 degrees of travel. Many more options.
See the full range of JW Winco hinges.
---
Thermally conductive battery adhesive for hybrid vehicles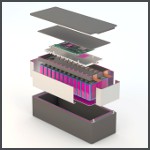 DELO now offers DELO-DUOPOX TC8686, a thermally conductive and flame-retardant structural adhesive for batteries used in hybrid vehicles. Already being used by an automotive supplier, this new adhesive is suitable for low-voltage batteries found in mild hybrid and conventional hybrid vehicles, as well as in e-bikes and e-scooters. The adhesive allows battery cells to be bonded into a battery's housing while dissipating the heat generated during operation. Instead of mechanically connecting the battery cells and then using gap fillers for heat dissipation, DELO-DUOPOX TC8686 combines connection of the thermal management system and structural bonding into one step, simplifying production.
Learn more.
---
Customized ABS with metallic effect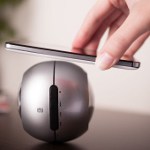 Avient Corp. has just added a new customized ABS formulation that features a metallic effect to its Artisan pre-colored thermoplastic series. The material was developed to help electronics manufacturers eliminate the painting process while achieving scratch and chemical resistance and sustainability goals. By using Artisan pre-colored ABS thermoplastics, molders are able to produce parts with a brilliant, high-gloss metallic effect without any secondary processing.
Learn more.
---
Reliable pressure-boosting system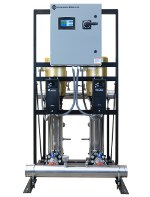 The VR SpecPAK Pressure Boosting System is a new pump and drive package that combines the benefits of Franklin Electric's high-performance VR Series Vertical Multi-Stage Pumps with premium-efficiency TEFC motors and variable frequency drives specifically designed for pump applications. Users can easily configure the system to comply with pressure-boosting needs in most commercial, industrial, or multi-residential applications for constant-pressure operation with several available options according to flow needs, control enclosures, interfaces (Touchscreen HMI/PLC), and additional communication ports. Operation range up to 650 gpm and 350 PSI of boost pressure. Many more good features.
Learn more.
---
Great Resources: Unit Conversion Tool

Convert popular spring units such as force or retaining ring thrust capacities into metric units with Smalley's engineering tools. Convert units such as mass and weight, angular measurements, velocities, temperatures, pressures and densities, and more.
Learn more. You should bookmark this one.
---
Top Tech Tip: Innovative way to take up tolerances!

Smalley Linear Springs are a continuous wave formed (marcelled) wire length produced from spring tempered materials. They act as a load-bearing device with approximately the same load/deflection characteristics as a wave spring. Linear Springs are now available as a standard part in carbon and stainless steel, with over 200 sizes.
Learn more.
---
ESPRIT CNC programming Learning Center online
The ESPRIT Learning Center is a new online training platform with on-demand, self-paced training courses created specifically for ESPRIT CAM programmers. ESPRIT's top engineers and instructors have poured a huge amount of effort and energy into creating these courses. The first learning path to be released is New User Milling, with New User Turning and New User Mill-Turn to follow. Each learning path includes five to seven training courses that guide users through several different machine models and part models to introduce different machining processes in ESPRIT. These are paid courses.
Learn more.
---
Cool Tools: OnRobot Screwdriver for cobots/robot arms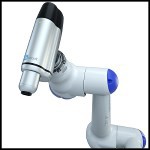 Automated precision assembly using cobots and robot arms just got easier with the introduction of an impressive new screwdriver unit from OnRobot. The OnRobot Screwdriver allows manufacturers to automate a wide range of assembly processes quickly, simply, and flexibly. It includes precise torque control, a nifty screw retraction system, and Quick Changer mounting.
View the video.
---
New nanomaterial-based platform detects COVID-19 antibodies in 10 to 12 seconds
Researchers at Carnegie Mellon University have reported their findings on an advanced nanomaterial-based biosensing platform that detects, within seconds, antibodies specific to SARS-CoV-2, the virus responsible for the COVID-19 pandemic. In addition to testing, the platform will help to quantify patient immunological response to the new vaccines with precision.
The results were published Dec. 22, 2020, in the journal Advanced Materials. Carnegie Mellon's collaborators included the University of Pittsburgh (Pitt) and the UPMC.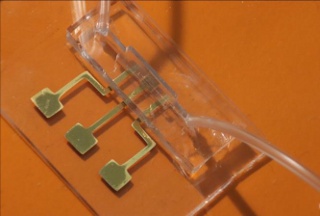 This COVID-19 test chip was made by aerosol jet nanoparticle 3D printing. [Credit: Advanced Manufacturing and Materials Lab, College of Engineering, Carnegie Mellon University]
The testing platform identifies the presence of two of the virus' antibodies, spike S1 protein and receptor binding domain (RBD), in a very small drop of blood (about 5 microliters). Antibody concentrations can be extremely low and still detected below one picomolar (0.15 nanograms per milliliter). This detection happens through an electrochemical reaction within a handheld microfluidic device that sends results almost immediately to a simple interface on a smart phone.
"We utilized the latest advances in materials and manufacturing such as nanoparticle 3D printing to create a device that rapidly detects COVID-19 antibodies," said Rahul Panat, an associate professor of mechanical engineering at Carnegie Mellon who uses specialized additive manufacturing techniques for research ranging from brain-computer interfaces to biomonitoring devices.
An additive manufacturing technology called aerosol jet 3D printing is responsible for the efficiency and accuracy of the testing platform. Tiny, inexpensive gold micropillar electrodes are printed at nanoscale using aerosol droplets that are thermally sintered together. This causes a rough, irregular surface that provides increased surface area of the micropillars and an enhanced electrochemical reaction, where antibodies can latch on to antigens coated on the electrode. The specific geometry allows the micropillars to load more proteins for detection, resulting in very accurate, quick results.
The test has a very low error rate because the binding reaction between the antibody and antigen used in the device is highly selective. The researchers were able to exploit this natural design to their advantage.
The results come at an urgent time during the COVID-19 pandemic. "Because our technique can quantify the immune response to vaccination, it is very relevant in the current environment," Panat said.
Panat collaborated with Shou-Jiang Gao, leader of the cancer virology program at UPMC's Hillman Cancer Center and professor of microbiology and molecular genetics at Pitt. Azahar Ali, a researcher in Panat's Advanced Manufacturing and Materials Lab, was the lead author of the study.
Rapid diagnosis for the treatment and prevention of communicable diseases is a public health issue that goes beyond the current COVID-19 pandemic. Because the proposed sensing platform is generic, it can be used for the rapid detection of biomarkers for other infectious agents such as Ebola, HIV, and Zika. Such a quick and effective test could be a game-changer for controlling the spread of diseases.
Read "Sensing of COVID-19 antibodies in seconds via aerosol jet nanoprinted reduced graphene oxide coated three dimensional electrodes" in Advanced Materials.
Source: Carnegie Mellon University, College of Engineering
Published January 2021
Rate this article