Ball rail systems and ball screw assemblies: 20,000 km without relubrication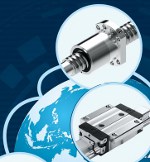 Good news for mechanical engineers and users: the ball rail systems BSHP and ball screw assemblies BASA from Bosch Rexroth now achieve lubrication intervals that are up to four times longer. In more and more applications, they can even be used maintenance-free over the entire service life of a component. Low-maintenance or maintenance-free linear motion tech minimizes operating costs and protects the environment. Recent tests show the lubrication intervals for BSHP ball rail systems are 2x improved and can cover up to 20,000 km before the first relubrication. BASA ball screw assemblies achieve up to 200 million revolutions with the basic factory lubrication, a 4x improvement.
Learn more.
---
Depend on FAULHABER drives for critical medical applications
Surgical robotics systems offer an overwhelming advantage over traditional methods: improved precision and speed, faster patient healing, and a reduced margin of error. For minimally invasive procedures requiring this level of precision, performance and quality, the OEM engineers of surgical robotics systems rely on FAULHABER brushless dc motors.
Learn more.
---
Virtual Expo: Automating machine tending tasks with cobots Feb. 23-24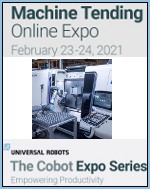 Universal Robots -- the originator of the collaborative robot -- is hosting the first-ever virtual expo focused on automating machine tending tasks with cobots. The two-day Machine Tending Expo event Feb. 23-24 aims to help manufacturers looking to deploy cobots to tend machines such as CNC, press brakes, injection molding, or 3D printers. In live demos, keynotes, and interactive booth sessions with exhibiting partners, Universal Robots offers solutions on how to implement cobots seamlessly, tackle the labor shortage, and improve crucial machine uptime.
Read the full article.
---
Flat motors with integrated encoder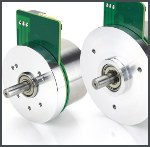 The extremely compact DFA68 and DFA90 series brushless DC motors from Nanotec are now available with integrated encoder. They are particularly suitable for applications that require precise positioning in confined spaces. External rotor BLDC motors are shorter than internal rotor motors and have a lower torque ripple. The DFA90-E with a diameter of 90 mm has a rated power of 168 W at 2,000 rpm. The smaller DFA68-E with a diameter of 68 mm achieves 106 W at 3,500 rpm.
Learn more.
---
Mechatronics made easier: Mechanical + drive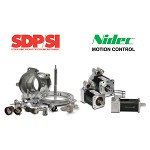 Nidec Motion Control (motors) and SDP/SI (mechanical components) have partnered to create a one-stop shop for low-voltage standard DC motors and controllers plus mechanical components for industrial automation, robotics, medical technology, safety and security, agriculture, food and beverage, vending, and more. Offerings will include pre-assemblies and kitting, from digital controllers to custom mechanical transmission solutions.
Learn more.
---
Micro-sized high-power servo drives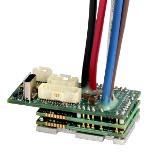 The FM060-25-CM is part of a new breed of micro-sized high-power servo drives available from ADVANCED Motion Controls (50.8 mm x 25.4 mm with a height of 22.1 mm -- three units can fit within the footprint of a standard business card). Rated to output 25A continuous and 50A peak, this fully featured digital servo drive is small enough to fit in the tightest locations. It is ideally suited for mobile and portable applications such as mobile robotics, automated mobile robots (AMRs), AGVs, material handling, warehouse automation, lab automation, and more. Two lower current options (5A and 10A) are also available.
Learn more.
---
AutomationDirect adds GAM helical racks and pinions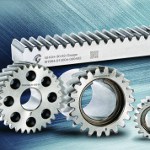 Rack-and-pinion systems are a type of linear actuator consisting of a rotating pinion that drives a linear rack, converting rotary motion to linear motion. The new GAM helical racks and pinions, along with a broad offering of gearboxes, can provide a complete linear solution for your application. High-precision helical racks provide smooth, quiet operation. Pinions can be mounted to SureGear gearboxes, are hardened, and work with ISO 10 hardened racks. Components with module pitches of 1.5, 2.0, and 3.0 are available.
Learn more.
---
Large Cartesian handling system overview
Festo North America Customer Solutions has put together a very informative video run-through of a 7.3-m-long sorting-and-packaging Cartesian dual x-axis system that can handle up to 50 kg. The video highlights gantry system construction, benefits, gearboxes, motors, bearing considerations, rail types, and more. Very thorough -- a real nice job.
View the video.
---
Linear motion precision modules from Bosch Rexroth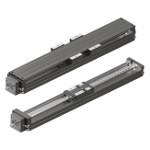 Bosch Rexroth's new Precision Modules called PSK - Gen 2 combine swiftness and dynamics with high precision. These latest generation linear motion units are ideal for semiconductors, machine tool, and electronics applications. They are available in three sizes and are mounted on a smooth, space-saving, and rigid precision steel profile frame with integrated tracks. The precision ball screw nut and linear carriage assembly are sealed from both sides with Rexroth ball screw assembly seals, so the risk of lubricants escaping outside is significantly reduced.
Learn more.
---
Off-highway: Rotary actuator steering for paver combines power and precision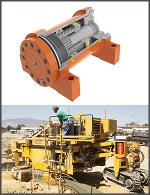 To steer the four tracks on its Easi-Pour Compact 880 slipform paver, Huron Manufacturing replaced the traditional hydraulic cylinders with Parker's Helac sliding spine rotary actuator technology. The new design not only accomplished what the old machine could do, but it provided additional functions as well.
Read this informative Parker blog.
---
Integrated servo motor: Power, precision, and control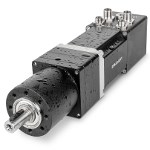 Maxon's new IDX compact integrated servo gearmotor + drive combines a powerful, brushless EC-i motor and an EPOS4 positioning controller, which can be complemented with a maxon planetary gearhead when required. This motor with an operating voltage from 12 to 48 VDC stands out for its high torque density, high efficiency, maintenance-free components, and a high-quality industrial housing providing IP65 protection. The IDX also features configurable digital and analog inputs and outputs, and intuitive software enabling easy commissioning and integration into master systems.
Learn more.
---
Cool Tools: OnRobot Screwdriver for cobots/robot arms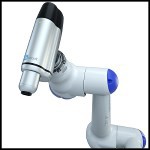 Automated precision assembly using cobots and robot arms just got easier with the introduction of an impressive new screwdriver unit from OnRobot. The OnRobot Screwdriver allows manufacturers to automate a wide range of assembly processes quickly, simply, and flexibly. It includes precise torque control, a nifty screw retraction system, and Quick Changer mounting.
View the video.
---
All-in-one controller with integrated drives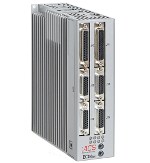 ACS Motion Control has launched the first in a new line of Economical Control Module products. The ECMsm is a compact, all-in-one, 2- or 4-axis motion controller with internal drives, designed for OEMs with cost-sensitive motion control applications. The ECMsm provides up to 5/10 A per axis with 12-48 VDC drive supply. This solution is ideal for small-footprint equipment in biomedical, semiconductor, and other high-tech industries. It provides the flexibility to interface with multiple motor types for the best technology fit on each axis: brushless, brush, voice coil, or stepper.
Learn more.
---
Blog: Evolving planetary roller screw applications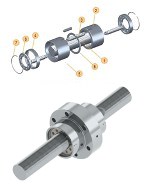 According to Nick Novotny at Nook Industries, planetary roller screws -- which convert rotary motion into axial force or vice versa -- are being used in an ever-increasing range of applications in various industries, including machine tool and fabrication, robotics, industrial automation, and the oil and gas industry. However, the fastest-growing segment involves electric vehicles and aircraft, where this technology is often used to enhance efficiency of embedded applications such as flight control and vehicle control sub systems. Learn about the multiple advantages and reliability of planetary roller screws.
Read this informative Nook Industries blog.
---
Modular angle encoders improved for machine feedback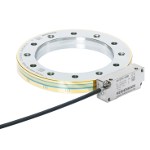 HEIDENHAIN's ERA 4000 series of bearingless angle encoders, which are used heavily in machines in the metrology, machine tool, semiconductor, and robotic industries, have new upgrades to reliability and functionality. These encoders consist of a steel drum at various diameters with the 20-, 40-, or 80-micron graduation on the outer diameter, and a scanning unit that reads the graduation. As an incremental system, there are reference marks available as distance-coded or one per revolution. Improvements include adding HEIDENHAIN Signal Processing (HSP) to the scanning units that visually shows the quality of signal coming back from the drum, a status LED on the side of the scanning unit, and the addition of a smaller M12 connector that saves space and is more robust.
Learn more.
---
Air Force Research Lab tests first-ever collaborative weapon technologies
The Air Force Golden Horde Vanguard program completed the first-ever Air Force flight demonstration of collaborative weapons Dec. 15, 2020, using technology developed by the Air Force Research Laboratory (AFRL) and Scientific Applications & Research Associates (SARA).
A team from the Air Force Test Center flew an F-16 aircraft and released two Collaborative Small Diameter Bombs (CSDBs), which are Small Diameter Bombs that have been modified with a collaborative autonomy payload. The CSDBs quickly established communication with each other, and their seekers detected a GPS jammer.
During the mission, the weapons referred to pre-defined Rules of Engagement (RoEs), a set of constraints preloaded by a mission planner, and determined that the jammer was not the highest-priority target. The weapons then collaborated to identify the two highest-priority targets. However, due to an improper weapon software load, the collaboration guidance commands were not sent to the weapon navigation system. Without the updated target locations, the weapons impacted a fail-safe target location.
"The Golden Horde demonstration with the Small Diameter Bomb flights is an important step on the path to Networked Collaborative Weapon systems. Completion of this first mission sets the stage for further development and transition to the warfighter," said Chris Ristich, Director of AFRL's Transformational Capabilities Office.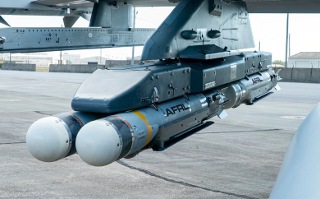 Four Collaborative Small Diameter Bombs (CSDBs) hang from the wing of an F-16 fighter from the Air Force Test Center's 96th Test Wing at Eglin AFB. Two of the bombs were dropped during the first flight demonstration of the Air Force Golden Horde Vanguard. [Credit: AFRL photo]
This initial demonstration represents a critical first step for the Golden Horde program, an initiative focused on advancing networked, collaborative, and autonomous (NCA) weapon capabilities through live and virtual testing. These new technology areas provide the Air Force with a revolutionary way to engage adversary targets.
NCA weapons observe and react to a dynamic battlespace in real time, thereby increasing mission effectiveness within the enemy's decision loop. When deployed in mass, NCA weapons effectively share information and collaborate to overwhelm adversary defenses.
The technologies enabling this new capability include a home-on-GPS-jam seeker that gathers information about the battlespace, a software defined radio for communication between weapons, and a processor preloaded with collaborative algorithms.
The collaborative algorithms use a dynamic approach called play calling, similar to a quarterback calling a play in football. A "play" is an established behavior that groups of collaborative weapons, or swarms, can enable (or disable) when they meet certain predefined conditions. Weapons that use this technology are semi-autonomous, since they abide by pre-defined Rules of Engagement and only execute based on an approved list of plays.
While this demonstration has given the Air Force insight and confidence in networked, collaborative, and autonomous weapons technologies, no intention currently exists to transition this technology to the CSDB. Col. Garry Haase, Director of the AFRL Munitions Directorate, explains, "This successful Golden Horde demonstration builds the foundation for integrating this technology into a variety of other weapon systems, which will help the U.S. maintain a technological advantage over our adversaries."
"I'm very pleased with results of this first test," stated Steven Stockbridge, the Golden Horde Principal Investigator. "The team saw good performance from the networked collaborative sub-systems and understand the root cause of the weapons not impacting the desired targets. We anticipate readiness for the next flight test." Two more CSDB flight tests are planned for early 2021, increasing the number of collaborative weapons in each demonstration to four.
Source: Air Force Research Laboratory
Published January 2021
Rate this article