Retaining rings and wave springs samples

Finding the best possible solution for your design challenge is no easy task -- that's why we're here to help you find the right wave spring, retaining ring, or constant section ring for all of your applications. Choose from one of our 12 product types, 400 sizes, and 10,000+ standard parts in carbon and stainless steel, or challenge our team of engineers to tailor a custom part fit to your exact application requirements.
Request free samples from Smalley today!
---
Neat! New Press-N-Lok™ Pin for plastic housings

The new Press-N-Lok™ Pin from SPIROL was designed to permanently retain two plastic components to each other. As the pin is inserted, the plastic backfills into the area around the two opposing barbs, resulting in maximum retention. Assembly time is quicker, and it requires lower assembly equipment costs as compared to screws and adhesives -- just Press-N-Lok!
Learn more about the new Press-N-Lok Pin.

---
Tray tables and more: New bifold torque hinge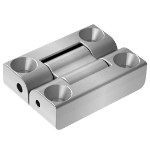 Southco's AH-2E Bifold Constant Torque Hinge achieves a new level of safety and performance for fold-out tables in passenger transit applications in the rail, RV, bus and coach, and aerospace industries. With its integrated constant-torque technology, the AH-2E enables controlled motion that keeps the table from falling open onto the passenger's lap. Additionally, its improved aesthetics and enhanced reliability make it an ideal upgrade from traditional free-swinging hinges and dampening devices.
Learn more.
---
Aero: Thermoplastic tape reaches thermoset laydown speeds -- no autoclave required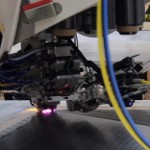 Using their enhanced Automated Fiber Placement processing technology, Electroimpact, a highly experienced provider of factory automation and tooling solutions, was able to increase laydown speeds of thermoplastic uni-directional tape (TP UDT) from Victrex to 4,000 in./min.
Read the full article.
---
Specialty hinges expand design possibilities for opening and closing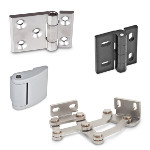 From the simplest of hinges to multi-joint hinges with complex kinematics, the JW Winco selection has everything needed for superior door and flap solutions -- including extra functions. Popular choices include the heavy-duty stainless steel GN 237.3 with 180-degree range of motion and the GN 235, which can be mounted with socket head cap screws and -- thanks to its offset axis -- still swivels 180 degrees without collision. Additional functionality is offered by hinges with variable friction, and in another Winco part, an integrated spring ensures independent return of the hinge. This special product range, which also includes integrated damping, indexing, and locking functions, is being continually expanded. One kinematic highlight is already available from Winco: the multiple-joint hinge with either a 4x, 7x, or 10x joint mechanism, which opens flaps and shifts their position at the same time, while still offering 180 degrees of travel. Many more options.
See the full range of JW Winco hinges.
---
Thermally conductive battery adhesive for hybrid vehicles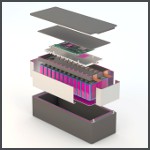 DELO now offers DELO-DUOPOX TC8686, a thermally conductive and flame-retardant structural adhesive for batteries used in hybrid vehicles. Already being used by an automotive supplier, this new adhesive is suitable for low-voltage batteries found in mild hybrid and conventional hybrid vehicles, as well as in e-bikes and e-scooters. The adhesive allows battery cells to be bonded into a battery's housing while dissipating the heat generated during operation. Instead of mechanically connecting the battery cells and then using gap fillers for heat dissipation, DELO-DUOPOX TC8686 combines connection of the thermal management system and structural bonding into one step, simplifying production.
Learn more.
---
Customized ABS with metallic effect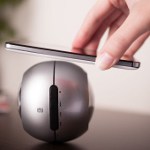 Avient Corp. has just added a new customized ABS formulation that features a metallic effect to its Artisan pre-colored thermoplastic series. The material was developed to help electronics manufacturers eliminate the painting process while achieving scratch and chemical resistance and sustainability goals. By using Artisan pre-colored ABS thermoplastics, molders are able to produce parts with a brilliant, high-gloss metallic effect without any secondary processing.
Learn more.
---
Reliable pressure-boosting system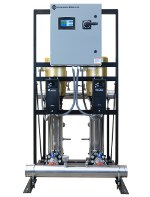 The VR SpecPAK Pressure Boosting System is a new pump and drive package that combines the benefits of Franklin Electric's high-performance VR Series Vertical Multi-Stage Pumps with premium-efficiency TEFC motors and variable frequency drives specifically designed for pump applications. Users can easily configure the system to comply with pressure-boosting needs in most commercial, industrial, or multi-residential applications for constant-pressure operation with several available options according to flow needs, control enclosures, interfaces (Touchscreen HMI/PLC), and additional communication ports. Operation range up to 650 gpm and 350 PSI of boost pressure. Many more good features.
Learn more.
---
Great Resources: Unit Conversion Tool

Convert popular spring units such as force or retaining ring thrust capacities into metric units with Smalley's engineering tools. Convert units such as mass and weight, angular measurements, velocities, temperatures, pressures and densities, and more.
Learn more. You should bookmark this one.
---
Top Tech Tip: Innovative way to take up tolerances!

Smalley Linear Springs are a continuous wave formed (marcelled) wire length produced from spring tempered materials. They act as a load-bearing device with approximately the same load/deflection characteristics as a wave spring. Linear Springs are now available as a standard part in carbon and stainless steel, with over 200 sizes.
Learn more.
---
ESPRIT CNC programming Learning Center online
The ESPRIT Learning Center is a new online training platform with on-demand, self-paced training courses created specifically for ESPRIT CAM programmers. ESPRIT's top engineers and instructors have poured a huge amount of effort and energy into creating these courses. The first learning path to be released is New User Milling, with New User Turning and New User Mill-Turn to follow. Each learning path includes five to seven training courses that guide users through several different machine models and part models to introduce different machining processes in ESPRIT. These are paid courses.
Learn more.
---
Cool Tools: OnRobot Screwdriver for cobots/robot arms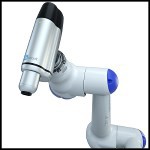 Automated precision assembly using cobots and robot arms just got easier with the introduction of an impressive new screwdriver unit from OnRobot. The OnRobot Screwdriver allows manufacturers to automate a wide range of assembly processes quickly, simply, and flexibly. It includes precise torque control, a nifty screw retraction system, and Quick Changer mounting.
View the video.
---
Universal positioning system with endless possibilities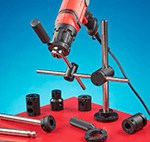 Designed for holding cameras, tools, and other devices, Stafford's universal positioning system features more than 25 standard components that are easy to configure and position. This system is suitable for laboratory, material handling, optical, packaging, process, prototyping, and other applications. It includes a base that can mount to virtually any surface and accepts 0.5-, 0.75-, and 1-in. shafts that fit stepped and straight-through couplings that can be inserted 90 degrees or parallel. Tilt-and-swivel mounts, hinge collar mounts, and Grip & Go adjustment handles are available. Custom parts can also be made.
Learn more.
---
Advanced bearing tech: SPRINGLIDE energized bearings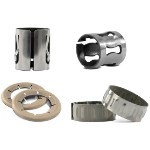 The new SPRINGLIDE from Saint-Gobain combines the low-friction properties of PTFE-lined NORGLIDE Bearings and the radial spring characteristics of RENCOL Tolerance Rings. This solution provides less risk for clearance conditions, which can otherwise cause rattle. This means that automotive manufacturers no longer have to create a tight bearing fit that would increase the adjustment force to undesirable levels, and they get a controlled-friction component that helps to create a high-quality interior. A thorough on-demand webinar on the specifics is available too.
Learn more.
---
World's tallest production metal-powder 3D printer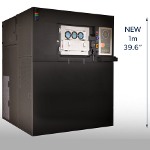 VELO3D's next-gen Sapphire metal 3D printer with cylindrical 315-mm diameter build chamber is now available in 400-mm and 1,000-mm configurations. That means users can create SupportFree parts that are up to 1 m tall with the biggest machine -- with no tradeoff in part quality. Sapphire features dual 1-kW lasers and in-situ metrology sensors that enable visibility into the quality of every layer of the build. This system is compatible with nickel-based alloys.
Learn more.
---
Researchers turn coal powder into nano-graphite in household microwave oven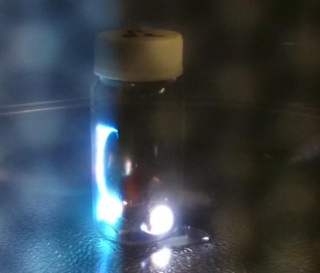 In a microwave oven, sparks are generated inside a glass vial containing coal powder and copper foil as part of an experiment by University of Wyoming researchers that converted coal powder to nano-graphite. [Credit: Chris Masi/UW]
Using copper foil, glass containers, and a conventional household microwave oven, University of Wyoming (UW) researchers have demonstrated that pulverized coal powder can be converted into higher value nano-graphite.
The discovery is another step forward in the effort to find alternative uses for Wyoming's Powder River Basin coal at a time when demand for coal to generate electricity is declining due to concerns about climate change.
In a paper published in the journal Nano-Structures & Nano-Objects, the UW researchers report that they created an environment in a microwave oven to successfully convert raw coal powder into nano-graphite, which is used as a lubricant and in items ranging from fire extinguishers to lithium-ion batteries. This "one-step method with metal-assisted microwave treatment" is a new approach that could represent a simple and relatively inexpensive coal-conversion technology.
"This method provides a new route to convert abundant carbon sources to high-value materials with ecological and economic benefits," wrote the research team, led by Associate Professor TeYu Chien, in UW's Department of Physics and Astronomy.
Others involved in the project were Professor Jinke Tang, in the Department of Physics and Astronomy; Associate Professor Brian Leonard, in the Department of Chemistry; Professor Maohong Fan, in the Department of Petroleum Engineering and the School of Energy Resources; graduate students Rabindra Dulal, of Nepal, Joann Hilman, of Laramie, WY, Chris Masi, of Syracuse, NY, and Teneil Schumacher, of Buffalo, WY; and postdoctoral researchers Gaurab Rimal, of Nepal, and Bang Xu, of China.
While previous research has shown that microwaves can be used to reduce the moisture content of coal and remove sulfur and other minerals, most such methods require specific chemical pretreatment of the coal. In their experiment, the UW researchers simply ground raw Powder River Basin coal into powder.
That powder was then placed on copper foil and sealed in glass containers with a gas mixture of argon and hydrogen, before being placed in a microwave oven. A conventional microwave oven was chosen because of convenience and because it provided the desired levels of radiation.
"By cutting the copper foil into a fork shape, the sparks were induced by the microwave radiation, generating an extremely high temperature of more than 1,800 degrees Fahrenheit within a few seconds," says Masi, lead author of the paper. "This is why you shouldn't place a metal fork inside a microwave oven."
The sparks caused by the microwaves generated the high temperatures necessary to transform the coal powder into polycrystalline graphite, with the copper foil and hydrogen gas also contributing to the process.
While the experiment included microwave durations ranging from 3 to 45 minutes, the optimal duration was found to be 15 minutes.
The researchers say this new method of coal conversion could be refined and performed at a larger scale to yield both a higher quality and quantity of nano-graphite materials.
"Finite graphite reserves and environmental concerns for the graphite extraction procedures make this method of converting coal to graphite a great alternative source of graphite production," the scientists wrote.
Source: University of Wyoming
Published February 2021
Rate this article