Precision micro stage for high-volume applications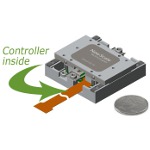 The M3-LS-U2-10 Linear Smart Stage from New Scale Technologies is a direct-drive precision piezoelectric micro stage with embedded controller designed for integration into compact devices. Applications include instruments for DNA sequencing, wearable medical devices, instruments for point-of-care diagnostics, devices for telemedicine, handheld imaging systems, and laser beam steering. The stage has high stiffness with no gears or backlash, low acoustic noise, and no high voltage. It can be powered by batteries or any low-cost DC supply and is suitable for use in near-patient instruments and wearable devices.
Learn more.
---
Ball rail systems and ball screw assemblies: 20,000 km without relubrication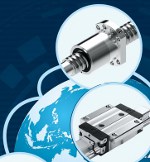 Good news for mechanical engineers and users: the ball rail systems BSHP and ball screw assemblies BASA from Bosch Rexroth now achieve lubrication intervals that are up to four times longer. In more and more applications, they can even be used maintenance-free over the entire service life of a component. Low-maintenance or maintenance-free linear motion tech minimizes operating costs and protects the environment. Recent tests show the lubrication intervals for BSHP ball rail systems are 2x improved and can cover up to 20,000 km before the first relubrication. BASA ball screw assemblies achieve up to 200 million revolutions with the basic factory lubrication, a 4x improvement.
Learn more.
---
Depend on FAULHABER drives for critical medical applications
Surgical robotics systems offer an overwhelming advantage over traditional methods: improved precision and speed, faster patient healing, and a reduced margin of error. For minimally invasive procedures requiring this level of precision, performance and quality, the OEM engineers of surgical robotics systems rely on FAULHABER brushless dc motors.
Learn more.
---
Virtual Expo: Automating machine tending tasks with cobots Feb. 23-24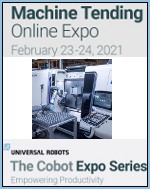 Universal Robots -- the originator of the collaborative robot -- is hosting the first-ever virtual expo focused on automating machine tending tasks with cobots. The two-day Machine Tending Expo event Feb. 23-24 aims to help manufacturers looking to deploy cobots to tend machines such as CNC, press brakes, injection molding, or 3D printers. In live demos, keynotes, and interactive booth sessions with exhibiting partners, Universal Robots offers solutions on how to implement cobots seamlessly, tackle the labor shortage, and improve crucial machine uptime.
Read the full article.
---
Flat motors with integrated encoder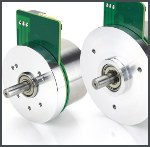 The extremely compact DFA68 and DFA90 series brushless DC motors from Nanotec are now available with integrated encoder. They are particularly suitable for applications that require precise positioning in confined spaces. External rotor BLDC motors are shorter than internal rotor motors and have a lower torque ripple. The DFA90-E with a diameter of 90 mm has a rated power of 168 W at 2,000 rpm. The smaller DFA68-E with a diameter of 68 mm achieves 106 W at 3,500 rpm.
Learn more.
---
Mechatronics made easier: Mechanical + drive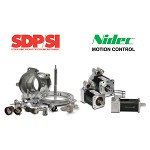 Nidec Motion Control (motors) and SDP/SI (mechanical components) have partnered to create a one-stop shop for low-voltage standard DC motors and controllers plus mechanical components for industrial automation, robotics, medical technology, safety and security, agriculture, food and beverage, vending, and more. Offerings will include pre-assemblies and kitting, from digital controllers to custom mechanical transmission solutions.
Learn more.
---
Micro-sized high-power servo drives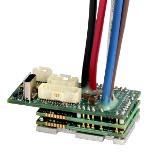 The FM060-25-CM is part of a new breed of micro-sized high-power servo drives available from ADVANCED Motion Controls (50.8 mm x 25.4 mm with a height of 22.1 mm -- three units can fit within the footprint of a standard business card). Rated to output 25A continuous and 50A peak, this fully featured digital servo drive is small enough to fit in the tightest locations. It is ideally suited for mobile and portable applications such as mobile robotics, automated mobile robots (AMRs), AGVs, material handling, warehouse automation, lab automation, and more. Two lower current options (5A and 10A) are also available.
Learn more.
---
AutomationDirect adds GAM helical racks and pinions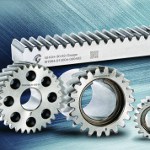 Rack-and-pinion systems are a type of linear actuator consisting of a rotating pinion that drives a linear rack, converting rotary motion to linear motion. The new GAM helical racks and pinions, along with a broad offering of gearboxes, can provide a complete linear solution for your application. High-precision helical racks provide smooth, quiet operation. Pinions can be mounted to SureGear gearboxes, are hardened, and work with ISO 10 hardened racks. Components with module pitches of 1.5, 2.0, and 3.0 are available.
Learn more.
---
Large Cartesian handling system overview
Festo North America Customer Solutions has put together a very informative video run-through of a 7.3-m-long sorting-and-packaging Cartesian dual x-axis system that can handle up to 50 kg. The video highlights gantry system construction, benefits, gearboxes, motors, bearing considerations, rail types, and more. Very thorough -- a real nice job.
View the video.
---
Linear motion precision modules from Bosch Rexroth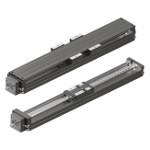 Bosch Rexroth's new Precision Modules called PSK - Gen 2 combine swiftness and dynamics with high precision. These latest generation linear motion units are ideal for semiconductors, machine tool, and electronics applications. They are available in three sizes and are mounted on a smooth, space-saving, and rigid precision steel profile frame with integrated tracks. The precision ball screw nut and linear carriage assembly are sealed from both sides with Rexroth ball screw assembly seals, so the risk of lubricants escaping outside is significantly reduced.
Learn more.
---
Off-highway: Rotary actuator steering for paver combines power and precision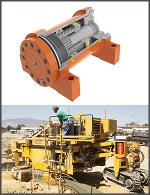 To steer the four tracks on its Easi-Pour Compact 880 slipform paver, Huron Manufacturing replaced the traditional hydraulic cylinders with Parker's Helac sliding spine rotary actuator technology. The new design not only accomplished what the old machine could do, but it provided additional functions as well.
Read this informative Parker blog.
---
Integrated servo motor: Power, precision, and control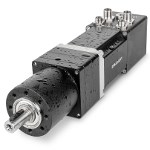 Maxon's new IDX compact integrated servo gearmotor + drive combines a powerful, brushless EC-i motor and an EPOS4 positioning controller, which can be complemented with a maxon planetary gearhead when required. This motor with an operating voltage from 12 to 48 VDC stands out for its high torque density, high efficiency, maintenance-free components, and a high-quality industrial housing providing IP65 protection. The IDX also features configurable digital and analog inputs and outputs, and intuitive software enabling easy commissioning and integration into master systems.
Learn more.
---
Cool Tools: OnRobot Screwdriver for cobots/robot arms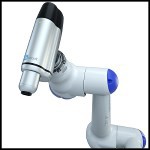 Automated precision assembly using cobots and robot arms just got easier with the introduction of an impressive new screwdriver unit from OnRobot. The OnRobot Screwdriver allows manufacturers to automate a wide range of assembly processes quickly, simply, and flexibly. It includes precise torque control, a nifty screw retraction system, and Quick Changer mounting.
View the video.
---
All-in-one controller with integrated drives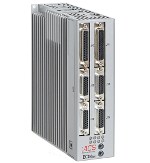 ACS Motion Control has launched the first in a new line of Economical Control Module products. The ECMsm is a compact, all-in-one, 2- or 4-axis motion controller with internal drives, designed for OEMs with cost-sensitive motion control applications. The ECMsm provides up to 5/10 A per axis with 12-48 VDC drive supply. This solution is ideal for small-footprint equipment in biomedical, semiconductor, and other high-tech industries. It provides the flexibility to interface with multiple motor types for the best technology fit on each axis: brushless, brush, voice coil, or stepper.
Learn more.
---
Blog: Evolving planetary roller screw applications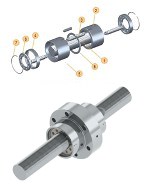 According to Nick Novotny at Nook Industries, planetary roller screws -- which convert rotary motion into axial force or vice versa -- are being used in an ever-increasing range of applications in various industries, including machine tool and fabrication, robotics, industrial automation, and the oil and gas industry. However, the fastest-growing segment involves electric vehicles and aircraft, where this technology is often used to enhance efficiency of embedded applications such as flight control and vehicle control sub systems. Learn about the multiple advantages and reliability of planetary roller screws.
Read this informative Nook Industries blog.
---
Computer scientists say we wouldn't be able to control super-intelligent machines
While more progress is being made all the time in artificial intelligence (AI), some scientists and philosophers warn of the dangers of an uncontrollable super-intelligent AI. Using theoretical calculations, an international team of researchers, including scientists from the Center for Humans and Machines at the Max Planck Institute for Human Development, came to the conclusion that it would not be possible to control a super-intelligent AI. The study was published January 2021 in the Journal of Artificial Intelligence Research.
Suppose someone were to program an AI system with intelligence superior to that of humans, so it could learn independently. Connected to the Internet, the AI may have access to all the data of humanity. It could replace all existing programs and take control of all machines online worldwide. Would this produce a utopia or a dystopia? Would the AI cure cancer, bring about world peace, and prevent a climate disaster? Or would it destroy humanity and take over the Earth?
"A super-intelligent machine that controls the world sounds like science fiction, but there are already machines that perform certain important tasks independently without programmers fully understanding how they learned it. The question therefore arises whether this could at some point become uncontrollable and dangerous for humanity," says study co-author Manuel Cebrian, leader of the Digital Mobilization Group at the Center for Humans and Machines, Max Planck Institute for Human Development.
Scientists have explored two different ideas for how a super-intelligent AI could be controlled. On one hand, the capabilities of super-intelligent AI could be specifically limited, for example, by walling it off from the Internet and all other technical devices so it could have no contact with the outside world -- yet this would render the super-intelligent AI significantly less powerful -- and less able to answer humanity's quests. Lacking that option, the AI could be motivated from the outset to pursue only goals that are in the best interests of humanity, for example by programming ethical principles into it. However, the researchers also show that these and other contemporary and historical ideas for controlling super-intelligent AI have their limits.
In their study, the team conceived a theoretical containment algorithm that ensures a super-intelligent AI cannot harm people under any circumstances. This was achieved by simulating the behavior of the AI first and halting it if considered harmful. However, careful analysis shows that in our current paradigm of computing, such an algorithm cannot be built.
"If you break the problem down to basic rules from theoretical computer science, it turns out that an algorithm that would command an AI not to destroy the world could inadvertently halt its own operations. If this happened, you would not know whether the containment algorithm is still analyzing the threat, or whether it has stopped to contain the harmful AI. In effect, this makes the containment algorithm unusable," says Iyad Rahwan, director of the Center for Humans and Machines.
Based on these calculations, the containment problem is incomputable, the researchers say, since no single algorithm can find a solution for determining whether an AI would produce harm to the world. Furthermore, the researchers demonstrate that we may not even know when super-intelligent machines have arrived, because deciding whether a machine exhibits intelligence superior to humans is in the same realm as the containment problem.
Other researchers on the study include Andres Abeliuk from the University of Southern California, Manuel Alfonseca from the Autonomous University of Madrid, Antonio Fernandez Anta from the IMDEA Networks Institute, and Lorenzo Coviello.
Source: Max Planck Institute
Published February 2021
Rate this article