High-performance vibratory feed system handles larger range of parts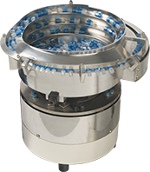 The SPIROL Series 2000 is a proven and reliable dual-axis feeding concept that is unlike anything else on the market. It can feed many parts that were once considered not suitable for vibrating feeders, including fuses, tablets, packets, soft rubber parts, fragile parts, and parts that are coated or have a film on them. It is tuned electronically rather than by re-springing, which makes setup and changeover for multiple bowls on one drive a snap. In automated assembly lines, this system offers maximum efficiency, reduced power consumption, and less noise.
View the video.
---
Servo-insert coupling with new hub design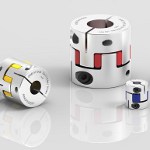 RINGFEDER has recently released its GWE 5113 series of elastomer jaw servo-couplings featuring a new hub design. This design eliminates radial loads and achieves uniform power transmission with an even clamp force and symmetrical arrangement of clamp and screw positions. GWE 5113 couplings precisely transmit torques from 3 to 560 Nm. The hub is slit partially through and located directly under the jaws to minimize pressure on the shaft. Backlash-free units come with an elastomer spider with 98 Shore A hardness, minimizing movement and achieving longer life cycles. Seven sizes available.
Learn more.
---
HVACR Tech Tip: Understanding the basic refrigeration cycle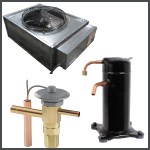 This Parker Hannifin Climate Control blog reviews the basic refrigeration cycle and the interaction between its four basic components: compressor, condenser, expansion device, and evaporator. It looks at each component and its function, and then at what happens when components are not properly matched.
Read this informative Parker blog.
---
Antibacterial handles stop germs in their tracks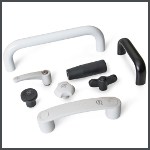 Contact infections with viruses, fungi, and bacteria were already a problem even before the pandemic, and now JW Winco is expanding its Sanline range of antibacterial products. For their plastic products, special additives with silver ions are mixed in, while metal parts are given powder coatings based on zinc molybdate.
Read the full article.
---
New metal 3D-printing materials include Inconel, titanium, and maraging steel at Xometry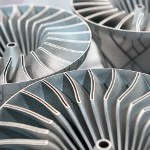 Xometry has added four new 3D-printed metals to its on-demand manufacturing services: maraging steel, Inconel 625, Inconel 718, and titanium. These premium alloys complement the already available stainless steel and aluminum metal 3D printing. Metal parts in these alloys are produced using direct metal laser sintering (DMLS), which fuses powdered metal with a high-powered laser to build parts layer by layer.
Learn all about these materials in this Xometry blog.
---
Eaton launches next-gen hollow-head valves for improved engine efficiency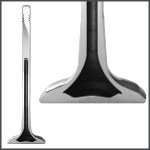 Eaton's Vehicle Group has introduced its next-generation sodium-filled hollow-head valves. Unlike traditional hollow valves, the head portion of the new valves is composed of two separate sections that are welded together during the production process. The new valves have the capability to cool down the combustion face and, therefore, the chamber temperature, which increases the spark advance and air-to-fuel ratio because the engine is less inclined to knock. As a result, the brake specific fuel consumption (BSFC) can be increased and emissions reduced. The valves are being evaluated by several global automakers, with start of production scheduled for 2023.
Learn more.
---
Counterbalance support hinge for heavy panels and lids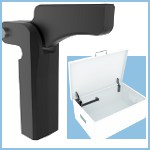 SOUTHCO has expanded its series of Counter-balance Hinges with a new product that reduces the total solution cost of lifting and positioning heavy panels and lids. The CB Counterbalance Support Hinge enables ergonomic lifting and position control when combined with a CB Counterbalance Hinge by using stored energy to balance the weight distribution of a lid or panel. The all-aluminum hinges are fully adjustable, allowing the experience of opening and closing the panel to be tailored to the unique requirements of the application.
Learn more.
---
Precision flexible antivibration couplings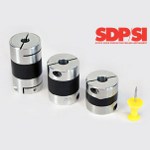 New Antivibration Flexible Couplings from Stock Drive Products / Sterling Instrument (SDP/SI) are designed for use with high-gain servomotors. When a servomotor drives a mechanism, as in applications such as semiconductor manufacturing equipment, blood analyzers, or high-speed printers, a change in direction causes a phenomenon called hunting. Hunting is vibration in the system that reduces transit time, making the equipment less efficient. The Antivibration Flexible Coupling features a unique construction of vibration-reducing rubber (FKM) molded with aluminum hubs. The resulting rubber-lined, finger-like structure allows for optimal torsional rigidity and damping.
Learn more.
---
Toughened NASA low-outgassing epoxy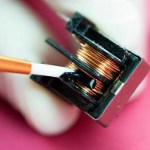 Master Bond Supreme 70CN is a two-part epoxy adhesive formulated using a natural, renewable, and sustainable ingredient. This moderate-viscosity, unfilled epoxy is black in color and can be used for bonding, sealing, coating, and potting in aerospace, electric vehicle, electronic, opto-electronic, battery, and OEM applications, particularly those involving composites and fibers. It resists thermal cycling and is ideal for bonding dissimilar substrates including metals, ceramics, many rubbers, plastic materials, and composites. It features low shrinkage upon cure, a high tensile strength, is serviceable from -100 to 400 F, and has a working life of 60 to 90 min.
Learn more.
---
Top Tech Tip: Innovative way to take up tolerances!

Smalley Linear Springs are a continuous wave formed (marcelled) wire length produced from spring tempered materials. They act as a load-bearing device, having approximately the same load/deflection characteristics as a wave spring. Linear Springs are now available as a standard part in carbon and stainless steel, with over 200 sizes.
Learn more.
---
Off-Road Machinery: Top 10 Parker Hannifin blogs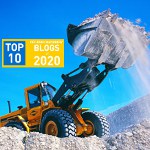 Combining innovative thinking with core technological competency can tame the challenges of off-road machinery operating in hazardous mining, agricultural, forestry, material handling, and construction environments. From major components and systems to the smallest fittings and bolts, learn about Parker Hannifin's core technologies that are leading the way to improving productivity, efficiency, reliability, and safety.
Read the Top 10 Parker Hannifin off-road machinery blogs.
---
Clipped washers key when space is limited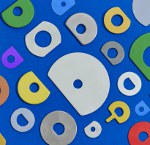 Design engineers who have limited space and need to control axial motion within their applications can turn to clipped washers from Boker's. Clipped washers have a flat edge on either the outside diameter (OD), inside diameter (ID), or both. This flat edge helps prevent the washer from rotating in applications, especially when space is limited and component performance is critical. Many applications require clipped washers, and they are used across many industries including automotive, marine, aerospace, and medical.
Learn more.
---
ClampDisk micro fastener is new alternative for automotive and consumer electronics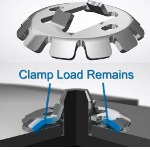 Designed as a unique alternative in assemblies for the automotive and consumer electronics markets, the ClampDisk Press-on Fastener is a new offering from PennEngineering that delivers a fast, simple way to clamp sheets while replacing the use of standard screws, nuts, and adhesives. The most common challenges that can be eliminated or reduced by using ClampDisk include over installation, cross threading, stripped screw heads, broken screws, and damaged product. This fastener can be removed easily with a sharp-edged tool.
Learn more and see ClampDisk in action.
---
Engineer's go-to guide for rings and springs: New Smalley catalog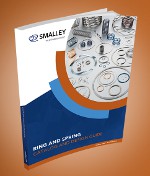 Find your next wave spring, retaining ring, or constant section ring in Smalley's newest Catalog and Design Guide release. As the inventor of the edgewound wave spring with over 100 years of manufacturing excellence, Smalley has helped thousands of engineers and professionals create application-specific solutions across every industry. Since they manufacture 12 product types in 400 sizes with over 10,000 parts in stock, Smalley's Catalog is an essential resource containing easy-to-follow product charts with detailed specifications. Available in print or as an online interactive resource.
Get your Smalley Catalog today.
---
Ultramid Advanced grades now available with carbon-fiber reinforcement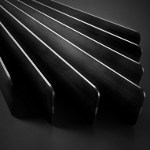 BASF has expanded its polyphthal-amide (PPA) portfolio of Ultramid Advanced with carbon-fiber reinforced grades. With fillings of 20%, 30%, and 40% carbon fiber, these new materials make extremely lightweight parts, safely replace aluminum and magnesium without loss in stiffness and strength, and are electrically conductive. They can be used to manufacture automotive structural parts for body, chassis, and powertrain; for pumps, fans, gears, and compressors in industrial applications; and as stable and ultra-lightweight components in consumer electronics.
Learn more.
---
Researchers evaluate 3D printing copper alloy for NASA rocket engines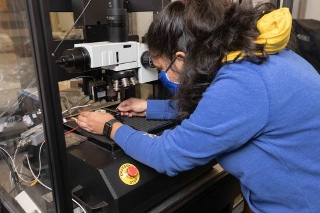 Graduate student Trupti Suresh Mali uses nanoindentation to determine the hardness of a new printable copper alloy NASA is developing to line combustion chambers of rocket engines. Researchers at South Dakota State University are determining the mechanical properties and microstructure of GRCop-42 parts manufacturing using laser power-based directed energy deposition through a NASA EPSCoR Rapid Response Research grant.
Two South Dakota State University professors are evaluating a printable copper alloy NASA is developing for combustion chambers of next-generation rocket engines used for space travel.
Associate professor Todd Letcher and assistant professor Anamika Prasad of the Department of Mechanical Engineering are determining the material properties of a copper-based printable alloy called GRCop-42, testing samples taken from 3D parts printed using a new additive manufacturing technique.
Additive manufacturing, also commonly known as 3D printing, is different from traditional manufacturing methods in that it builds a part one layer at a time. This manufacturing technique makes it possible to create intricate geometries cost effectively, such as those needed to dissipate heat, explained Letcher, whose research focuses on 3D printing and materials characterization.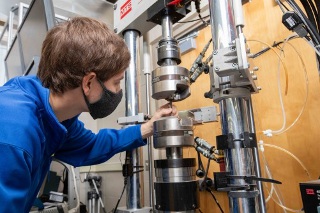 Graduate student Scott Landes of Glencoe, MN, prepares to do tensile testing of a GRCop-42 specimen in the Department of Mechanical Engineering's Material Evaluation and Testing Laboratory at South Dakota State University.
Prasad, whose research focuses on nanomechanics of engineering and biomaterials, said, "This is an excellent opportunity to utilize the equipment at the Materials Testing and Evaluation Laboratory to train our students to conduct material testing on additively manufactured materials and thereby contribute to the development of a highly educated, skilled workforce in South Dakota."
The agreement between NASA and SDSU is supported by a NASA Established Program to Stimulate Competitive Research (EPSCoR) Rapid Response Research grant. EPSCoR is designed to establish partnerships with government, higher education, and industry to develop and improve research infrastructure in areas of importance to the NASA mission. South Dakota is one of 28 states participating in the NASA EPSCoR program.
The SDSU researchers have significant experience testing additively manufactured parts made with polymers/plastics, but this is their first experience with evaluating parts made with copper-based alloys, Letcher explained. "The parts we are testing were manufactured using laser powder-based directed energy deposition," he said.
This additive manufacturing process involves injecting metal powder into a laser-heated pool of molten metal, or melt pool. The nozzle and laser optics are integrated into a build-head attached to a robot that moves in a pattern determined by a computer, building one layer at a time.
The goal of NASA's research is to evaluate new manufacturing techniques to fabricate components more rapidly, according to Paul Gradl, Senior Propulsion Engineer at NASA's Marshall Space Flight Center in Huntsville, AL. "Laser (blown) powder directed energy deposition additive manufacturing allows us to create very large-scale components with complex internal features that were not previously possible. We're able to significantly reduce the time and the cost associated with the fabrication of channel-cooled nozzles and other critical rocket components."
NASA has provided the GRCop-42 parts manufactured by an industry partner to the SDSU researchers with specific instructions about the types of testing that should be done to determine the mechanical properties and microstructure of the additively manufactured material, Prasad said. Small changes in manufacturing parameters can impact the microstructure and properties of the manufactured parts. Two graduate students are also working on the project.
The researchers have examined surface roughness using a laser scanning microscope, hardness using nanoindentation, and residual stresses using x-ray diffraction. Using the scanning electron microscope in the Department of Electrical Engineering and Computer Science, the researchers examined the microstructure of the material. They also performed tensile testing of various material specimens.
"We are contributing to a database on the material properties of GRCop-42 manufacturing using this specific process," Prasad said. Results from the project's first year were presented at the 2020 International Mechanical Engineering Congress and Exposition in November 2020.
The researchers are now performing additional tests on the samples and exploring sample size and cutting methods for low-cycle fatigue testing.
Source: South Dakota State University
Published April 2021
Rate this article