OnRobot launches advanced magnetic gripper for safe and precise cobot applications
OnRobot has launched the MG10, a versatile, high-performance, easy-to-use magnetic gripper for material handling, assembly, and machine tending applications in manufacturing, automotive, and aerospace environments. The gripper is fully compatible with all major robot brands.
Read the full article.
---
What motor torque constant to use for drive type: Theory and application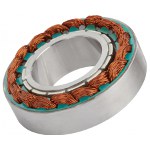 Calculating motor torque from available drive current can be confusing due to many different drive types and the multiple ways current is specified. This informative online paper from Celera Motion provides the key formulas for torque constant and motor current from the fundamental principles of three-phase motor theory. It also walks through the many ways torque can be calculated. This information applies to a brushless motor (BLAC or permanent magnet synchronous machines) configuration.
Read the full article.
---
Easy-integration compact Z-Theta motion platform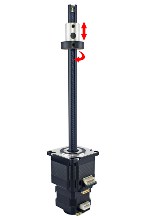 The easily integrated Z-Theta motion platform from Haydon Kerk Pittman offers linear and rotary point-to-point motion in a compact footprint. This modular, "bolt-in" package features the patented ScrewRail linear actuator, which combines guidance and linear transmission in a slender co-axial profile. The unique dual-motion integration with a pair of stepper motors adds rotary (theta) motion that reduces motion system size by 50% to 80% and provides as much as a 60% overall cost reduction when compared to traditional design approaches. This setup can be customized with a variety of lead screw resolutions, free-wheeling and anti-backlash nuts, stepper motor options, and optical encoder line counts.
Learn more.
---
Good beer. Zero packaging accidents.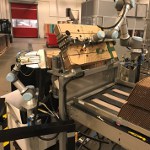 The Danish division of Carlsberg, one of the leading brewery groups in the world, has significantly improved staff safety and taken steps toward achieving zero accidents since integrating Universal Robots cobots into its Fredericia-based factory. The company invested in two cobots, the space-friendly UR3 and the powerful UR10, to tackle carrying packaging cartons from the pallet to the magazine -- a monotonous and strenuous task that often left staff with repetitive strain or severe cuts. Working in tandem, the cobots can handle up to 500 packaging cartons per hour. Now the company has purchased four additional cobots to further automate its production lines.
Read the full article.
---
Precise motion for optics and thermal imaging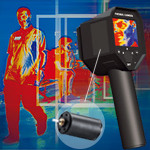 From scanning buildings for heating and cooling "leaks," to scanning people at the airport for possible fever, thermal imaging systems play a critical role in many industries. Thermal cameras rely on many of the same motorized components as standard cameras: they require focusing, zooming, aperture adjustments, and quick-moving shutters. Inside these advanced optics systems, micro brush DC motors from FAULHABER help cameras capture precise images and temperature readings in a fraction of a second.
Read the full article.
---
SureStep stepper motor linear actuators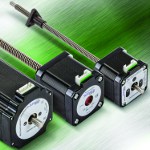 Automation-Direct has added stepper motor linear actuators to its SureStep line of stepper motion control products. These linear actuators are NEMA 17 or 23 frame stepper motors with a stainless steel lead-screw extension of the rotor. In conjunction with the provided screw nut, these units translate motor torque into linear thrust. They can provide up to 193 lb of thrust, or speeds up to 18 in./sec. Eight standard leads (travel per rev) are offered, with screw lengths of 6, 9, or 12 in. They start at under 100 bucks.
Learn more.
---
Mini actuator with built-in servo drive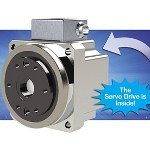 The FHA-C Mini Series of extremely compact actuators from Harmonic Drive delivers high torque with exceptional accuracy and repeatability. An integrated servo drive version utilizing CANopen communication is now available. This product eliminates the need for an external drive and greatly improves wiring while retaining high-positional accuracy and torsional stiffness in a compact housing. Dual absolute encoders included. This new mini actuator is ideal for use in robotics.
Learn more.
---
Mechatronic solution packages from Bosch Rexroth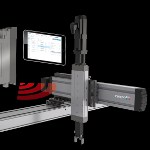 The Smart Function Kit is a new Smart MechatroniX solution platform from Bosch Rexroth that offers quick and intuitive commissioning and configuration for a range of processes such as joining, pressing, and handling. This modular toolbox consists of an electromechanical cylinder, a force sensor, a motor, a servo drive, and a motion controller, plus a software package that enables easy commissioning and operation as well as comprehensive process analysis. Available soon is a Smart Function Kit for handling tasks and a Smart Flex Effector, which is a compensation module with an active measuring function in six degrees of freedom.
Learn more.
---
Precision micro stage for high-volume applications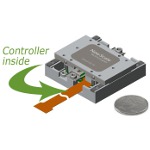 The M3-LS-U2-10 Linear Smart Stage from New Scale Technologies is a direct-drive precision piezoelectric micro stage with embedded controller designed for integration into compact devices. Applications include instruments for DNA sequencing, wearable medical devices, instruments for point-of-care diagnostics, devices for telemedicine, handheld imaging systems, and laser beam steering. The stage has high stiffness with no gears or backlash, low acoustic noise, and no high voltage. It can be powered by batteries or any low-cost DC supply and is suitable for use in near-patient instruments and wearable devices.
Learn more.
---
Ball rail systems and ball screw assemblies: 20,000 km without relubrication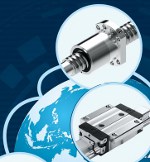 Good news for mechanical engineers and users: the ball rail systems BSHP and ball screw assemblies BASA from Bosch Rexroth now achieve lubrication intervals that are up to four times longer. In more and more applications, they can even be used maintenance-free over the entire service life of a component. Low-maintenance or maintenance-free linear motion tech minimizes operating costs and protects the environment. Recent tests show the lubrication intervals for BSHP ball rail systems are 2x improved and can cover up to 20,000 km before the first relubrication. BASA ball screw assemblies achieve up to 200 million revolutions with the basic factory lubrication, a 4x improvement.
Learn more.
---
Depend on FAULHABER drives for critical medical applications
Surgical robotics systems offer an overwhelming advantage over traditional methods: improved precision and speed, faster patient healing, and a reduced margin of error. For minimally invasive procedures requiring this level of precision, performance and quality, the OEM engineers of surgical robotics systems rely on FAULHABER brushless dc motors.
Learn more.
---
Virtual Expo: Automating machine tending tasks with cobots Feb. 23-24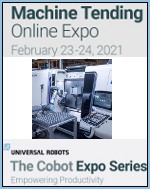 Universal Robots -- the originator of the collaborative robot -- is hosting the first-ever virtual expo focused on automating machine tending tasks with cobots. The two-day Machine Tending Expo event Feb. 23-24 aims to help manufacturers looking to deploy cobots to tend machines such as CNC, press brakes, injection molding, or 3D printers. In live demos, keynotes, and interactive booth sessions with exhibiting partners, Universal Robots offers solutions on how to implement cobots seamlessly, tackle the labor shortage, and improve crucial machine uptime.
Read the full article.
---
Flat motors with integrated encoder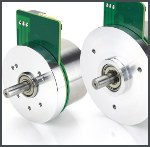 The extremely compact DFA68 and DFA90 series brushless DC motors from Nanotec are now available with integrated encoder. They are particularly suitable for applications that require precise positioning in confined spaces. External rotor BLDC motors are shorter than internal rotor motors and have a lower torque ripple. The DFA90-E with a diameter of 90 mm has a rated power of 168 W at 2,000 rpm. The smaller DFA68-E with a diameter of 68 mm achieves 106 W at 3,500 rpm.
Learn more.
---
Mechatronics made easier: Mechanical + drive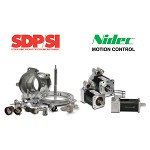 Nidec Motion Control (motors) and SDP/SI (mechanical components) have partnered to create a one-stop shop for low-voltage standard DC motors and controllers plus mechanical components for industrial automation, robotics, medical technology, safety and security, agriculture, food and beverage, vending, and more. Offerings will include pre-assemblies and kitting, from digital controllers to custom mechanical transmission solutions.
Learn more.
---
Micro-sized high-power servo drives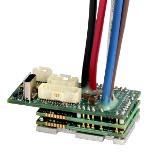 The FM060-25-CM is part of a new breed of micro-sized high-power servo drives available from ADVANCED Motion Controls (50.8 mm x 25.4 mm with a height of 22.1 mm -- three units can fit within the footprint of a standard business card). Rated to output 25A continuous and 50A peak, this fully featured digital servo drive is small enough to fit in the tightest locations. It is ideally suited for mobile and portable applications such as mobile robotics, automated mobile robots (AMRs), AGVs, material handling, warehouse automation, lab automation, and more. Two lower current options (5A and 10A) are also available.
Learn more.
---
Drones team up to deliver heavy packages using new control system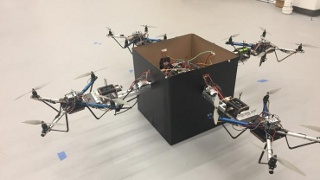 Researchers have developed a modular solution for handling larger packages without the need for a complex fleet of drones of varying sizes. By allowing teams of small drones to lift objects collaboratively using an adaptive control algorithm, the strategy could allow a wide range of packages to be delivered using a combination of several standard-sized vehicles. [Credit: John Toon, Georgia Tech]
Many parcel delivery drones of the future are expected to handle packages weighing 5 lb or less, a restriction that would allow small, standardized UAVs to handle a large percentage of the deliveries now done by ground vehicles. But will that relegate heavier packages to slower delivery by conventional trucks and vans?
A research team at the Georgia Institute of Technology has developed a modular solution for handling larger packages without the need for a complex fleet of drones of varying sizes. By allowing teams of small drones to collaboratively lift objects using an adaptive control algorithm, the strategy could allow a wide range of packages to be delivered using a combination of several standard-sized vehicles.
Beyond simplifying the drone fleet, the work could provide more robust drone operations and reduce the noise and safety concerns involved in operating large autonomous UAVs in populated areas. In addition to commercial package delivery, the system might also be used by the military to resupply small groups of soldiers in the field.
"A delivery truck could carry a dozen drones in the back, and depending on how heavy a particular package is, it might use as many as six drones to carry the package," said Jonathan Rogers, the Lockheed Martin Associate Professor of Avionics Integration in Georgia Tech's Guggenheim School of Aerospace Engineering. "That would allow flexibility in the weight of the packages that could be delivered and eliminate the need to build and maintain several different sizes of delivery drones."
The research was supported, in part, by a National Science Foundation graduate student fellowship, and by the Hives independent research and development program of the Georgia Tech Research Institute. A paper on the research has been submitted to the Journal of Aircraft.
A centralized computer system developed by graduate student Kevin Webb would monitor each of the drones lifting a package, sharing information about their location and the thrust being provided by their motors. The control system would coordinate the issuance of commands for navigation and delivery of the package.

VIDEO: Small drones work together to lift and deliver packages. [Credit: Georgia Tech]
"The idea is to make multi-UAV cooperative flight easy from the user perspective," Rogers said. "We take care of the difficult issues using the on-board intelligence, rather than expecting a human to precisely measure the package weight, center of gravity, and drone relative positions. We want to make this easy enough so that a package delivery driver could operate the system consistently."
The challenges of controlling a group of robots connected together to lift a package is more complex in many ways than controlling a swarm of robots that fly independently.
"Most swarm work involves vehicles that are not connected, but flying in formations," Rogers said. "In that case, the individual dynamics of a specific vehicle are not constrained by what the other vehicles are doing. For us, the challenge is that the vehicles are being pulled in different directions by what the other vehicles connected to the package are doing."
The team of drones would autonomously connect to a docking structure attached to a package, using an infrared guidance system that eliminates the need for humans to attach the vehicles. That could come in handy for drones sent to retrieve packages that a customer is returning. By knowing how much thrust they are producing and the altitude they are maintaining, the drone teams could even estimate the weight of the package they're picking up.
Webb and Rogers have built a demonstration in which four small quadrotor drones work together to lift a box that's 2 ft by 2 ft by 2 ft and weighs 12 lb. The control algorithm isn't limited to four vehicles and could manage "as many vehicles as you could put around the package," Rogers said.
For the military, the modular cargo system could allow squads of soldiers at remote locations to be resupplied without the cost or risk of operating a large autonomous helicopter. A military UAV package-retrieval team could be made up of individual vehicles carried by each soldier.
"That would distribute a big lifting capability in smaller packages, which equates to small drones that could be used to team up," Rogers said. "Putting small drones together would allow them to do bigger things than they could do individually."
Bringing multiple vehicles together creates a more difficult control challenge, but Rogers argues the benefits are worth the complexity. "The idea of having multiple machines working together provides better scalability than building a larger device every time you have a larger task," he said. "We think this is the right way to fill that gap."
Using multiple drones to carry a heavy package could also allow more redundancy in the delivery system. Should one of drones fail, the others should be able to pick up the load -- an issue managed by the central control system. That part of the control strategy hasn't yet been tested, but it is part of Rogers' plan for future development of the system.
More research is also needed on the docking system that connects the drones to packages. The structures will have to be made strong and rigid enough to connect to and lift the packages, while being inexpensive enough to be disposable.
"I think the major technologies are already here, and given an adequate investment, a system could be fielded within five years to deliver packages with multiple drones," Rogers said. "It's not a technical challenge as much as it is a regulatory issue and a question of societal acceptance."
Source: Georgia Tech
Published April 2021
Rate this article