Automotive antenna-on-package mmWave sensors with Texas Instruments RFIC
D3 Engineering, a Texas Instruments platinum design partner, recently announced their DesignCore RS-1843AOP and RS-1843AOPU mini mmWave Radar Sensors. They feature a 1-in. cube form factor, heat-spreading metal body, and mounting tabs. They may be used with a PC or embedded platform to facilitate field testing, sensing evaluation, algorithm development, and application demonstrations. Automotive applications include parking assist and collision avoidance. Other applications include robotics, autonomous machines, industrial vehicle systems, and facility monitoring, as well as people counting and tracking.
Learn more.
---
Pinpoint the leading cause of Industrial Ethernet failures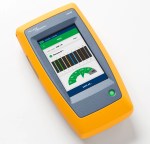 Fluke Networks introduces the LinkIQ-IE Cable+Network Industrial Ethernet Tester designed to troubleshoot network cabling, the leading cause of Industrial Ethernet failures. With Ethernet-based technologies increasingly the default for automation networks, the need for easy-to-use tools to troubleshoot these networks is growing rapidly. By combining Fluke Networks' state-of-the-art cable measurement technology and basic tests for Industrial Ethernet switches, LinkIQ-IE speeds and simplifies the discovery of network failures in a simple-to-use touchscreen interface akin to a smartphone.
Learn more.
---
Premium Hi-Temp ETX Series thermoelectric coolers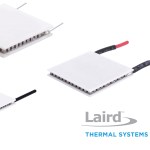 Laird Thermal Systems has developed a thermoelectric module series that is rated for high temperature in emerging optoelectronic applications, including LiDAR and CMOS sensors for autonomous systems in vehicles and drones, digital light processors (DLP) used in 3D machine vision and advanced lighting systems, and optical transceivers. The HiTemp ETX Series thermoelectric cooler has a robust construction that allows it to survive in temperatures up to 150 C, exceeding most outdoor applications. These solid-state heat pumps are assembled with advanced materials that boost cooling capacity by up to 10% compared to traditional thermoelectric coolers.
Learn more.
---
Compact power module with side flange mounting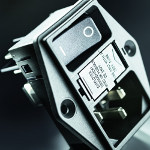 SCHURTER's proven power entry module, series DD11, provides a high level of functional integration in the most minimal of package dimensions. The power module is ideally suited for equipment with low-profile panels. Consisting of an IEC appliance inlet (C14), which is compatible with cord retention, 1- or 2-pole fuse holder, and power ON/OFF switch, the DD11 is now available with side mounting flanges in addition to the existing model with top and bottom flanges. The new model is designed to minimize height when vertically mounted. Applications include medical, IT and telecom, office and household equipment, and automation systems.
Learn more.
---
Automotive Ethernet cables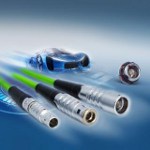 The ODU MINI-SNAP for Single Pair Ethernet (SPE) enables Ethernet connections via copper cables with a single twisted wire pair, while allowing for the voltage supply of terminal devices via PoDL (Power over Data Line). The simpler design of the new generation of connectors and the associated weight and space reduction are good for designers and developers in various areas. SPE is currently being introduced in new automotive generations, replacing CAN and other bus systems. In the future, communication, controls, and security functions will be managed uniformly via Ethernet.
Learn more.
---
Cool Tools: Complete 3D scan and reverse engineering suite for under 15 grand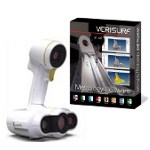 Verisurf Software is offering special limited-time pricing on its 3D scanning and reverse engineering solution bundle. It has everything needed to quickly deploy the system, including: Verisurf Scan Data and Reverse Engineering Suite with Quick Surface, Verisurf online training, Peel 2 3D handheld scanner, 1-year hardware warranty, and Peel 2 and Verisurf installation and setup video. The Verisurf Scan Data Reverse Engineering Suite is part of the recently released Verisurf 2020, the only measurement, inspection, and reverse engineering software dedicated to Model-Based Definition (MBD) and built on a CAD/CAM platform.
Learn more.
---
Asset tracking down to the centimeter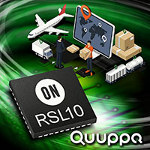 ON Semicon-ductor's Quuppa Intelligent Locating System enables real-time tracking of Bluetooth tags and devices -- with centimeter-level accuracy even in challenging environments. Quuppa technology allows positioning updates to be sent up to 50 times per second, providing a reliable and versatile Real-Time Locating System (RTLS) solution for all industries. Users can design ultra-low-power indoor asset-tracking applications with Direction Finding features and advanced Angle of Arrival (AoA) technology.
Learn more.
---
Noncontact measurement of speed and length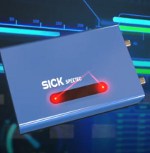 With the SPEETEC, SICK has expanded its product range for speed and length measurement of objects moving in a linear path to include technology that measures directly on the material surface. The non-contact sensor is able to measure a wide range of web and continuous materials, as well as blanks, with incredible accuracy. This speed sensor closes the gap between tactile, indirect-measuring encoder solutions and laser velocimeters, which are often expensive to purchase and require considerable effort to integrate and operate.
Learn more.
---
Displays: New HMI and drive faceplates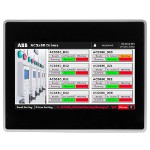 ABB's CP600 Gen 2 HMIs offer NEMA 4X rating, an expanded temperature range, 33% brighter screens, additional communications ports, and integral web server capability, allowing users to expand HMI usage into more applications. Available in 7-, 10-, and 15-in. sizes, the CP600 Gen2 HMI units join the CP600-eCo units and the CP600-Pro units to cover the full range of industrial display needs.
Learn more.
---
Cool Tools: Hexagon RS6 high-speed laser scanner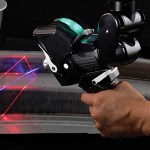 The handheld or arm-mounted RS6 laser scanner available from Exact Metrology is designed for high-speed and high-accuracy scanning. When compared to other scanners, the RS6 has a 3x faster frame rate, a 30% wider laser stripe, and excellent scanning performance on difficult surfaces (including glossy black plastic automotive body parts or molded carbon fiber components). Its unique SHINE technology allows you to scan 99% of parts without touching the scanner exposure. It scans up to 1.2 million points/sec with a scan rate of 300 Hz.
Learn more.
---
New Intellistat Ion Air Gun for static elimination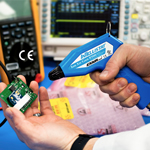 EXAIR's patented Intellistat Ion Air Gun is a handheld and lightweight solution for static elimination in clean processes or sensitive assembly work such as scientific and electronic test facilities, laboratories, and clean rooms. The Intellistat was designed to consume minimal compressed air while simultaneously delivering precise blow-off, and exceptional static decay rates capable of reducing 1000 V to less than 100 V in less than a second at up to 24 in. away.
Learn more.
---
Automotive cameras get 3-MP res and added cybersecurity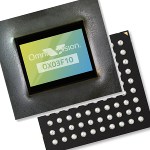 The OX03F10 automotive image sensor from OmniVision expands the company's next-gen ASIL-C viewing camera family with higher 3-MP resolution and cybersecurity features that are required as vehicle designers make the transition from Level 2 and 3 advanced driver assistance systems (ADAS) to higher levels of autonomy. The OX03F10 also maintains the family's unique combination of a large 3.0-micron pixel size with a high dynamic range (HDR) of 140 dB and the best LED flicker mitigation (LFM) performance for minimized motion artifacts. Additionally, the sensor is offered in a 1/2.44-in. optical format and features a four-lane MIPI CSI-2 interface.
Learn more.
---
Solid-state LiDAR wins CES innovation award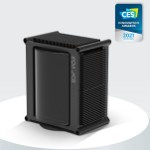 LiDAR sensor provider SOSLAB won the Consumer Electronics Show (CES) 2021 Innovation Awards for its Solid-state LiDAR ML unit for autonomous vehicles in the Vehicle Intelligence and Transportation category. The award recognized the excellence of the ML product, which is a compact LiDAR without moving parts. Its design enables simpler vehicle sensor deployment in terms of size, weight, and stability. ML is easy to mass-produce with a simple structural design that is expected to attract attention in the automotive LiDAR market.
See how it works.
---
RF filters for space applications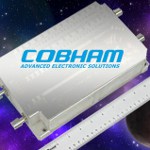 Cobham Advanced Electronic Solutions (CAES) has bolstered its RF Filter portfolio with the addition of new microwave and millimeter-wave filter assemblies specifically designed for space applications. This broad portfolio includes lumped element, combline cavity, and printed filters, as well as multi-filter assemblies. These filters are characterized by low loss and high sensitivity with narrowband with low insertion loss, broadband with low loss at edges, and rejection bandwidth no more than 20% greater than passband bandwidth. CAES RF Filters feature high power capability with greater than 5 W peak power and greater than 1 W average power. Can be optimized for size and weight. Cobham has extensive experience in RF Filters for airborne, missile, and unmanned aerial vehicle (UAV) applications.
Learn more.
---
Ultra-bright omnidirectional mini LED bulbs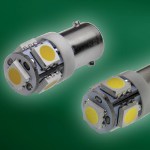 The B305SM series from LEDtronics is an omnidirectional miniature bulb that replaces incandescents directly in critical instrument status indication applications. They produce much brighter light intensity while remaining energy efficient. This bulb features a T3-1/4 (9-mm) single-contact bayonet base that gives installation a familiar twist. It's a great fit for applications such as back lighting, signage, panel-mount pilot lights, accent lighting, and more.
Learn more.
---
Is it worth investing in solar PV with batteries at home?
Researchers looked into some of the issues that hamper the uptake of solar energy and proposed different policies to encourage the use of this technology.
Installing solar panels to offset energy costs and reduce the environmental impact of their homes has been gaining popularity with homeowners in recent years. On a global scale, more and more countries are encouraging the installation of solar photovoltaics (PV) at residential buildings to increase the share of renewable energy in their energy mix and enhance energy security. Despite the promising advantages this mode of electricity generation offers, there are still a number of challenges that need to be overcome.
Batteries to store excess electricity
Solar PV electricity generation peaks during the day when electricity demand is low, resulting in overproduction -- especially on weekdays when people are usually not at home. Currently, this excess electricity supply is typically exported to the central electricity grid, but ideally, homes that have solar panels should be able to store overproduction of solar electricity using batteries and consume it in the evening when demand is high and there is no solar electricity generation.
The problem is that the investment cost for batteries is currently quite high, which makes it economically unprofitable for consumers to pair their solar PV with a battery. In their new study published in the journal Applied Energy, researchers from the International Institute for Applied Systems Analysis (IIASA), University College London (UK), and Aalto University (Finland) looked into this challenge and proposed different policies to encourage residential electricity consumers to pair solar PV with battery energy storage.
"We wanted to determine whether investing in residential solar PV combined with battery energy storage could be profitable under current market conditions for residential consumers and what kind of support policies can be used to enhance the profitability of stand-alone batteries or PV-battery systems. On top if this, we also wanted to compare the system (or regulatory) cost of each PV-battery policy to the benefit of that particular policy for residential consumers who invest in these technologies," says lead author Behnam Zakeri, a researcher with the IIASA Energy, Climate, and Environment Program.
Benefits of using battery storage
The study shows that without a battery, homeowners only use 30 to 40% of the electricity from their solar PV panels, while the rest of the electricity is exported to the grid with very little to no benefit for the owner. With a home battery, the self-consumption of solar PV in the building almost doubles, allowing the residents to reduce electricity imports from the grid by up to 84%, which can, in turn, help the owner to become less dependent on the grid and electricity prices.
In addition, the researchers found that while PV-batteries are presently not really profitable for residential consumers, they can become so with the implementation of slightly different policies and regulations, even in high-latitude countries where solar irradiation is relatively low.
Energy policies for a decentralized energy system
The authors propose some novel energy storage polices that offer a positive return on investment between 40 and 70% for residential PV-battery storage, depending on the policy. These include, among others, that national renewable energy policies adopt more innovative incentives to enhance the economic profitability of decentralized green energy solutions based on the contribution of these systems to the grid. The results indicate that this can be easily achieved by, for example, rewarding consumers for using their solar PV generation onsite, instead of encouraging them to export the excess solar energy they produce to the grid.
The researchers further posit that the way utility companies and electricity distribution firms generate income today may itself be a hindrance to promoting the self-consumption of renewable energy in buildings, as these companies generally charge consumers for each unit of electricity imported from the grid. If consumers become independent from the grid, grid operators and utility companies would lose a significant part of their income. Such a scenario calls for new business models and operating modes to guarantee that central utilities do not see decentralized solutions as a threat to their revenues.
In today's renewable electricity-generation environment, capital subsidies are one option to partly pay for investment in batteries. The study points out that these policies are costly for the system, and may not automatically result in system-level benefits as they do not reward the optimal use of batteries. In this regard, Zakeri and his colleagues propose a "storage policy" that rewards residential battery owners to store and discharge electricity whenever the system needs it. The profitability of PV-battery systems also depends on the type of retail pricing mechanism in the system.
The findings indicate that dynamic electricity pricing at the consumer side, such as hourly electricity prices with an enhanced gap between off-peak and peak prices, will encourage consumers to use home batteries to benefit from charging at low-price hours and discharging the battery when the electricity price is high. This way of operating a home battery could help reduce the pressure on the electricity grid at peak times, which has significant benefits for the system.
"Traditional, central energy structures are transitioning to new systems based on decentralized, renewable energy solutions. This requires more flexible, modern, and effective policies that can guarantee the social and economic benefits of the energy transition. We hope our analysis contributes to a better understanding of the role of some energy policies that can promote decentralized energy solutions," Zakeri says.
Reference
Zakeri, B., Cross, S., Dodds, P., Castagneto Gissey, G. (2021). Policy options for enhancing economic profitability of residential solar photovoltaic with battery energy storage. Applied Energy DOI: 10.1016/j.apenergy.2021.116697
Source: International Institute for Applied Systems Analysis (IIASA)
Published April 2021
Rate this article