New Cobot Welder is programmable with smartphone app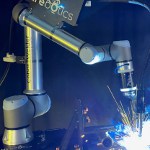 The new Cobot Welder from Hirebotics is a major leap forward in easy-to-use welding automation that combines industrial-grade robot welding functionality with consumer-level ease-of-use and a phenomenal price point -- especially for small and medium-size businesses. The Cobot Welder's app programmability decreases the time required to teach a new part by 60%. A Hirebotics/Universal Robots launch event will be held April 28.
Read the full article.
---
When should designers use crossed roller bearings?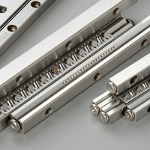 Crossed rollers use a series of cylindrical bearings or rollers set at 90 degrees to one another to form a V that fits into a slot on the rail. Each roller provides an entire line of contact, as opposed to just the point or two of contact provided by liner actuators using ball bearings. The result is less deformation and the ability to carry heavier loads.
Read this informative ISOTECH blog.
---
Structural adhesive offers 4x temp stability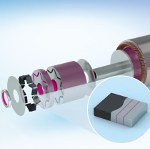 Developed primarily for use in the automotive industry and mechanical engineering, DELO has launched an adhesive with exceptionally high temperature stability. DELO MONOPOX HT2999 achieves compression shear strength of 20 MPa at 180 C. This is four times greater than its predecessor and other products on the market. High-temperature-resistant adhesives are in demand for use with electric motors and power electronics. Many products that are currently on the market show a clear drop in performance at temperatures above 150 C. DELO's new structural adhesive can handle it.
Learn more.
---
Retaining rings and wave springs solutions

Finding the best possible solution for your design challenge is no easy task. That's why we're here to help you find the right wave spring, retaining ring, or constant section ring for all of your applications. Choose from one of our 12 product types, 400 sizes, and 10,000+ standard parts in carbon and stainless steel, or challenge our team of engineers to tailor a custom part fit to your exact application requirements.
Request free samples today!
---
High-performance vibratory feed system handles larger range of parts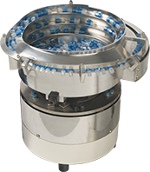 The SPIROL Series 2000 is a proven and reliable dual-axis feeding concept that is unlike anything else on the market. It can feed many parts that were once considered not suitable for vibrating feeders, including fuses, tablets, packets, soft rubber parts, fragile parts, and parts that are coated or have a film on them. It is tuned electronically rather than by re-springing, which makes setup and changeover for multiple bowls on one drive a snap. In automated assembly lines, this system offers maximum efficiency, reduced power consumption, and less noise.
View the video.
---
Servo-insert coupling with new hub design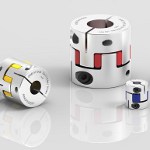 RINGFEDER has recently released its GWE 5113 series of elastomer jaw servo-couplings featuring a new hub design. This design eliminates radial loads and achieves uniform power transmission with an even clamp force and symmetrical arrangement of clamp and screw positions. GWE 5113 couplings precisely transmit torques from 3 to 560 Nm. The hub is slit partially through and located directly under the jaws to minimize pressure on the shaft. Backlash-free units come with an elastomer spider with 98 Shore A hardness, minimizing movement and achieving longer life cycles. Seven sizes available.
Learn more.
---
HVACR Tech Tip: Understanding the basic refrigeration cycle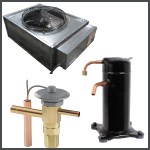 This Parker Hannifin Climate Control blog reviews the basic refrigeration cycle and the interaction between its four basic components: compressor, condenser, expansion device, and evaporator. It looks at each component and its function, and then at what happens when components are not properly matched.
Read this informative Parker blog.
---
Antibacterial handles stop germs in their tracks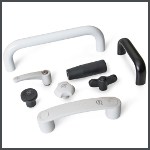 Contact infections with viruses, fungi, and bacteria were already a problem even before the pandemic, and now JW Winco is expanding its Sanline range of antibacterial products. For their plastic products, special additives with silver ions are mixed in, while metal parts are given powder coatings based on zinc molybdate.
Read the full article.
---
New metal 3D-printing materials include Inconel, titanium, and maraging steel at Xometry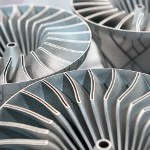 Xometry has added four new 3D-printed metals to its on-demand manufacturing services: maraging steel, Inconel 625, Inconel 718, and titanium. These premium alloys complement the already available stainless steel and aluminum metal 3D printing. Metal parts in these alloys are produced using direct metal laser sintering (DMLS), which fuses powdered metal with a high-powered laser to build parts layer by layer.
Learn all about these materials in this Xometry blog.
---
Eaton launches next-gen hollow-head valves for improved engine efficiency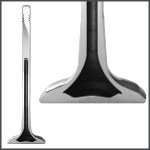 Eaton's Vehicle Group has introduced its next-generation sodium-filled hollow-head valves. Unlike traditional hollow valves, the head portion of the new valves is composed of two separate sections that are welded together during the production process. The new valves have the capability to cool down the combustion face and, therefore, the chamber temperature, which increases the spark advance and air-to-fuel ratio because the engine is less inclined to knock. As a result, the brake specific fuel consumption (BSFC) can be increased and emissions reduced. The valves are being evaluated by several global automakers, with start of production scheduled for 2023.
Learn more.
---
Counterbalance support hinge for heavy panels and lids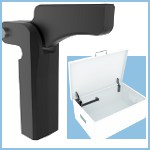 SOUTHCO has expanded its series of Counter-balance Hinges with a new product that reduces the total solution cost of lifting and positioning heavy panels and lids. The CB Counterbalance Support Hinge enables ergonomic lifting and position control when combined with a CB Counterbalance Hinge by using stored energy to balance the weight distribution of a lid or panel. The all-aluminum hinges are fully adjustable, allowing the experience of opening and closing the panel to be tailored to the unique requirements of the application.
Learn more.
---
Precision flexible antivibration couplings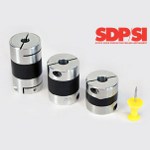 New Antivibration Flexible Couplings from Stock Drive Products / Sterling Instrument (SDP/SI) are designed for use with high-gain servomotors. When a servomotor drives a mechanism, as in applications such as semiconductor manufacturing equipment, blood analyzers, or high-speed printers, a change in direction causes a phenomenon called hunting. Hunting is vibration in the system that reduces transit time, making the equipment less efficient. The Antivibration Flexible Coupling features a unique construction of vibration-reducing rubber (FKM) molded with aluminum hubs. The resulting rubber-lined, finger-like structure allows for optimal torsional rigidity and damping.
Learn more.
---
Toughened NASA low-outgassing epoxy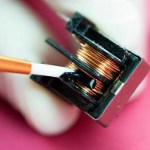 Master Bond Supreme 70CN is a two-part epoxy adhesive formulated using a natural, renewable, and sustainable ingredient. This moderate-viscosity, unfilled epoxy is black in color and can be used for bonding, sealing, coating, and potting in aerospace, electric vehicle, electronic, opto-electronic, battery, and OEM applications, particularly those involving composites and fibers. It resists thermal cycling and is ideal for bonding dissimilar substrates including metals, ceramics, many rubbers, plastic materials, and composites. It features low shrinkage upon cure, a high tensile strength, is serviceable from -100 to 400 F, and has a working life of 60 to 90 min.
Learn more.
---
Top Tech Tip: Innovative way to take up tolerances!

Smalley Linear Springs are a continuous wave formed (marcelled) wire length produced from spring tempered materials. They act as a load-bearing device, having approximately the same load/deflection characteristics as a wave spring. Linear Springs are now available as a standard part in carbon and stainless steel, with over 200 sizes.
Learn more.
---
Off-Road Machinery: Top 10 Parker Hannifin blogs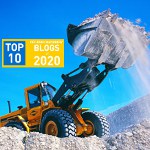 Combining innovative thinking with core technological competency can tame the challenges of off-road machinery operating in hazardous mining, agricultural, forestry, material handling, and construction environments. From major components and systems to the smallest fittings and bolts, learn about Parker Hannifin's core technologies that are leading the way to improving productivity, efficiency, reliability, and safety.
Read the Top 10 Parker Hannifin off-road machinery blogs.
---
Thin explosive films provide snapshot of how detonations start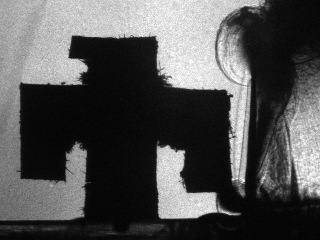 An image from a test detonation at Sandia National Lab of a thin explosive film, about as thick as a few pieces of notebook paper, with a 3/8-in.-tall thunderbird-shaped barrier. The "shimmering" lines to the right of the thunderbird are the shock waves from the explosion detected by schlieren imaging, a technique that can detect differences in air density. [Photo courtesy of Eric Forrest]
Using thin films -- no more than a few pieces of notebook paper thick -- of a common explosive chemical, researchers from Sandia National Laboratories studied how small-scale explosions start and grow. Sandia is the only lab in the United States that can make such detonatable thin films.
These experiments advanced fundamental knowledge of detonations. The data were also used to improve a Sandia-developed computer-modeling program used by universities, private companies, and the Department of Defense to simulate how large-scale detonations initiate and propagate.
"It's neat. We're really pushing the limits on the scale at which you can detonate and what you can do with explosives in terms of changing various properties," said Eric Forrest, the lead researcher on the project. "Traditional explosives theory says that you shouldn't be able to detonate at these length scales, but we've been able to demonstrate that, in fact, you can."
Forrest and the rest of the research team shared their work studying the characteristics of these thin films and the explosions they produce in two recently published papers in ACS Applied Materials and Interfaces and Propellants, Explosives, Pyrotechnics.
For their studies, the team used PETN, also known as pentaerythritol tetranitrate, which is a bit more powerful than TNT, pound for pound. It is commonly used by the mining industry and by the military.
Typically, PETN is pressed into cylinders or pellets for use. The research team instead used a method called physical vapor deposition -- also used to make second-generation solar panels and to coat some jewelry -- to "grow" thin films of PETN.
Sandia is the only lab in the United States that has the skills and equipment to use this technique to make thin explosive films that can detonate, said Rob Knepper, a Sandia explosives expert involved in the project.
Growing and studying thin explosive films
Starting in late 2015, the team grew thin films of PETN on different types of surfaces to determine how that would affect the films' characteristics. They started with pieces of silicon about the size of a pinkie nail and grew films that were about one-tenth the thickness of a piece of paper, too thin to explode. Some of the silicon pieces were very clean, some were moderately clean, and some were straight-out-of-the-box and thus had a very thin layer of dirt -- 50,000 times thinner than a sheet of paper.
On the very clean silicon surfaces, the PETN films formed what appeared to be smooth plates by scanning-electron microscopy, yet had tiny cracks in between plates, somewhat like dried mud on a dried lakebed. On the dirty silicon surfaces, the surface of the PETN films appeared more like even hills.
Using an X-ray-based technique, the researchers determined this is because the PETN molecules orient themselves differently on dirty surfaces compared to very clean surfaces, and thus the film grows differently, Forrest said.
"This study in particular has shown that we can get not just novel, but very useful forms of traditional explosives that you would never be able to achieve via traditional means," Forrest said. "Finely controlling the film properties enables us to investigate theories to better understand explosive initiation, which will allow us to better predict reliability, performance, and safety of explosive systems through improved models."
Knepper, who served as Forrest's mentor on the project, agreed. "Developing a way that we can reproducibly control the microstructure of the films, just through the surface manipulation, is important. Right now, our focus is on using these films to further our understanding of explosive properties at small scales, such as the initiation and failure of explosives."
Small-scale tests to improve computer models
Once the characteristics and properties of the thin films were better understood, the research team grew thicker films -- this time about the thickness of two sheets of notebook paper -- on very clean pieces of plastic about the size of a pinkie finger.
Then, with a bang, they detonated the explosive films inside a specially designed safety enclosure called a "boombox," which was engineered to prevent a detonation from starting while the enclosure was open and to contain any debris from the detonation. Using an ultra-high-speed camera that can take up to a billion frames a second, they watched the shock wave rise up as the explosion raced across the thin film.

Video: The detonation of thin explosive films by Sandia National Laboratories researchers.
In collaboration with New Mexico Institute of Mining and Technology in Socorro, the research team developed a specialized setup to see the shock wave despite the smoke and debris from the test explosions using schlieren imaging, a technique that can detect differences in air density similar to the shimmering over a hot highway.
A mechanical engineering master's student from New Mexico Tech, Julio Peguero, used the data from these experiments to refine Sandia's explosives computer-modeling program. The program, called CTH, can be used for applications, such as to determine how to best shape explosive charges while drilling for oil, Knepper said.
Peguero plotted the velocity of the shock waves above the films with and without gaps and adapted the computer program to better match their experimental results on very thin films. The team engineered thin films with cracks in the middle of various sizes -- ranging from one-third the width of a human hair to 1 1/3 the width of a hair -- to better understand the reliability of thin films and how detonations can fail. The team found that gaps around the size of a hair could stop a detonation from continuing.
Forrest was particularly interested in the gap studies because the first study found thin cracks between the very smooth plates of some of the films. Although these cracks were far smaller than even one-tenth a hair's width, the data from the gap study provided insights into how these films would perform.
Peguero, who is now a Sandia employee, started working on the project in January 2018, first as a student and then later as a Sandia intern. "In addition to the excitement of doing explosives research, I gained an appreciation for measurement uncertainty and risks," Peguero said. "That is especially important for national security work to ensure that our confidence in our measurements is well understood."
Knepper agreed about the importance of the project. He said, "When you have experimental data at small scales, especially those that are relevant for the border between what can detonate and what can't, those data can be really helpful in calibrating computer models. Also, being able to have good characterization of the explosive microstructure to go into the models helps with having parameters that can successfully predict performance over a wider range of explosive behaviors."
Source: Sandia
Published April 2021
Rate this article