Porsche Taycan Cross Turismo: Not your grandpa's wagon
If you like a high-end ride with some space and extra capability but you're not the SUV type, Porsche has a brand new option for you. The all-electric Cross Turismo is the latest offering in the brand's Taycan line, which has been wildly popular, especially in Europe.
With an eye-catching design, options from 470 to 750 hp max with Launch Control, dual motors, regenerative braking, high-tech features throughout, and room to stretch and store, it's not your grandpa's station wagon -- but grandpa sure would look sharp in it.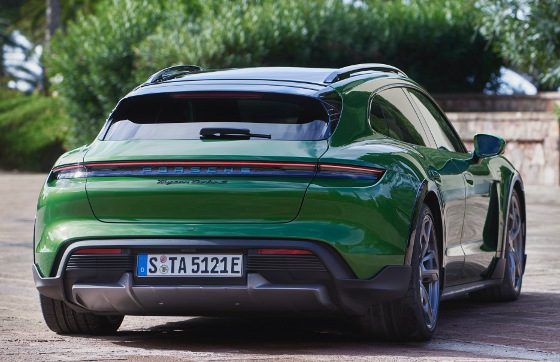 Taycan debuted in 2019 as the brand's first all-electric offering. Porsche delivered more than 20,000 Taycans to customers worldwide in 2020. According to Electrek, "The Taycan electric car has already become Porsche's best-selling car in Europe, destroying the sales of the Panamera, its closest gas-powered competitor." In Norway, for one example, Porsche says the four-door Taycan currently accounts for 70% of all Porsche models sold.
Like the Taycan sports sedan, the Taycan Cross Turismo benefits from an innovative 800-V electric drive architecture. Porsche says this is a particular advantage for Taycan drivers on the road, because in just over 5 min. the battery can add 62 miles of charge using direct current (DC) from the high-power charging network -- available and growing throughout Europe.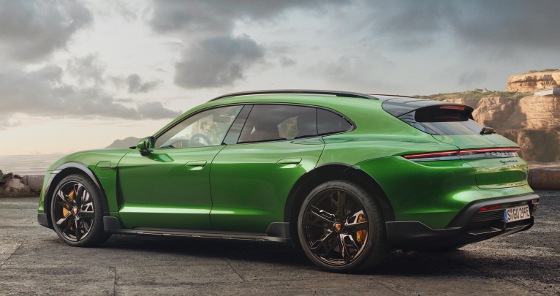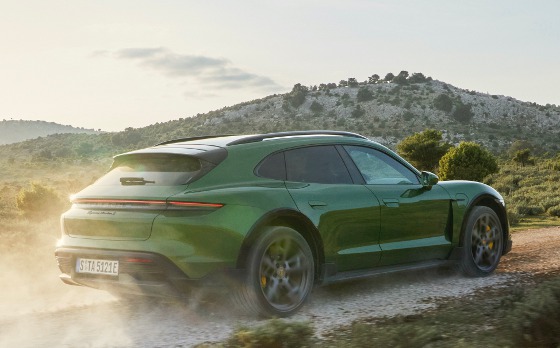 The charging time to go from 5 to 80% SoC (state of charge) is 22.5 min. for charging under ideal conditions, and the maximum charging power (peak) is 270 kW. The overall capacity of the Performance Battery Plus is 93.4 kWh. Taycan drivers can comfortably charge their cars with up to 11 kW of alternating current (AC) at home.
Porsche says its compact drive module, which contains the electric motors, transmission, and pulse-controlled inverter, has the highest power density (kW per liter of package space) of all electric powertrains on the market today.
The Cross Turismo gets a new high-tech chassis with all-wheel drive on all variations and adaptive air suspension, so it can handle some off-roading. It also sports 36 mm more headroom for rear-seat passengers and more than 1,200 liters of load capacity, so it's an all-rounder when it comes to utility and is higher and more roomy than the Taycan sedan.
The optional Off-Road package increases ground clearance by up to 30 mm. This means that the Cross Turismo can also be driven on demanding off-road terrain. The standard "Gravel Mode" improves performance on rough roads.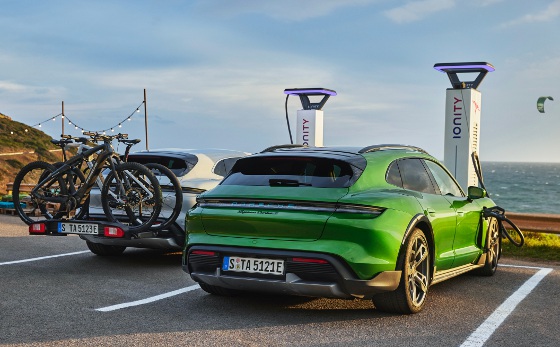 It has two electric motors. The Performance Battery Plus is always fitted as standard. Cross Turismo will be offered in four flavors:
The Taycan 4 Cross Turismo with 280 kW (375 hp), overboost power for Launch Control 350 kW (470 hp), acceleration 0-62 mph in 5.1 sec, top speed 137 mph, range (WLTP) 241 to 285 miles;
The Taycan 4S Cross Turismo with 360 kW (483 hp), overboost power with Launch Control 420 kW (563 hp), acceleration 0-62 mph in 4.1 sec, top speed 149 mph, range (WLTP) 241 to 280 miles;
The Taycan Turbo Cross Turismo with 460 kW (616 hp), overboost power with Launch Control 500 kW (671 hp), acceleration 0-62 mph in 3.3 sec, top speed 155 mph, range (WLTP) 245 to 280 miles;
The Taycan Turbo S Cross Turismo with 460 kW (616 hp), overboost power with Launch Control 560 kW (750 hp), acceleration 0-62 mph in 2.9 sec, top speed 155 mph, range (WLTP) 241 to 260 miles.
Note: Neither of the two car models offered as "Turbo" has a real turbocharger (it's an electric car, after all). This is a moniker Porsche is continuing to use to denote a top-of-the-line trim in EVs.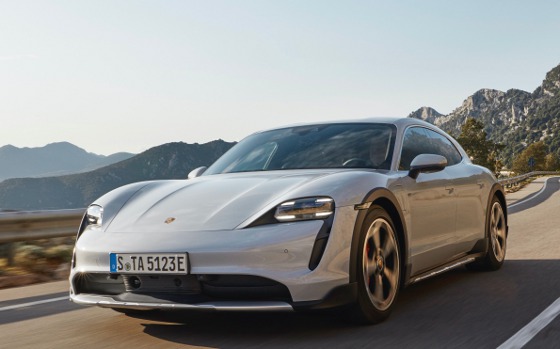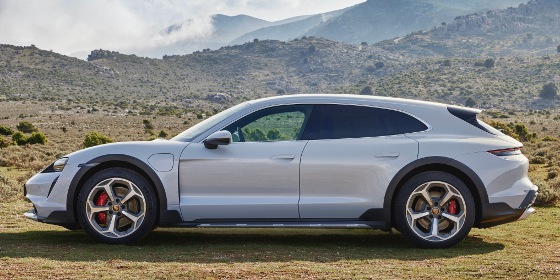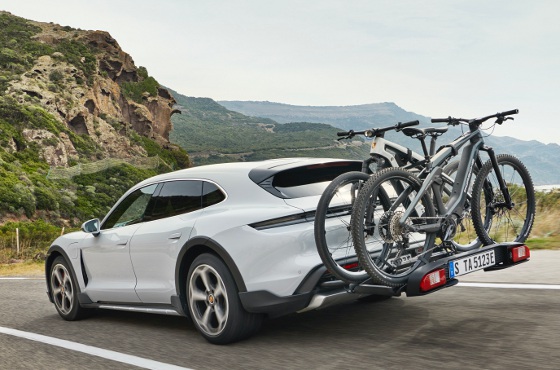 The Cross Turismo also has a unique two-speed transmission on the rear axle. According to Car and Driver, this is a first for an EV and, "It helped the Taycan Turbo S rocket to 60 mph in 2.4 seconds, making it one of the quickest cars we've ever tested."
First gear gives the Taycan even more acceleration from a standing start, while second gear with a long gear ratio ensures high efficiency and equally high power reserves. This also applies at very high speeds.
The Cross Turismo's silhouette is defined by the sporty roofline sloping downward to the rear, which is called a "flyline" by the Porsche designers. Off-road design elements include wheel arch trims, unique front and rear lower aprons, and side sills. As part of the Off-Road Design package, the Cross Turismo has special flaps at the corners of the front and rear bumpers and at the ends of the sills. These make for a striking exterior as well as providing protection from stone impacts.
Inside, the Cross Turismo boasts a host of technical features, just like its sedan counterpart. The cockpit is clean and follows the completely new architecture introduced by Porsche with the Taycan sedan. It sports completely digital instrumentation with a spare, no-fuss feel. The front passenger gets their own 10.9-in. display. Above, a fixed panoramic roof is standard and roof rails are optional (but really amp up the sporty look).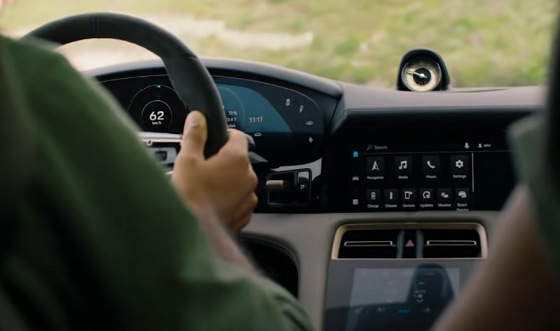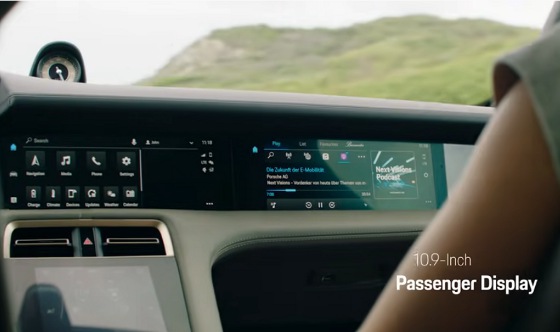 Lots more features. Learn more at www.porsche.com/usa/models/taycan/.
Pricing (starts):
Porsche Taycan 4 Cross Turismo $90,900
Taycan 4S Cross Turismo $110,300
Taycan Turbo Cross Turismo $153,500
Taycan Turbo S Cross Turismo $187,600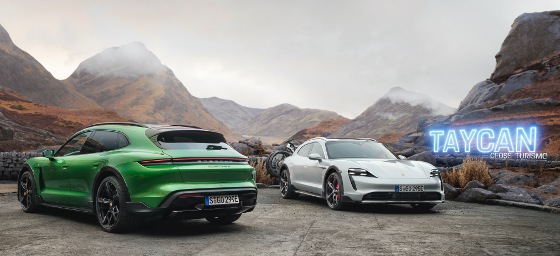 Sources: Porsche, Electrek, Car and Driver
Published April 2021
Rate this article