3D Printing: Desktop Metal qualifies 316L stainless steel for high-volume manufacturing -- thousands of parts per week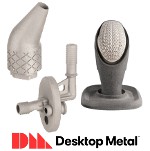 3D-printer machine maker Desktop Metal has qualified the use of 316L stainless steel for its additive manufacturing platform called the Production System, which provides some of the fastest build speeds in the market for mass production and can make thousands of parts per week. This article includes very useful cost-per-part and time-to-manufacture information using five different application examples.
Read the full article.
---
Ultralight torque limiters handle overload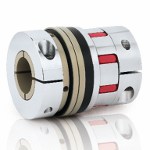 Proper torque overload protection is often omitted from machine design due to concerns over size, inertia, and performance -- not to mention long lead times. The R+W ULTRALIGHT SLE series helps to address all of these concerns with a compact, low-inertia design that runs with zero backlash and disengages in the shortest possible time at overload. It's also available for delivery in just a few days. Four sizes available with multiple torque adjustment ranges.
Learn more.
---
New Cobot Welder is programmable with smartphone app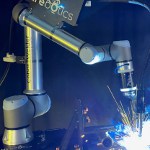 The new Cobot Welder from Hirebotics is a major leap forward in easy-to-use welding automation that combines industrial-grade robot welding functionality with consumer-level ease-of-use and a phenomenal price point -- especially for small and medium-size businesses. The Cobot Welder's app programmability decreases the time required to teach a new part by 60%. A Hirebotics/Universal Robots launch event will be held April 28.
Read the full article.
---
When should designers use crossed roller bearings?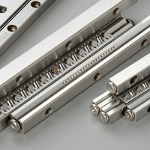 Crossed rollers use a series of cylindrical bearings or rollers set at 90 degrees to one another to form a V that fits into a slot on the rail. Each roller provides an entire line of contact, as opposed to just the point or two of contact provided by liner actuators using ball bearings. The result is less deformation and the ability to carry heavier loads.
Read this informative ISOTECH blog.
---
Structural adhesive offers 4x temp stability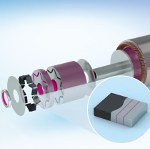 Developed primarily for use in the automotive industry and mechanical engineering, DELO has launched an adhesive with exceptionally high temperature stability. DELO MONOPOX HT2999 achieves compression shear strength of 20 MPa at 180 C. This is four times greater than its predecessor and other products on the market. High-temperature-resistant adhesives are in demand for use with electric motors and power electronics. Many products that are currently on the market show a clear drop in performance at temperatures above 150 C. DELO's new structural adhesive can handle it.
Learn more.
---
Retaining rings and wave springs solutions

Finding the best possible solution for your design challenge is no easy task. That's why we're here to help you find the right wave spring, retaining ring, or constant section ring for all of your applications. Choose from one of our 12 product types, 400 sizes, and 10,000+ standard parts in carbon and stainless steel, or challenge our team of engineers to tailor a custom part fit to your exact application requirements.
Request free samples today!
---
High-performance vibratory feed system handles larger range of parts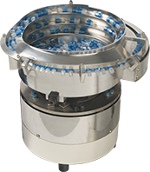 The SPIROL Series 2000 is a proven and reliable dual-axis feeding concept that is unlike anything else on the market. It can feed many parts that were once considered not suitable for vibrating feeders, including fuses, tablets, packets, soft rubber parts, fragile parts, and parts that are coated or have a film on them. It is tuned electronically rather than by re-springing, which makes setup and changeover for multiple bowls on one drive a snap. In automated assembly lines, this system offers maximum efficiency, reduced power consumption, and less noise.
View the video.
---
Servo-insert coupling with new hub design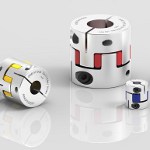 RINGFEDER has recently released its GWE 5113 series of elastomer jaw servo-couplings featuring a new hub design. This design eliminates radial loads and achieves uniform power transmission with an even clamp force and symmetrical arrangement of clamp and screw positions. GWE 5113 couplings precisely transmit torques from 3 to 560 Nm. The hub is slit partially through and located directly under the jaws to minimize pressure on the shaft. Backlash-free units come with an elastomer spider with 98 Shore A hardness, minimizing movement and achieving longer life cycles. Seven sizes available.
Learn more.
---
HVACR Tech Tip: Understanding the basic refrigeration cycle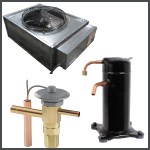 This Parker Hannifin Climate Control blog reviews the basic refrigeration cycle and the interaction between its four basic components: compressor, condenser, expansion device, and evaporator. It looks at each component and its function, and then at what happens when components are not properly matched.
Read this informative Parker blog.
---
Antibacterial handles stop germs in their tracks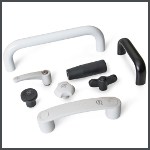 Contact infections with viruses, fungi, and bacteria were already a problem even before the pandemic, and now JW Winco is expanding its Sanline range of antibacterial products. For their plastic products, special additives with silver ions are mixed in, while metal parts are given powder coatings based on zinc molybdate.
Read the full article.
---
New metal 3D-printing materials include Inconel, titanium, and maraging steel at Xometry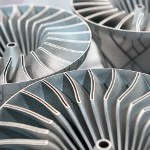 Xometry has added four new 3D-printed metals to its on-demand manufacturing services: maraging steel, Inconel 625, Inconel 718, and titanium. These premium alloys complement the already available stainless steel and aluminum metal 3D printing. Metal parts in these alloys are produced using direct metal laser sintering (DMLS), which fuses powdered metal with a high-powered laser to build parts layer by layer.
Learn all about these materials in this Xometry blog.
---
Eaton launches next-gen hollow-head valves for improved engine efficiency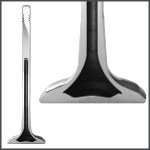 Eaton's Vehicle Group has introduced its next-generation sodium-filled hollow-head valves. Unlike traditional hollow valves, the head portion of the new valves is composed of two separate sections that are welded together during the production process. The new valves have the capability to cool down the combustion face and, therefore, the chamber temperature, which increases the spark advance and air-to-fuel ratio because the engine is less inclined to knock. As a result, the brake specific fuel consumption (BSFC) can be increased and emissions reduced. The valves are being evaluated by several global automakers, with start of production scheduled for 2023.
Learn more.
---
Counterbalance support hinge for heavy panels and lids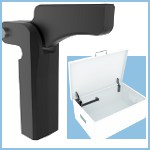 SOUTHCO has expanded its series of Counter-balance Hinges with a new product that reduces the total solution cost of lifting and positioning heavy panels and lids. The CB Counterbalance Support Hinge enables ergonomic lifting and position control when combined with a CB Counterbalance Hinge by using stored energy to balance the weight distribution of a lid or panel. The all-aluminum hinges are fully adjustable, allowing the experience of opening and closing the panel to be tailored to the unique requirements of the application.
Learn more.
---
Precision flexible antivibration couplings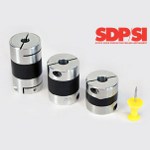 New Antivibration Flexible Couplings from Stock Drive Products / Sterling Instrument (SDP/SI) are designed for use with high-gain servomotors. When a servomotor drives a mechanism, as in applications such as semiconductor manufacturing equipment, blood analyzers, or high-speed printers, a change in direction causes a phenomenon called hunting. Hunting is vibration in the system that reduces transit time, making the equipment less efficient. The Antivibration Flexible Coupling features a unique construction of vibration-reducing rubber (FKM) molded with aluminum hubs. The resulting rubber-lined, finger-like structure allows for optimal torsional rigidity and damping.
Learn more.
---
Toughened NASA low-outgassing epoxy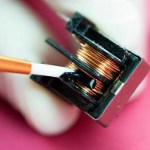 Master Bond Supreme 70CN is a two-part epoxy adhesive formulated using a natural, renewable, and sustainable ingredient. This moderate-viscosity, unfilled epoxy is black in color and can be used for bonding, sealing, coating, and potting in aerospace, electric vehicle, electronic, opto-electronic, battery, and OEM applications, particularly those involving composites and fibers. It resists thermal cycling and is ideal for bonding dissimilar substrates including metals, ceramics, many rubbers, plastic materials, and composites. It features low shrinkage upon cure, a high tensile strength, is serviceable from -100 to 400 F, and has a working life of 60 to 90 min.
Learn more.
---
Note to the boss:
Videoconferences more exhausting when participants don't feel they belong to the group
Videoconferences may be less exhausting if participants feel some sense of group belonging, according to new research (article PDF) published by the American Psychological Association.
As remote work and the use of videoconferences have dramatically increased during the coronavirus pandemic, more people are fatigued from meeting through computer screens instead of in person. In this study, 55 employees in various fields in the United States were surveyed about their feelings about videoconferences. The researchers thought longer meetings and being on video would cause the most fatigue, but their findings surprised them, said lead researcher Andrew Bennett, PhD, an assistant professor at Old Dominion University.
"We expected that aspects of being on video would be related to fatigue, such as watching everyone's faces closely on a screen or even watching yourself, but we didn't find this to be true in our study. Longer meetings also didn't impact fatigue," Bennett said. "However, the importance of feeling a sense of belonging or connection with the group really minimized fatigue after a videoconference."
Bennett's team decided to study videoconference fatigue, or "Zoom fatigue," because they all felt exhausted after their first videoconferences together when they began working remotely during the early days of the pandemic. The research was published online in the Journal of Applied Psychology.
The study participants received nine hourly surveys every day for five consecutive working days last year. Out of the surveys sent, participants completed more than 1,700 surveys and participated in an average of five to six videoconferences during the week. The majority of participants were male (58%) and white (73%) with an average age of 33.
One participant said videoconferences "can be taxing on the mind and spirit," while another was "tired of being in them" and "extra tired after being in them." Only 7% of the participants didn't report any signs of videoconference fatigue.
Watching oneself on a webcam or turning the webcam off had no statistically significant impacts on post-meeting fatigue, the study found. Participants reported conflicting feelings about using the webcam, with some saying it was exhausting always to be staring at the screen while others felt it was impersonal when participants switched off their webcams.
"Everyone just wants to get in and get out, log in and log off," one participant reported. "There's very little chatter before and after the meeting like there would be in real life."
That chatter may help build a sense of group belonging, which had a marked effect in reducing videoconference fatigue, the researchers said. There also appeared to be a sweet spot in the early afternoon when videoconferences caused less fatigue than at other times of the day.
Based on their findings, the researchers made some recommendations to help reduce videoconference fatigue:
Hold videoconferences in the early afternoon.
Enhance perceptions of group belongingness, including time for small talk before or after the meeting or breakout rooms where people could talk about their interests (sports, movies, etc.).
Establish basic meeting rules, such as whether to keep webcams on and refraining from doing other work.
Take breaks by looking away from the screen, standing up and walking around.
"We know videoconferences are helpful," Bennett said. "We get more emotional and nonverbal information from them, but that doesn't mean everything needs to be done in a videoconference. Sometimes a phone call or email is more effective and efficient."
Source: American Psychological Association
Published April 2021
Rate this article