New Cobot Welder is programmable with smartphone app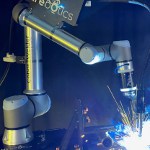 The new Cobot Welder from Hirebotics is a major leap forward in easy-to-use welding automation that combines industrial-grade robot welding functionality with consumer-level ease-of-use and a phenomenal price point -- especially for small and medium-size businesses. The Cobot Welder's app programmability decreases the time required to teach a new part by 60%. A Hirebotics/Universal Robots launch event will be held April 28.
Read the full article.
---
Improved low-backlash Slip-Ease clutches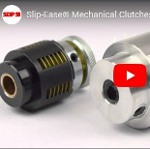 SDP/SI offers a new, low-backlash variant of its existing line of multi-plate in-line slip clutches. Both versions feature an all-mechanical design, which makes them considerably cheaper than electromechanical alternatives. These clutches are commonly used for overload protection to prevent injury and machine failure, but have a wide variety of other applications such as tension control and positioning retention hinges like the ones in reclining chairs. The slip plates are layered with friction pads in between, and an adjusting nut sets the slip torque by squeezing the plates together. The outer plates are tabbed to fit into the output housing and the inner plates are connected to the input hub, so the two ends disengage from one another upon slipping.
View the video.
---
Pre-Compensated Valve Platform for mobile machines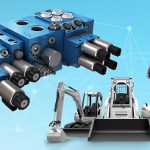 The Pre-Compensated Valve Platform from Bosch Rexroth makes it easier for mobile machine builders to selectively combine a range of hydraulic control valves into a single, integrated, multifunctional control solution -- with minimal need for adapter plates or custom fittings. All the valves in the platform support pre-compensated load-sensing capabilities that ensure the proper hydraulic flow is delivered to each function. The incorporated load-sensing capabilities improve efficiency, can help reduce hydraulic cooling system size and costs, and potentially lower engine horsepower requirements.
Learn more.
---
Modular and flexible multi-axis system from Festo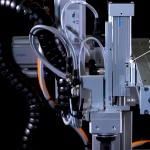 Festo offers a new, flexible mechanical system that consists of electric linear axes ELGC and the electric mini slide EGSC. The components can be used as individual axes or they can be combined quickly and easily to form multi-axis systems. The new system also meets the requirements for compact design and maximum modularity for a broad range of applications in electronics manufacturing and small part assembly such as manifold assembly, bonding processes, and pick-and-place applications.
Watch the new Festo system being used to make batteries.
---
Optics & thermal imaging -- precise motion required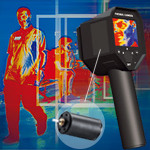 From scanning buildings for heating and cooling inefficiencies to scanning crowds of people during the pandemic, thermal imaging systems play a critical role in many industries. Thermal cameras rely on many of the same motorized components as standard cameras, since they also require focusing, zooming, aperture adjustments, and quick-moving shutters. Inside these advanced optics systems, micro brush DC motors from FAULHABER make it possible for cameras to capture precise images and temperature readings in a fraction of a second.
Read the full article.
---
OnRobot launches advanced magnetic gripper for safe and precise cobot applications
OnRobot has launched the MG10, a versatile, high-performance, easy-to-use magnetic gripper for material handling, assembly, and machine tending applications in manufacturing, automotive, and aerospace environments. The gripper is fully compatible with all major robot brands.
Read the full article.
---
What motor torque constant to use for drive type: Theory and application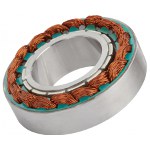 Calculating motor torque from available drive current can be confusing due to many different drive types and the multiple ways current is specified. This informative online paper from Celera Motion provides the key formulas for torque constant and motor current from the fundamental principles of three-phase motor theory. It also walks through the many ways torque can be calculated. This information applies to a brushless motor (BLAC or permanent magnet synchronous machines) configuration.
Read the full article.
---
Easy-integration compact Z-Theta motion platform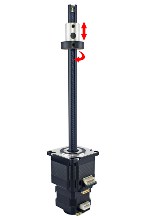 The easily integrated Z-Theta motion platform from Haydon Kerk Pittman offers linear and rotary point-to-point motion in a compact footprint. This modular, "bolt-in" package features the patented ScrewRail linear actuator, which combines guidance and linear transmission in a slender co-axial profile. The unique dual-motion integration with a pair of stepper motors adds rotary (theta) motion that reduces motion system size by 50% to 80% and provides as much as a 60% overall cost reduction when compared to traditional design approaches. This setup can be customized with a variety of lead screw resolutions, free-wheeling and anti-backlash nuts, stepper motor options, and optical encoder line counts.
Learn more.
---
Good beer. Zero packaging accidents.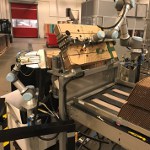 The Danish division of Carlsberg, one of the leading brewery groups in the world, has significantly improved staff safety and taken steps toward achieving zero accidents since integrating Universal Robots cobots into its Fredericia-based factory. The company invested in two cobots, the space-friendly UR3 and the powerful UR10, to tackle carrying packaging cartons from the pallet to the magazine -- a monotonous and strenuous task that often left staff with repetitive strain or severe cuts. Working in tandem, the cobots can handle up to 500 packaging cartons per hour. Now the company has purchased four additional cobots to further automate its production lines.
Read the full article.
---
Precise motion for optics and thermal imaging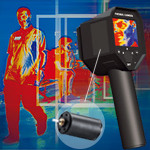 From scanning buildings for heating and cooling "leaks," to scanning people at the airport for possible fever, thermal imaging systems play a critical role in many industries. Thermal cameras rely on many of the same motorized components as standard cameras: they require focusing, zooming, aperture adjustments, and quick-moving shutters. Inside these advanced optics systems, micro brush DC motors from FAULHABER help cameras capture precise images and temperature readings in a fraction of a second.
Read the full article.
---
SureStep stepper motor linear actuators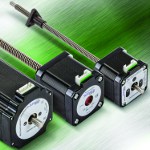 Automation-Direct has added stepper motor linear actuators to its SureStep line of stepper motion control products. These linear actuators are NEMA 17 or 23 frame stepper motors with a stainless steel lead-screw extension of the rotor. In conjunction with the provided screw nut, these units translate motor torque into linear thrust. They can provide up to 193 lb of thrust, or speeds up to 18 in./sec. Eight standard leads (travel per rev) are offered, with screw lengths of 6, 9, or 12 in. They start at under 100 bucks.
Learn more.
---
Mini actuator with built-in servo drive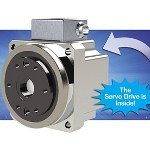 The FHA-C Mini Series of extremely compact actuators from Harmonic Drive delivers high torque with exceptional accuracy and repeatability. An integrated servo drive version utilizing CANopen communication is now available. This product eliminates the need for an external drive and greatly improves wiring while retaining high-positional accuracy and torsional stiffness in a compact housing. Dual absolute encoders included. This new mini actuator is ideal for use in robotics.
Learn more.
---
Mechatronic solution packages from Bosch Rexroth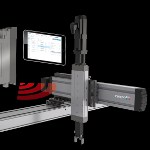 The Smart Function Kit is a new Smart MechatroniX solution platform from Bosch Rexroth that offers quick and intuitive commissioning and configuration for a range of processes such as joining, pressing, and handling. This modular toolbox consists of an electromechanical cylinder, a force sensor, a motor, a servo drive, and a motion controller, plus a software package that enables easy commissioning and operation as well as comprehensive process analysis. Available soon is a Smart Function Kit for handling tasks and a Smart Flex Effector, which is a compensation module with an active measuring function in six degrees of freedom.
Learn more.
---
Precision micro stage for high-volume applications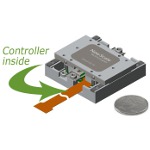 The M3-LS-U2-10 Linear Smart Stage from New Scale Technologies is a direct-drive precision piezoelectric micro stage with embedded controller designed for integration into compact devices. Applications include instruments for DNA sequencing, wearable medical devices, instruments for point-of-care diagnostics, devices for telemedicine, handheld imaging systems, and laser beam steering. The stage has high stiffness with no gears or backlash, low acoustic noise, and no high voltage. It can be powered by batteries or any low-cost DC supply and is suitable for use in near-patient instruments and wearable devices.
Learn more.
---
Ball rail systems and ball screw assemblies: 20,000 km without relubrication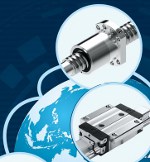 Good news for mechanical engineers and users: the ball rail systems BSHP and ball screw assemblies BASA from Bosch Rexroth now achieve lubrication intervals that are up to four times longer. In more and more applications, they can even be used maintenance-free over the entire service life of a component. Low-maintenance or maintenance-free linear motion tech minimizes operating costs and protects the environment. Recent tests show the lubrication intervals for BSHP ball rail systems are 2x improved and can cover up to 20,000 km before the first relubrication. BASA ball screw assemblies achieve up to 200 million revolutions with the basic factory lubrication, a 4x improvement.
Learn more.
---
Engineers combine AI and wearable cameras to make self-walking robotic exoskeletons
Robotics researchers in Canada are developing exoskeletons and prosthetic legs capable of thinking and making control decisions on their own using sophisticated artificial intelligence (AI) technology.
The system combines computer vision and deep-learning AI to mimic how able-bodied people walk by seeing their surroundings and adjusting their movements.
"We're giving robotic exoskeletons vision so they can control themselves," said Brokoslaw Laschowski, a PhD candidate in systems design engineering who leads a University of Waterloo research project called ExoNet.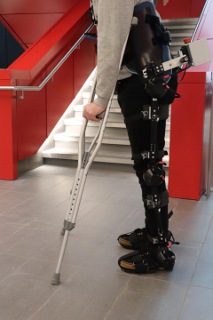 This user is wearing an exoskeleton leg capable of thinking and moving on its own using sophisticated artificial intelligence technology. [Credit: University of Waterloo]
Exoskeletons with legs operated by motors already exist, but users must manually control them via smartphone applications or joysticks.
"That can be inconvenient and cognitively demanding," said Laschowski, also a student member of the Waterloo Artificial Intelligence Institute (Waterloo.ai). "Every time you want to perform a new locomotor activity, you have to stop, take out your smartphone, and select the desired mode."
To address that limitation, the researchers fitted exoskeleton users with wearable cameras and are now optimizing AI computer software to process the video feed to accurately recognize stairs, doors, and other features of the surrounding environment.
The next phase of the ExoNet research project will involve sending instructions to motors so that robotic exoskeletons can climb stairs, avoid obstacles, or take other appropriate actions based on analysis of the user's current movement and the upcoming terrain.
"Our control approach wouldn't necessarily require human thought," said Laschowski, who is supervised by engineering professor John McPhee, the Canada Research Chair in Biomechatronic System Dynamics. "Similar to autonomous cars that drive themselves, we're designing autonomous exoskeletons and prosthetic legs that walk for themselves."
The researchers are also working to improve the energy efficiency of motors for robotic exoskeletons and prostheses by using human motion to self-charge the batteries.
Source: University of Waterloo
Published April 2021
Rate this article