EKG for engine hearts: Researchers develop stall warning tech for gas turbines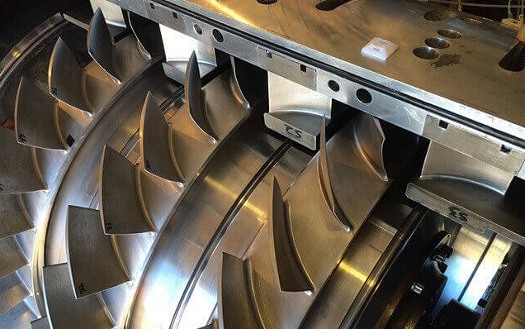 [Image: Purdue University]
Gas turbine engines often are considered the "heart" of airplanes and ships. Now, Purdue University innovators looking for new solutions to reduce emissions and enhance operations of these engines have come up with technology similar to tests used on human hearts.
The Purdue researchers developed an electrocardiogram-type technology for gas turbine engines to monitor rhythms and warn of potential compressor stall.
"An effective stall warning and avoidance technique is of great value to gas turbine engines used in aviation and land-based applications," said Nicole Key, a professor of mechanical engineering at Purdue. "Stall is a type of flow instability in compressors that sets the low-flow limit for gas turbine engine operation. When the compressor stalls, it can cause severe damage to gas turbine engines. Like a heart attack in humans, compressor stall can happen without apparent precursors."
The Purdue compressor stall warning technology uses sensors to record the data during operation and then uses a novel signal processing procedure to determine the engine's status.
"It is hard to identify the small disturbances associated with compressor stall from the ones associated with turbulent flow," said Fangyuan Lou, a researcher in Key's lab. "When evident precursors occur, the gas turbine engine runs into stall within a few milliseconds. That is not enough warning time for action."

Purdue University researchers developed an electrocardiogram-like technology for gas turbine engines to monitor rhythms and warn of potential compressor stall. [Image: Purdue University]
The Purdue engineers used a nonlinear feature extraction algorithm to extract the early and small stall precursors, providing enough warning time for action to correct the situation.
The innovators worked with the Purdue Research Foundation Office of Technology Commercialization (OTC) to patent their technology.
The innovators and OTC are looking for partners to continue developing their technology. For more information on licensing and other opportunities, contact Matthew Halladay of OTC at mrhalladay@prf.org and mention track code 2019-LOU-68639.
Source: Purdue University
Published June 2021
Rate this article