Ouster-Danfoss partner to bring lidar to off-highway vehicles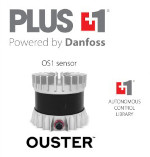 Ouster sensors will be the first lidar hardware to be offered through the Danfoss PLUS+1 Partner Program, which is engineered to expedite the development process and bring higher quality machines to market faster. This integration is intended for remote machine management, operator assistance, row following, obstacle avoidance, and task automation. The PLUS+1 Partner Program is a select group of companies with complementary products -- including microcontrollers, joysticks, hydraulic pumps, and radar sensors -- that integrate into PLUS+1 systems the same way all Danfoss hardware components do.
Learn more.
---
Control any air conditioning unit remotely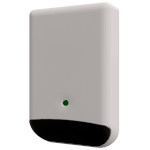 HMS Networks has just launched the new IR-based Intesis AC interface that enables integration of any air conditioning unit, regardless of brand, into Modbus or BACnet Building Automation Systems. This universal interface connects to the AC unit via the IR link that is already used by most AC units to communicate with their remote control. The Intesis IR-based AC Interface is already compatible with more than 100 IR remote controllers and their associated AC units. Simple setup and configuration via MAPS template.
Learn more.
---
Graphene Hall sensor for cryogenic applications -- including quantum computing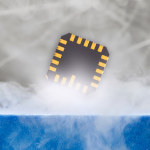 How futuristic is this? U.K. company Paragraf has introduced a graphene Hall sensor that enables commercial organizations to measure high magnetic field strengths accurately at cryogenic temperatures, increasing manufacturing throughput by quicker magnet mapping and replacing existing NMR probe mapping stages. The GHS-C is the only Hall sensor now in volume production that can offer this level of performance at temperatures below 3 K. It is being supplied in the industry-standard LCC 20 package, making it a drop-in replacement for existing Hall sensors. Applications include quantum computing, high-energy physics labs, cryogenic cooling equipment, fusion, medical accelerators, ultra-low-temp research, and magnet manufacturing.
Learn more.
---
What's a strain wave harmonic gearing torque sensor?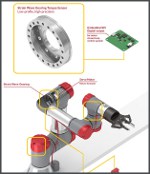 Strain wave harmonic gearing sensors from FUTEK are an alternative to six-degrees-of-freedom (DOF) sensors used in applications such as robotic arms that are used in surgery. For example, during some laparoscopic surgery procedures, surgeons must hold the position of the end effector (the instrument inside the abdominal cavity) while the robot arm is moving. This maneuver is difficult to perform with 6-DOF sensors only, because it requires torque measurement on each joint. Strain wave harmonic gearing sensors can handle it, and they are less expensive to implement because torque measurement can be obtained for selected joints only if necessary.
Learn more.
---
Raspberry Pi: Pico microcontroller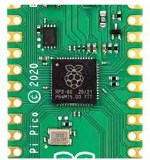 The Raspberry Pi Pico is built around the brand-new Raspberry Pi RP2040 microcontroller, delivering a flexible, highly affordable development platform that can also be directly deployed into end products -- all for 4 bucks. At the heart of the Raspberry Pi Pico is RP2040, which features two ARM Cortex-M0+ cores clocked at 133 MHz; 264 kB of on-chip SRAM; 30 multifunction GPIO pins; dedicated hardware for commonly used peripherals alongside a programmable I/O subsystem for extended peripheral support; a four-channel ADC with internal temperature sensor; and built-in USB 1.1 with host and device support. Also look for the RP2040 chip to be sold as a standalone product very, very soon.
Learn more from Newark.
Watch a short video intro for this product.
---
New robust angle sensors for off-highway and more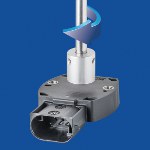 Novotechnik, U.S. introduces the RFE 3200 Series of resilient, touchless Hall-Effect angle sensors. These sensors are specifically designed to operate in demanding environments like off-highway equipment and feature ingress protection to IP69K, EMC immunity, and a decoupled sensor/magnet. The RFE Series measures from 0 to 360 deg and can be ordered with one (partially redundant) or two (fully redundant) channels. High resolution with great dynamic response, large mechanical tolerances, and feasibility of customer-specific output options are added benefits of this wear-free technology.
Learn more.
---
Automotive single-chip solution for ultra-wide touch displays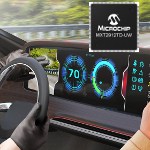 Microchip Technology has just announced its maXTouch MXT2912TD-UW touchscreen controller. This is the industry's first automotive-qualified, single-chip solution that addresses display sizes up to 45 in. with a very wide aspect ratio, supporting LCD and OLED display technologies. This controller reduces the need for multiple touch controllers within a vehicle's HMI display. It provides the highest report rate for wide displays and is independent of the display resolution.
Learn more.
---
Automotive antenna-on-package mmWave sensors with Texas Instruments RFIC
D3 Engineering, a Texas Instruments platinum design partner, recently announced their DesignCore RS-1843AOP and RS-1843AOPU mini mmWave Radar Sensors. They feature a 1-in. cube form factor, heat-spreading metal body, and mounting tabs. They may be used with a PC or embedded platform to facilitate field testing, sensing evaluation, algorithm development, and application demonstrations. Automotive applications include parking assist and collision avoidance. Other applications include robotics, autonomous machines, industrial vehicle systems, and facility monitoring, as well as people counting and tracking.
Learn more.
---
Pinpoint the leading cause of Industrial Ethernet failures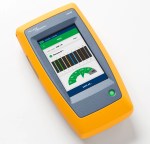 Fluke Networks introduces the LinkIQ-IE Cable+Network Industrial Ethernet Tester designed to troubleshoot network cabling, the leading cause of Industrial Ethernet failures. With Ethernet-based technologies increasingly the default for automation networks, the need for easy-to-use tools to troubleshoot these networks is growing rapidly. By combining Fluke Networks' state-of-the-art cable measurement technology and basic tests for Industrial Ethernet switches, LinkIQ-IE speeds and simplifies the discovery of network failures in a simple-to-use touchscreen interface akin to a smartphone.
Learn more.
---
Premium Hi-Temp ETX Series thermoelectric coolers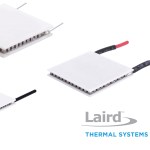 Laird Thermal Systems has developed a thermoelectric module series that is rated for high temperature in emerging optoelectronic applications, including LiDAR and CMOS sensors for autonomous systems in vehicles and drones, digital light processors (DLP) used in 3D machine vision and advanced lighting systems, and optical transceivers. The HiTemp ETX Series thermoelectric cooler has a robust construction that allows it to survive in temperatures up to 150 C, exceeding most outdoor applications. These solid-state heat pumps are assembled with advanced materials that boost cooling capacity by up to 10% compared to traditional thermoelectric coolers.
Learn more.
---
Compact power module with side flange mounting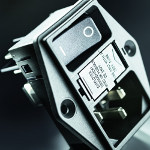 SCHURTER's proven power entry module, series DD11, provides a high level of functional integration in the most minimal of package dimensions. The power module is ideally suited for equipment with low-profile panels. Consisting of an IEC appliance inlet (C14), which is compatible with cord retention, 1- or 2-pole fuse holder, and power ON/OFF switch, the DD11 is now available with side mounting flanges in addition to the existing model with top and bottom flanges. The new model is designed to minimize height when vertically mounted. Applications include medical, IT and telecom, office and household equipment, and automation systems.
Learn more.
---
Automotive Ethernet cables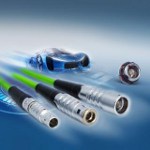 The ODU MINI-SNAP for Single Pair Ethernet (SPE) enables Ethernet connections via copper cables with a single twisted wire pair, while allowing for the voltage supply of terminal devices via PoDL (Power over Data Line). The simpler design of the new generation of connectors and the associated weight and space reduction are good for designers and developers in various areas. SPE is currently being introduced in new automotive generations, replacing CAN and other bus systems. In the future, communication, controls, and security functions will be managed uniformly via Ethernet.
Learn more.
---
Cool Tools: Complete 3D scan and reverse engineering suite for under 15 grand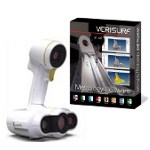 Verisurf Software is offering special limited-time pricing on its 3D scanning and reverse engineering solution bundle. It has everything needed to quickly deploy the system, including: Verisurf Scan Data and Reverse Engineering Suite with Quick Surface, Verisurf online training, Peel 2 3D handheld scanner, 1-year hardware warranty, and Peel 2 and Verisurf installation and setup video. The Verisurf Scan Data Reverse Engineering Suite is part of the recently released Verisurf 2020, the only measurement, inspection, and reverse engineering software dedicated to Model-Based Definition (MBD) and built on a CAD/CAM platform.
Learn more.
---
Asset tracking down to the centimeter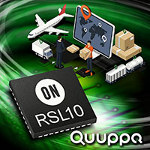 ON Semicon-ductor's Quuppa Intelligent Locating System enables real-time tracking of Bluetooth tags and devices -- with centimeter-level accuracy even in challenging environments. Quuppa technology allows positioning updates to be sent up to 50 times per second, providing a reliable and versatile Real-Time Locating System (RTLS) solution for all industries. Users can design ultra-low-power indoor asset-tracking applications with Direction Finding features and advanced Angle of Arrival (AoA) technology.
Learn more.
---
Noncontact measurement of speed and length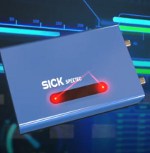 With the SPEETEC, SICK has expanded its product range for speed and length measurement of objects moving in a linear path to include technology that measures directly on the material surface. The non-contact sensor is able to measure a wide range of web and continuous materials, as well as blanks, with incredible accuracy. This speed sensor closes the gap between tactile, indirect-measuring encoder solutions and laser velocimeters, which are often expensive to purchase and require considerable effort to integrate and operate.
Learn more.
---
Scientists discover how oxygen loss saps a lithium-ion battery's voltage
When lithium ions flow in and out of a battery electrode during charging and discharging, a tiny bit of oxygen seeps out and the battery's voltage -- a measure of how much energy it delivers -- fades an equally tiny bit. The losses mount over time, and can eventually sap the battery's energy storage capacity by 10-15%.
Now, researchers have measured this super-slow process with unprecedented detail, showing how the holes, or vacancies, left by escaping oxygen atoms change the electrode's structure and chemistry and gradually reduce how much energy it can store.
The results contradict some of the assumptions scientists had made about this process and could suggest new ways of engineering electrodes to prevent it.
The research team from the Department of Energy's SLAC National Accelerator Laboratory and Stanford University described their work in Nature Energy, June 14, 2021.
"We were able to measure a very tiny degree of oxygen trickling out, ever so slowly, over hundreds of cycles," said Peter Csernica, a Stanford PhD student who worked on the experiments with Associate Professor Will Chueh. "The fact that it's so slow is also what made it hard to detect."
A two-way rocking chair
Lithium-ion batteries work like a rocking chair, moving lithium ions back and forth between two electrodes that temporarily store charge. Ideally, those ions are the only things moving in and out of the billions of nanoparticles that make up each electrode. But researchers have known for some time that oxygen atoms leak out of the particles as lithium moves back and forth. The details have been hard to pin down because the signals from these leaks are too small to measure directly.
"The total amount of oxygen leakage, over 500 cycles of battery charging and discharging, is 6%," Csernica said. "That's not such a small number, but if you try to measure the amount of oxygen that comes out during each cycle, it's about one one-hundredth of a percent."
In this study, researchers measured the leakage indirectly instead, by looking at how oxygen loss modifies the chemistry and structure of the particles. They tracked the process at several length scales -- from the tiniest nanoparticles to clumps of nanoparticles to the full thickness of an electrode.
Because it's so difficult for oxygen atoms to move around in solid materials at the temperatures where batteries operate, the conventional wisdom has been that the oxygen leaks come only from the surfaces of nanoparticles, Chueh said, although this has been up for debate.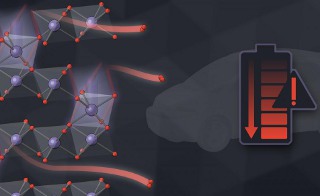 In this illustration, the pairs of red spheres are escaping oxygen atoms and purple spheres are metal ions. This new understanding could lead to new ways to minimize the problem and improve battery performance. [Credit: Greg Stewart/SLAC National Accelerator Laboratory]
To get a closer look at what's happening, the research team cycled batteries for different amounts of time, took them apart, and sliced the electrode nanoparticles for detailed examination at Lawrence Berkeley National Laboratory's Advanced Light Source. There, a specialized X-ray microscope scanned across the samples, making high-res images and probing the chemical makeup of each tiny spot. This information was combined with a computational technique called ptychography to reveal nanoscale details, measured in billionths of a meter.
Meanwhile, at SLAC's Stanford Synchrotron Light Source, the team shot X-rays through entire electrodes to confirm that what they were seeing at the nanoscale level was also true at a much larger scale.
A burst, then a trickle
Comparing the experimental results with computer models of how oxygen loss might occur, the team concluded that an initial burst of oxygen escapes from the surfaces of particles, followed by a very slow trickle from the interior. Where nanoparticles glommed together to form larger clumps, those near the center of the clump lost less oxygen than those near the surface.
Another important question, Chueh said, is how the loss of oxygen atoms affects the material they left behind. "That's actually a big mystery," he said. "Imagine the atoms in the nanoparticles are like close-packed spheres. If you keep taking oxygen atoms out, the whole thing could crash down and densify, because the structure likes to stay closely packed."
Since this aspect of the electrode's structure could not be directly imaged, the scientists again compared other types of experimental observations against computer models of various oxygen-loss scenarios. The results indicated that the vacancies do persist -- the material does not crash down and densify -- and suggest how they contribute to the battery's gradual decline.
"When oxygen leaves, surrounding manganese, nickel, and cobalt atoms migrate. All the atoms are dancing out of their ideal positions," Chueh said. "This rearrangement of metal ions, along with chemical changes caused by the missing oxygen, degrades the voltage and efficiency of the battery over time. People have known aspects of this phenomenon for a long time, but the mechanism was unclear."
Now, he said, "we have this scientific, bottom-up understanding" of this important source of battery degradation, which could lead to new ways of mitigating oxygen loss and its damaging effects.
Source: DOE/SLAC National Accelerator Laboratory
Published June 2021
Rate this article