Rolls-Royce Aero Update: Biggest engine, hybrid-electric, fastest electric plane
Big things are happening at Rolls-Royce, including building the world's largest aero engine called UltraFan, testing the first elements of the most powerful hybrid-electric power and propulsion system in aerospace, and building the world's fastest electric plane.
Bigger and better
UltraFan is being worked on at the DemoWorks facility in Derby, U.K. It features a new engine architecture, materials, and a new power gearbox. The company is betting its technology will help redefine sustainable air travel for decades to come. The demonstrator engine, which has a fan diameter of 140 in., should be completed by the end of the year. Other partners in the project include the Aerospace Technology Institute and Innovate UK (United Kingdom), LuFo (Germany), and the Clean Sky Joint Undertaking (European Union).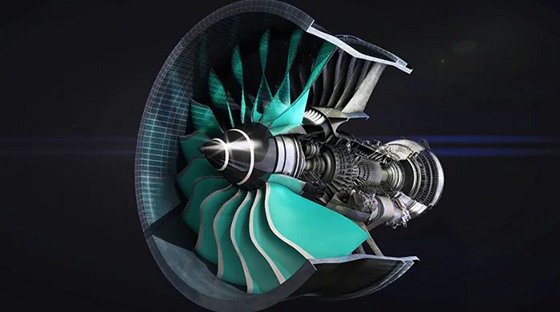 UltraFan. [Credit: Rolls-Royce]
The demonstrator is the basis for a potential new family of UltraFan engines able to power both narrowbody and widebody aircraft, delivering a 25% fuel-efficiency improvement compared with the first generation of the Trent engine.
That performance improvement is crucial to achieving aviation sustainability, since gas turbines will continue to be the bedrock of long-haul aviation for many years. The developers at Rolls-Royce think the UltraFan's efficiency will help improve the economics of an industry transition to more sustainable fuels, which are likely to be more expensive in the short term than traditional jet fuel. The first test run of the engine will be conducted on 100% Sustainable Aviation Fuel.
Key engineering features of the engine include:
A new, proven Advance 3 core architecture, which has been combined with Rolls-Royce's ALECSys lean-burn combustion system to deliver maximum fuel-burn efficiency and low emissions.
Carbon titanium fan blades and a composite casing that reduce weight by up to 1,500 lb per aircraft.
Advanced ceramic matrix composite (CMC) components that operate more effectively in high-pressure turbine temperatures.
A geared design that delivers efficient power for the high-thrust, high bypass-ratio engines of the future.
As the engine build starts, other key parts are already coming together for delivery to Derby. Work is underway on UltraFan's carbon titanium fan system in Bristol, U.K., and its 50-MW power gearbox, which is powerful enough to run 500 family-size cars, in Dahlewitz, Germany.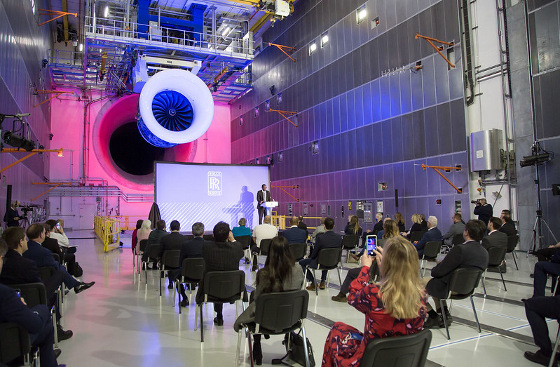 The Rolls-Royce Testbed 80 facility held a grand opening event in May 2021. [Credit: Rolls-Royce]
UltraFan is part of Rolls-Royce's IntelligentEngine next-gen engineering plan. Each fan blade has a digital twin that stores real-life test data, allowing engineers to predict in-service performance. When on test at Rolls-Royce's new $125-million Testbed 80 facility, data can be taken from more than 10,000 parameters, detecting the tiniest of vibrations at a rate of up to 200,000 samples per second. The test bed can collect 1 TB of data per hour from 10,000 data parameters -- the most the company has ever monitored.
Hybrid-electric options
Rolls-Royce has started testing the first elements of the most powerful hybrid-electric power and propulsion system in aerospace at the newly renovated Testbed 108 in Bristol. The tests are part of the 2.5-MW Power Generation System 1 (PGS1) demonstrator program aimed at future regional aircraft.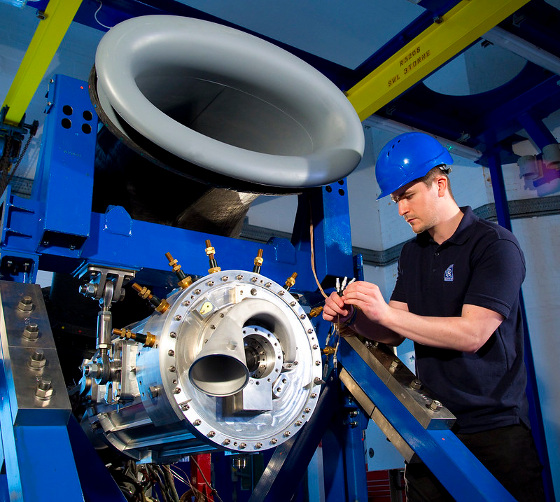 Rolls-Royce's hybrid propulsion system equipment being prepared prior to testing. [Credit: Rolls-Royce]
To date, Rolls-Royce has begun testing the AE2100 engine element and specialist controls and thermal management system, supported by a system integration generator. Later this year, a fully operational generator and a 3,000-V power electronics system, currently completing testing at a Rolls-Royce facility in Trondheim, Norway, will be brought together to start full PGS1 system testing. The generator can be used either for hybrid-electric propulsion systems or as part of a "more electric" system for larger aircraft.
PGS1 forms an important element of the company's sustainability strategy, which includes developing innovative electrical power and propulsion systems, as well as further improving gas turbine performance and promoting the use of sustainable aviation fuels.
"We are bringing together a system that promises to be truly ground-breaking in the world of aviation," said Alan Newby, director Aerospace Technology and Future Programs at Rolls-Royce. "We know that in a post COVID-19 world people will want to connect but do so more sustainably. Electrification offers a new way to power short-haul aircraft, and we want to be at the forefront of pioneering this technology.
"Our PGS1 tests will lead the way in finding out what this new generation of hybrid-electric propulsion system is capable of delivering. For example, our generator is about the size of a beer keg, but it needs to produce enough electricity to power around 2,500 homes and do so continuously. By doing these tests, we will be able to validate our digital modeling and find out precisely what is physically and technically possible."
Once ground tested, PGS1 will then provide a technology basis for any future hybrid aircraft program requiring megawatt power.
World's fastest all-electric plane one step closer
Meanwhile, Rolls-Royce has successfully completed the taxiing of its Spirit of Innovation aircraft -- the latest milestone on this particular demonstrator's journey to becoming the world's fastest all-electric plane.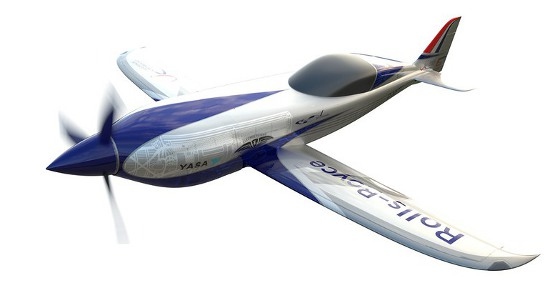 Rolls-Royce's ACCEL Spirit of Innovation plane aims to capture the world speed record for all-electric flight. [Credit: Rolls-Royce]
In March 2021, the single-seater plane took test runs down a runway propelled by its powerful 500-hp (400-kw) electric powertrain. It uses the latest energy storage technology.
The taxiing of the plane is a critical test of the integration of the aircraft's propulsion system, ahead of actual flight testing. The first flight is planned to happen in the next few months. When that takes place, the aircraft is expected to hit more than 300 mph, setting a new world speed record for electric flight.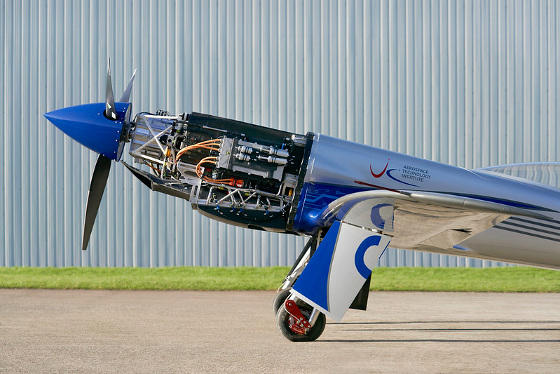 The Spirit of Innovation plane will attempt to fly more than 300 mph. [Credit: Rolls-Royce]
The technology was first tested on a full-scale replica of the plane's core.
The plane is part of a Rolls-Royce initiative called ACCEL, which is short for "Accelerating the Electrification of Flight." The project team includes key partners YASA, the electric motor and controller manufacturer, and aviation startup Electroflight. Half of the project's funding is provided by the Aerospace Technology Institute (ATI), in partnership with the UK Department for Business, Energy & Industrial Strategy, and Innovate UK.
According to the developers, "ACCEL will have the most power-dense battery pack ever assembled for an aircraft, providing enough energy to fuel 250 homes or fly 200 miles (London to Paris) on a single charge. Its 6,000 cells are packaged to minimize weight and maximize thermal protection. An advanced cooling system ensures optimum performance by directly cooling cells during the high-power record runs."
The target speed for the sport-class racing aircraft is 300+ mph, which should beat the current record, held by inventor and all-around thrill-seeker Chip Yates, handily. Yates built his own electric plane, called the Long-ESA, and set a Guinness World Record in his single-seater on Oct. 6, 2013, with an average speed of 216.9 mph during two runs on a 1-km course at the California Capital Airshow in Sacramento, CA.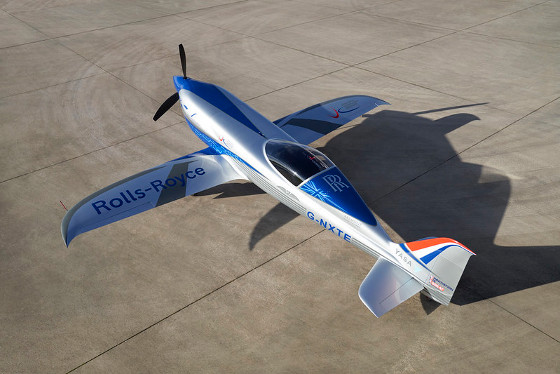 The Spirit of Innovation plane uses three lightweight e-motors. [Credit: Rolls-Royce]
ACCEL will use three 750R lightweight e-motors manufactured by YASA. Working together, these power-dense motors will deliver more than 500 hp -- with 90% energy efficiency -- to the propeller at a lower rpm than a conventional airplane, which should translate to increased stability and less noise.
The powertrain will run at 750 V, similar to a Formula E car, enabling high-power output at relatively low weight. The propeller will have three electrically actuated blades that spin at 2,400 rpm. The all-electric racer will also sport a state-of-the-art controls system.
At max power, the ACCEL plane should deliver 750 kW and 1,000 hp. Rolls-Royce says this is roughly the equivalent of a gasoline-powered Formula 1 car -- but without the emissions.
Source: Rolls-Royce
Published June 2021
Rate this article