New adhesive for aerospace manufacturers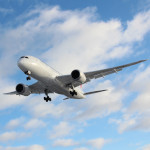 AeroPaste is Solvay's new generation of epoxy-based structural paste adhesives that provide film-like property and performance, comparable or superior to leading film adhesives on the market. AeroPaste 1006, 1009, and 1100 are now available commercially. These products are suitable for both metal and composite bonding or repair in a variety of application requirements and are designed specifically to enable rapid assembly and automation. AeroPaste is aimed at increasing manufacturers' efficiency and output by enabling fast and easy application, and offering excellent tolerance to variations in bondline thickness.
Learn more.
---
Handle basic misalignments starting at 10 bucks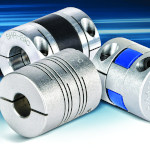 Automation-Direct has added SIM drive couplings to their line of mechanical power transmission products. SIM drive couplings are power transmission components used to couple the shafts of various mechanical devices, often of different sizes, and compensate for shaft misalignment. Four different styles of couplings are available: Jaw/Spider couplings provide a wide range of fitment and higher torque, Oldham couplings provide a higher speed rating and allow for a higher misalignment of mated shafts, servo beam-style couplings add a significant increase to speed rating and have zero backlash, while high-gain couplings offer the highest speed ratings, excellent vibration absorption, and zero backlash.
Learn more.
---
Round vs. square rails -- which are better for you?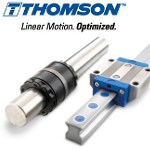 Thomson invented the world's first anti-friction linear ball bushing bearings in 1946. For many years, these round-rail linear guides satisfied every linear motion control requirement. However, as machines required closer tolerances, the round rail didn't always fit the bill. Learn the pros and cons of each design type.
Read this informative Thomson blog.
---
New bearings reduce wear in heavy-duty applications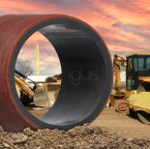 igus has introduced a new bearing with an improved iglide material, called TX2, that offers self-lubricating and maintenance-free properties for heavy-duty applications. TX2 increases wear resistance by a factor of 3.5 in load ranges with more than 100-MPa surface pressure. The material is ideal for components in machines that serve construction and agriculture, which can require more than 50 liters of lubricant annually. The material is also very resistant to temperature, chemicals, moisture, corrosion, and seawater, which opens up the applications base for its use substantially.
Learn more.
---
Aerospace fastener hole drilling and countersinking all in one step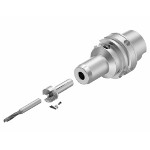 Kennametal has introduced the HiPACS drilling and countersinking system for aerospace fastener holes. Designed to drill and chamfer holes in one operation, the high-precision tool meets the aerospace industry's stringent accuracy requirements while delivering increased tool life in machining composite, titanium, and aluminum aircraft skins. With an industry-standard interface, HiPACS can be utilized on any CNC machine. Three components eliminate the need for custom tooling: a reducer sleeve with a built-in high-precision pocket seat, a PCD countersinking insert, and two series of solid carbide drills.
Learn more.
---
Why precision metrology is critical for electric vehicle gearing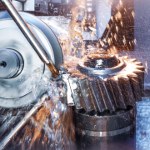 As the shift from internal combustion engines to electric motors in vehicles continues, the number of drivetrain components will dramatically lessen too. The remaining components will be even more critical to a vehicle's operation and longevity. One such area is the gear components necessary to convert the high-force torque from electric motors to the RPMs at the wheel.
By Michael Schmidt, Zygo Corporation
Read the full article.
---
Master CNC machining tolerances eBook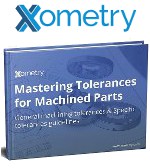 Need a refresher on the basics of applying tolerances to custom machined metal and plastic parts? In this ebook, Xometry provides some pointers on designing mating parts and parts for specific functions. Chapters include: general machining tolerances, clearance and interference fit, how to avoid over-tolerancing, CAD drawing prep and specs, and an inspection report cheat sheet.
Get this valuable resource from Xometry.
---
Specifying metal inserts for molded plastics
Teaming with insert manufacturers that offer engineering expertise throughout the design and manufacturing process can be worth its weight in gold. Learn how two OEMs overcame their metal insert challenges by using advice and products from Tri-Star Industries, including specialty stainless steel parts and modifying the knurling on some inserts.
Read the full article.
---
Posi-Lok keyless shaft bushings for secure shaft-to-hub connection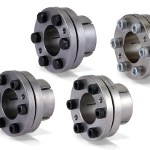 Zero-Max offers a variety of options within the Posi-Lok keyless shaft bushings (PSL) product line that allow users to rigidly and reliably secure shaft-mounted components into position for optimal operating results in their machines. Options include material choices, plating, and different mounting methods. Posi-Loks are a superior shaft-hub locking solution, eliminating the need for keyways that can weaken or cause excess wear to shaft components. All Posi-Lok models easily slide onto a shaft for mounting and provide reliable, zero-backlash performance.
Learn more.
---
Automation: ECONOmaster drilling units -- affordable, flexible, get the job done
Suhner's ECONO-master® is a low-cost, high-output automated drilling unit that puts holes in light metal, composite, thermoplastic, and even wood substrates at high speed with excellent accuracy. It features low power and air consumption. On a recent project for Mid-State Engineering, Suhner custom ECONOmaster drill units -- featuring selectable drill heads that can be used in combination or individually -- were used to automatically drill holes into fiberglass panels for truck trailer bodies.
Read the full article.
---
Great Resources: Ultimate Guide to Injection Molding
Xometry has put together a comprehensive resource for injection molding -- from the basic principles to applications, tooling, materials, design features, and more. Learn how to optimize your part designs and choose the right surface finishes, textures, and post-processing for your projects. A super-handy resource worth bookmarking.
Read the Xometry Ultimate Guide to Injection Molding.
---
Sealing fasteners may optimize your designs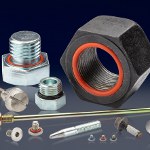 Highly specialized sealing fasteners include sealing screws, sealing nuts, sealing bolts, and sealing washers. Unlike ordinary fasteners, sealing fasteners are configured with a rubber O-ring (or a rubber element) that, when squeezed, permanently seals out a wide range of contaminants from entering and damaging equipment while preventing leakage of toxins into the environment. ZAGO sealing fasteners are designed to withstand harsh weather and extreme temperatures and are vibration and pressure resistant.
Learn all about ZAGO's wide selection of sealing fasteners.
---
Spirit levels with adjustment and cross-measurement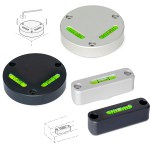 They may seem like relics from the past, but spirit levels remain indispensable tools in everyday industrial operations. Two new types from JW Winco now offer even better and faster alignment. The cross spirit levels GN 2276 combine two perpendicular linear levels within a single, round aluminum housing to show the alignment in two planes at once, making installation and leveling easier and faster. The new screw-on spirit levels GN 2283 are used to check the horizontal position of jigs, machines, devices, appliances, and instruments. These are available in a directly mountable, flat version (AV) and as an adjustable version (JV) with an alignment cam.
Learn more.
---
New cast urethane materials and finishes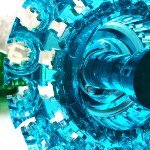 Xometry has added new urethane resins and finishes as options for quick and affordable low- to mid-volume production. Urethane casting is used to make end-use, highly durable parts with robust mechanical properties. It is considered a "soft-tooled" process, where a silicone mold is formed around a master pattern -- usually 3D printed. Xometry has materials in two main durometer classes, rigid (Shore D) and rubber-like (Shore A). Finishes include matte/frosted, semi-gloss, high-gloss, and custom.
Read this informative Xometry blog.
Get the Xometry Urethane Casting Design Guide.
---
New molded-in aluminum threaded inserts for plastics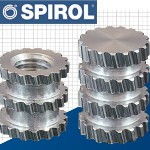 SPIROL has introduced a new, high-performance series of Molded-In Inserts for plastics assemblies. The rugged design of the Series 63 Through Hole Inserts and Series 65 Blind End Inserts consists of multiple bands of helical knurls to maximize torque resistance, balanced with radial undercuts to achieve high pull-out (tensile) force. These Molded-In Inserts are designed to be placed in the mold cavity prior to plastic injection. They offer exceptional performance due to unrestricted plastic flow into the retention features on the outside diameter of the Inserts.
Learn more.
---
Secret behind one of the world's toughest materials uncovered
A team of scientists led by Nanyang Technological University (NTU Singapore) and Rice University in the United States has uncovered the key to the outstanding toughness of hexagonal boron nitride (h-BN). h-BN can withstand 10 times the amount of force that graphene can, which is known as one of the toughest materials on Earth.
A two-dimensional (2D) material, h-BN has a thickness of just one atom. First used in cosmetics in the 1940s, it was soon abandoned due to its high price, making a resurgence in the late 1990s after technology made its production cheaper.
Today, it is used by nearly all leading producers of cosmetic products because of its ability to absorb excess facial sebum and disperse pigment evenly, and as a protective layer in 2D electronics, as it insulates against electricity and withstands temperatures of up to 1,000 C.
The NTU and Rice scientists said their new understanding of the compound's unique properties could pave the way to designing new flexible materials for electronics.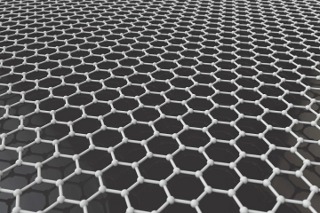 In both graphene and hexagonal boron nitride (h-BN) materials, atoms are arranged in a flat lattice of interconnecting hexagons. In graphene, all the atoms are carbon. In h-BN, each hexagon contains three nitrogen and three boron atoms. [Credit: NTU Singapore]
When scientists examined h-BN that had been exposed to stress, they saw that any breakages in the material branched like forks in a road, instead of travelling straight through the material. This means that fractures in h-BN are less likely to grow when further stress is applied.
Elaborating on the significance of their findings, Professor Gao Huajian, a Distinguished University Profesor in NTU's School of Mechanical and Aerospace Engineering who led the study, said: "Our experiments show that h-BN is the toughest nanomaterial measured to date. What makes this work so exciting is that it unveils an intrinsic toughening mechanism in this material, which should be brittle as it is only one atom thick. This is unexpected, as there is often a tradeoff between the strength and brittleness of nanomaterials."
This latest research is another of Prof Gao's achievements in the field of applied mechanics. He was recently awarded the prestigious 2021 Timoshenko Medal by the American Society of Mechanical Engineers (ASME) in recognition of his pioneering contributions to nanomechanics of engineering and biological systems, a new research field at the interface of solid mechanics, materials science, and biophysics.
Professor Lou Jun, from Rice University's Department of Materials Science and NanoEngineering, who also led the study, said: "In the real world, no material is free from defects, which is why understanding fracture toughness -- or resistance to crack growth -- is so important in engineering. It describes how much punishment a real-world material can withstand before failing."
The research was published in the scientific journal Nature in June.
Unveiling the secret behind h-BN's toughness
After 1,000 hours of lab experiments and the use of computer simulations, the scientists traced the vastly different fracture toughness of graphene and h-BN to their chemical compositions.
Like a honeycomb, both h-BN and graphene are arranged in interconnecting hexagons. However, the hexagons in graphene consist solely of carbon atoms, while each hexagon structure in h-BN consists of three nitrogen and three boron atoms.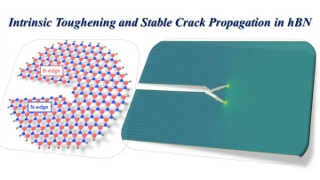 A computational simulation at NTU showing how h-BN fractures. The material's intrinsic toughness arises from slight asymmetries in its atomic structure (left), which produce a permanent tendency for moving cracks to follow branched paths (right). [Credit: NTU Singapore]
This difference in composition is what causes a moving crack in h-BN to branch off its path, and this tendency to branch or turn means it takes more energy for a crack to be driven further into it. By contrast, graphene breaks more easily, as fractures travel straight through the material like a zipper.
The researchers say that h-BN's surprising toughness could make it the ideal option for making tear-resistant flexible electronics, such as wearable medical devices and foldable smartphones. It could also be added to strengthen electronics made from two-dimensional (2D) materials, which tend to be brittle.
Besides its flexibility, h-BN's heat resistance and chemical stability would allow it to serve as both a supporting base and an insulating layer between electronic components, setting it apart from other traditional materials used in electronics.
Elaborating on the future applications of their study, Prof Gao said: "Our findings also point to a new route to produce tough materials by adding structural asymmetry into designs. This would reduce the likelihood of materials fracturing under extreme stress, which may cause the devices to fail and lead to catastrophic effects."
Prof Lou added: "The niche area for 2D material-based electronics like h-BN is in flexible electronic devices. In addition to applications like electronic textiles, 2D electronic devices are thin enough for more exotic applications like electronic tattoos and implants that could be attached directly to the brain."
The scientists are now using their findings to explore new methods to produce tougher materials for mechanical and electronic manufacturing.
Source: NTU Singapore
Published June 2021
Rate this article