What are piezoelectric active shims?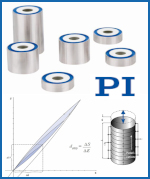 Active shims, such as PIRest from Physik Instrumente, can readjust the gap between two components in a machine at any time with nanometer precision. Due to the piezo element's high resolution down to the nanometer range, active shims cover applications in classical mechanical precision engineering, as well as the alignment of optical components in astronomy, semiconductor manufacturing, and in materials research employing beam-line instrumentation.
Read the full article.
---
Integrated motor/actuator replaces hydraulics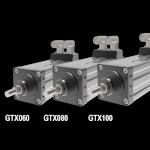 Curtiss-Wright's Actuation Division has just released its newest integrated motor/actuator, the Exlar GTX060. This is the third frame size in the GTX series of industrial electromechanical actuators. The GTX Series offers force, precision, and repeatability while eliminating or minimizing the maintenance and inefficiencies typical of fluid power alternatives. With continuous force ratings up to 2,668 N (600 lbf) and speeds to 1,016 mm/sec (40 in./sec) in both VAC and VDC power options, the GTX060's compact form can be applied across a wide range of automation applications.
Learn more.
---
Critical medical applications demand top-quality motion
Surgical robotics systems offer an overwhelming advantage over traditional methods: improved precision and speed, faster patient healing, and a reduced margin of error. For minimally invasive procedures requiring this level of precision, performance, and reliability, the engineers of surgical robotics systems depend on FAULHABER motion systems.
Read the full article.
---
Pick, measure, and sort small parts with one robotic workstation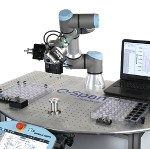 New Scale Robotics has introduced its Q-Span Automated Small-Part Measurement Systems for quality control (QC) teams in high-mix, small-batch manufacturing environments. Q-Span Systems combine robotic pick-and-place with automated measurement of small parts. They easily integrate into existing workflows in the QC lab or on the production floor, and automate the tedious manual process of measuring parts with digital calipers.
Learn more.
---
Universal Robots develops interface for Siemens engineering portal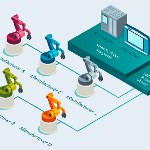 Integrating Universal Robots' collaborative robots into complex machines and manufacturing environments will soon be a process machine builders and systems integrators can handle seamlessly through one of the world's leading automation platforms: Siemens' TIA (Totally Integrated Automation) portal.
Read the full article.
---
Voice coil stages and actuators for precise motion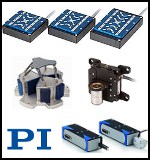 Because of their small dimensions, voice coil motors are often integrated in compact stages, actuators, and fast tip/tilt mirror platforms. These devices are driven by an electromagnetic motor consisting of a moving coil winding and a fixed magnet (the opposite is also possible). By precisely controlling the electric current in the coil, the magnetic force (Lorenz force) -- and thus, acceleration, velocity, and position -- can be varied very accurately.
Learn all about voice coil stages and actuators from PI.
---
Compact, low-noise gearboxes for high loads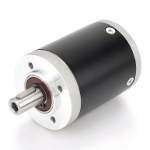 With the GP56-N series, the Nanotec product line now also includes low-noise planetary gearboxes for brushless DC motors and stepper motors with flange size 56 and 60 mm. They are ideally suited for applications in medical devices and building automation. The helical toothing allows the teeth to mesh gradually, which results in a smoother transmission of forces so that vibrations and noise are reduced. Planetary gears and the ring gear consist of a high-quality, low-wear plastic, making the new gearboxes quieter than conventional, straight-geared metal gearboxes. Available in one- and two-stage versions in nine different reductions and varying output torques.
Learn more.
---
Gearless speed reducers with traction drive tech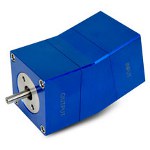 Stock Drive Products / Sterling Instrument (SDP/SI) has introduced new speed reducers with traction drive technology. Featuring a gearless drive, these speed reducers are highly efficient and feature only six moving parts. They use engineered traction fluid to cool and lubricate, and they generate less heat than conventional drives. Years of development and testing have been invested in this new technology, resulting in a product featuring infinite ratios up to a ratio of 5:1, dramatic reduction of motor torque ripple, low vibration and noise level, and significantly less maintenance than a conventional gearbox.
Learn more.
---
Exploring Mars with miniature motors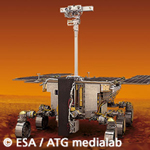 When developing the high-resolution Panoramic Camera on the ExoMars Rover, engineers looked for motors that were extremely compact and could also deliver reliable and precise positioning for the camera-focusing mechanism. FAULHABER Stepper motors were selected for the job, as they precisely position objects with a resolution of 1280 steps per revolution without the need for a separate feedback system, and are more rugged and sturdy than conventional servo motors.
Read the full article.
---
MAHLE developing highly efficient magnet-free motor for electric vehicles

German automotive industry supplier MAHLE is currently developing a new, highly efficient magnet-free electric motor that does not require rare-earth elements and costs less to produce. The company says the motor's efficiency level has only been achieved by Formula E racing cars so far.
Read the full article.
---
Distributed drive system designed for conveyor applications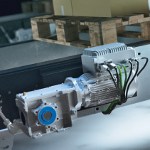 With its new Sinamics G115D, Siemens is introducing a compact and powerful drive system specifically designed for horizontal conveyor applications. The IP-rated system comprises the motor, drive, and gearbox in one unit and is offered in two versions: wall mounted and motor mounted. It is suitable for applications in intra-logistics and airports, as well as in the automotive and food and beverage industries.
Learn more.
---
FANUC tabletop robot now in 10 model variations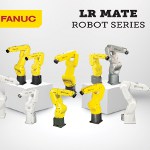 FANUC America has just introduced the LR Mate 200iD/14L, the 10th model variation of its popular LR Mate series of tabletop industrial robots. Since the LR Mate series was launched nearly 30 years ago, it has become one of FANUC's biggest sellers, with over 70,000 units installed across the globe. The LR Mate 200iD/14L allows the highest payload of the LR Mate series, handling parts weighing up to 14 kg in the automotive, e-commerce and warehousing, food and beverage, medical device, pharmaceutical, and many other industries.
Find the right LR Mate for your application.
---
Boost productivity with OnRobot's all-electric VGC10 vacuum gripper

OnRobot's versatile VGC10 vacuum gripper enabled Sydney, Australia-based injection molding experts Designed Mouldings to boost productivity and reduce cycle times through automation of key assembly processes. The low-cost, all-electric VGC10 easily completes 20,000 product runs in 24 hours -- three times faster than manual labor -- freeing workers to focus on higher value tasks. And with no external air supply to worry about, the VGC10 supported easy deployment with excellent results.
Learn how.
---
Neat. Guide any major industrial robot easily with Robeye visual guidance system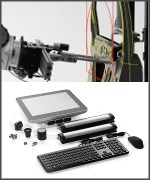 Recognition Robotics offers its complete Robeye visual guidance system that includes all the components needed to guide any major industrial robot. This industry-proven technology with potential for hundreds of applications is currently running production in multiple automotive OEMs. Benefits include quick-and-easy setup, simplified line feeding (for things like pre-centering tooling, conveyors, high-precision racks and rack stands), reduced production time, increased flexibility, and no CAD data or calibration required for new tasks. Just connect, teach, and recognize -- all in less than five minutes. The Robeye Espresso Starter Kit includes everything you need to get underway.
Learn more about the system.
Learn about Robeye in De-racking Applications.
---
Mini brushless DC motor with integrated driver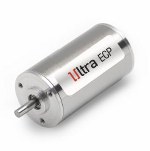 Portescap's new 22ECP miniature brushless DC motor includes an integrated driver to optimize motor performance and simplify installation. The 22-mm-diameter motor is just 35 mm in length and delivers 50% more continuous torque than comparable brushless slotless mini motors -- without compromising smoothness of operation or motor lifespan. It's a high-performance, economic two-pole motor designed to deliver a balance between speed and torque. Applications include respiratory and ventilation devices, infusion pumps, mini industrial pumps, medical hand tools, clinical diagnostics, and valve actuation.
Learn more.
---
Army testing Robotic Combat Vehicle in Michigan -- silent watch and stealth-like capabilities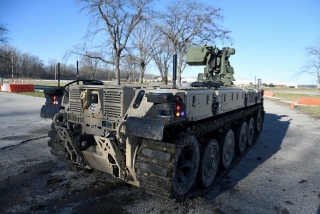 The Robotic Combat Vehicle-Light (RCV-L) experimental prototype is a small, lightweight hybrid-electric unmanned ground combat vehicle that can be transported easily by military aircraft. Its highly versatile common architecture and modular payload features offer a scalable continuum of capabilities that can be adapted to new and emerging threats well into the future. [Photo Credit: Bruce Huffman]
By Bruce Huffman, Michigan National Guard
In late 2020, four Robotic Combat Vehicle - Light (RCV-L) experimental prototypes were delivered to Selfridge Air National Guard Base (SANGB) in Michigan, where engineers from the U.S. Army Combat Capabilities Development Command's Ground Vehicle Systems Center (GVSC) began integrating software and hardware to conduct Manned/Unmanned - Teaming (MUM-T) testing. GVSC engineers will conduct maneuver testing on the RCV-L prototypes at Camp Grayling throughout 2021 to help determine the feasibility of integrating unmanned systems into ground combat vehicle formations.
Large-scale combat maneuver tests are routinely conducted at Camp Grayling, a 148,000-acre training area in northern Michigan with a variety of multi-use ranges and maneuver courses able to accommodate air-to-ground live fires, artillery, tanks, mortars, and small arms.
"GVSC leverages the facilities at Camp Grayling, which provides the perfect location to test a wide range of robotic combat systems in different terrains," said Kevin Mills, associate director for Ground Vehicle Robotics at GVSC. "Camp Grayling gives our engineers and industry partners numerous options to explore the full performance capabilities of next-generation unmanned ground systems in our own backyard. Grayling's extremely challenging off-road terrain and vast, secure live-fire test areas allow us to push experimental prototypes to their limits and safely evaluate weapons systems on combat robotics."
Army Maj. Gen. Paul D. Rogers, adjutant general and Department of Military and Veterans Affairs director, said the relationship between the military and the defense industrial base in southeast Michigan dates back to World War II.
"These partnerships, combined with the unique geography of northern Michigan and our high-tech infrastructure and expertise, make Michigan an ideal proving ground for new technologies like the RCV-L prototype," Rogers said.
At Northern Strike 20, the Michigan National Guard's annual joint reserve component readiness exercise held in Northern Michigan, both U.S. and Latvian Joint Terminal Attack Controllers (JTAC) collaborated with industry to demonstrate a new Android Tactical Awareness Kit that uses cellular technology instead of Wi-Fi. According to Air Force Master Sgt. Patricia Boyer, a Michigan National Guard cyber operations specialist, the new technology significantly improved communications, data, and video transmissions from above the battlefield, providing enhanced real-time situational awareness.
"We're trying to build a mobile innovative capability to solve problems in real time," said Air Force Brig. Gen. Bryan Teff, assistant adjutant general for air and commander of the Michigan Air National Guard. "Our aim is to demonstrate this during Northern Strike 21 and future iterations of the exercise."
The Michigan National Guard unveiled its National All-Domain Warfighting Center (NADWC) at Camp Grayling during Northern Strike 20 in July 2020. The NADWC includes a 17,000-square-mile special-use airspace that extends over a portion of Lake Huron. This airspace is the nexus between the NADWC's four supporting bases: Camp Grayling, the Alpena Combat Readiness Training Center, Battle Creek Air National Guard Base, and SANGB.
This support network allows the NADWC to offer unique, all-domain training and testing not typically available at a single location in the Midwest. In addition to the robust ground combat capabilities at Camp Grayling, the NADWC leverages the support of these bases to offer air-to-sea live fires, littoral operations, bombers, fighters, refueling, cargo, and unmanned systems, as well as cyber, surveillance, intelligence, reconnaissance, and Joint All-Domain Command and Control (JADC2) operations.
Evaluating lessons learned in Iraq and Afghanistan, the Department of Defense's Long-Range Research and Development Planning Program (LRRDPP) and the Army Science Board have determined that advanced autonomy-enabled technologies will play a significant role in keeping Soldiers safe and that a mix of manned/unmanned vehicles could prove instrumental in winning future conflicts against peer and near-peer adversaries.
Leveraging lessons learned testing the Expeditionary Modular Autonomous Vehicles (EMAV) that Pratt & Miller built for the Marine Corps, the RCV-L experimental prototype is built to help the Army conduct live Soldier experimentation with unmanned combat vehicles to better define how MUM-T operation will shape future warfare. Its highly versatile common architecture and modular payload features offer a scalable continuum of capabilities that can be adapted to new threats well into the future.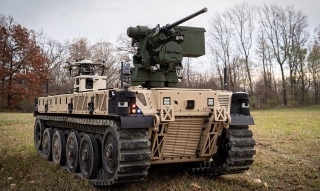 The RCV-L can be equipped with a Tethered Unmanned Aerial System, a small drone that can be deployed to conduct aerial reconnaissance while the vehicle is at a safe distance. Other equipment to be tested on the RCV-L experimental prototype includes the M153 Common Remotely Operated Weapons Station II (CROWS II), the .50-caliber M2 machine gun, and the 40-mm MK19 Mod 3 automatic grenade launcher. [Photo Credit: U.S. Army]
The RCV-L prototype is compact and lightweight and can be transported easily by military aircraft to remote locations. Its hybrid/diesel generator powers high-voltage batteries that provide a silent watch and stealth-like capabilities. It features high-resolution cameras, sensors, and navigation equipment, and its modular platform can accommodate up to 7,000 lb.
It can be equipped with a Tethered Unmanned Aerial System, a small drone that can deploy to conduct aerial reconnaissance while the vehicle is at a safe distance. Other equipment to be tested on the RCV-L experimental prototype includes the M153 Common Remotely Operated Weapons Station II (CROWS II), the .50-caliber M2 machine gun, and the 40-mm MK19 Mod 3 automatic grenade launcher.
Laurent Lannibois, QinetiQ's RCV program manager, said the vehicle can be remotely controlled by a human operator or can function semi-autonomously along known/programmed routes. The Army is improving the RCV-L's semi-autonomous and unmanned/autonomous capabilities.
"We don't know exactly what the future holds, but the Michigan National Guard is working closely with the research and development community to enable combat formations and unburden our Soldiers," said Rogers.
Rogers said autonomy-enabled systems will augment warfighter capabilities and increase battlefield mobility and lethality by creating greater distances from danger, making supply distribution safer and more efficient, and providing the flexibility to adapt to tomorrow's ever-changing and evolving threats.
"Nothing can replace the life of a Soldier," said Rogers. "Autonomy-enabled systems will help make us more expeditionary, keep the warfighter safe, and make them more efficient."
Published February 2021
Rate this article