Reversible-flow fans: Directional flow and speed control in one unit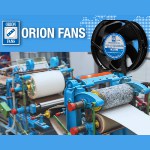 Orion Fans has launched a series of micro-controller-based, up to IP68-rated, reversible-flow fans. By utilizing PWM signals to control fan speed, the fans provide engineers an innovative solution to some of their most challenging cooling requirements: speed and airflow direction controlled by one fan without supplementing excess wires or circuitry. Reversible-flow fans are a specialty design that enables unique applications. You may be surprised at their versatility.
Learn more.
---
Cool Tools: Leica RTC360 3D laser scanner -- LIDAR for big jobs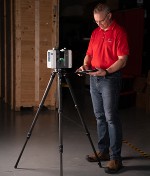 The new Leica RTC360 laser scanner available from Exact Metrology makes 3D reality capture faster than ever before. With a measuring rate of up to 2 million points per sec, colored 3D point clouds can be completed in under 2 min. Automated, targetless field registration and seamless, automated data transfer from site to office reduce time spent in the field. The CAD models are generally used for factory/shop floor layout plans, power plant equipment changeouts, proof dimensioning, and much more. In addition to the 3D model, full spherical HDR imagining is appended directly to the point cloud, giving a photo-realistic effect to the data and allowing for virtual walkthroughs of the areas, shareable markups, geo-referencing, and meta-tagging. So many uses.
Learn more.
---
Eaton developing suite of 48-V technologies to help vehicle manufacturers meet new global emission regulations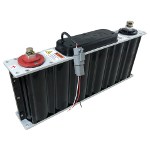 Most vehicles have traditionally operated with a 12-V system, but with tightening fuel economy regulations and new, advanced power-consuming components being added, increasing power needs are driving the move toward 48-V systems.
Read the full article.
---
igus unveils new sensor for smart plastics predictive maintenance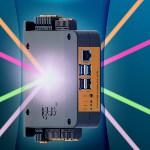 igus has developed a sensor for its smart plastics software that calculates the remaining service life of energy chains, cables, linear guides, and plain bearings during operation. The i.cee:local sensor optimizes the life of the system, detects faults, allows them to be fixed at an early stage, and allows for maintenance to be planned in advance. This sensor can be integrated via the internet or without IoT connectivity via the local network, depending on customer requirements. Smart plastics sensors monitor abrasion, measure the pull/push force, and provide information about an imminent overload.
Learn more.
---
Toshiba positively evaluates no-solder connector tech for IOT

Toshiba Electronic Devices & Storage Corp. has developed two connector technologies that allow easy, solder-free assembly of small IoT nodes, which are regarded as essential for realization of the "Trillion-Node Engine," an open-source IoT platform that could connect billions of devices in the future.
Read the full article.
---
Ouster-Danfoss partner to bring lidar to off-highway vehicles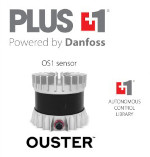 Ouster sensors will be the first lidar hardware to be offered through the Danfoss PLUS+1 Partner Program, which is engineered to expedite the development process and bring higher quality machines to market faster. This integration is intended for remote machine management, operator assistance, row following, obstacle avoidance, and task automation. The PLUS+1 Partner Program is a select group of companies with complementary products -- including microcontrollers, joysticks, hydraulic pumps, and radar sensors -- that integrate into PLUS+1 systems the same way all Danfoss hardware components do.
Learn more.
---
Control any air conditioning unit remotely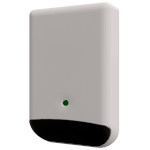 HMS Networks has just launched the new IR-based Intesis AC interface that enables integration of any air conditioning unit, regardless of brand, into Modbus or BACnet Building Automation Systems. This universal interface connects to the AC unit via the IR link that is already used by most AC units to communicate with their remote control. The Intesis IR-based AC Interface is already compatible with more than 100 IR remote controllers and their associated AC units. Simple setup and configuration via MAPS template.
Learn more.
---
Graphene Hall sensor for cryogenic applications -- including quantum computing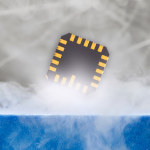 How futuristic is this? U.K. company Paragraf has introduced a graphene Hall sensor that enables commercial organizations to measure high magnetic field strengths accurately at cryogenic temperatures, increasing manufacturing throughput by quicker magnet mapping and replacing existing NMR probe mapping stages. The GHS-C is the only Hall sensor now in volume production that can offer this level of performance at temperatures below 3 K. It is being supplied in the industry-standard LCC 20 package, making it a drop-in replacement for existing Hall sensors. Applications include quantum computing, high-energy physics labs, cryogenic cooling equipment, fusion, medical accelerators, ultra-low-temp research, and magnet manufacturing.
Learn more.
---
What's a strain wave harmonic gearing torque sensor?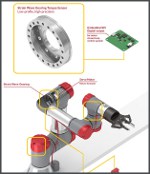 Strain wave harmonic gearing sensors from FUTEK are an alternative to six-degrees-of-freedom (DOF) sensors used in applications such as robotic arms that are used in surgery. For example, during some laparoscopic surgery procedures, surgeons must hold the position of the end effector (the instrument inside the abdominal cavity) while the robot arm is moving. This maneuver is difficult to perform with 6-DOF sensors only, because it requires torque measurement on each joint. Strain wave harmonic gearing sensors can handle it, and they are less expensive to implement because torque measurement can be obtained for selected joints only if necessary.
Learn more.
---
Raspberry Pi: Pico microcontroller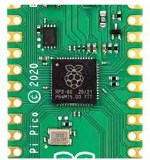 The Raspberry Pi Pico is built around the brand-new Raspberry Pi RP2040 microcontroller, delivering a flexible, highly affordable development platform that can also be directly deployed into end products -- all for 4 bucks. At the heart of the Raspberry Pi Pico is RP2040, which features two ARM Cortex-M0+ cores clocked at 133 MHz; 264 kB of on-chip SRAM; 30 multifunction GPIO pins; dedicated hardware for commonly used peripherals alongside a programmable I/O subsystem for extended peripheral support; a four-channel ADC with internal temperature sensor; and built-in USB 1.1 with host and device support. Also look for the RP2040 chip to be sold as a standalone product very, very soon.
Learn more from Newark.
Watch a short video intro for this product.
---
New robust angle sensors for off-highway and more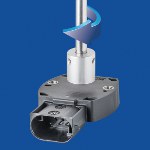 Novotechnik, U.S. introduces the RFE 3200 Series of resilient, touchless Hall-Effect angle sensors. These sensors are specifically designed to operate in demanding environments like off-highway equipment and feature ingress protection to IP69K, EMC immunity, and a decoupled sensor/magnet. The RFE Series measures from 0 to 360 deg and can be ordered with one (partially redundant) or two (fully redundant) channels. High resolution with great dynamic response, large mechanical tolerances, and feasibility of customer-specific output options are added benefits of this wear-free technology.
Learn more.
---
Automotive single-chip solution for ultra-wide touch displays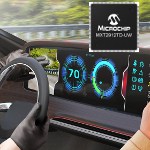 Microchip Technology has just announced its maXTouch MXT2912TD-UW touchscreen controller. This is the industry's first automotive-qualified, single-chip solution that addresses display sizes up to 45 in. with a very wide aspect ratio, supporting LCD and OLED display technologies. This controller reduces the need for multiple touch controllers within a vehicle's HMI display. It provides the highest report rate for wide displays and is independent of the display resolution.
Learn more.
---
Automotive antenna-on-package mmWave sensors with Texas Instruments RFIC
D3 Engineering, a Texas Instruments platinum design partner, recently announced their DesignCore RS-1843AOP and RS-1843AOPU mini mmWave Radar Sensors. They feature a 1-in. cube form factor, heat-spreading metal body, and mounting tabs. They may be used with a PC or embedded platform to facilitate field testing, sensing evaluation, algorithm development, and application demonstrations. Automotive applications include parking assist and collision avoidance. Other applications include robotics, autonomous machines, industrial vehicle systems, and facility monitoring, as well as people counting and tracking.
Learn more.
---
Pinpoint the leading cause of Industrial Ethernet failures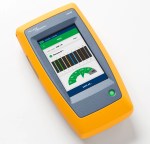 Fluke Networks introduces the LinkIQ-IE Cable+Network Industrial Ethernet Tester designed to troubleshoot network cabling, the leading cause of Industrial Ethernet failures. With Ethernet-based technologies increasingly the default for automation networks, the need for easy-to-use tools to troubleshoot these networks is growing rapidly. By combining Fluke Networks' state-of-the-art cable measurement technology and basic tests for Industrial Ethernet switches, LinkIQ-IE speeds and simplifies the discovery of network failures in a simple-to-use touchscreen interface akin to a smartphone.
Learn more.
---
Premium Hi-Temp ETX Series thermoelectric coolers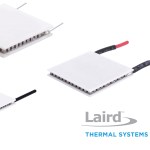 Laird Thermal Systems has developed a thermoelectric module series that is rated for high temperature in emerging optoelectronic applications, including LiDAR and CMOS sensors for autonomous systems in vehicles and drones, digital light processors (DLP) used in 3D machine vision and advanced lighting systems, and optical transceivers. The HiTemp ETX Series thermoelectric cooler has a robust construction that allows it to survive in temperatures up to 150 C, exceeding most outdoor applications. These solid-state heat pumps are assembled with advanced materials that boost cooling capacity by up to 10% compared to traditional thermoelectric coolers.
Learn more.
---
BAE Systems unveils world's smallest M-Code military GPS receiver
BAE Systems recently unveiled its ultra-small MicroGRAM-M global positioning system (GPS) receiver compatible with next-generation M-Code military GPS signals that are resistant to jamming and spoofing.
About the size of a postage stamp, MicroGRAM-M is the world's smallest, lightest, and most power-efficient M-Code embedded GPS receiver. It delivers assured positioning, navigation, and timing (PNT) for size-constrained and other micro-applications.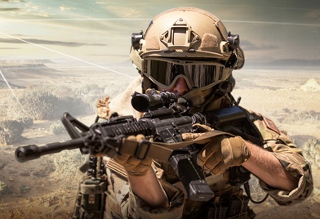 BAE Systems' MicroGRAM-M military GPS receiver is compatible with next-gen M-Code signals that are resistant to jamming and spoofing. [Photo: BAE Systems].
"We're delivering reliable PNT where our customers need it -- from soldiers' handheld devices to small unmanned aerial vehicles," said Greg Wild, director of Navigation and Sensor Systems at BAE Systems. "MicroGRAM-M provides our armed forces and allies with a low-SWAP M-Code GPS solution that's resistant to adversaries' disruption efforts in highly contested environments."
MicroGRAM-M features rapid, secure GPS signal acquisition, enhanced security and resiliency, anti-jamming and anti-spoofing capabilities, and the industry's lowest power consumption for an M-Code device. The 1.0-in. x 1.25-in. x 0.275-in. MicroGRAM-M enables quick upgradability to M-Code and reduced system integration costs. At its core is a proven, tamper-proof M-Code Common GPS Module that encapsulates classified data and signal processing.
Companion BAE products are the MPE-M and NavStrike-M, which both deliver enhanced awareness in highly contested environments and precision munitions guidance.
"Qualification of MicroGRAM-M is underway, with full-rate production expected in 2022," said John Watkins, vice president and general manager of Precision Strike & Sensing Solutions at BAE Systems.
This division of BAE is located in Cedar Rapids, IA.
Source: BAE Systems
Published September 2021
Rate this article