Miniature MGX gearheads for precision devices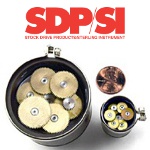 The SDP/SI compact gear train provides excellent accuracy with optional torsional spring anti-backlash design. Ratios available from 5:1 to 1,521:1. Miniature sizes from 0.5 in. O.D. to 1.75 in. O.D. Stock sizes and customized solutions with special gear ratios and near-zero backlash gearing also available. MGX gearheads are designed, precision manufactured, and assembled with world-class quality by SDP/SI.
Learn more.
---
AutomationDirect adds GAM helical racks and pinions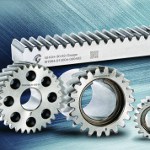 Rack-and-pinion systems are a type of linear actuator consisting of a rotating pinion that drives a linear rack, converting rotary motion to linear motion. The new GAM helical racks and pinions, along with a broad offering of gearboxes, can provide a complete linear solution for your application. High-precision helical racks provide smooth, quiet operation. Pinions can be mounted to SureGear gearboxes, are hardened, and work with ISO 10 hardened racks. Components with module pitches of 1.5, 2.0, and 3.0 are available.
Learn more.
---
Did you know you can tint chrome?
Push the boundaries of design. SRG Global, a leading manufacturer of chrome-plated and painted plastic parts for the automotive, commercial truck, and household appliance industries, has introduced its G-Coat tint-over-chrome process solution. G-Coat delivers distinct metallic surface finishes for both exterior and interior applications and regularly improves paint adhesion to any chrome-plated plastic part. It offers nearly unlimited custom color options, including a high-optical-density deep black finish not achievable by other technologies. The process also provides enhanced corrosion protection and fingerprint resistance and meets multiple automotive OEM performance standards for basecoat and clear-coat paint systems.
Learn more.
---
Micro molding material selection and design concerns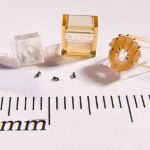 Design engineers can create the most incredible parts using the micro molding process, but any design at the micro scale (ranging in size from just microns to a half inch) requires careful attention to things that might not be a big deal for larger parts. This article by Aaron Johnson from Accumold focuses on important issues concerning material choice.
Read the full article.
---
Desktop Metal qualifies titanium for its Studio System 2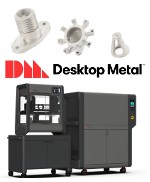 Desktop Metal has qualified the use of titanium alloy Ti-6Al-4V (Ti64) for its Studio System 2, a metal 3D-printing platform that offers customers an easy way to print high-performance metal parts in low volumes for pre-production and end-use applications. Desktop Metal is the first and only company to make the material commercially available for extrusion-based bound metal additive manufacturing technologies. Ti64 is the most widely used titanium alloy and is characterized by its high tensile strength, corrosion resistance, and biocompatibility.
Learn more about the Ti64 offering.
Learn about the Studio System 2.
---
More compact and adaptable side thrust pins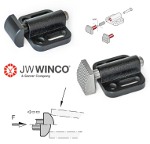 Side thrust pins for part holding are practically indispensable elements of jig construction and are available in a wide range of variants. Nevertheless, there are applications that demand particularly compact designs that should also be easy to adapt to different requirements. These are exactly the situations JW Winco had in mind with the new standard parts family GN 415. GN 415 is available in three sizes between 0.87 and 1.54 in. (22 to 39 mm) wide, each with two spring strengths. The two available slide types and the wedge-shaped or cylindrical, rounded thrust pad not only hold parts with side pressure but also exert an additional downward force.
Learn more.
---
Xometry launches instant quoting for binder jet 3D printing of metals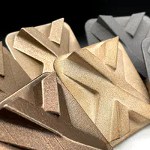 Xometry, a leading AI-enabled marketplace for on-demand manufacturing, has just announced the availability of instant quoting on metal binder jetting in its Instant Quoting Engine. The parts will be made through Xometry's partner ExOne, an industry-leading metal 3D-printing company. Metal binder jetting is a 3D-printing technology used to make complex metal parts with excellent mechanical properties. Machines bond layers of metal powder together with a binding agent before final sintering in a furnace. It can produce metal parts at a fraction of the cost of other methods with virtually no design limitations.
Learn all about this exciting 3D-printing tech.
---
Mini shock absorbers: High energy damping in tight spaces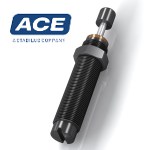 ACE Controls' MC75 Miniature Shock Absorbers (length of 2.77 in.) can provide high energy damping in tight installation spaces in industrial manufacturing, material handling, packaging, medical, electronics, and robotics applications. They are perfect for decelerating loads quickly and without recoil in machines, among other uses. They include a robust construction and one-piece outer body filled with temperature-stable oil. They're also self-compensating, so they react to changing energy conditions without adjustment.
Learn more.
---
Conserve precious liquids in non-pressurized systems with Siphon Fed No Drip Nozzle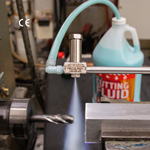 EXAIR's new 1/8 NPT No Drip Siphon Fed Air Atomizing Spray Nozzles provide consistent and even flow of non-pressurized liquid for applications like marking, lubricating, rinsing, cooling, quenching, wetting (moistening), dust control, and humidification. The intelligent design of this Siphon Fed spray nozzle allows for the absence of liquid pressure and, in turn, uses gravity fed liquids or lifted liquids from a siphon height of 36 in. (91 cm) with the added benefit of positively stopping liquid flow when compressed air is shut off. Available in round and flat fan liquid patterns.
Learn more.
---
New! Revolutionary Revolox™ Self-Locking Retaining Ring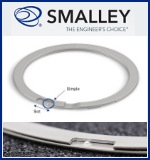 Rotational capacity requirements for modern applications are higher than ever, especially in electric motors, gearboxes, and automotive transmissions. Smalley's latest retaining ring innovation, the Revolox Self-Locking Ring, features a "dimple and slot" design that safely and efficiently secures your application at high speeds.
Read the full article.
---
Bring production-ready nylon 3D printing to your benchtop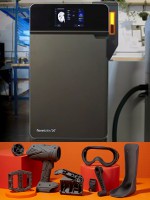 Formlabs has released the world's first benchtop industrial selective laser sintering (SLS) 3D printer, the Fuse 1, along with Fuse Sift (a post-processing system for the Fuse 1) and Nylon 12 and Nylon 11 powders. SLS technology has long been trusted by engineers and large manufacturers for its ability to print strong, functional prototypes and end-use parts, but its high cost and complex workflow have historically confined access to big companies. The Fuse 1 and Fuse Sift improve on the unique advantages offered by SLS while bringing it within reach for companies of all sizes and types through affordability and ease of use.
Learn more.
---
How to choose: Linear shafts vs. posts vs. rotary shafts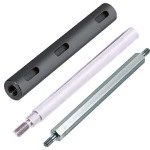 According to Carlicia Layosa at MISUMI, "Linear shafts, posts, and rotary shafts are used when you need to control some type of motion, either linear or rotary, or a combination of the two," but do you know the difference between these options and what applications are best for each?
Read this informative MISUMI blog.
---
Magnetic couplings 'mechanically isolate' shafts and motor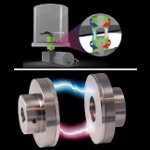 Magnetic couplings from Miki Pulley are ideal for machine designs involving food, pharma-ceutical, and laboratory applications requiring clean, non-contact connection between motor and shafts. The mechanically isolated magnetic coupling transmits torque through the air. This occurs through both input and output hubs of the coupling, which contain powerful rare-earth magnets. These magnets create a magnetic field that transmits torque through plastic, glass, aluminum, and other minimally ferrous materials without physical engagement. There is no dust, debris, or mechanical wear using this coupling compared to conventional couplings. It can also act as a torque limiter in an over-load event.
Learn more.
---
New adhesive for aerospace manufacturers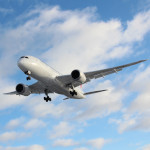 AeroPaste is Solvay's new generation of epoxy-based structural paste adhesives that provide film-like property and performance, comparable or superior to leading film adhesives on the market. AeroPaste 1006, 1009, and 1100 are now available commercially. These products are suitable for both metal and composite bonding or repair in a variety of application requirements and are designed specifically to enable rapid assembly and automation. AeroPaste is aimed at increasing manufacturers' efficiency and output by enabling fast and easy application, and offering excellent tolerance to variations in bondline thickness.
Learn more.
---
Handle basic misalignments starting at 10 bucks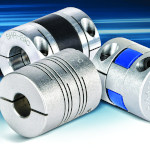 Automation-Direct has added SIM drive couplings to their line of mechanical power transmission products. SIM drive couplings are power transmission components used to couple the shafts of various mechanical devices, often of different sizes, and compensate for shaft misalignment. Four different styles of couplings are available: Jaw/Spider couplings provide a wide range of fitment and higher torque, Oldham couplings provide a higher speed rating and allow for a higher misalignment of mated shafts, servo beam-style couplings add a significant increase to speed rating and have zero backlash, while high-gain couplings offer the highest speed ratings, excellent vibration absorption, and zero backlash.
Learn more.
---
Smart laser cutter system detects different materials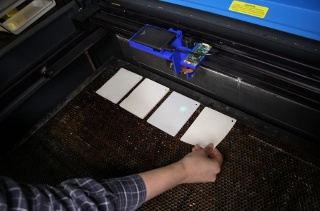 SensiCut, a smart material-sensing platform for laser cutters, can differentiate between 30 materials commonly found in makerspaces and workshops. [Photo: MIT CSAIL]
By Rachel Gordon, MIT CSAIL
With the addition of computers, laser cutters have rapidly become a relatively simple and powerful tool, with software controlling shiny machinery that can chop metals, woods, papers, and plastics. However, users can still face difficulties distinguishing between stockpiles of visually similar materials sometimes. Trying to cut the wrong stuff can make gooey messes, give off horrendous odors, or worse, spew out harmful chemicals.
Addressing what might not be totally apparent to the naked eye, scientists from MIT's Computer Science and Artificial Intelligence Laboratory (CSAIL) came up with "SensiCut," a smart material-sensing platform for laser cutters. In contrast to conventional, camera-based approaches that can easily misidentify materials, SensiCut uses a more nuanced fusion. It identifies materials using deep learning and an optical method called "speckle sensing," a technique that uses a laser to sense a surface's microstructure, enabled by just one image-sensing add-on.
A little assistance from SensiCut could go a long way. It could potentially protect users from hazardous waste, provide material-specific knowledge, suggest subtle cutting adjustments for better results, and even engrave various items like garments or phone cases that consist of multiple materials.
"By augmenting standard laser cutters with lensless image sensors, we can easily identify visually similar materials commonly found in workshops and reduce overall waste," says Mustafa Doga Dogan, PhD candidate at MIT CSAIL. "We do this by leveraging a material's micron-level surface structure, which is a unique characteristic even when visually similar to another type. Without that, you'd likely have to make an educated guess on the correct material name from a large database."
Beyond using cameras, sticker tags (like QR codes) have also been used on individual material sheets to identify them. This seems straightforward, but during laser cutting, if the code is cut off from the main sheet, it can't be identified for future uses. Also, if an incorrect tag is attached, the laser cutter will assume the wrong material type.
To play a round of "what material is this" successfully, the team trained SensiCut's deep neural network on images of 30 different material types using over 38,000 images, where it could then differentiate between things like acrylic, foamboard, and styrene, and even provide further guidance on power and speed settings.

VIDEO: A smart laser cutter than automatically identifies what it's cutting. [Credit: MIT CSAIL]

In one experiment, the team decided to build a face shield, which would require distinguishing between transparent materials from a workshop. The user would first select a design file in the interface and then use the "pinpoint" function to get the laser moving to identify the material type at a point on the sheet. The laser interacts with the very tiny features of the surface and the rays are reflected off it, arriving at the pixels of the image sensor and producing a unique 2D image. The system could then alert or flag the user that their sheet is polycarbonate, which means potentially highly toxic flames if cut by a laser.
The speckle imaging technique was used inside a laser cutter, with low-cost, off-the shelf-components, like a Raspberry Pi Zero microprocessor board. To make it compact, the team designed and 3D printed a lightweight mechanical housing.
Beyond laser cutters, the team envisions a future where SensiCut's sensing technology could eventually be integrated into other fabrication tools like 3D printers. To capture additional nuances, they also plan to extend the system by adding thickness detection, a pertinent variable in material makeup.
Dogan wrote a paper on the technology along with undergraduate researchers Steven Acevedo Colon and Varnika Sinha in MIT's Department of Electrical Engineering and Computer Science, Associate Professor Kaan Akşit of University College London, and MIT Professor Stefanie Mueller.
The team will present their work at the ACM Symposium on User Interface Software and Technology (UIST) in October. The work was supported by the NSF Award 1716413, the MIT Portugal Initiative, and the MIT Mechanical Engineering MathWorks Seed Fund Program.
Published September 2021
Rate this article