Antimicrobial switches disinfect themselves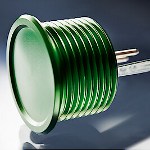 Are switches that disinfect themselves too good to be true? It is possible. Antimicrobial coatings inhibit the growth of microorganisms and even kill them. When applied to switches, this technology is perfectly suited for medical technology, sanitation areas, and the food service industry. All completely sealed switches from SCHURTER (piezoelectric, capacitive, or ToF) are perfectly suited for this coating upgrade, which kills microorganisms effectively by oxidation using photodynamic self-purification technology.
Learn more.
---
Expanded enclosure A/C inventory
Seifert Systems has completed their warehouse expansion, significantly increasing the types and quantity of enclosure air conditioners available. Air conditioners with popular cooling capacities within 1,000 to 21,000 BTU/hr are in stock and ready to ship. Among these are the Progressive, filterless SlimLine, and Compact Series of enclosure air conditioners as well as thermoelectric coolers. Seifert enclosure air conditioners come with a two-year warranty. SlimLine units are only 4.5 in. deep, and many Progressive units share the same size footprint for easier planning when needed for more than one application.
See what Seifert Systems has to offer.
---
Reversible-flow fans: Directional flow and speed control in one unit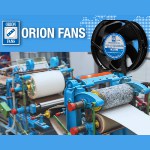 Orion Fans has launched a series of micro-controller-based, up to IP68-rated, reversible-flow fans. By utilizing PWM signals to control fan speed, the fans provide engineers an innovative solution to some of their most challenging cooling requirements: speed and airflow direction controlled by one fan without supplementing excess wires or circuitry. Reversible-flow fans are a specialty design that enables unique applications. You may be surprised at their versatility.
Learn more.
---
Cool Tools: Leica RTC360 3D laser scanner -- LIDAR for big jobs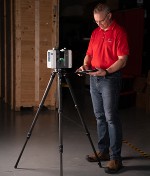 The new Leica RTC360 laser scanner available from Exact Metrology makes 3D reality capture faster than ever before. With a measuring rate of up to 2 million points per sec, colored 3D point clouds can be completed in under 2 min. Automated, targetless field registration and seamless, automated data transfer from site to office reduce time spent in the field. The CAD models are generally used for factory/shop floor layout plans, power plant equipment changeouts, proof dimensioning, and much more. In addition to the 3D model, full spherical HDR imagining is appended directly to the point cloud, giving a photo-realistic effect to the data and allowing for virtual walkthroughs of the areas, shareable markups, geo-referencing, and meta-tagging. So many uses.
Learn more.
---
Eaton developing suite of 48-V technologies to help vehicle manufacturers meet new global emission regulations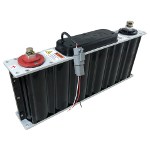 Most vehicles have traditionally operated with a 12-V system, but with tightening fuel economy regulations and new, advanced power-consuming components being added, increasing power needs are driving the move toward 48-V systems.
Read the full article.
---
igus unveils new sensor for smart plastics predictive maintenance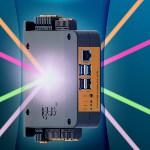 igus has developed a sensor for its smart plastics software that calculates the remaining service life of energy chains, cables, linear guides, and plain bearings during operation. The i.cee:local sensor optimizes the life of the system, detects faults, allows them to be fixed at an early stage, and allows for maintenance to be planned in advance. This sensor can be integrated via the internet or without IoT connectivity via the local network, depending on customer requirements. Smart plastics sensors monitor abrasion, measure the pull/push force, and provide information about an imminent overload.
Learn more.
---
Toshiba positively evaluates no-solder connector tech for IOT

Toshiba Electronic Devices & Storage Corp. has developed two connector technologies that allow easy, solder-free assembly of small IoT nodes, which are regarded as essential for realization of the "Trillion-Node Engine," an open-source IoT platform that could connect billions of devices in the future.
Read the full article.
---
Ouster-Danfoss partner to bring lidar to off-highway vehicles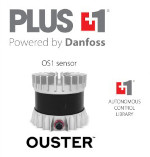 Ouster sensors will be the first lidar hardware to be offered through the Danfoss PLUS+1 Partner Program, which is engineered to expedite the development process and bring higher quality machines to market faster. This integration is intended for remote machine management, operator assistance, row following, obstacle avoidance, and task automation. The PLUS+1 Partner Program is a select group of companies with complementary products -- including microcontrollers, joysticks, hydraulic pumps, and radar sensors -- that integrate into PLUS+1 systems the same way all Danfoss hardware components do.
Learn more.
---
Control any air conditioning unit remotely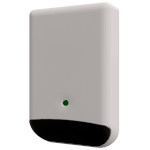 HMS Networks has just launched the new IR-based Intesis AC interface that enables integration of any air conditioning unit, regardless of brand, into Modbus or BACnet Building Automation Systems. This universal interface connects to the AC unit via the IR link that is already used by most AC units to communicate with their remote control. The Intesis IR-based AC Interface is already compatible with more than 100 IR remote controllers and their associated AC units. Simple setup and configuration via MAPS template.
Learn more.
---
Graphene Hall sensor for cryogenic applications -- including quantum computing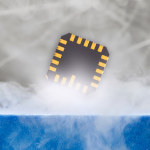 How futuristic is this? U.K. company Paragraf has introduced a graphene Hall sensor that enables commercial organizations to measure high magnetic field strengths accurately at cryogenic temperatures, increasing manufacturing throughput by quicker magnet mapping and replacing existing NMR probe mapping stages. The GHS-C is the only Hall sensor now in volume production that can offer this level of performance at temperatures below 3 K. It is being supplied in the industry-standard LCC 20 package, making it a drop-in replacement for existing Hall sensors. Applications include quantum computing, high-energy physics labs, cryogenic cooling equipment, fusion, medical accelerators, ultra-low-temp research, and magnet manufacturing.
Learn more.
---
What's a strain wave harmonic gearing torque sensor?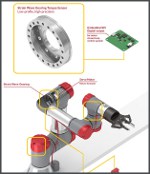 Strain wave harmonic gearing sensors from FUTEK are an alternative to six-degrees-of-freedom (DOF) sensors used in applications such as robotic arms that are used in surgery. For example, during some laparoscopic surgery procedures, surgeons must hold the position of the end effector (the instrument inside the abdominal cavity) while the robot arm is moving. This maneuver is difficult to perform with 6-DOF sensors only, because it requires torque measurement on each joint. Strain wave harmonic gearing sensors can handle it, and they are less expensive to implement because torque measurement can be obtained for selected joints only if necessary.
Learn more.
---
Raspberry Pi: Pico microcontroller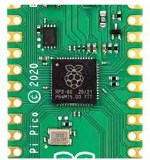 The Raspberry Pi Pico is built around the brand-new Raspberry Pi RP2040 microcontroller, delivering a flexible, highly affordable development platform that can also be directly deployed into end products -- all for 4 bucks. At the heart of the Raspberry Pi Pico is RP2040, which features two ARM Cortex-M0+ cores clocked at 133 MHz; 264 kB of on-chip SRAM; 30 multifunction GPIO pins; dedicated hardware for commonly used peripherals alongside a programmable I/O subsystem for extended peripheral support; a four-channel ADC with internal temperature sensor; and built-in USB 1.1 with host and device support. Also look for the RP2040 chip to be sold as a standalone product very, very soon.
Learn more from Newark.
Watch a short video intro for this product.
---
New robust angle sensors for off-highway and more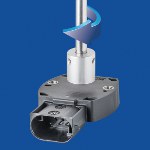 Novotechnik, U.S. introduces the RFE 3200 Series of resilient, touchless Hall-Effect angle sensors. These sensors are specifically designed to operate in demanding environments like off-highway equipment and feature ingress protection to IP69K, EMC immunity, and a decoupled sensor/magnet. The RFE Series measures from 0 to 360 deg and can be ordered with one (partially redundant) or two (fully redundant) channels. High resolution with great dynamic response, large mechanical tolerances, and feasibility of customer-specific output options are added benefits of this wear-free technology.
Learn more.
---
Automotive single-chip solution for ultra-wide touch displays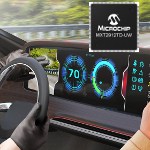 Microchip Technology has just announced its maXTouch MXT2912TD-UW touchscreen controller. This is the industry's first automotive-qualified, single-chip solution that addresses display sizes up to 45 in. with a very wide aspect ratio, supporting LCD and OLED display technologies. This controller reduces the need for multiple touch controllers within a vehicle's HMI display. It provides the highest report rate for wide displays and is independent of the display resolution.
Learn more.
---
Automotive antenna-on-package mmWave sensors with Texas Instruments RFIC
D3 Engineering, a Texas Instruments platinum design partner, recently announced their DesignCore RS-1843AOP and RS-1843AOPU mini mmWave Radar Sensors. They feature a 1-in. cube form factor, heat-spreading metal body, and mounting tabs. They may be used with a PC or embedded platform to facilitate field testing, sensing evaluation, algorithm development, and application demonstrations. Automotive applications include parking assist and collision avoidance. Other applications include robotics, autonomous machines, industrial vehicle systems, and facility monitoring, as well as people counting and tracking.
Learn more.
---
Researchers reach quantum networking milestone in real-world environment
A team from the U.S. Department of Energy's Oak Ridge National Laboratory (ORNL), Stanford University, and Purdue University developed and demonstrated a novel, fully functional quantum local area network, or QLAN, to enable real-time adjustments to information shared with geographically isolated systems at ORNL using entangled photons passing through optical fiber.
This network exemplifies how experts might routinely connect quantum computers and sensors at a practical scale, thereby realizing the full potential of these next-generation technologies on the path toward the highly anticipated quantum internet. The team's results, which are published in PRX Quantum, mark the culmination of years of related research.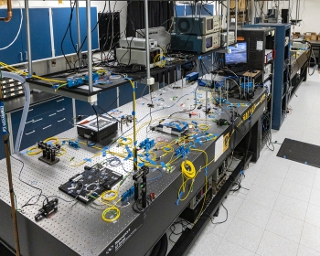 Quantum equipment in the Alice laboratory, where the photon source and the first node in the team's network are stored. [Credit: Carlos Jones/ORNL, U.S. Dept. of Energy]
Local area networks that connect classical computing devices are nothing new, and QLANs have been successfully tested in tabletop studies. Quantum key distribution has been the most common example of quantum communications in the field thus far, but this procedure is limited because it only establishes security, not entanglement, between sites.
"We're trying to lay a foundation upon which we can build a quantum internet by understanding critical functions, such as entanglement distribution bandwidth," said Nicholas Peters, the Quantum Information Science section head at ORNL. "Our goal is to develop the fundamental tools and building blocks we need to demonstrate quantum networking applications so that they can be deployed in real networks to realize quantum advantages."
When two photons -- particles of light -- are paired together, or entangled, they exhibit quantum correlations that are stronger than those possible with any classical method, regardless of the physical distance between them. These interactions enable counterintuitive quantum communications protocols that can only be achieved using quantum resources.
One such protocol, remote state preparation, harnesses entanglement and classical communications to encode information by measuring one half of an entangled photon pair and effectively converting the other half to the preferred quantum state. Peters led the first general experimental realization of remote state preparation in 2005 while earning his doctorate in physics. The team applied this technique across all the paired links in the QLAN -- a feat not previously accomplished on a network -- and demonstrated the scalability of entanglement-based quantum communications.
This approach allowed the team to link together three remote nodes, known as "Alice," "Bob," and "Charlie" -- names commonly used for fictional characters who can communicate through quantum transmissions -- located in three different research laboratories in three separate buildings on ORNL's campus. From the laboratory containing Alice and the photon source, the photons distributed entanglement to Bob and Charlie through ORNL's existing fiber-optic infrastructure.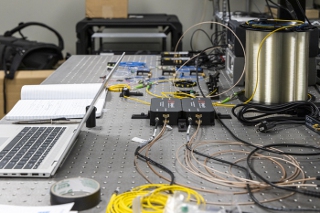 The Bob laboratory houses a GPS antenna and the second node in the new network. [Credit: Carlos Jones/ORNL, U.S. Dept. of Energy]
Quantum networks are incompatible with amplifiers and other classical signal-boosting resources, which interfere with the quantum correlations shared by entangled photons. With this potential drawback in mind, the team incorporated flexible grid bandwidth provisioning, which uses wavelength-selective switches to allocate and reallocate quantum resources to network users without disconnecting the QLAN. This technique provides a type of built-in fault tolerance through which network operators can respond to an unanticipated event, such as a broken fiber, by rerouting traffic to other areas without disrupting the network's speed or compromising security protocols.
"Because the demand in a network might change over time or with different configurations, you don't want to have a system with fixed wavelength channels that always assigns particular users the same portions," said Joseph Lukens, a Wigner Fellow and research scientist at ORNL as well as the team's electrical engineering expert. "Instead, you want the flexibility to provide more or less bandwidth to users on the network according to their needs."
Compared with their typical classical counterparts, quantum networks need the timing of each node's activity to be much more closely synchronized. To meet this requirement, the researchers relied on GPS, the same versatile and cost-effective technology that uses satellite data to provide everyday navigation services. Using a GPS antenna located in Bob's laboratory, the team shared the signal with each node to ensure that the GPS-based clocks were synchronized within a few nanoseconds and that they would not drift apart during the experiment.
The third and final node used in the experiment is located in the Charlie laboratory. [Credit: Carlos Jones/ORNL, U.S. Dept. of Energy]
Having obtained precise timestamps for the arrival of entangled photons captured by photon detectors, the team sent these measurements from the QLAN to a classical network, where they compiled high-quality data from all three laboratories.
"This part of the project became a challenging classical networking experiment with very tight tolerances," Lukens said. "Timing on a classical network rarely requires that level of precision or that much attention to detail regarding the coding and synchronization between the different laboratories."
Without the GPS signal, the QLAN demonstration would have generated lower quality data and lowered fidelity, a mathematical metric tied to quantum network performance that measures the distance between quantum states.
The team anticipates that small upgrades to the QLAN, including adding more nodes and nesting wavelength-selective switches together, would form quantum versions of interconnected networks -- the literal definition of the internet.
"The internet is a large network made up of many smaller networks," said Muneer Alshowkan, a postdoctoral research associate at ORNL who brought valuable computer science expertise to the project. "The next big step toward the development of a quantum internet is to connect the QLAN to other quantum networks."
Additionally, the team's findings could be applied to improve other detection techniques, such as those used to seek evidence of elusive dark matter, the invisible substance thought to be the universe's predominant source of matter.
"Imagine building networks of quantum sensors with the ability to see fundamental high-energy physics effects," Peters said. "By developing this technology, we aim to lower the sensitivity needed to measure those phenomena to assist in the ongoing search for dark matter and other efforts to better understand the universe."
The researchers are already planning their next experiment, which will focus on implementing even more advanced timing synchronization methods to reduce the number of accidentals -- the sources of noise in the network -- and further improve the QLAN's quality of service.
Sources: DOE/Oak Ridge National Laboratory
Published October 2021
Rate this article