Desktop Metal launches 316L stainless steel for manufacturing using its Shop System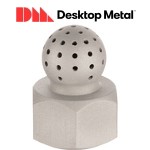 Desktop Metal has qualified the use of 316L stainless steel for its Shop System, the world's first metal binder jetting system designed specifically for machine shops and manufacturing environments. With an expanded materials portfolio, users can now leverage affordable, high-quality binder jetting technology to print end-use parts in 316L stainless steel with throughput, print quality, and productivity unattainable via legacy additive manufacturing processes. Real-world application use cases and performance figures are provided.
Learn more.
---
Flexible low-viscosity LED-curable adhesive with a fluorescent dye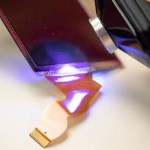 Master Bond LED405FL3 is a one-component LED-curing adhesive system with excellent optical clarity. This low-viscosity system is good for small potting and encapsulation applications. Its flexibility allows for stress minimization -- especially when bonding substrates with different coefficients of thermal expansion. It also utilizes a fluorescent dye for easy visual inspection. It cures fully tack-free in as fast as 30 sec with a hardness of around 5-15 Shore D at room temp. Additional performance properties available.
Learn more.
---
Next-generation vibration testing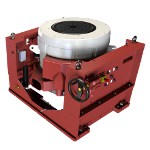 The LDS V8750 shaker + XPAK shaker system from test and measurement expert HBK is a medium-force, air-cooled shock tester that reduces overall costs while ensuring a reliable and futureproof system. The Inductive Centering System enables accurate guiding of the built-in armature with minimal maintenance and uninterrupted operation. Uninterrupted operation is also guaranteed through remote services to aid predictive maintenance and fault detection. Also features COOL and QUIET modes.
Learn more.
---
Boker's adds 369 new washer sizes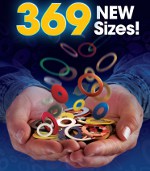 Boker's has added tooling for 369 new non-standard flat washer sizes to its industry-leading selection. With the addition of the new sizes, Boker's continues to offer an expansive line of more than 32,000 non-standard washer, spacer, and shim sizes that are available to customers worldwide with no tooling charges. Custom manufacturing with stock tooling is available for customers and OEMs in industries from aerospace and aviation to electronic measurement and testing, renewable energy, medical, outdoor recreation, and more. Additionally, Boker's non-standard precision washers are manufactured in over 2,000 commonly specified and difficult-to-find material options.
Learn more.
---
Gearing: Custom 4-wheel drivetrain for Concordia Baja team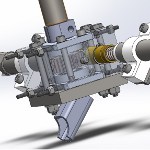 QTC Metric Gears has been working on a custom 4-wheel drivetrain with the Concordia University Baja team. This drivetrain will be used on the latest Concordia Baja Racing chassis. The team's racer will compete at international student competitions against 99 other universities in a multitude of dynamic events, culminating in a 4-hour wheel-to-wheel endurance race. The gears were chosen from the QTC online catalog, and fatigue analysis and finite element analysis on contact stress and bending stress were performed.
Read this informative QTC blog.
---
Can you run water through an air valve?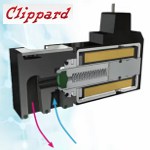 Can you run water through an air valve? Should you do it? And if you're going to do it, what do you need to know? Mike Kettering, product manager for Electronic Valves at Clippard, answers another Pneumatics 101 question. Also check out Clippard's vast range of Electronic Valves, Air Pilot Valves, Control Valves, Directional Control Valves, Isolation Valves, Proportional Valves, and more.
Read this informative Clippard blog.
---
SPIROL introduces Press-N-Lok Pin for plastic housings

The Press-N-Lok™ Pin was designed to permanently retain two plastic components to each other. As the pin is inserted, the plastic backfills into the area around the two opposing barbs, resulting in maximum retention. Assembly time is quicker, and it requires lower assembly equipment costs as compared to screws and adhesives -- just Press-N-Lok™!
Learn more and see how it works.
---
Mastercam University courses on the house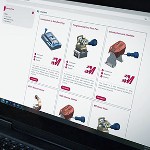 You can access no-cost Mastercam courses for Mill 2D and 3D, Lathe, Mastercam Essentials, and STEM Principles from now through Dec. 31. Mastercam University offers 24/7 online training to anyone looking to begin a career in CNC programming -- or to current Mastercam users looking to sharpen their job skills. Regardless of skill level, there is a Mastercam University class able to strengthen user knowledge of most Mastercam products.
Learn more.
---
Miniature MGX gearheads for precision devices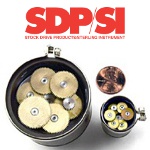 The SDP/SI compact gear train provides excellent accuracy with optional torsional spring anti-backlash design. Ratios available from 5:1 to 1,521:1. Miniature sizes from 0.5 in. O.D. to 1.75 in. O.D. Stock sizes and customized solutions with special gear ratios and near-zero backlash gearing also available. MGX gearheads are designed, precision manufactured, and assembled with world-class quality by SDP/SI.
Learn more.
---
AutomationDirect adds GAM helical racks and pinions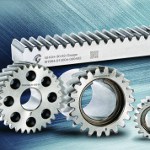 Rack-and-pinion systems are a type of linear actuator consisting of a rotating pinion that drives a linear rack, converting rotary motion to linear motion. The new GAM helical racks and pinions, along with a broad offering of gearboxes, can provide a complete linear solution for your application. High-precision helical racks provide smooth, quiet operation. Pinions can be mounted to SureGear gearboxes, are hardened, and work with ISO 10 hardened racks. Components with module pitches of 1.5, 2.0, and 3.0 are available.
Learn more.
---
Did you know you can tint chrome?
Push the boundaries of design. SRG Global, a leading manufacturer of chrome-plated and painted plastic parts for the automotive, commercial truck, and household appliance industries, has introduced its G-Coat tint-over-chrome process solution. G-Coat delivers distinct metallic surface finishes for both exterior and interior applications and regularly improves paint adhesion to any chrome-plated plastic part. It offers nearly unlimited custom color options, including a high-optical-density deep black finish not achievable by other technologies. The process also provides enhanced corrosion protection and fingerprint resistance and meets multiple automotive OEM performance standards for basecoat and clear-coat paint systems.
Learn more.
---
Micro molding material selection and design concerns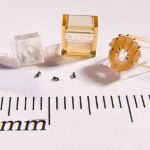 Design engineers can create the most incredible parts using the micro molding process, but any design at the micro scale (ranging in size from just microns to a half inch) requires careful attention to things that might not be a big deal for larger parts. This article by Aaron Johnson from Accumold focuses on important issues concerning material choice.
Read the full article.
---
Desktop Metal qualifies titanium for its Studio System 2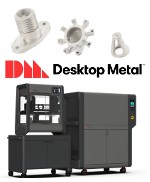 Desktop Metal has qualified the use of titanium alloy Ti-6Al-4V (Ti64) for its Studio System 2, a metal 3D-printing platform that offers customers an easy way to print high-performance metal parts in low volumes for pre-production and end-use applications. Desktop Metal is the first and only company to make the material commercially available for extrusion-based bound metal additive manufacturing technologies. Ti64 is the most widely used titanium alloy and is characterized by its high tensile strength, corrosion resistance, and biocompatibility.
Learn more about the Ti64 offering.
Learn about the Studio System 2.
---
More compact and adaptable side thrust pins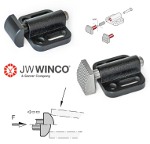 Side thrust pins for part holding are practically indispensable elements of jig construction and are available in a wide range of variants. Nevertheless, there are applications that demand particularly compact designs that should also be easy to adapt to different requirements. These are exactly the situations JW Winco had in mind with the new standard parts family GN 415. GN 415 is available in three sizes between 0.87 and 1.54 in. (22 to 39 mm) wide, each with two spring strengths. The two available slide types and the wedge-shaped or cylindrical, rounded thrust pad not only hold parts with side pressure but also exert an additional downward force.
Learn more.
---
Xometry launches instant quoting for binder jet 3D printing of metals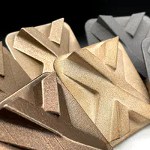 Xometry, a leading AI-enabled marketplace for on-demand manufacturing, has just announced the availability of instant quoting on metal binder jetting in its Instant Quoting Engine. The parts will be made through Xometry's partner ExOne, an industry-leading metal 3D-printing company. Metal binder jetting is a 3D-printing technology used to make complex metal parts with excellent mechanical properties. Machines bond layers of metal powder together with a binding agent before final sintering in a furnace. It can produce metal parts at a fraction of the cost of other methods with virtually no design limitations.
Learn all about this exciting 3D-printing tech.
---
Elastic polymer that is both stiff and tough resolves long-standing quandary
Polymer science has made possible rubber tires, Teflon and Kevlar, plastic water bottles, and nylon jackets, among many other ubiquitous features of daily life. Elastic polymers, known as elastomers, can be stretched and released repeatedly and are used in applications such as gloves and heart valves, where they need to last a long time without tearing. But a conundrum has long stumped polymer scientists: Elastic polymers can be stiff, or they can be tough, but they can't be both.
This stiffness-toughness conflict is a challenge for scientists developing polymers that could be used in applications including tissue regeneration, bioadhesives, bioprinting, wearable electronics, and soft robots.
In a paper published Oct. 7 in Science, researchers from the Harvard John A. Paulson School of Engineering and Applied Sciences (SEAS) have resolved that long-standing conflict and developed an elastomer that is both stiff and tough.
"In addition to developing polymers for emerging applications, scientists are facing an urgent challenge: plastic pollution," said Zhigang Suo, the Allen E. and Marilyn M. Puckett Professor of Mechanics and Materials, the senior author of the study. "The development of biodegradable polymers has once again brought us back to fundamental questions -- why are some polymers tough, but others brittle? How do we make polymers resist tearing under repeated stretching?"
Polymer chains are made by linking together monomer building blocks. To make a material elastic , the polymer chains are crosslinked by covalent bonds. The more crosslinks, the shorter the polymer chains and the stiffer the material.
"As your polymer chains become shorter, the energy you can store in the material becomes less and the material becomes brittle," said Junsoo Kim, a graduate student at SEAS and co-first author of the paper. "If you have only a few crosslinks, the chains are longer, and the material is tough but it's too squishy to be useful."
To develop a polymer that is both stiff and tough, the researchers looked to physical, rather than chemical bonds to link the polymer chains. These physical bonds, called entanglements, have been known in the field for almost as long as polymer science has existed, but they've been thought to only impact stiffness, not toughness.
But the SEAS research team found that with enough entanglements, a polymer could become tough without compromising stiffness. To create highly entangled polymers, the researchers used a concentrated monomer precursor solution with 10 times less water than other polymer recipes.
"By crowding all the monomers into this solution with less water and then polymerizing it, we forced them to be entangled, like tangled strings of yarn," said Guogao Zhang, a postdoctoral fellow at SEAS and co-first author the paper. "Just like with knitted fabrics, the polymers maintain their connection with one another by being physically intertwined."
With hundreds of these entanglements, just a handful of chemical crosslinks are required to keep the polymer stable.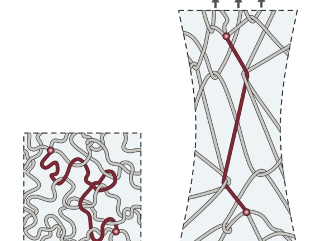 Each polymer chain has a large number of entanglements along its length (left) and a cross-link at each end. A stretched polymer (right) showing transmission of the tension to other chains. [Credit: Suo Lab/Harvard SEAS]
"As elastomers, these polymers have high toughness, strength, and fatigue resistance," said Meixuanzi Shi, a visiting scholar at SEAS and co-author of the paper. "When the polymers are submerged in water to become hydrogels, they have low friction and high wear resistance."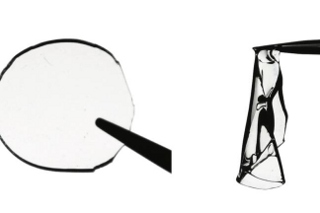 A highly entangled hydrogel (left) and a regular hydrogel (right). [Credit: Suo Lab/Harvard SEAS]
That high fatigue resistance and high wear resistance increases the durability and lifespan of the polymers.
"Our research shows that by using entanglements rather than crosslinks, we could decrease the consumption of some plastics by increasing the durability of the materials," said Zhang.
"We hope that this new understanding of polymer structure will expand opportunities for applications and pave the way for more sustainable, long-lasting polymer materials with these exceptional mechanical properties," said Kim.
Harvard's Office of Technology Development has protected the intellectual property associated with this project and is exploring commercialization opportunities.
Source: Harvard John A. Paulson School of Engineering and Applied Sciences
Published October 2021
Rate this article