Upgraded mechanical pressure switch portfolio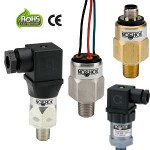 NOSHOK's new mechanical pressure switch program has been engineered to address a wider range of applications and provide a significantly expanded selection of process and electrical connection options. Each of the four new NOSHOK switch series offers vacuum, low-pressure, and high-pressure options; is CE compliant to suppress RFI, EMI, and ESD; and is RoHS compliant. In addition, NOSHOK has improved its production efficiency and expanded its inventory to better accommodate orders and provide faster delivery.
Learn more.
---
Highest-rated current inductors for automotive Power over Coax systems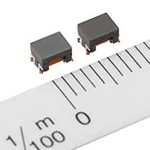 TDK's ADL3225VM inductors are for use in automotive Power over Coax (PoC) systems. Measuring 3.2 x 2.5 x 2.5 mm, they provide a compact solution for designers looking to reduce vehicle weight as manufacturers add more sensors and cameras to accommodate expanding automotive and advanced driver-assistance systems (ADAS) applications. The proprietary structural design and wire winding manufacturing process ensure high impedance over a broad bandpass of 1 MHz up to 1 GHz. The inductors are compliant with AEC-Q200 and achieve the highest-rated current in the industry for the 3225 size.
Learn more.
---
Advanced circulators overcome mmWave design challenges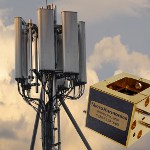 As communica-tions providers race to deliver on the potential of 5G, research and design projects are already looking toward 6G and beyond. However, a major hurdle awaits the impending move up the millimeter wave (mmWave) spectrum: a lack of acceptable mmWave components that can offer a wide bandwidth. Micro Harmonics has an answer.
Read the full article.
---
Antimicrobial switches disinfect themselves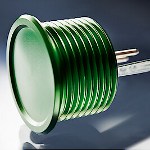 Are switches that disinfect themselves too good to be true? It is possible. Antimicrobial coatings inhibit the growth of microorganisms and even kill them. When applied to switches, this technology is perfectly suited for medical technology, sanitation areas, and the food service industry. All completely sealed switches from SCHURTER (piezoelectric, capacitive, or ToF) are perfectly suited for this coating upgrade, which kills microorganisms effectively by oxidation using photodynamic self-purification technology.
Learn more.
---
Expanded enclosure A/C inventory
Seifert Systems has completed their warehouse expansion, significantly increasing the types and quantity of enclosure air conditioners available. Air conditioners with popular cooling capacities within 1,000 to 21,000 BTU/hr are in stock and ready to ship. Among these are the Progressive, filterless SlimLine, and Compact Series of enclosure air conditioners as well as thermoelectric coolers. Seifert enclosure air conditioners come with a two-year warranty. SlimLine units are only 4.5 in. deep, and many Progressive units share the same size footprint for easier planning when needed for more than one application.
See what Seifert Systems has to offer.
---
Reversible-flow fans: Directional flow and speed control in one unit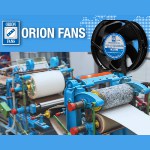 Orion Fans has launched a series of micro-controller-based, up to IP68-rated, reversible-flow fans. By utilizing PWM signals to control fan speed, the fans provide engineers an innovative solution to some of their most challenging cooling requirements: speed and airflow direction controlled by one fan without supplementing excess wires or circuitry. Reversible-flow fans are a specialty design that enables unique applications. You may be surprised at their versatility.
Learn more.
---
Cool Tools: Leica RTC360 3D laser scanner -- LIDAR for big jobs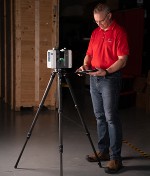 The new Leica RTC360 laser scanner available from Exact Metrology makes 3D reality capture faster than ever before. With a measuring rate of up to 2 million points per sec, colored 3D point clouds can be completed in under 2 min. Automated, targetless field registration and seamless, automated data transfer from site to office reduce time spent in the field. The CAD models are generally used for factory/shop floor layout plans, power plant equipment changeouts, proof dimensioning, and much more. In addition to the 3D model, full spherical HDR imagining is appended directly to the point cloud, giving a photo-realistic effect to the data and allowing for virtual walkthroughs of the areas, shareable markups, geo-referencing, and meta-tagging. So many uses.
Learn more.
---
Eaton developing suite of 48-V technologies to help vehicle manufacturers meet new global emission regulations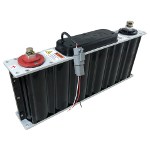 Most vehicles have traditionally operated with a 12-V system, but with tightening fuel economy regulations and new, advanced power-consuming components being added, increasing power needs are driving the move toward 48-V systems.
Read the full article.
---
igus unveils new sensor for smart plastics predictive maintenance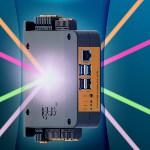 igus has developed a sensor for its smart plastics software that calculates the remaining service life of energy chains, cables, linear guides, and plain bearings during operation. The i.cee:local sensor optimizes the life of the system, detects faults, allows them to be fixed at an early stage, and allows for maintenance to be planned in advance. This sensor can be integrated via the internet or without IoT connectivity via the local network, depending on customer requirements. Smart plastics sensors monitor abrasion, measure the pull/push force, and provide information about an imminent overload.
Learn more.
---
Toshiba positively evaluates no-solder connector tech for IOT

Toshiba Electronic Devices & Storage Corp. has developed two connector technologies that allow easy, solder-free assembly of small IoT nodes, which are regarded as essential for realization of the "Trillion-Node Engine," an open-source IoT platform that could connect billions of devices in the future.
Read the full article.
---
Ouster-Danfoss partner to bring lidar to off-highway vehicles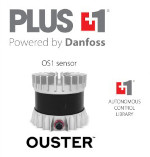 Ouster sensors will be the first lidar hardware to be offered through the Danfoss PLUS+1 Partner Program, which is engineered to expedite the development process and bring higher quality machines to market faster. This integration is intended for remote machine management, operator assistance, row following, obstacle avoidance, and task automation. The PLUS+1 Partner Program is a select group of companies with complementary products -- including microcontrollers, joysticks, hydraulic pumps, and radar sensors -- that integrate into PLUS+1 systems the same way all Danfoss hardware components do.
Learn more.
---
Control any air conditioning unit remotely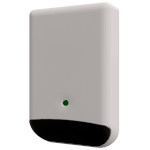 HMS Networks has just launched the new IR-based Intesis AC interface that enables integration of any air conditioning unit, regardless of brand, into Modbus or BACnet Building Automation Systems. This universal interface connects to the AC unit via the IR link that is already used by most AC units to communicate with their remote control. The Intesis IR-based AC Interface is already compatible with more than 100 IR remote controllers and their associated AC units. Simple setup and configuration via MAPS template.
Learn more.
---
Graphene Hall sensor for cryogenic applications -- including quantum computing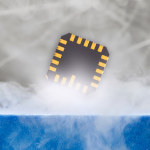 How futuristic is this? U.K. company Paragraf has introduced a graphene Hall sensor that enables commercial organizations to measure high magnetic field strengths accurately at cryogenic temperatures, increasing manufacturing throughput by quicker magnet mapping and replacing existing NMR probe mapping stages. The GHS-C is the only Hall sensor now in volume production that can offer this level of performance at temperatures below 3 K. It is being supplied in the industry-standard LCC 20 package, making it a drop-in replacement for existing Hall sensors. Applications include quantum computing, high-energy physics labs, cryogenic cooling equipment, fusion, medical accelerators, ultra-low-temp research, and magnet manufacturing.
Learn more.
---
What's a strain wave harmonic gearing torque sensor?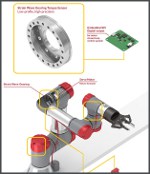 Strain wave harmonic gearing sensors from FUTEK are an alternative to six-degrees-of-freedom (DOF) sensors used in applications such as robotic arms that are used in surgery. For example, during some laparoscopic surgery procedures, surgeons must hold the position of the end effector (the instrument inside the abdominal cavity) while the robot arm is moving. This maneuver is difficult to perform with 6-DOF sensors only, because it requires torque measurement on each joint. Strain wave harmonic gearing sensors can handle it, and they are less expensive to implement because torque measurement can be obtained for selected joints only if necessary.
Learn more.
---
Raspberry Pi: Pico microcontroller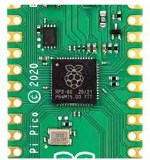 The Raspberry Pi Pico is built around the brand-new Raspberry Pi RP2040 microcontroller, delivering a flexible, highly affordable development platform that can also be directly deployed into end products -- all for 4 bucks. At the heart of the Raspberry Pi Pico is RP2040, which features two ARM Cortex-M0+ cores clocked at 133 MHz; 264 kB of on-chip SRAM; 30 multifunction GPIO pins; dedicated hardware for commonly used peripherals alongside a programmable I/O subsystem for extended peripheral support; a four-channel ADC with internal temperature sensor; and built-in USB 1.1 with host and device support. Also look for the RP2040 chip to be sold as a standalone product very, very soon.
Learn more from Newark.
Watch a short video intro for this product.
---
Need for larger space telescope inspires lightweight flexible holographic lens -- could help find Earth 2.0
Inspired by a concept for discovering exoplanets with a giant space telescope, a team of researchers is developing holographic lenses that render visible and infrared starlight into either a focused image or a spectrum. The experimental method, detailed in an article that appeared Oct. 21 in Nature Scientific Reports, could be used to create a lightweight flexible lens, many meters in diameter, that could be rolled for launch and unfurled in space.
"We use two spherical waves of light to produce the hologram, which gives us fine control over the diffractive grating recorded on the film, and the effect it has on light -- either separating light with super sensitivity, or focusing light with high resolution," said Mei-Li Hsieh, a visiting researcher at Rensselaer Polytechnic Institute and an expert in optics and photonics who established a mathematical solution to govern the output of the hologram. "We believe this model could be useful in applications that require extremely high spectral resolution spectroscopy, such as analysis of exoplanets."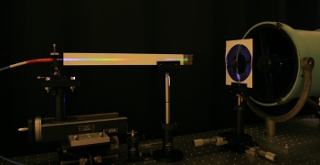 A lightweight flexible lens can focus light or separate it into its constituent colors. [Credit: Rensselaer Polytechnic Institute]
Hsieh, who also holds a faculty position at National Yang Ming Chiao Tung University in Taiwain, along with Rensselaer physicists Shawn-Yu Lin and Heidi Jo Newberg, worked with Thomas D. Ditto, an artist and inventor who conceived the idea of an optical space telescope freed of conventional, and heavy, glass mirrors and lenses. Ditto first worked at Rensselaer in the 1970s and is currently a visiting researcher in astrophysics.
Telescopes that must be launched into space (to benefit from a view unimpeded by Earth's atmosphere) are limited by the weight and bulk of glass mirrors used to focus light. These mirrors can realistically span only a few meters in diameter. By contrast, the lightweight flexible holographic lens -- more properly called a "holographic optical element" -- used to focus light could be dozens of meters across. Such an instrument could be used to observe an exoplanet directly, a leap over current methods that detect exoplanets based on their effect on light coming from the star they orbit, said Newberg, a Rensselaer professor of physics, applied physics, and astronomy.
"To find Earth 2.0, we really want to see exoplanets by direct imaging -- we need to be able to look at the star and see the planet separate from the star. And for that, we need high resolution and a really big telescope," said Newberg.
The holographic optical element is a refined version of a Fresnel lens, a category of lenses that use concentric rings of prisms arrayed in a flat plane to mimic the focusing ability of a curved lens without the bulk. The concept of the Fresnel lens -- which was developed for use in lighthouses -- dates to the 19th century, with modern-day Fresnel lenses of glass or plastic found in automobile lamps, micro-optics, and camera screens.
But while Fresnel holographic optical elements -- created by exposing a light-sensitive plastic film to two sources of light at different distances from the film -- are not uncommon, existing methods were limited to lenses that could only focus light, rather than separating it into its constituent colors.
The new method allows the designers to either focus light onto a single point or disperse it into its constituent colors, producing a spectrum of pure colors, said Lin, corresponding author and a Rensselaer professor of physics, applied physics, and astronomy. The method uses two sources of light, positioned very close to one another, which create concentric waves of light that -- as they travel toward the film -- either build or cancel each other out. This pattern of convergence or interference can be tuned based on the formulas Hsieh developed. It is printed, or "recorded," onto the film as a holographic image and, depending on how the image is structured, light passing through the holographic optical element is either focused or stretched.
"We wanted to stretch the light, so that we could separate it into different wavelengths. Any Fresnel lens will stretch the light a little, but not enough," said Lin, an expert in photonic crystals and nano-photonics. "With our method, we can have super resolution on one end, or super sensitive -- with each color separated. When the light is stretched like that, the color is very good, as pure and as vivid as you can get."
Source: Rensselaer Polytechnic Institute
Published November 2021
Rate this article