Wheel nut can't loosen by itself -- even in extreme applications

Designed for flat-faced steel rims, the Nord-Lock wheel nut safely secures wheels on on-road and off-road heavy vehicles by maintaining high clamping force even under extreme operating conditions. When assembled correctly, the Nord-Lock wheel nut cannot loosen by itself. It's a simple and cost-effective way to make wheels safe and secure for more productive and efficient operations.
See how Nord-Lock wheel nuts work.
---
Join carbon materials and more with innovative C-Solder

C-Solder tin-based soldering alloys from Goodfellow enable the joining of carbon materials as well as carbon to metals (copper, aluminum) and aluminum to aluminum. The resulting bond is mechanically strong and electrically conductive. C-Solder is both flux-free and lead-free, has a melting point of 232 degrees C (solidus temperature), has excellent flow, does not leave a residue, and is not affected by cleaning solvents.
View the 1-minute video.
Learn more from Goodfellow.
---
Tiny crossed roller bearings boast big capabilities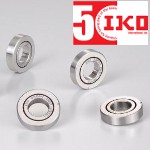 IKO International has unveiled its newest crossed roller bearing, the CRBT105A. This ultra-small, ultra-thin unit is designed to provide exceptional rigidity for space-constrained automated machine applications such as robots with articulating arms and compact surveillance cameras. The CRBT105A features a 10-mm bore diameter, 21-mm outside diameter, and a narrow width of 5 mm. Despite its compact size, this bearing offers rigidity up to four times greater than double-row angular contact ball-type bearings.
Learn more.
---
Steel disc couplings with updated design offer backlash-free operation in drive applications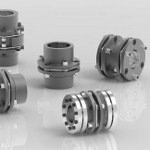 RINGFEDER has released an updated version of its proven TND Series of steel disc couplings, which feature backlash-free torque transmission and excellent positioning accuracy in machines that involve synchronous operation, frequent starts and stops, or reversing operations. Typical drive applications include printing and packaging machines, compressors, pumps, and variable speed drives. Two coupling types are available: High Deflection (HD), which offers excellent shaft misalignment compensation, and High Torque (HT), which incorporates a higher power density. TND Series couplings achieve superior concentricity, maximum operational reliability, smooth operation, and low vibration levels.
Learn more.
---
Custom modifications for material handling rollers and bumpers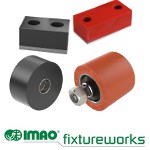 Imao-Fixtureworks offers custom modifications for its standard material handling rollers and bumpers. By modifying off-the-shelf products, a significant amount of time and money is saved. The products can be custom modified in various dimensions, shapes, and sizes to meet specific application requirements. For example, the outside diameter (O.D.) of a roller could be turned down, or a bumper of a certain width could be produced. These modifications eliminate the typical design and production time necessary for a custom roller or bumper to be tooled up and molded.
Learn more.
---
Optimal damping: Continental develops special bearings and other elements for EVs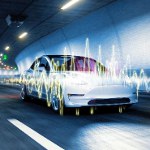 Continental has developed special elastomer compounds for electric vehicles. They absorb the vibrations in the high-frequency range and are also lightweight. The company is also adapting other bearing elements such as battery mounts for buses or air press bearings in truck driver cabs to the requirements of e-mobility.
Read the full article.
---
Advanced graphenes for composites and thermoplastic applications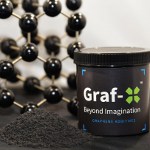 NeoGraf Solutions has extended its range of next-gen graphite materials with the launch of Graf-X graphene nanoplatelets (GNP) and graphene precursors (GP). Both high-performance additive materials deliver enhanced strength, performance, and reliability in a broad range of thermoset and thermoplastic applications. The new graphene materials can increase the toughness of plastics by up to 2.5 times without a significant weight increase. They can also double thermal conductivity and push the electrical conductivity of plastics into the anti-static and static-dissipative ranges.
Learn more.
---
You asked. We answered. Wave Spring FAQ E-book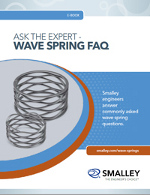 Finding the best possible solution for your design challenge is no easy task. Smalley engineers have created a brand new Ask the Expert -- Wave Spring FAQ E-book that answers all of your wave spring questions in one simple guide. In this E-book, you will learn about wave spring performance, the design process, materials, and common applications.
Download Now!
---
Wear-resistant bearings for the food industry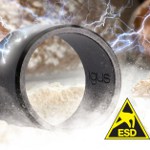 igus has developed a new wear-resistant material for high-temperature applications that will help ensure ongoing operation. iglide AX500 is a long-lasting bearing that can stand up to friction, heat, and electrostatic charges. Bearing points in food and packaging industry applications frequently experience high temperatures and speeds, and the new AX500 material functions reliably in these situations.
Learn more.
---
Master CNC machining tolerances: E-book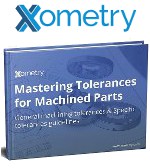 Need a refresher on the basics of applying tolerances to custom machined metal and plastic parts? In this E-book, Xometry provides some pointers on designing mating parts and parts for specific functions. Chapters include: general machining tolerances, clearance and interference fit, how to avoid over-tolerancing, CAD drawing prep and specs, and an inspection report cheat sheet.
Get this valuable resource from Xometry.
---
Desktop Metal launches 316L stainless steel for manufacturing using its Shop System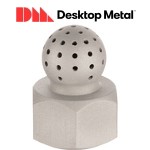 Desktop Metal has qualified the use of 316L stainless steel for its Shop System, the world's first metal binder jetting system designed specifically for machine shops and manufacturing environments. With an expanded materials portfolio, users can now leverage affordable, high-quality binder jetting technology to print end-use parts in 316L stainless steel with throughput, print quality, and productivity unattainable via legacy additive manufacturing processes. Real-world application use cases and performance figures are provided.
Learn more.
---
Flexible low-viscosity LED-curable adhesive with a fluorescent dye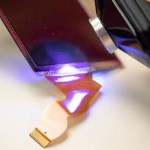 Master Bond LED405FL3 is a one-component LED-curing adhesive system with excellent optical clarity. This low-viscosity system is good for small potting and encapsulation applications. Its flexibility allows for stress minimization -- especially when bonding substrates with different coefficients of thermal expansion. It also utilizes a fluorescent dye for easy visual inspection. It cures fully tack-free in as fast as 30 sec with a hardness of around 5-15 Shore D at room temp. Additional performance properties available.
Learn more.
---
Next-generation vibration testing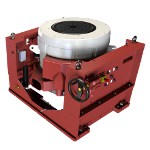 The LDS V8750 shaker + XPAK shaker system from test and measurement expert HBK is a medium-force, air-cooled shock tester that reduces overall costs while ensuring a reliable and futureproof system. The Inductive Centering System enables accurate guiding of the built-in armature with minimal maintenance and uninterrupted operation. Uninterrupted operation is also guaranteed through remote services to aid predictive maintenance and fault detection. Also features COOL and QUIET modes.
Learn more.
---
Boker's adds 369 new washer sizes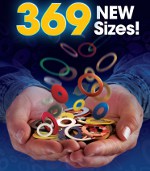 Boker's has added tooling for 369 new non-standard flat washer sizes to its industry-leading selection. With the addition of the new sizes, Boker's continues to offer an expansive line of more than 32,000 non-standard washer, spacer, and shim sizes that are available to customers worldwide with no tooling charges. Custom manufacturing with stock tooling is available for customers and OEMs in industries from aerospace and aviation to electronic measurement and testing, renewable energy, medical, outdoor recreation, and more. Additionally, Boker's non-standard precision washers are manufactured in over 2,000 commonly specified and difficult-to-find material options.
Learn more.
---
Gearing: Custom 4-wheel drivetrain for Concordia Baja team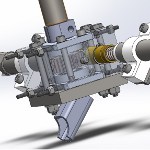 QTC Metric Gears has been working on a custom 4-wheel drivetrain with the Concordia University Baja team. This drivetrain will be used on the latest Concordia Baja Racing chassis. The team's racer will compete at international student competitions against 99 other universities in a multitude of dynamic events, culminating in a 4-hour wheel-to-wheel endurance race. The gears were chosen from the QTC online catalog, and fatigue analysis and finite element analysis on contact stress and bending stress were performed.
Read this informative QTC blog.
---
Bad news for many OEMs: Research reveals traditional supply chains cannot meet EV demands
New research conducted by Wards Intelligence for Hexagon's Manufacturing Intelligence division reveals that traditional carmakers are not prioritizing the adoption of Industry 4.0 processes -- and so they risk being blindsided by new market entrants.
Big Tech and unicorn startups from Silicon Valley, the UK, and China are disrupting the electric vehicles (EV) market with advanced digitalization and automation capabilities, enabling time-to-market reductions from several years to as little as three months.
The EV market is projected to soar to global sales of 34.7 million by 2030, and it is critical for OEMs to match the disruptors' pace of innovation in order to participate. Despite this, only 48% of the auto industry report they plan to invest more in the types of Smart Manufacturing strategies their competitors are using, while 25% have no plans.
The new players benefit from the fact that low EV order volumes are helping speed overtake scale as the key factor in automotive manufacturing. This leaves conventional carmakers exposed when it comes to rapid innovation cycles, especially in the field of electronics, because:
Consumers expect more integrated digital technologies,
New car designs render as many as 90% of automotive parts from existing ICE vehicles redundant, and
Their strategies are more reliant on current supply chains and mass-manufacturing plants provided by companies such as Foxconn and Huawei.
The research finds that only 8% of carmakers see pure-play EV manufacturers as a threat, yet Tesla is already the market leader for battery electric vehicles (BEVs), while the likes of Lucid rapidly are scaling up with vertically integrated EV production.
In contrast, the data reveals a disconnect in the equivalent progress toward digital transformation by larger OEMs. While there has been a definite uptick in interest around "smart" automotive manufacturing, the research shows that recognition of its value is not always accompanied with implementation. Instead, the data reveals that the industry sees sourcing the required volume of parts and inability to achieve economies of scale as the greatest perceived risk to the success of EV supply chains.
"Our findings show that automakers' challenges in getting a foothold in the new EV world order are as much internal as they are external," said Paolo Guglielmini, president of Hexagon's Manufacturing Intelligence division. "The need to make EVs more affordable at current order volumes, coupled with delivering greater choice or 'cars to order,' means traditional high-volume manufacturing lines must be replaced by more agile manufacturing, built around speed to market and possibly forgoing the 'just-in-time' model for good. The challenge for incumbents is doing so, while still achieving the required profit margins. This can only be resolved through vertical integration of the development and manufacturing processes, but this isn't easy and necessitates a cultural shift to match the technology investments.
"Traditional automotive manufacturing business models are being reconfigured to prioritize flexibility over process, empowering people with more integrated processes and greater automation. Digital design and manufacturing approaches are key to agility and are a large part of the reason digital-natives are making waves in the market. The big OEMs are not standing still -- we are seeing incredible innovation by companies that are having to overhaul their global operations at a rate of knots -- but they need to embrace continuous improvement processes and revisit the degree and type of collaboration they have with their suppliers to ensure they come out on the winning side of the electric vehicle pivot."
Overall, the data shows that there is growing interest in smart manufacturing approaches that apply pervasive connectivity, cloud, and edge computing with momentum in data analytics, AI, and robotics, affirming that the industry is on the threshold of unprecedented change with very different ideas and levels of maturity on the journey to Industry 4.0. The convergence of these additional technologies will act as an adoption catalyst, with OEMs and their supply chains trying to adapt to this change as they evolve with the market.
"The Electric Vehicle Pivot" white paper created by Wards Intelligence for Hexagon provides insight and analysis based on research and survey data on the evolving automotive supply chain and the emergence of smart manufacturing associated with the escalating shift to electric vehicles (EV). It can be accessed here: https://emobility.hexagonmi.com/shaping-the-future-of-ev.
Source: Hexagon
Published November 2021
Rate this article