New James Bond Aston Martin supercar becomes 217-mph hybrid V8 for real-world sales
The newest James Bond movie, "No Time To Die," showcases four different Aston Martin models, including an ultra-cool supercar concept called the Valhalla that will make it to production in 2023. The real-world hybrid Valhalla will have just a little less oomph -- boasting 937 hp that comes from a twin-turbo V8 ICE and twin e-motors -- than the on-screen configuration and some stylistic changes, but luckily it will have just as much swagger.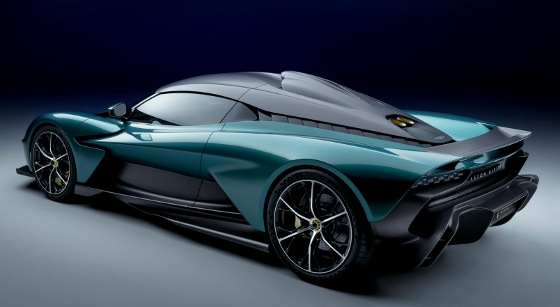 The mid-engine Valhalla has had to evolve with the realities of production the world has experienced during the pandemic. Aston Martin has switched its motor choice to an AMG V8 rather than trying to develop an all-new engine, especially when so many car companies are full speed ahead on electrification. The on-screen concept boasted a hybrid twin-turbo V6 and 1,000 hp.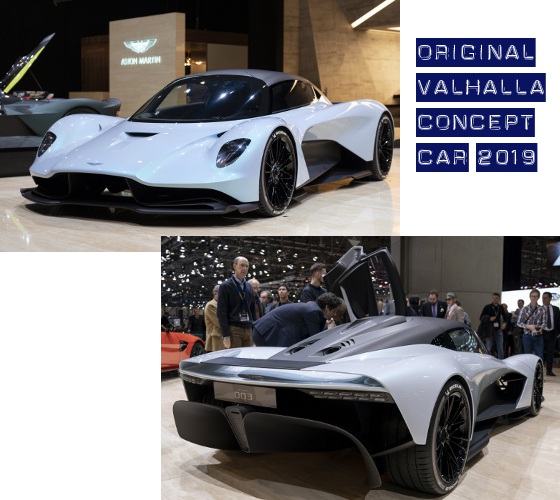 The twin-turbo V8 for the consumer produces 740 hp, and the rest of the power comes from the e-motors. The company says the engine is "the most advanced, responsive, and highest performing V8 ever fitted to an Aston Martin." It features a flat-plane crankshaft for increased responsiveness and revs to 7,200 rpm. It drives the rear axle exclusively. It exhales through an exhaust system with active flaps that provide an adjustable and authentic Aston Martin sound. It also features top-exit tailpipes. A distinctive roof scoop feeds air directly into the V8 engine's intakes, with additional side and rear intakes and vents integrated smoothly into the overall body design.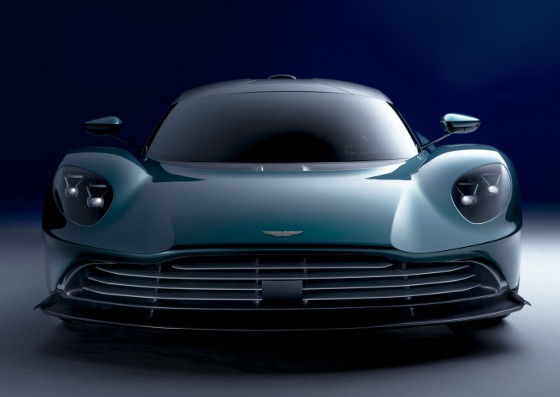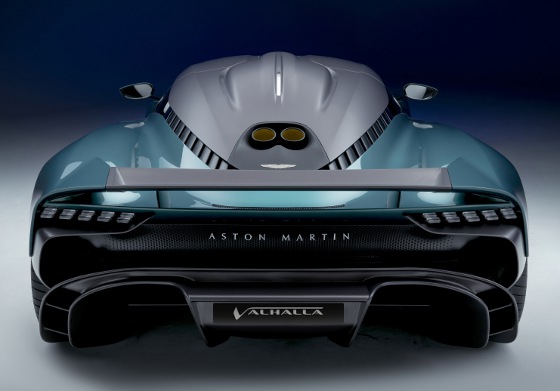 Top speed is 217 mph, and the car will do 0 to 62 mph in 2.5 sec.
Supplementing the new V8 engine is a 150-kW/400-V battery hybrid system that uses a pair of e-motors -- one mounted on the front axle and the other on the rear axle. When driven in EV mode, battery power is directed exclusively to the front axle. In other driving modes, battery power is split between front and rear axles, with the percentage sent to each axle constantly varied according to driving demands. Aston Martin says in certain situations, "100% of battery power can be sent to the rear axle, supplementing the full force of the ICE V8 for maximum performance."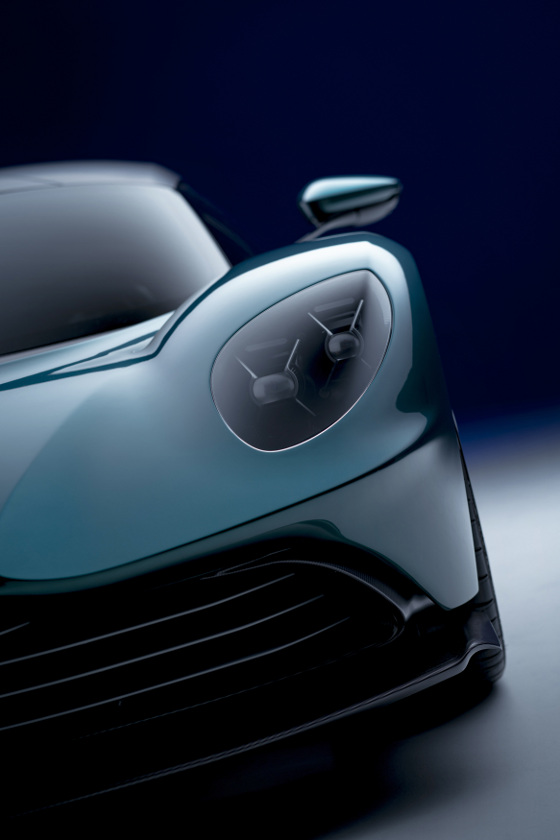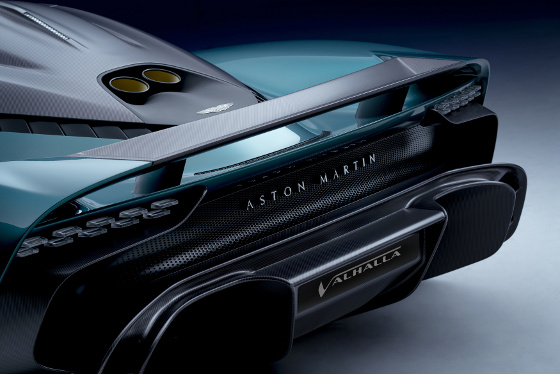 The new paddle-shift gearbox has been developed specifically for the hybrid application. Valhalla sports an all-new 8-speed dual clutch transmission equipped with e-reverse, meaning the reverse function is handled by the e-motors and not the main engine, which saves weight by negating the need for a conventional reverse gear. The transmission also features an electronic limited-slip differential (E-Diff) on the rear axle for maximum traction and handling agility. Outright performance is further aided by the e-motor system and V8 ICE being able to run different gears in the DCT simultaneously, which enables a maximum torque delivery of 1,000 Nm.
The all-carbon-fiber car is still heavily derived from a mix of Formula One racing tech and the style cues of Aston Martin's limited-edition Valkyrie hypercar. Valhalla is built around a new a carbon fiber tub for maximum stiffness with minimum weight penalty. It features a Formula One-style push rod front suspension complete with inboard mounted springs and dampers, reducing unsprung mass and providing an effective packaging solution.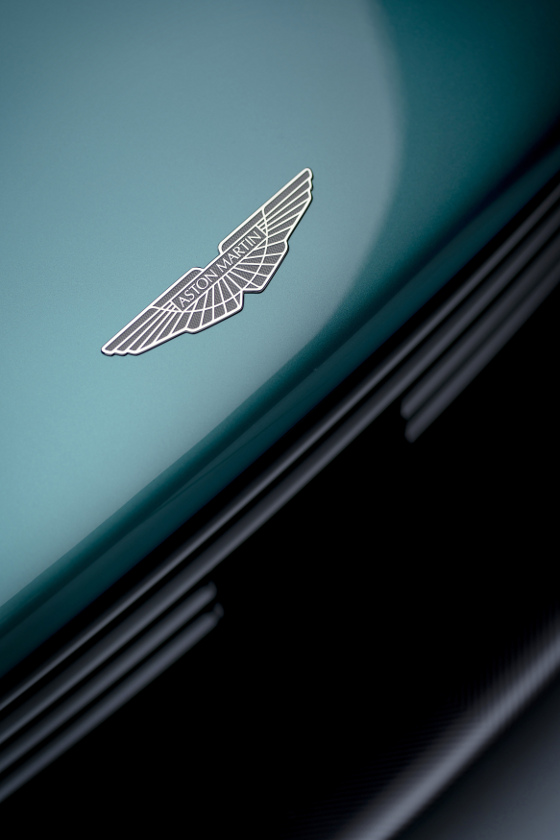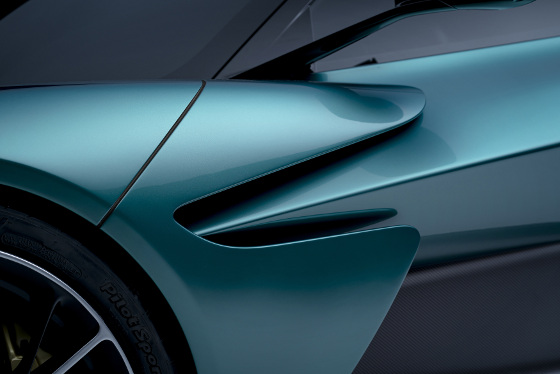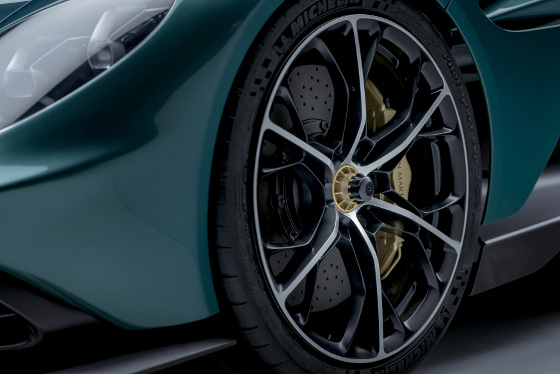 Together with the rear end's multilink design, Valhalla uses Multimatic Variable Spring rate and Adaptive Spool Valve (ASV) Damper units, providing adjustable ride frequency for exceptional performance on road and track. In addition to a stiffer suspension, Track mode sees the ride height dramatically reduced in order to maximize downforce. A front axle lift system raises the nose for improved approach angle on awkward inclines.
The car sports high-performance carbon ceramic matrix brakes (complete with brake-by-wire technology) to guarantee exceptional stopping power, and it wears bespoke Michelin tires (20 in. front, 21 in. rear) developed specifically for Valhalla.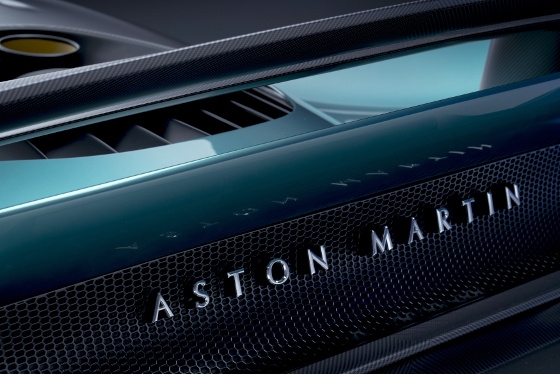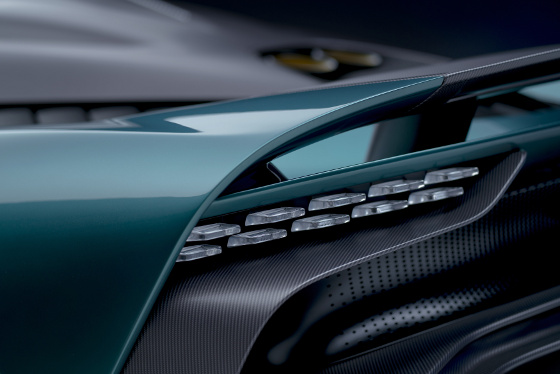 Valhalla employs a combination of active aerodynamic surfaces -- specifically the front surfaces and rear wing -- and clever management of underbody airflow through dramatic venturi tunnels. At 150 mph, Valhalla's meticulously sculpted aerodynamic surfaces generate an impressive 1323 lb of downforce, enough to provide impressive high-speed cornering ability and stability.
Entry is via forward-hinged dihedral doors, and cut-outs in the roof make it easier. The cockpit room has been increased compared to the Aston Martin Valkyrie, though many Formula One-inspired hallmarks remain, such as a pared-back design with clear, simple ergonomics.
An innovative new Aston Martin HMI system features a central touchscreen display and incorporates Apple CarPlay and Android Auto. Adjustable pedals and steering column enable the seat bases to be fixed to the chassis structure. The footwells are also raised for a low hip-to-heel seating position redolent of a Formula One car.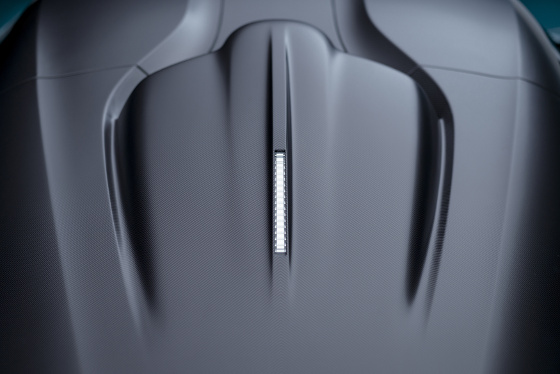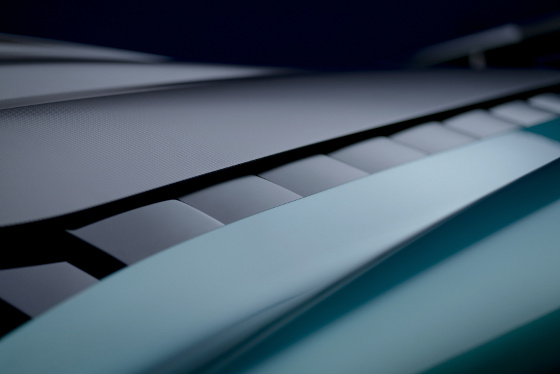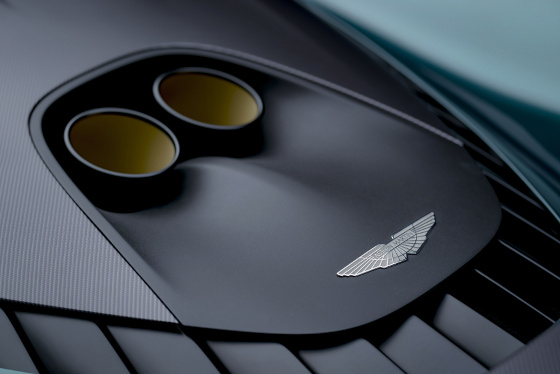 Full LED Matrix headlights with adaptive functionality and high-beam assist deliver excellent forward vision in the dark, and Dual Zone Air Conditioning provides a high level of occupant comfort. In order to comply with the latest regulatory requirements, Valhalla also incorporates the latest Advanced Driver Assistance Systems. These include Auto Emergency Braking, Forward Collision Warning, Active Cruise Control, Blind Spot Monitoring, and Rear View Parking Camera (with Surround View option).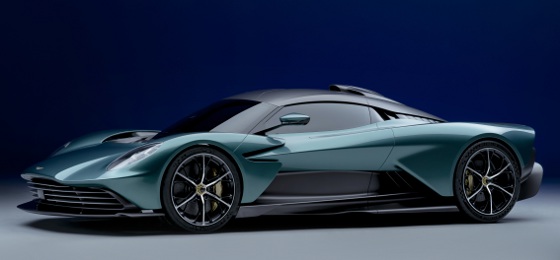 No final price has been given, but rumor has it Valhalla will run around $800,000 and will not be a limited edition. Aston Martin is counting on this model to fill a gap between its ultra-exclusive hypercar and other offerings. Although it only appears in the movie for a minute, it still makes an impression.
Other cars featured in the new Bond movie (released date Oct. 8, 2021, in the U.S.) will be the classic Aston Martin DB5 and V8 Vantage and the new Aston Martin DBS Superleggera coupe. Each one is very cool in its own way.
Source: Aston Martin
Published August 2021
Rate this article