All-new 2022 Lexus LX 600: Luxury to the max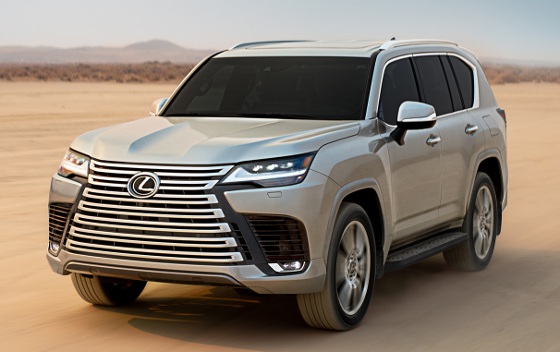 Be a VIP or just look like one in the all-new 2022 Lexus LX 600. Totally redesigned from the ground up, this flagship ultra-luxury, full-size SUV blends athletic performance, functionality, and solid design for a sophisticated work-play vehicle that impresses both on- and off-road.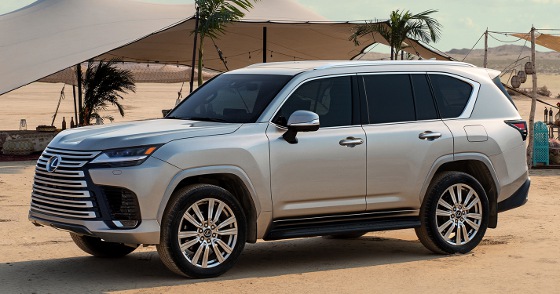 The LX range has been expanded to five grades. Standard, Premium, and Luxury are carry-over classes, while the line now offers first-ever F SPORT and Ultra Luxury trims. The Ultra Luxury (shown in these images) offers four independent, super premium seats. Customers preferring a sportier look and feel can select the F SPORT grade with its unique touches and handling.
With a 112-in. wheelbase, the LX is powered by a high-output, high-torque 3.5-liter V6 twin-turbo gasoline engine. The engine is smaller than the outgoing naturally aspirated V8 and provides increased output and torque through turbocharging. The engine produces an output of 409 hp and maximum 479 lb-ft of torque and maintains maximum torque in a wide range up to about 3,600 rpm, making it easier to handle not only during on-road driving but also during off-road driving, which can require frequent use in the low-speed range.
The Direct Shift-10AT automatic transmission produces a smooth start that only a torque converter can provide, as well as manual transmission-like direct acceleration by activating lockup in almost its entire range of operation.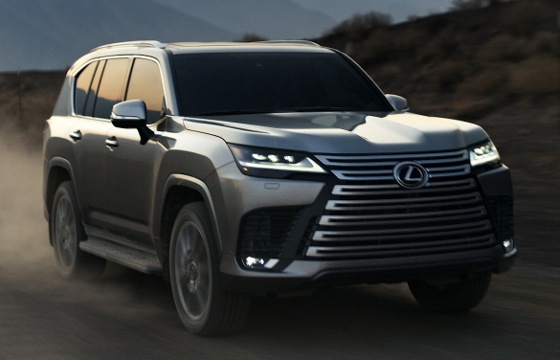 The high-output, high-torque twin-turbocharged engine, Electronically Controlled Brake (ECB), and Electric Power Steering (EPS) further deepen the Lexus Driving Signature by delivering driving performance that seamlessly connects deceleration, steering, and acceleration in all situations, while the use of a new Active Height Control (AHC) system and Adaptive Variable Suspension (AVS) help provide improved grip, traction, and control as well as a sense of strength and security.
While ride height is still adjusted through the use of shock absorbers, gas and hydraulic springs, and metal springs, a spring rate switching device -- which was previously only used for the front wheels -- is now used for the rear wheels as well, reducing the time needed to adjust ride height. There are three settings for vehicle height while the vehicle is in motion (Normal, Hi1, and Hi2) and a Low setting for passenger ingress and egress.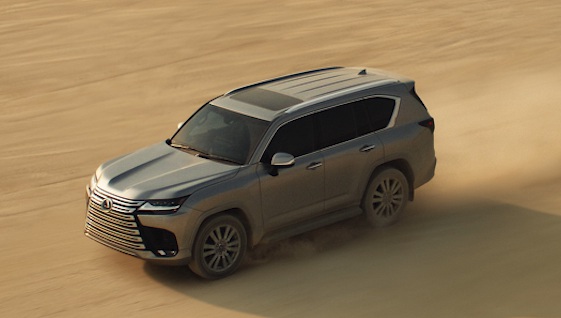 The system automatically adjusts vehicle height depending on the activation of Drive Mode Select or Multi-Terrain Select and the selection status of the transfer case. Additionally, AHC not only adjusts the vehicle height but also responds to changes in vehicle posture, such as the amount of pitch and roll, and it stabilizes vehicle posture during turning, acceleration, and deceleration by optimizing the spring rate as needed.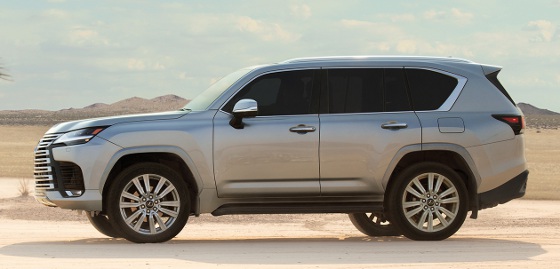 The new EPS uses the motor and reduction gear instead of conventional hydraulics. It enables subtle tuning and provides a light steering sensation at low speeds, such as when driving off-road, and full steering weightiness at high speeds.
Although it is a frame-based vehicle that retains its predecessor's traditional off-road driving performance and vehicle stability, the new LX offers a high level of vehicle control, along with supreme on-road ride comfort.
LX adopts an all-new, 20% more rigid GA-F platform, which serves as a solid foundation for its body-on-frame build. Weight has been reduced by 441 lb when compared to its predecessor, and body rigidity has been increased.
To achieve both a high level of off-road driving performance and on-road handling stability, the front high-mounted double wishbone suspension, suspension geometry and optimized coil springs offer both excellent vehicle stability and ride comfort. The suspension stroke, which is an important factor for off-road driving performance, is made sufficiently long with 100 mm/3.93 in. of bound and 145 mm/5.7 in. of rebound (15 mm/0.6 in. longer than that of the previous model) to help achieve both exceptional on- and off-road driving performance.
The capable four-link axle-type suspension with rear lateral control arms is inherited from the previous model, while the suspension arms and shock absorber layout and characteristics are refined to facilitate control of axle movement, resulting in enhanced vehicle stability and ride comfort. The rear shock absorbers are placed outside of the lower control arm, and the shock absorber mounting angle has been adjusted to match the angle at which the axle moves. This makes it easier for the shock absorbers to follow the vertical movement of the wheels, increasing their damping effect and, thus, better absorbing shocks and vibrations from the road surface to provide exceptional vehicle stability.
The all-new LX also features Multi-Terrain Select, which allows the driver to select from six modes -- Auto, Dirt, Sand, Mud, Deep Snow, and Rock -- to support off-road driving conditions. In addition to conventional brake hydraulics, the drive power and suspension are integrated and controlled for optimization according to the selected mode, making it possible to match driving performance to road conditions. Other useful off-road features include Crawl Control and Downhill Assist Control.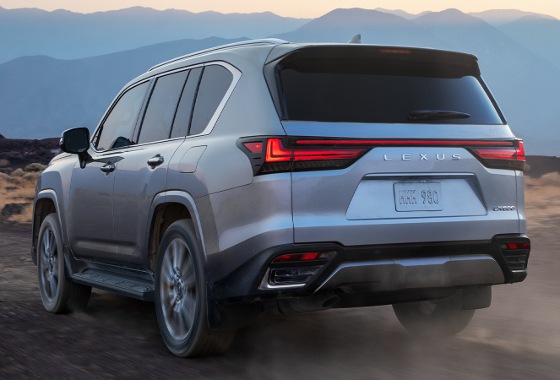 In addition to off-road driving performance, 22-in. forged aluminum wheels, the largest in the Lexus lineup, have been adopted for the first time to improve on-road performance. The unsprung weight of all wheels, including the available 18-in. and 20-in. wheels, has been reduced for optimized rolling resistance values.
Exclusive to the F SPORT grade, a Torsen LSD is employed to help ensure traction performance of the rear tires. When accelerating during a turn, it optimally distributes the driving force according to the load on the rear left and right wheels to achieve a high level of control performance. In straight-line driving, it responds well to changes in road conditions, contributing to stability.
The new LX boasts other evolved software features such as a Multi-Terrain Monitor (MTM) and the line's first dual display, enables the new LX to be driven with a greater sense of confidence in harsh environments.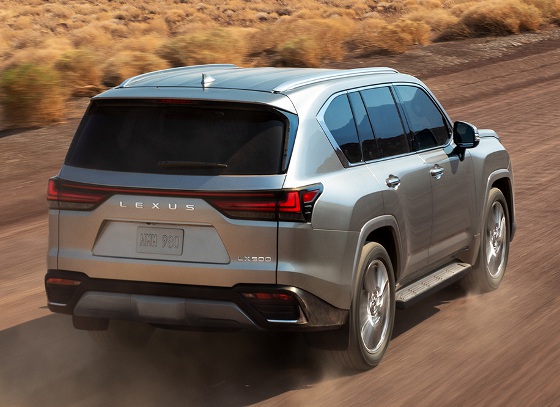 Beyond the LX's aluminum doors is an all-new cabin designed for the utmost in comfort and usability. The instrument panel features Lexus Interface with Lexus' first dual display configuration. The upper 12.3-in. display shows navigation, audio controls, and the Multi-Terrain Monitor during off-road driving. The lower 7-in. touch display shows the climate control screen and serves as a driving-support screen for Multi-Terrain Select. Displaying the camera image on the upper screen while simultaneously displaying the real-time vehicle status on the lower screen allows the driver to monitor off-road driving conditions more safely without switching the display.
The Lexus-first four-seat Ultra Luxury grade enhances the LX lineup with special attention paid to the rear passenger space and their experience. To help achieve an unparalleled comfort level, the front seat can move forward, and the seat reclining angle can be controlled up to 48 degrees. Additionally, the rear seat display, behind the front passenger seat, can fold down to allow for forward visibility, offering an airy VIP seating experience with a maximum leg space of 1,100 mm/43 in. This seating posture is easily achieved with the push of one rear control panel button. A footrest behind the front passenger seat can be deployed to provide maximum comfort, from head to toe.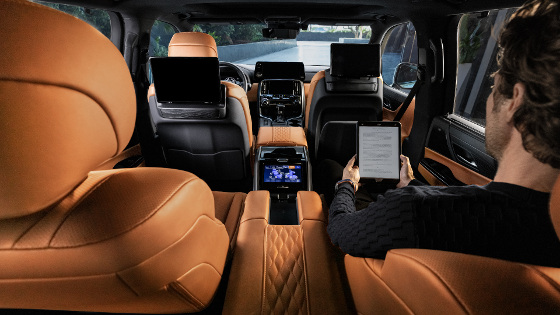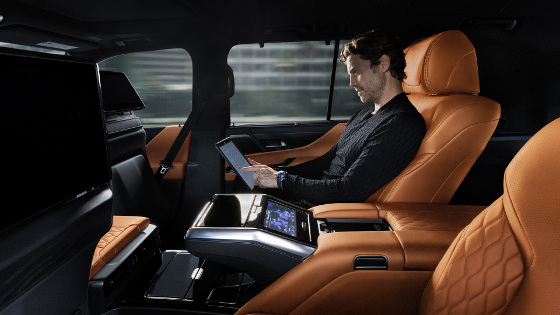 The rear seats feature Ultra Luxury-exclusive curved headrests, seatbacks, and cushions that gently wrap around the head, hips, and lower body. Lexus says the all-new crafted VIP seating helps to offset any lateral G-forces and irregular road surfaces.
The rear control panel, which centrally manages all functions and equipment of the rear passenger experience, has been carefully crafted for a seamless and intuitive guest experience. The space for wireless charging has been lowered to ensure visibility while seated in a reclined position. Cup holders are equipped with a lid, and, with the lid closed, the resulting surface, which is coated with a scratch-resistant self-healing paint, can be used as a note table. The large console box provides ample storage space, and the DC power supply, USB, and headphone jacks located within provide added functionality.
The 2022 LX comes standard with Lexus Safety System+ 2.5, which brings a suite of key active safety features to the vehicle. For starters, the Pre-Collision System (PCS), which includes Frontal Collision Warning (FCW), Automatic Emergency Braking (AEB), and Pedestrian Detection and Bicyclist Detection, features an enhancement to the lens camera and millimeter-wave radar elements to expand the response range. By enhancing the radar and camera capabilities, it is now possible for the system to help detect not only the vehicle ahead but also a preceding bicyclist in daytime and even a preceding pedestrian in daytime and low-light conditions.
At intersections, the system has the capability (under certain conditions) to recognize an oncoming vehicle when performing a left-hand turn, or a pedestrian when performing left- and right-hand turns, and is designed to activate typical PCS functions if needed. Additional PCS functions include Emergency Steering Assist (ESA), which is designed to assist steering within the vehicle's lane as cued by the driver.
All-Speed Dynamic Radar Cruise Control (DRCC) can be activated above 30 mph and is designed to perform vehicle-to-vehicle distance controls down to 0 mph and can resume from a stop. DRCC also includes a feature that allows for smooth overtaking of slower vehicles. If traveling behind a vehicle going slower than the preset speed, once the driver engages the turn signal, the system will provide an initial increase in acceleration in preparation for changing lanes; and, after the driver changes lanes, the vehicle will continue acceleration until it reaches the original preset driving speed.
Additional Lexus Safety System features include Intelligent High Beams and Road Sign Assist (RSA), which is designed to acquire certain road sign information using a camera and navigation maps when data is available and displays them on the multi-information display (MID). Too many other great features to list here.
Pricing has not been released. Ballpark would be $90,000 to start, which is just above the outgoing LX570 model.
Learn more and get updates at lexus.com/future/LX
Source: Lexus
Published October 2021
Rate this article