New nickel-based superalloy for 3D printing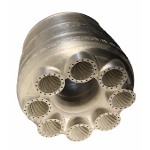 Velo3D has qualified the nickel-based superalloy powder Amperprint 0233 Haynes 282 for use in its Sapphire family of printers. The material is designed for high creep strength, thermal stability, weldability, and fabricability not commonly found in other alloys. This superalloy is ideal for high-temperature structural applications like energy generation, gas turbines, and space launch vehicles to build parts like heat exchangers, combustors, nozzles, combustion liners, rocket engines, and shrouded impellers. Shown left is a combustor liner made with the new superalloy. It features 23,000 unique holes for optimized air-to-fuel ratios and internal channels for regenerative cooling. The part is shown as printed, with no supports.
Learn more.
---
Roller-type LM guide for ultra-heavy loads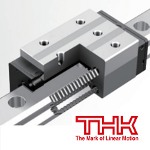 THK's model HRX is the company's roller-type linear motion (LM) guide. It features ultra-high rigidity in addition to the ability to handle ultra-heavy loads. On the HRX, each row of rollers is arranged at an angle of 45 degrees. This ensures the LM block receives an equal load rating (high rigidity) in all directions. Made for the development of high-precision, energy-saving, high-speed machines with long service lives.
Learn more.
---
Live tooling for popular turning center lines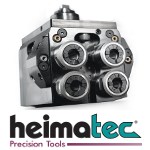 Heimatec, a world leader in live tools and multi-spindle drill heads, announces the immediate availability of live tooling for all popular models in the Hyundai, Miyano, and Nakamura turning center lines. According to Preben Hansen, president of Platinum Tooling Technologies and master North American importer for Heimatec, "We're carrying a substantial inventory of live tools for our customers' machines now, and it represents a substantial financial and warehouse-space commitment we've made to support them in the North American market."
Learn more.
---
MW Components launches eCommerce experience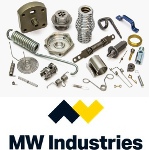 MW OnDemand combines over 1 million parts from well-known brands such as Century Spring, Accurate Screw Machine, RAF Electronic Hardware, Servometer, and Maudlin into a single location. Customers can select and purchase products from across the MW Components portfolio, simplifying the entire component sourcing process. Customers can shop tens of thousands of stock spring designs along with fasteners, shims, electrical contacts, metal stampings, tubing products, bellows, and more.
Learn more.
---
Desktop Metal qualifies 420 stainless steel for high-volume additive manufacturing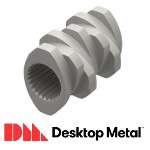 Desktop Metal recently announced the qualification of Grade 420 stainless steel (420 SS) for use on its Production System platform, which leverages patent-pending Single Pass Jetting (SPJ) technology designed to achieve the fastest build speeds in the metal additive manufacturing industry. Manufacturers can now leverage SPJ technology for the mass production of high-strength, end-use parts in 420 SS for demanding applications in industries such as medical, aerospace, defense, and consumer products.
Learn more.
---
Engineer's Toolbox:
How to select the proper pin for your application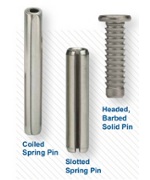 Fasteners are some of the most important parts of an assembly. In this technical article, Jeff Greenwood from SPIROL focuses on how to select the proper pin for your application, including pins used as hinges, hub and shaft fixtures, alignment, movement stops, and joining. Press fit pins are discussed here, as they are the most common type of pins used in modern manufacturing. Lots of good info and examples in this one.
Read the full article.
---
New PETs for automotive exterior components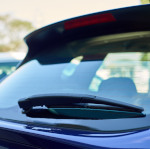 Polyplastics Group has introduced two new RENATUS polyethylene terephthalate (PET) grades that deliver superior mechanical properties, appearance, and weather resistance for automotive exterior components. RH030 (30% glass filled) and RH045 (45% glass filled) maintain their jet blackness and reduce whitening on the surface of molded articles in outdoor environments, making them ideally suited for applications such as automotive side mirrors and rear wiper arms/blades. Since PET parts are not painted, weathering degradation can occur over time when the glass filler starts to float and the jet blackness decreases. Accelerated weather resistance testing demonstrates that Polyplastics' new PET materials maintain lower index values than competing products, indicating that whitening is being reduced.
Learn more.
---
Quick release couplings with safety lock
To reduce the time involved in setting up equipment and production lines, JW Winco has incorporated a new coupling in its product portfolio. With the GN 1050 quick release coupling, components can be quickly and securely connected to a machine or device with just a click. A safety locking button protects the coupling from being accidentally opened.
Read the full article.
---
Wheel nut can't loosen by itself -- even in extreme applications

Designed for flat-faced steel rims, the Nord-Lock wheel nut safely secures wheels on on-road and off-road heavy vehicles by maintaining high clamping force even under extreme operating conditions. When assembled correctly, the Nord-Lock wheel nut cannot loosen by itself. It's a simple and cost-effective way to make wheels safe and secure for more productive and efficient operations.
See how Nord-Lock wheel nuts work.
---
Join carbon materials and more with innovative C-Solder

C-Solder tin-based soldering alloys from Goodfellow enable the joining of carbon materials as well as carbon to metals (copper, aluminum) and aluminum to aluminum. The resulting bond is mechanically strong and electrically conductive. C-Solder is both flux-free and lead-free, has a melting point of 232 degrees C (solidus temperature), has excellent flow, does not leave a residue, and is not affected by cleaning solvents.
View the 1-minute video.
Learn more from Goodfellow.
---
Tiny crossed roller bearings boast big capabilities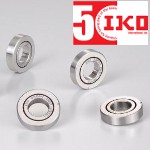 IKO International has unveiled its newest crossed roller bearing, the CRBT105A. This ultra-small, ultra-thin unit is designed to provide exceptional rigidity for space-constrained automated machine applications such as robots with articulating arms and compact surveillance cameras. The CRBT105A features a 10-mm bore diameter, 21-mm outside diameter, and a narrow width of 5 mm. Despite its compact size, this bearing offers rigidity up to four times greater than double-row angular contact ball-type bearings.
Learn more.
---
Steel disc couplings with updated design offer backlash-free operation in drive applications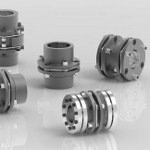 RINGFEDER has released an updated version of its proven TND Series of steel disc couplings, which feature backlash-free torque transmission and excellent positioning accuracy in machines that involve synchronous operation, frequent starts and stops, or reversing operations. Typical drive applications include printing and packaging machines, compressors, pumps, and variable speed drives. Two coupling types are available: High Deflection (HD), which offers excellent shaft misalignment compensation, and High Torque (HT), which incorporates a higher power density. TND Series couplings achieve superior concentricity, maximum operational reliability, smooth operation, and low vibration levels.
Learn more.
---
Custom modifications for material handling rollers and bumpers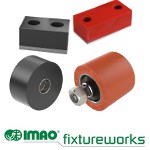 Imao-Fixtureworks offers custom modifications for its standard material handling rollers and bumpers. By modifying off-the-shelf products, a significant amount of time and money is saved. The products can be custom modified in various dimensions, shapes, and sizes to meet specific application requirements. For example, the outside diameter (O.D.) of a roller could be turned down, or a bumper of a certain width could be produced. These modifications eliminate the typical design and production time necessary for a custom roller or bumper to be tooled up and molded.
Learn more.
---
Optimal damping: Continental develops special bearings and other elements for EVs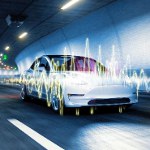 Continental has developed special elastomer compounds for electric vehicles. They absorb the vibrations in the high-frequency range and are also lightweight. The company is also adapting other bearing elements such as battery mounts for buses or air press bearings in truck driver cabs to the requirements of e-mobility.
Read the full article.
---
Advanced graphenes for composites and thermoplastic applications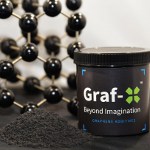 NeoGraf Solutions has extended its range of next-gen graphite materials with the launch of Graf-X graphene nanoplatelets (GNP) and graphene precursors (GP). Both high-performance additive materials deliver enhanced strength, performance, and reliability in a broad range of thermoset and thermoplastic applications. The new graphene materials can increase the toughness of plastics by up to 2.5 times without a significant weight increase. They can also double thermal conductivity and push the electrical conductivity of plastics into the anti-static and static-dissipative ranges.
Learn more.
---
Can hydrogen paste power motorcycles and scooters?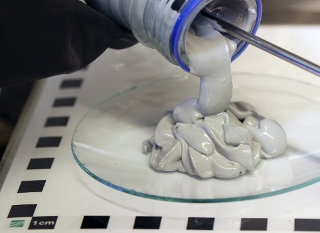 POWERPASTE is a new, experimental hydrogen fuel source developed at the Fraunhofer Institute. [Credit: ©Fraunhofer IFAM]
High-pressure hydrogen fuel tanks are not a viable alternative-fuel option for motorcycles and scooters, but researchers in Germany have another plan: POWERPASTE. This material -- which sports a huge energy density -- stores hydrogen in a chemical form at atmospheric pressure and is activated simply by adding water.
The formulation of the new paste is based on magnesium hydride and was developed by a research team at the Fraunhofer Institute for Manufacturing Technology and Advanced Materials in Germany. Among the materials' many positive qualities is that it is easy to transport and replenish without the need for an expensive network of filling stations.
Gasoline and diesel engines powered by fossil fuels are being replaced by new propulsion systems. One fuel with big potential is hydrogen. Hydrogen vehicles are equipped with a reinforced tank that is fueled at a pressure of 700 bar. This tank feeds a fuel cell, which converts the hydrogen into electricity. This, in turn, drives an electric motor that propels the vehicle. The end products are heat and water.
In the case of passenger cars, this technology is well advanced, with several hundred hydrogen-powered automobiles already in operation on roads throughout the world. At the same time, the network of hydrogen stations is also growing -- albeit very slowly. In Germany, for example, the network is projected to grow from 100 to 400 stations over the next three years.
However, hydrogen is not currently an option for small vehicles such as electric scooters and motorcycles, since the pressure surge during refilling would be too great. Researchers at the Fraunhofer Institute wondered if the current designs for storage effectively shut out such vehicles from hydrogen technology. Could there be another way?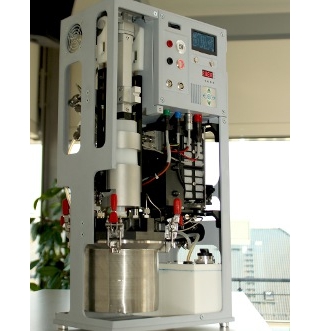 TRL 5 demonstrator of a power generator with a POWERPASTE cartridge and a 100-W PEM fuel cell. [Credit: ©Fraunhofer IFAM]
This was the inspiration to create POWERPASTE, which "stores hydrogen in a chemical form at room temperature and atmospheric pressure to be then released on demand," said Dr. Marcus Vogt, research associate at Fraunhofer IFAM.
Since POWERPASTE only begins to degrade at temperatures of around 250 C, it remains safe even when an e-scooter stands in the baking sun for hours. Moreover, refueling is extremely simple. Instead of heading to the filling station, riders just replace an empty cartridge with a new one and then refill a system partner tank with regular water.
The starting material for POWERPASTE is magnesium, a readily available raw material. Magnesium powder is combined with hydrogen to form magnesium hydride in a process conducted at 350 C and five to six times atmospheric pressure. An ester and a metal salt are then added in order to form the finished product.
Installed on a vehicle, the cartridge releases the POWERPASTE by means of a plunger. When water is added from an onboard tank, the ensuing reaction generates hydrogen gas in a quantity dynamically adjusted to the actual requirements of the fuel cell. Interestingly, only half of the hydrogen originates from the POWERPASTE; the rest comes from the added water.
"POWERPASTE has a huge energy storage density," said Vogt. "It is substantially higher than that of a 700-bar high-pressure tank, and compared to batteries, it has 10 times the energy storage density." This means that POWERPASTE offers a range comparable to -- or even greater than -- gasoline. It also provides a higher range than compressed hydrogen at a pressure of 700 bar.
What can this weird material power?
With its huge energy storage density, the developers think POWERPASTE is also an interesting option for some specialty cars, delivery vehicles, and even as range extenders in battery-powered electric vehicles (although that last option sounds clunky). It could also significantly extend the flight time of large drones, which could fly for several hours using the POWERPASTE energy material rather than a mere 20 minutes on an electric charge -- especially useful for survey work, such as the inspection of forestry or power lines. In another kind of application, campers could use POWERPASTE in a fuel cell to generate electricity to power a coffeemaker or toaster.
In addition to providing a high operating range, POWERPASTE has another point in its favor. Unlike gaseous hydrogen, it does not require a costly infrastructure. In places where there are no hydrogen stations, regular filling stations could sell POWERPASTE in cartridges or canisters instead.
The paste is fluid and pumpable. It could be supplied by a standard filling line, using relatively inexpensive equipment. Initially, filling stations could supply smaller quantities of POWERPASTE from a metal drum, for example, and then expand in line with demand. The capital expenditure for this setup would be quite low. By way of comparison, a filling station to pump hydrogen at high pressure currently costs a few million euros for each fuel pump. POWERPASTE is also cheap to transport. No costly high-pressure tanks are involved, and it doesn't require the use of extremely cold liquid hydrogen. The researchers have not addressed re-use of the cartridges or any residual materials left inside them once the canister is "empty."
The researchers think the new material really holds promise. Fraunhofer IFAM is currently building a production plant for POWERPASTE at the Fraunhofer Project Center for Energy Storage and Systems ZESS. Scheduled to go into operation later this year, this new facility will be able to produce up to 4 tons of POWERPASTE a year. They can test all types of vehicles then and also address key concerns such safety, flammability, any disposal issues, etc.
Source: Fraunhofer IFAM
Published June 2021
Rate this article