Rugged sensor measures surface temperatures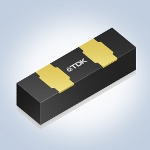 TDK's tiny new T850 SMT NTC sensor measures surface temperatures for applications such as heat sinks of power modules and monitoring of industrial processes. It combines high humidity resistance with fast response time due to excellent thermal coupling to the target. The sensor is suitable for harsh environments with temps from -40 C to 150 C and is waterproof to 500 hrs.
Learn more.
---
Inflatable EMI shielded RF enclosures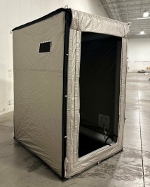 Saelig Company has introduced the Select Fabricators Series 700 EMI Enclosures -- reliable, portable, and lightweight RF and EMI shielding enclosures in standard sizes with a fast-up inflatable frame, ready for operation in less than 60 sec. No more aluminum tents. The Series 700 applies the same level of RF security obtained with previous RF/EMI shielded enclosures but is now made even more portable. Great for military operations, secure communications, mobile testing, emergency response, and more.
Learn more.
---
Haptic feedback prototyping kit from TDK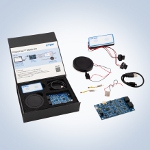 Get your customers to feel the difference your products make. TDK has just released a development starter kit for fast haptics prototyping. It gives mechanical designers and engineers first impressions of the haptic feedback using PowerHap piezo actuators, shows how the mechanical integration works, and provides a reference design. Applications include automotive, displays and tablets, household appliances, vending machines, game controllers, industrial equipment, and medical devices.
Learn more.
---
Position sensor real-world applications: Automotive and mobile equipment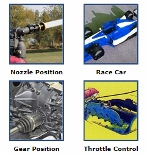 From firetruck nozzle positioning and race car steering to accelerator control and wheel vector sensing, learn how position sensors from Novotechnik are used in real-world applications. Sensor types include non-contacting rotary sensors, angle sensors, and magnetic encoders. We love when manufacturers provide examples of their products in action.
Learn more.
---
Detecting part errors: Automotive resistance welding machines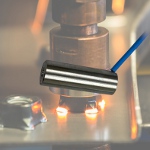 NewTek Sensor Solutions has designed a custom linear variable differential transformer (LVDT) position sensor for resistance spot welding machines used in automotive plants to detect missing or misaligned parts in nut and stud welding. Cars contain hundreds of welded nuts and studs that hold them together. Properly securing the right nut and stud to different car components is critical to safe operations.
Read the full article.
---
Clutches and brakes for electric outdoor mobile equipment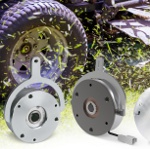 As OEMs and drive train manufacturers work to bring emerging technology to life, they are partnering with Warner Electric engineers and electrification specialists on electromagnetic braking solutions for electric riding mowers, UTVs, ZTRs, and more. Lots of options, including enclosed and low-profile Spring Applied Emergency and Parking Brakes -- some even feature regenerative braking.
Learn more.
---
Potentiometer with extremely low torque requirement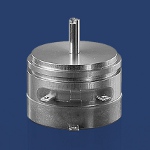 Novotechnik, U.S. has just announced the P2200 potentiometer that operates with an extremely low torque requirement of 0.003 Ncm. This rotary position sensor is well suited for applications where the system to be measured can be affected by the torque requirements of the sensor. It offers a precision conductive plastic potentiometer in a servo size 11 housing with stainless steel bearing and a life of 100 million movements.
Learn more.
---
New 32-bit Arduino Uno development board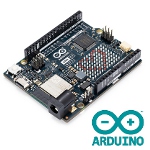 Arduino has just launched its next-gen UNO board, a significant revision of its 8-bit technology. The new UNO R4 preserves the standard form factor, shield compatibility, and 5-V power supply of the popular UNO R3 but adds a 32-bit microcontroller with up to 16x the clock speed, memory, and flash storage with the integration of the RA4M1 processor from Renesas. Comes in two versions: basic UNO R4 Minima and comprehensive UNO R4 Wi-Fi.
Learn more about the UNO R4.
---
Open-access learning center for multiphysics modeling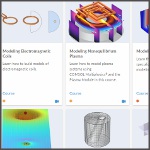 COMSOL, the developer of the COMSOL Multiphysics simulation software, has introduced a new online resource that provides no-cost, open access to modeling and simulation learning material across all areas of physics. Designed with the user in mind, the Learning Center offers a single entry point for users of all skill levels, where courses, articles, and videos present a clear path for learning how to use COMSOL Multiphysics for modeling and simulation.
Check out the COMSOL Learning Center.
---
Universal Latch Sensor for enhanced security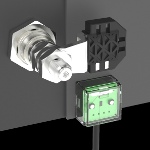 Southco's Universal Latch Sensor (ULS) is a simple magnet that attaches to an existing latch, and a magnetic sensor that attaches to the inside of an existing door frame. When the door is closed and the latch is engaged, the magnet comes into proximity with the sensor, sending an electronic signal to your security system. This lets you know the door is closed and the latch is secure. The signal from the ULS can be used in a variety of ways, from integrating security systems to turning on existing lights inside an enclosure. Southco also offers a sensor with built-in LEDs that automatically illuminate when the latch is opened.
Learn more.
---
End-to-end asset tracking now even more efficient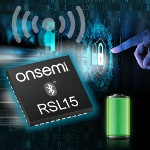 onsemi has launched an end-to-end positioning system that enables the simpler and faster development of more accurate, cost- and power-efficient asset tracking solutions. The system is based on onsemi's RSL15 MCU, the industry's lowest-power Bluetooth 5.2 MCU, and incorporates software algorithms and components provided by Unikie and CoreHW, resulting in a fully integrated solution with components that have been optimized to work together. The new Bluetooth Low Energy solution enables tags to be used for tracking objects or persons with sub-meter accuracy in defined closed spaces. Ideal for various industrial automation applications, including asset tracking, smart retail, and IoT edge nodes.
Learn more.
---
Great Resources: Flexible circuit design guide

Tech-Etch uses advanced techniques to manufacture flex and rigid-flex circuits to exacting customer specifications. Special processes include selective plating a single circuit with two different finishes, contoured circuits with variable metal thickness, semi-additive and subtractive techniques, open window or cantilevered contact leads, plus SMT for component assembly. Tech-Etch specializes in flexible circuits for medical device, medical implant, diagnostic ultrasound, and patient monitoring applications, in addition to telecommunications, aerospace, semiconductor, and other high-reliability electronic applications.
Learn about flex circuits and get the guide (no registration required).
---
Ultrasonic leak detector for energy conservation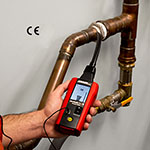 EXAIR's Ultrasonic Leak Detector (ULD), a hand-held instrument engineered to help locate the source of costly leaks in a compressed air system, has received an upgrade in look and function. Up to 30% of the compressed air generated in industrial plants is wasted through leaks that go undetected. The EXAIR ULD can play a major role to identify and pinpoint these costly leaks, allowing quick repair and cost savings. Testing the various unions, pipes, valves and fittings of a complete installation can be done quickly and effectively at distances up to 20 ft (6.1 m) away.
Learn more.
---
What can you do with touchless magnetic angle sensors?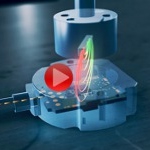 Novotechnik has put together a really informative video highlighting real-world applications for their RFC, RFE, and RSA Series touchless magnetic angle sensors. You may be surprised at the variety of off-highway, marine, material handling, and industrial uses. You'll learn how they work (using a Hall effect microprocessor to detect position) and their key advantages, including eliminated wear and tear on these non-mechanical components. We love when manufacturers provide such useful examples.
View the video.
---
Ultrasonic sensors for packaging and automotive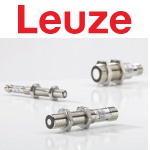 The new, compact ultrasonic sensors of the HTU200 and DMU200 series from Leuze are particularly suitable for applications in the packaging and automotive industries. They reliably perform difficult detection and measuring tasks by themselves, detecting objects regardless of their surface structure using a reflected acoustic pulse -- even glossy, transparent, or dark surfaces, as well as liquids or granular products. Available in a variety of sizes with operating ranges from 0.1 to 6 m; some models have an IO-Link interface. Leuze has an appropriate solution for every requirement.
Learn more.
---
UCF to study method for reducing energy use by 50-75% in older homes
The University of Central Florida (UCF) was recently awarded a grant worth $4.4 million from the U.S. Department of Energy (DOE) to determine if a pre-packaged pod is an effective method to deploy very efficient heating, cooling, and water heating systems to thousands of homes.
The DOE awarded $32 million to seven teams that will manage 30 demonstration projects nationwide. Finding effective ways to retrofit existing and older buildings to be more energy efficient is critical, considering there are 130 million buildings in the United States today and about 75% of them are expected to still be standing in 2050, according to the DOE. Upgrading older homes is often expensive and intrusive, which makes homeowners less likely to make the investment. The pod system holds promise because it is expected to reduce energy use by 50-75% and is less disruptive to install, according to the researchers.
FSEC Energy Research Center at the University of Central Florida, in partnership with National Association of State Energy Officials and ROC USA, will retrofit eight manufactured homes and four single-family homes with the pod technology called PV-GEMS. The Photovoltaic (PV)-powered, Grid Enhanced Mechanical Solution (GEMS) consists of high-efficiency heat pumps for heating, cooling, and water heating. This equipment is partially powered by a photovoltaic and battery back-up system. Components are pre-packaged in a "pod" that is largely assembled off-site and installed outside the home, minimizing disruption to residents.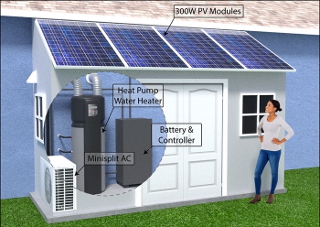 PV-GEMS prototype systems were designed with energy simulations in Phase 1, while Phase 2 will be demonstration and deployment. [Credit: Nick Waters, FSEC @ University of Central Florida]
"We have an opportunity to make a significant difference in reducing energy costs for people living in less-efficient existing homes, thereby making a lasting impact on people's lives," says Eric Martin, principal investigator on the project and program director at UCF's FSEC Energy Research Center. "The PV-GEMS concept is especially effective when deployed alongside more conventional cost-effective, non-disruptive energy-efficient retrofit strategies."
The university will demonstrate the retrofit strategy in six states across different climate zones -- Colorado, Georgia, Massachusetts, North Carolina, Oregon, and Texas. A commercialization plan to manufacture and deploy the retrofit strategy at scale will be developed, as well as training materials for installers.
"A unique feature of this system is that it doesn't need to send excess solar energy back to the utility grid and instead uses or stores the energy at the house," says Carlos Colon, co-principal investigator of the project. In addition to energy and carbon savings, the concept offers the additional benefit of resiliency by being able to operate when the grid goes down.
While PV-GEMS can work with most single-family attached and detached housing, the team is initially targeting older manufactured homes, which are often difficult to retrofit using traditional approaches. There are more than 6.7 million manufactured homes nationwide, and 45% of residents who live in manufactured homes are highly energy burdened.
Source: University of Central Florida
Published April 2022
Rate this article