Slimmest enclosure air conditioner on the market!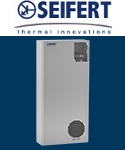 Seifert's SlimLine Series of enclosure air conditioners integrate unique technologies -- maximum power-to-size ratio, mounting of merely 4.5 inches inside-cabinet-depth -- making the SlimLine Series the slimmest air conditioner in the market. Cooling capacity: 1,090 to 5,120 Btu/hr.
Learn more.
---
Radiation-hardened GaN transistor for space applications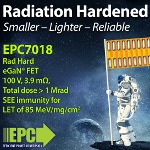 EPC has just introduced the EPC7018 radiation-hardened GaN FET. With higher breakdown strength, lower gate charge, lower switching losses, better thermal conductivity, and very low on-resistance, power devices based on GaN significantly outperform silicon-based devices. They enable higher switching frequencies resulting in higher power densities, higher efficiencies, and more compact and lighter-weight circuitry for critical spaceborne missions, including DC-DC power, motor drives, lidar, deep probes, and ion thrusters.
Learn more.
---
Low-cost motion control: CLICK PLUS PLCs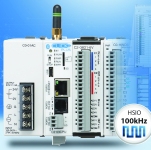 Automation-Direct has released the new CLICK PLC programming software version 3.30, which allows any CLICK PLUS CPU to be configured as a 3-axis PTO/PWM motion controller. 100-kHz high-speed inputs and outputs are offered with any DC option slot I/O module placed in slot 0 of the CPU. With this module, CLICK PLUS PLCs can easily perform velocity moves, homing commands, or interpolated positioning. Six CPUs available starting at less than 100 bucks.
Learn more.
---
EdgeCool cools computer servers in the rack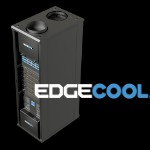 The new EdgeCool system for rack-mounted computer servers revolutionizes IT cooling by transforming server racks into their own portable, energy-saving server rooms. The patented split system from DENSO Products and Services Americas is made up of a condenser and an evaporator that fit easily into almost any open or sealed server rack. The self-contained equipment eliminates the need for more floor space, a dedicated server room, or disruptive and costly building modifications.
Learn more.
---
Do-it-yourself high-performance aluminum cold plates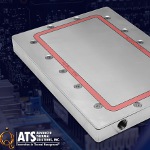 New high-performance aluminum cold plates from Advanced Thermal Solutions (ATS) let engineers safely drill holes in a mounting pattern that matches the specific connection points of hot devices that need cooling, providing lots of customization options. ATS says its cold plates have been demonstrated to provide more than 30% better thermal performance than other commercially available cold plates.
Learn more.
---
Long-range retro-reflective photoelectric sensors overcome interference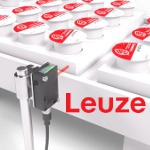 The new 36 series of sensors from Leuze are suitable for demanding requirements in intralogistics, packaging systems, and the automotive industry. They detect objects with different optical properties -- even at a great distance or when sources of interference are present (such as film-wrapped pallets, vibration, or ambient lighting). Available as sensors with background suppression (range to 2.5 m), as retro-reflective photoelectric sensors (up to 17 m), or as throughbeam photoelectric sensors (up to 80 m).
Learn more.
---
Calculator simplifies cabinet cooling system selection
EXAIR Cabinet Cooler Systems provide a comprehensive solution for cooling and purging electronic cabinets and come in a litany of different cooling capacities, NEMA ratings, and classifications. With the breadth of available options, choosing the best Cabinet Cooler for a specific environment can be a tedious task and depends on a few key factors. With EXAIR's new Cabinet Cooler Calculator, it's easy to find the ideal Cabinet Cooler System for any specific application.
Learn more.
---
New low-voltage compact LED bulbs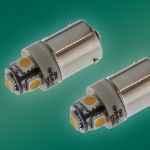 LEDtronics has released new additions to its industry-leading offering of intermediate-based LED bulbs that fit in enclosed fixtures, featuring low voltage, 160-degree spherical illumination, low power consumption, and high lumen intensity. The B605SM series is available either as a 14-VAC/VDC bulb that replaces incandescent lamps 67, 89, 97, 98, 1095, 1155, and 5008, or as a 28-VAC/VDC bulb that replaces incandescents 71, 303, 623, and 1251. These bulbs are a perfect fit in applications such as machine status or gaming candle indicators, indicator lights for instrumentation, panel-mount pilot lights, accent lighting, and automotive.
Learn more.
---
Neat. How to prototype 4x machine vision applications on one small embedded system quickly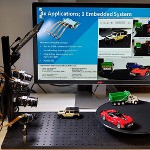 Teledyne FLIR has put together a neat article that shows how to prototype a machine vision system quickly that runs four simultaneous applications, three of which use deep learning. The system uses the Quartet Embedded Solution for TX2, a customized carrier board that enables easy integration of up to four USB3 cameras at full bandwidth. The example traffic systems application includes license plate recognition, vehicle type categorization, vehicle color classification, and seeing through a windshield -- all simultaneously. Very cool.
Read the Teledyne FLIR application article.
---
New Gefran inclination sensors use MEMS technology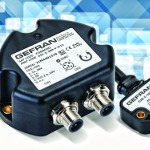 Automation-Direct has added Gefran inclination sensors to their growing lineup of position transducers. Gefran sensors use cutting-edge MEMS technology (micro-electromechanical devices integrated onto a single silicon chip) to provide reliable and precise tilt angle measurement with respect to gravity. These sensors are rugged and suitable for the harshest environments. M12 quick-disconnect models are fully redundant, having two sensors in one housing.
Learn more.
---
Affix a heat sink in seconds!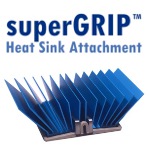 superGRIP is a two-component system from Advanced Thermal Solutions (ATS) that can be installed in seconds to mount heat sinks securely to a wide range of components -- without needing to drill holes in the PCB. It features an injection molded plastic frame clip and a stainless steel spring clip. This clever system provides a strong, even binding force with minimal space required around the component's perimeter, making it ideal for densely populated PCBs.
View the video.
---
Cool Tools: Entry-level high-tech portable 3D scanner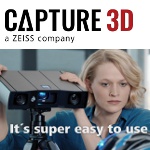 The GOM Scan 1 from CAPTURE 3D is an affordable, precise 3D scanner with mesh-editing capabilities to accurately digitize physical objects into the 3D world. GOM Scan 1 provides accessibility to the leading GOM blue light 3D scanning technology used by top manufacturers worldwide. Applications include creating a digital file of an object for 3D printing, reverse engineering, manufacturing, quality control, virtual display and 3D modeling, research and education, art and design, and healthcare. GOM Scan 1 offers GOM Inspect 3D inspection software to quickly capture, visualize, and analyze 3D measurement data within the same workflow.
Learn more.
---
High-def SWIR camera for military apps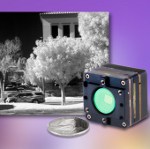 Attollo Engineering's new Phoenix HD5 SWIR Camera is an uncooled high-def imager that features the industry's smallest shortwave infrared HD sensor and an ultra-small 5-µm pixel pitch, which permits more pixels on target with a short-focal-length optic. Specifically designed for low size, weight, and power (low-SWaP) applications, the HD5 SWIR camera is ideal for integration into small gimbals, small unmanned aircraft systems (SUAS), and handheld and soldier-mounted systems.
Learn more.
---
Control panel solutions: Wire duct and wire wrap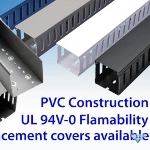 Automation-Direct sells everything you need to build quality control panels, including a large assortment of wiring duct, flexible duct, wire wrap, wire sleeve, and associated tools and accessories. Check out all that this one-stop shop has to offer. High stocking rates and fast shipping too.
View the video.
---
Space Applications: Smallest rad-tolerant network storage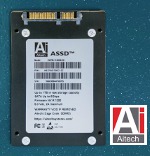 Aitech Systems has released the most compact network storage device available for use in near-earth-orbit and low-earth-orbit space applications. With a raw storage capacity of almost 1 TB, the new S999 Aitech is a 2.5-in. solid state drive (SSD) for high-performance spacecraft data processing or distributed computing systems in satellites and human-rated platforms.
Learn more.
---
NIST finds wireless performance consistent across 5G millimeter-wave bands
Settling a key dispute in the wireless communications field, researchers at the National Institute of Standards and Technology (NIST) found that transmission performance is consistent across different bands of the millimeter-wave (mmWave) spectrum targeted for high-speed, data-rich 5G systems.
Wireless systems are moving to the mmWave spectrum at 10 to 100 gigahertz (GHz), above crowded cellular frequencies as well as early 5G systems around 3 GHz. System operators tend to prefer lower bands of the new mmWave spectrum. One reason is that they are influenced by a formula that says more signals are lost at higher frequencies due to smaller wavelengths, resulting in a smaller useful antenna area. But until now, measurements of this effect by many organizations have disagreed over whether this is true.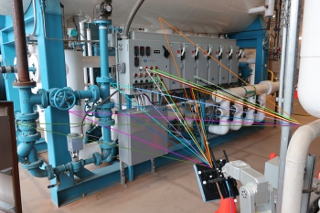 The colored lines are reconstructions of measured paths of mm-wave signals between a transmitter (not visible) and receiver (lower middle) in an NIST industrial control room. Each path is precisely characterized in terms of length and angle to the receiver. These paths are all secondary, meaning reflected or diffracted signals. [Credit: NIST]
NIST researchers developed a new method to measure frequency effects, using the 26.5- to 40-GHz band as a target example. After extensive study in the laboratory and two real-world environments, NIST results confirmed that the main signal path -- over a clear "line of sight" between transmitter and receiver -- does not vary by frequency, a generally accepted thesis for traditional wireless systems, but until now not proven for the mmWave spectrum. The results are described in a new paper.
The team also found that signal losses in secondary paths -- where transmissions are reflected, bent, or diffused into clusters of reflections -- can vary somewhat by frequency, depending on the type of path. Reflective paths, which are the second strongest and critical for maintaining connectivity, lost only a little signal strength at higher frequencies. The weaker bent and diffuse paths lost a bit more. Until now, the effects of frequency on this so-called multipath were unknown.
"This work may serve to demyth many misconceptions about propagation about higher frequencies in 5G and 6G," NIST electrical engineer Camillo Gentile said. "In short, while performance will be worse at higher frequencies, the drop in performance is incremental. So we do expect the deployment at 5G and eventually at 6G to be successful."
The NIST method emphasizes innovative measurement procedures and enhanced equipment calibration to make sure only the transmission channel is measured. The researchers used NIST's SAMURAI (Synthetic Aperture Measurement UnceRtainty for Angle of Incidence) channel sounder, which supports design and repeatable testing of 5G mmWave devices with unprecedented accuracy across a wide range of signal frequencies and scenarios. The NIST system is unique in that antenna beams can be steered in any direction for precise angle-of-arrival estimates.
NIST's main innovations in the new study, as discussed in the paper, were calibration procedures to remove the effects of channel sounder equipment from the measurements, extension of an existing algorithm to determine from a single measurement how individual paths vary by frequency, and studies in an industrial control center and a conference room to classify the types of paths involved and determine any frequency effects.
Source: NIST
Published May 2022
Rate this article