Tech Tip: Wave spring vs. coil spring -- what's the difference?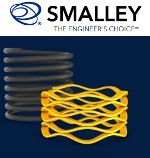 The key advantage of using a wave spring is in the axial space savings. Whether it is a static or dynamic application, a wave spring can provide the same force and deflection as a coil spring -- but in considerably less space. There are many other advantages of using wave springs, including cost savings when considering the whole assembly.
Learn more in this informative Smalley blog.
---
Turn any pipe or hose into a conveyor! Now with custom options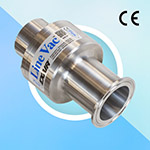 EXAIR's Line Vac Air Operated Conveyors provide an efficient method of converting ordinary pipe, hose, or tubes into powerful in-line conveyors. EXAIR can customize Line Vacs to different specs, such as unique sizes, shapes, and materials, for the perfect system fit. Even smaller sizes can be created while still offering the same quality of conveyance. In applications where stock aluminum or 303 and 316 stainless steels won't work, alternate materials are available. Prices start at just over a hundred bucks.
Learn more.
---
Slash setup times with One Touch Sliding Locks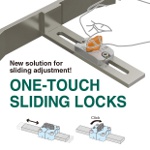 One Touch Sliding Locks from IMAO Fixtureworks provide quick and secure positioning and locking. Users can prevent misalignment and quickly lock with a quarter turn of the knob or handle. Ideal for slide position adjustment with a sliding bar or a slotted hole, these easy-to-use sliding locks reduce set-up times in a wide variety of applications. They feature secure locking with a wedge mechanism.
Learn more.
---
What's a magnetic GHOST fastener?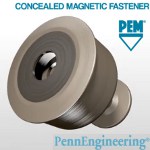 PEM® GHOST™ Fastening Technology from Penn-Engineering uses a fully concealed pinch-lock mechanism to create a secure and sleek lock with zero visible evidence of disassembly once engaged. Using a magnetic release tool on the concealed fastener actuates the internal components, unlocking the pinch-lock grip and instantly releasing the pin from the fastener. From automotive interiors to access control systems, this clever fastening tech is adaptable to many applications.
View the video.
---
Torque transducers and test machinery use Zero-Max CD Couplings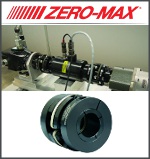 Torque transducers and test machinery experience extreme demands, including high torque loads and high operating speeds that cause stress on connected components. To assure these systems generate accurate test data, system designers specify CD Couplings from Zero-Max. Using Zero-Max's proprietary Composite Disc-Pack (CD), CD Couplings provide the ideal combination of high torque capacity, high torsional stiffness, and low reaction loads under misalignment.
Learn more.
---
Desktop Metal introduces robotic sand 3D-printing system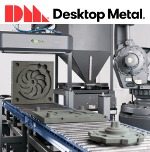 Desktop Metal has launched the automated ExOne S-Max Flex large-format binder jetting system that 3D prints sand tooling, which foundries can use to cast complex metal designs for the aerospace, automotive, and energy industries, among others. Sand binder jet 3D printing has been used in foundries for more than two decades to create metalcasting tooling cost effectively and with low turnaround times.
Read the full article.
---
Friction bearing universal joints for packaging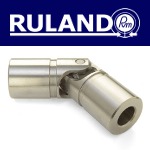 Friction bearing universal joints are available from Ruland in a wide variety of sizes, styles, and materials, giving packaging equipment designers more than 3,000 standard options to choose from. These components are selectively heat treated and ground for higher strength compared to competitor units. Single universal joints are best suited for space-constrained applications with angular misalignment up to 45 degrees; double for applications with a wide distance between shafts or those in need of extreme angular misalignment accommodation up to 90 degrees. Can be equipped with nitrile boot covers for abrasion and oil resistance.
Learn more.
---
NASA partners with Xometry to fast-track critical life support systems on the ISS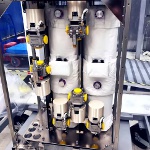 Xometry was chosen to help produce mission-critical parts for NASA's Environmental Control and Life Support Systems team at the Marshall Space Flight Center. This video features air purification units designed by NASA engineers and manufactured with Xometry's large-format CNC machining capabilities. Watch to see how Xometry and NASA overcame challenges to build spaceworthy parts for the International Space Station (ISS).
View the video.
---
Sealing fasteners can optimize your designs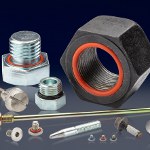 Highly specialized sealing fasteners include sealing screws, sealing nuts, sealing bolts, and sealing washers. Unlike ordinary fasteners, sealing fasteners are configured with a rubber O-ring (or a rubber element) that, when squeezed, permanently seals out a wide range of contaminants from entering and damaging equipment while preventing leakage of toxins into the environment. ZAGO sealing fasteners are designed to withstand harsh weather and extreme temperatures and are vibration and pressure resistant.
Learn all about ZAGO's wide selection of sealing fasteners.
---
Case studies demonstrate Xometry's CNC capabilities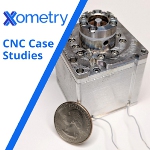 Xometry's comprehensive CNC machining service empowers engineers, designers, and entrepreneurs around the world. Check out some of their recent CNC machining case studies to see what new heights you can reach with Xometry's help. Examples include NASA life support systems, a robotic BattleBot, and air-purifying respirator parts.
Check out the Xometry case studies.
---
Gear drive or timing belt and pulley drive?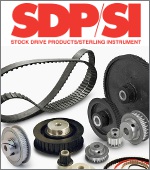 The engineers at SDP/SI run through the advantages and disadvantages of both gear drives and belt-driven systems and the factors to consider in different power transmission applications. They also present side-by-side comparisons of the two systems.
Read the white paper.
---
3D Systems reinvents stereolithography 3D printing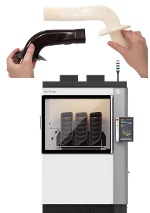 Designed to address large-format or high-volume production applications, 3D Systems' SLA 750 and SLA 750 Dual (the first synchronous, dual-laser stereolith-ography printer) have been optimized for cost-effective SLA batch part production at up to twice the speed and triple the throughput of other available stereolithography solutions. Both printers include 3D Sprint all-in-one software to prepare, optimize, and print 3D CAD data. Combined with the company's new Accura AMX Durable Natural material and the PostCure 1050 post-processing system, they become next-level solutions for delivering large resin parts and batch part production for industries such as transportation and motorsports, consumer technology and durable goods, manufacturing services, aerospace, and healthcare.
View the video.
---
Stock spiral- and straight-tooth bevel gears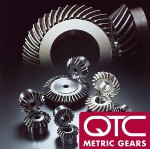 Stock bevel gears from QTC Metric Gears are available with spiral or straight teeth, Modules 0.5 through 8, and gear ratios of 1.5 through 5. Designed to transmit motion between intersecting axes, straight bevel gears are the most common and are used in machine tools, food packaging equipment, and industrial automation. QTC Metric Gears is known for precision products, consistent quality, and dependable performance -- all key to keeping your machines running.
Learn more.
---
Robotic tape system automates key bonding applications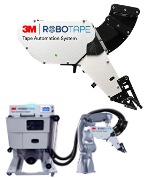 The RoboTape System for 3M Tape allows industrial manufacturers to take advantage of the benefits of 3M Tape in their assembly processes while maximizing production throughput, improving quality, reducing or re-tasking manual labor, and limiting re-work. This collaboration between 3M and Innovative Automation provides an improved way to apply 3M Tapes precisely for high-volume applications at production speeds that aren't achievable with manual tape application.
Learn more from 3M.
Watch how it works from Innovative Automation.
---
Linear guide rails provide long-running precision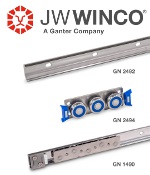 Linear guide rail systems from JW Winco provide precise, quiet, and dynamic linear movements -- even for extremely demanding applications. The company has now produced its modular system in stainless steel (linear guide rails GN 2492 and matching cam roller carriages GN 2494). Also available are the C-shaped guide rails GN 2422 that come in four heights and are made of nonwarping, zinc-plated, hardened and ground steel. Simpler variations for standard applications are available as GN 1490 in two heights.
Learn more.
---
New shape memory alloy discovered through artificial intelligence framework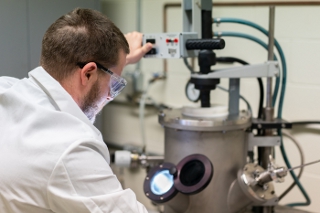 Doctoral student William Trehern operating a vacuum arc melter, a synthesis method commonly used to create high-purity alloys of various compositions. Trehern and his team used an Artificial Intelligence Materials Selection framework to discover a new shape memory alloy. [Credit: Texas A&M Engineering]
Funded by the National Science Foundation's Designing Materials to Revolutionize Our Engineering Future (DMREF) Program, researchers from the Department of Materials Science and Engineering at Texas A&M University used an Artificial Intelligence Materials Selection framework (AIMS) to discover a new shape memory alloy. The shape memory alloy showed the highest efficiency during operation achieved thus far for nickel-titanium-based materials. In addition, their data-driven framework offers proof of concept for future materials development.
This study was recently published in Vol. 228 of the Acta Materialia journal.
Shape memory alloys are utilized in various fields where compact, lightweight, and solid-state actuations are needed, replacing hydraulic or pneumatic actuators because they can deform when cold and then return to their original shape when heated. This unique property is critical for applications -- such as airplane wings, jet engines, and automotive components -- that must withstand repeated, recoverable large-shape changes.
There have been many advancements in shape memory alloys since their beginnings in the mid-1960s, but at a cost. Understanding and discovering new shape memory alloys has required extensive research through experimentation and ad-hoc trial and error. New alloy discoveries have occurred in a decadal fashion. About every 10 years, a significant shape memory alloy composition or system has been discovered. Moreover, even with advances in shape memory alloys, they are hindered by their low energy efficiency caused by incompatibilities in their microstructure during the large shape change. Further, they are notoriously difficult to design from scratch.
To address these shortcomings, Texas A&M researchers have combined experimental data to create an AIMS computational framework capable of determining optimal materials compositions and processes, which led to the discovery of a new shape memory alloy composition.
"When designing materials, sometimes you have multiple objectives or constraints that conflict, which is very difficult to work around," said Dr. Ibrahim Karaman, Chevron Professor I and materials science and engineering department head. "Using our machine-learning framework, we can use experimental data to find hidden correlations between different materials' features to see if we can design new materials."
The shape memory alloy found during the study using AIMS was predicted and proven to achieve the narrowest hysteresis ever recorded. In other words, the material showed the lowest energy loss when converting thermal energy to mechanical work. The material showcased high efficiency when subject to thermal cycling due to its extremely small transformation temperature window. The material also exhibited excellent cyclic stability under repeated actuation.
A nickel-titanium-copper composition is typical for shape memory alloys. Nickel-titanium-copper alloys typically have titanium equal to 50% and form a single-phase material. Using machine learning, the researchers predicted a different composition with titanium equal to 47% and copper equal to 21%. While this composition is in the two-phase region and forms particles, they help enhance the material's properties, explained William Trehern, doctoral student and graduate research assistant in the materials science and engineering department and the publication's first author.
In particular, this high-efficiency shape memory alloy lends itself to thermal energy harvesting, which requires materials that can capture waste energy produced by machines and put it to use, and thermal energy storage, which is used for cooling electronic devices.
More notably, the AIMS framework offers the opportunity to use machine-learning techniques in materials science. The researchers see potential to discover more shape memory alloy chemistries with desired characteristics for various other applications.
"It is a revelation to use machine learning to find connections that our brain or known physical principles may not be able to explain," said Karaman. "We can use data science and machine learning to accelerate the rate of materials discovery. I also believe that we can potentially discover new physics or mechanisms behind materials behavior that we did not know before if we pay attention to the connections machine learning can find."
Other contributors include Dr. Raymundo Arroyave and Dr. Kadri Can Atli, professors in the materials science and engineering department, and materials science and engineering undergraduate student Risheil Ortiz-Ayala.
"While machine learning is now widely used in materials science, most approaches to date focus on predicting the properties of a material without necessarily explaining how to process it to achieve target properties," said Arroyave. "Here, the framework looked not only at the chemical composition of candidate materials, but also the processing necessary to attain the properties of interest."
Source: Texas A&M University
Published May 2022
Rate this article