Tech Tip: Wave spring vs. coil spring -- what's the difference?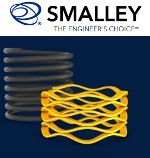 The key advantage of using a wave spring is in the axial space savings. Whether it is a static or dynamic application, a wave spring can provide the same force and deflection as a coil spring -- but in considerably less space. There are many other advantages of using wave springs, including cost savings when considering the whole assembly.
Learn more in this informative Smalley blog.
---
Turn any pipe or hose into a conveyor! Now with custom options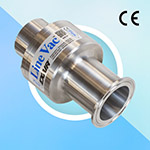 EXAIR's Line Vac Air Operated Conveyors provide an efficient method of converting ordinary pipe, hose, or tubes into powerful in-line conveyors. EXAIR can customize Line Vacs to different specs, such as unique sizes, shapes, and materials, for the perfect system fit. Even smaller sizes can be created while still offering the same quality of conveyance. In applications where stock aluminum or 303 and 316 stainless steels won't work, alternate materials are available. Prices start at just over a hundred bucks.
Learn more.
---
Slash setup times with One Touch Sliding Locks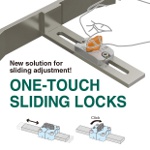 One Touch Sliding Locks from IMAO Fixtureworks provide quick and secure positioning and locking. Users can prevent misalignment and quickly lock with a quarter turn of the knob or handle. Ideal for slide position adjustment with a sliding bar or a slotted hole, these easy-to-use sliding locks reduce set-up times in a wide variety of applications. They feature secure locking with a wedge mechanism.
Learn more.
---
What's a magnetic GHOST fastener?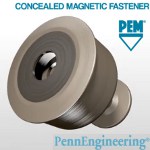 PEM® GHOST™ Fastening Technology from Penn-Engineering uses a fully concealed pinch-lock mechanism to create a secure and sleek lock with zero visible evidence of disassembly once engaged. Using a magnetic release tool on the concealed fastener actuates the internal components, unlocking the pinch-lock grip and instantly releasing the pin from the fastener. From automotive interiors to access control systems, this clever fastening tech is adaptable to many applications.
View the video.
---
Torque transducers and test machinery use Zero-Max CD Couplings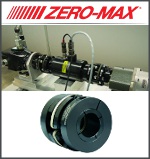 Torque transducers and test machinery experience extreme demands, including high torque loads and high operating speeds that cause stress on connected components. To assure these systems generate accurate test data, system designers specify CD Couplings from Zero-Max. Using Zero-Max's proprietary Composite Disc-Pack (CD), CD Couplings provide the ideal combination of high torque capacity, high torsional stiffness, and low reaction loads under misalignment.
Learn more.
---
Desktop Metal introduces robotic sand 3D-printing system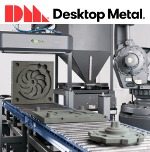 Desktop Metal has launched the automated ExOne S-Max Flex large-format binder jetting system that 3D prints sand tooling, which foundries can use to cast complex metal designs for the aerospace, automotive, and energy industries, among others. Sand binder jet 3D printing has been used in foundries for more than two decades to create metalcasting tooling cost effectively and with low turnaround times.
Read the full article.
---
Friction bearing universal joints for packaging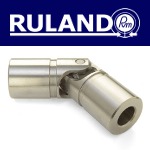 Friction bearing universal joints are available from Ruland in a wide variety of sizes, styles, and materials, giving packaging equipment designers more than 3,000 standard options to choose from. These components are selectively heat treated and ground for higher strength compared to competitor units. Single universal joints are best suited for space-constrained applications with angular misalignment up to 45 degrees; double for applications with a wide distance between shafts or those in need of extreme angular misalignment accommodation up to 90 degrees. Can be equipped with nitrile boot covers for abrasion and oil resistance.
Learn more.
---
NASA partners with Xometry to fast-track critical life support systems on the ISS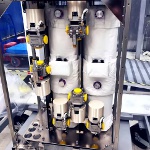 Xometry was chosen to help produce mission-critical parts for NASA's Environmental Control and Life Support Systems team at the Marshall Space Flight Center. This video features air purification units designed by NASA engineers and manufactured with Xometry's large-format CNC machining capabilities. Watch to see how Xometry and NASA overcame challenges to build spaceworthy parts for the International Space Station (ISS).
View the video.
---
Sealing fasteners can optimize your designs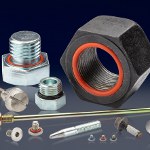 Highly specialized sealing fasteners include sealing screws, sealing nuts, sealing bolts, and sealing washers. Unlike ordinary fasteners, sealing fasteners are configured with a rubber O-ring (or a rubber element) that, when squeezed, permanently seals out a wide range of contaminants from entering and damaging equipment while preventing leakage of toxins into the environment. ZAGO sealing fasteners are designed to withstand harsh weather and extreme temperatures and are vibration and pressure resistant.
Learn all about ZAGO's wide selection of sealing fasteners.
---
Case studies demonstrate Xometry's CNC capabilities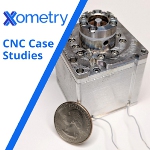 Xometry's comprehensive CNC machining service empowers engineers, designers, and entrepreneurs around the world. Check out some of their recent CNC machining case studies to see what new heights you can reach with Xometry's help. Examples include NASA life support systems, a robotic BattleBot, and air-purifying respirator parts.
Check out the Xometry case studies.
---
Gear drive or timing belt and pulley drive?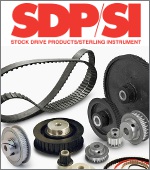 The engineers at SDP/SI run through the advantages and disadvantages of both gear drives and belt-driven systems and the factors to consider in different power transmission applications. They also present side-by-side comparisons of the two systems.
Read the white paper.
---
3D Systems reinvents stereolithography 3D printing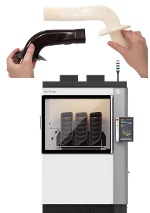 Designed to address large-format or high-volume production applications, 3D Systems' SLA 750 and SLA 750 Dual (the first synchronous, dual-laser stereolith-ography printer) have been optimized for cost-effective SLA batch part production at up to twice the speed and triple the throughput of other available stereolithography solutions. Both printers include 3D Sprint all-in-one software to prepare, optimize, and print 3D CAD data. Combined with the company's new Accura AMX Durable Natural material and the PostCure 1050 post-processing system, they become next-level solutions for delivering large resin parts and batch part production for industries such as transportation and motorsports, consumer technology and durable goods, manufacturing services, aerospace, and healthcare.
View the video.
---
Stock spiral- and straight-tooth bevel gears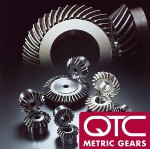 Stock bevel gears from QTC Metric Gears are available with spiral or straight teeth, Modules 0.5 through 8, and gear ratios of 1.5 through 5. Designed to transmit motion between intersecting axes, straight bevel gears are the most common and are used in machine tools, food packaging equipment, and industrial automation. QTC Metric Gears is known for precision products, consistent quality, and dependable performance -- all key to keeping your machines running.
Learn more.
---
Robotic tape system automates key bonding applications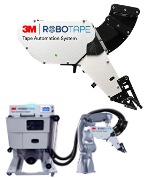 The RoboTape System for 3M Tape allows industrial manufacturers to take advantage of the benefits of 3M Tape in their assembly processes while maximizing production throughput, improving quality, reducing or re-tasking manual labor, and limiting re-work. This collaboration between 3M and Innovative Automation provides an improved way to apply 3M Tapes precisely for high-volume applications at production speeds that aren't achievable with manual tape application.
Learn more from 3M.
Watch how it works from Innovative Automation.
---
Linear guide rails provide long-running precision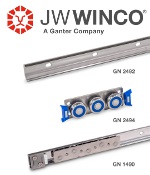 Linear guide rail systems from JW Winco provide precise, quiet, and dynamic linear movements -- even for extremely demanding applications. The company has now produced its modular system in stainless steel (linear guide rails GN 2492 and matching cam roller carriages GN 2494). Also available are the C-shaped guide rails GN 2422 that come in four heights and are made of nonwarping, zinc-plated, hardened and ground steel. Simpler variations for standard applications are available as GN 1490 in two heights.
Learn more.
---
New LEGO factory aims to employ more than 1,700 people in Virginia
LEGO blocks and kits will now be built in the U.S.A.
The LEGO Group announced June 15 its plans to invest more than $1 billion to build a new factory in Chesterfield County, VA. Once completed, the 1.7 million-sq-ft facility will employ more than 1,760 people.
Construction will commence in fall 2022 with production projected to start in the second half of 2025. A temporary packaging site will open in an existing building nearby in early 2024 and create up to 500 jobs.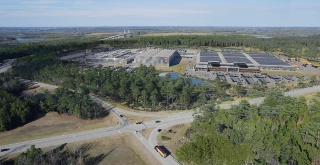 LEGO's latest factory will be built in Chesterfield County, VA. This is an artist's depiction of the soon-to-be-built facility. [Image credit: The LEGO Group]
The Virginia factory will be the LEGO Group's seventh factory globally and the second in the Americas. The company's manufacturing site in Monterrey, Mexico, primarily supplies the U.S. market and will be expanded and upgraded to meet growing demand for LEGO products.
"Our factories are located close to our biggest markets, which shortens the distance our products have to travel," said Carsten Rasmussen, chief operations officer, the LEGO Group. "This allows us to rapidly respond to changing consumer demand and helps manage our carbon footprint. Our new factory in the U.S. and expanded capacity at our existing site in Mexico means we will be able to best support long-term growth in the Americas. We are fortunate to find a location where we can begin construction quickly and create temporary capacity in under two years."
LEGO factories in Europe and China are also being expanded, and in December 2021, the Group announced plans to build a factory in Vietnam to support further growth in Asia.
The factory will be designed to operate as a carbon-neutral facility. One hundred percent of its day-to-day energy needs will be matched by renewable energy generated by an onsite solar park. The site will also be designed to minimize energy consumption and use of non-renewable resources.
"The location in Virginia allows us to build a solar park which supports our sustainability ambitions and provides easy links to country-wide transportation networks" said Niels B. Christiansen, CEO, the LEGO Group. "We are also looking forward to creating fantastic employment opportunities for the people of Virginia."
The LEGO Group currently employs approximately 2,600 people in the United States, where it has been operating since the 1960s. Its U.S. head office is in Enfield, CT, and operates 100 LEGO branded stores across the country.
Source: The LEGO Group
Published June 2022
Rate this article