Custom maintenance-free toothed belt pulleys delivered in just 48 hr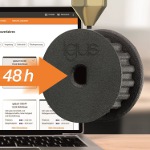 Motion plastics leader igus has expanded its 3D-print and online ordering offering to include custom-format toothed belt pulleys. Toothed belt pulleys are a common component in many machines and are widely used in linear drives of printers, robots, and packaging machines. However, if an individual variant is required, developing a custom component can take days or even weeks. igus now offers manufacturing by 3D printing, reducing delivery times from several weeks to just 48 hours.
Learn more.
---
Machine-ready blanks from TCI Precision Metals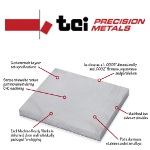 TCI Precision Metals will be showing its precision Machine-Ready Blanks capabilities to customers at IMTS 2022 this September. Machine-Ready Blanks of aluminum, stainless steel, and other alloys help shops shorten setup time, reduce scrap, and increase overall throughput up to 25% by eliminating material prep. These blanks are guaranteed to arrive machine-ready for production, with standard-size blanks in low quantities ready for immediate shipping, Custom blanks in production quantities can be ordered for quick turnaround.
Learn more.
---
Engineer's Toolbox: How to pin a shaft and hub assembly properly
One of the primary benefits of using a coiled spring pin to affix a hub or gear to a shaft is the coiled pin's ability to prevent hole damage. Another is the coiled pin absorbs wider hole tolerances than any other press-fit pin. This translates to lower total manufacturing costs of the assembly. However, there are a few design guidelines that must be adhered to in order to achieve the maximum strength of the pinned system and prevent damage to the assembly.
Read this very informative SPIROL article.
---
Xometry launches Industrial Buying Engine: Access 500,000 top suppliers

Xometry had a lot of news to share on June 16, including the launch of its Industrial Buying Engine on Thomasnet, where enterprise customers can source and purchase from more than 500,000 top suppliers. The new capability digitizes the request-for-quote process, condensing to just hours or minutes what once took days or weeks to complete. Buyers can request quotes for products and services from trusted, high-value suppliers, and they can also access the Xometry Instant Quoting Engine for more immediate transactions. Learn all about it -- and Xometry's other manufacturing news -- in this on-demand webinar.
Watch the Xometry presentation. No registration required.
Read about the new Xometry capabilities.
---
Knob with a twist makes for easier operation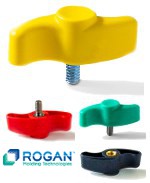 Created with ergonomics in mind, Rogan's new ST series clamping knobs feature a contoured design that allows for more comfortable operation and ease of function. Perfectly engineered for applications in industrial, medical, lawn and garden, and consumer, ST knobs are made of glass-reinforced polypropylene with zinc-plated brass inserts or zinc-plated steel studs. Available in black, grey, white, blue, yellow, green, or red. Completely customizable too.
Learn more.
---
Tech Tip: Wave spring vs. coil spring -- what's the difference?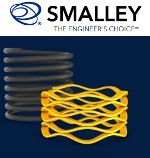 The key advantage of using a wave spring is in the axial space savings. Whether it is a static or dynamic application, a wave spring can provide the same force and deflection as a coil spring -- but in considerably less space. There are many other advantages of using wave springs, including cost savings when considering the whole assembly.
Learn more in this informative Smalley blog.
---
Turn any pipe or hose into a conveyor! Now with custom options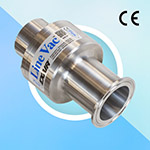 EXAIR's Line Vac Air Operated Conveyors provide an efficient method of converting ordinary pipe, hose, or tubes into powerful in-line conveyors. EXAIR can customize Line Vacs to different specs, such as unique sizes, shapes, and materials, for the perfect system fit. Even smaller sizes can be created while still offering the same quality of conveyance. In applications where stock aluminum or 303 and 316 stainless steels won't work, alternate materials are available. Prices start at just over a hundred bucks.
Learn more.
---
Slash setup times with One Touch Sliding Locks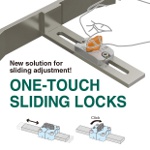 One Touch Sliding Locks from IMAO Fixtureworks provide quick and secure positioning and locking. Users can prevent misalignment and quickly lock with a quarter turn of the knob or handle. Ideal for slide position adjustment with a sliding bar or a slotted hole, these easy-to-use sliding locks reduce set-up times in a wide variety of applications. They feature secure locking with a wedge mechanism.
Learn more.
---
What's a magnetic GHOST fastener?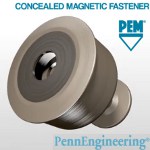 PEM® GHOST™ Fastening Technology from Penn-Engineering uses a fully concealed pinch-lock mechanism to create a secure and sleek lock with zero visible evidence of disassembly once engaged. Using a magnetic release tool on the concealed fastener actuates the internal components, unlocking the pinch-lock grip and instantly releasing the pin from the fastener. From automotive interiors to access control systems, this clever fastening tech is adaptable to many applications.
View the video.
---
Torque transducers and test machinery use Zero-Max CD Couplings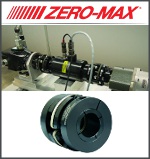 Torque transducers and test machinery experience extreme demands, including high torque loads and high operating speeds that cause stress on connected components. To assure these systems generate accurate test data, system designers specify CD Couplings from Zero-Max. Using Zero-Max's proprietary Composite Disc-Pack (CD), CD Couplings provide the ideal combination of high torque capacity, high torsional stiffness, and low reaction loads under misalignment.
Learn more.
---
Desktop Metal introduces robotic sand 3D-printing system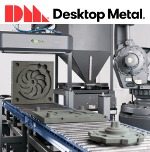 Desktop Metal has launched the automated ExOne S-Max Flex large-format binder jetting system that 3D prints sand tooling, which foundries can use to cast complex metal designs for the aerospace, automotive, and energy industries, among others. Sand binder jet 3D printing has been used in foundries for more than two decades to create metalcasting tooling cost effectively and with low turnaround times.
Read the full article.
---
Friction bearing universal joints for packaging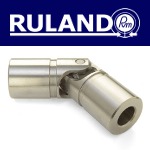 Friction bearing universal joints are available from Ruland in a wide variety of sizes, styles, and materials, giving packaging equipment designers more than 3,000 standard options to choose from. These components are selectively heat treated and ground for higher strength compared to competitor units. Single universal joints are best suited for space-constrained applications with angular misalignment up to 45 degrees; double for applications with a wide distance between shafts or those in need of extreme angular misalignment accommodation up to 90 degrees. Can be equipped with nitrile boot covers for abrasion and oil resistance.
Learn more.
---
NASA partners with Xometry to fast-track critical life support systems on the ISS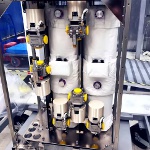 Xometry was chosen to help produce mission-critical parts for NASA's Environmental Control and Life Support Systems team at the Marshall Space Flight Center. This video features air purification units designed by NASA engineers and manufactured with Xometry's large-format CNC machining capabilities. Watch to see how Xometry and NASA overcame challenges to build spaceworthy parts for the International Space Station (ISS).
View the video.
---
Sealing fasteners can optimize your designs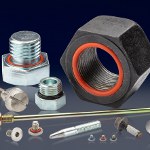 Highly specialized sealing fasteners include sealing screws, sealing nuts, sealing bolts, and sealing washers. Unlike ordinary fasteners, sealing fasteners are configured with a rubber O-ring (or a rubber element) that, when squeezed, permanently seals out a wide range of contaminants from entering and damaging equipment while preventing leakage of toxins into the environment. ZAGO sealing fasteners are designed to withstand harsh weather and extreme temperatures and are vibration and pressure resistant.
Learn all about ZAGO's wide selection of sealing fasteners.
---
Case studies demonstrate Xometry's CNC capabilities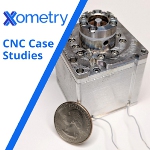 Xometry's comprehensive CNC machining service empowers engineers, designers, and entrepreneurs around the world. Check out some of their recent CNC machining case studies to see what new heights you can reach with Xometry's help. Examples include NASA life support systems, a robotic BattleBot, and air-purifying respirator parts.
Check out the Xometry case studies.
---
UCLA scientists discover places on the Moon where it's always 'sweater weather'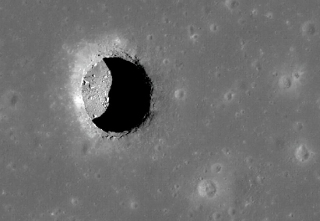 Researchers found that shadowed areas of a pit (pictured above) in the Mare Tranquillitatis region stay consistently cool during the day and night. The pit likely leads to a similarly temperate lava cave. [Credit: NASA/GSFC/Arizona State University]
By Holly Ober, UCLA
Future human explorers on the Moon might have 99 problems, but staying warm or cool won't be one. A team led by planetary scientists at UCLA has discovered shady locations within pits on the Moon that always hover around a comfortable 63 degrees Fahrenheit (F).
The pits, and caves to which they may lead, would make safer, more thermally stable base camps for lunar exploration and long-term habitation than the rest of the Moon's surface, which heats up to 260 degrees F during the day and drops to 280 F below zero at night.
Pits were first discovered on the Moon in 2009, and since then, scientists have wondered if they led to caves that could be explored or used as shelters. About 16 of the more than 200 pits are probably collapsed lava tubes, said Tyler Horvath, a UCLA doctoral student in planetary science, who led the new research. Two of the most prominent pits have visible overhangs that clearly lead to some sort of cave or void, and there is strong evidence that another's overhang may also lead to a large cave.
Lava tubes, also found on Earth, form when molten lava flows beneath a field of cooled lava or a crust forms over a river of lava, leaving a long, hollow tunnel. If the ceiling of a solidified lava tube collapses, it opens a pit that can lead into the rest of the cavelike tube.
Horvath processed images from the Diviner Lunar Radiometer Experiment -- a thermal camera and one of six instruments on NASA's robotic Lunar Reconnaissance Orbiter -- to find out if the temperature within the pits diverged from those on the surface.
Focusing on a roughly cylindrical 100-m-deep depression about the length and width of a football field in an area of the Moon known as the Mare Tranquillitatis, Horvath and his colleagues used computer modeling to analyze the thermal properties of the rock and lunar dust and to chart the pit's temperatures over a period of time.
The results, recently published in the journal Geophysical Research Letters, revealed that temperatures within the permanently shadowed reaches of the pit fluctuate only slightly throughout the lunar day, remaining at around 63 F. If a cave extends from the bottom of the pit, as images taken by the Lunar Reconnaissance Orbiter Camera suggest, it too would have this relatively comfortable temperature.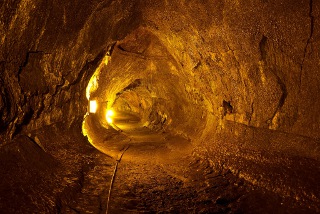 A good place for a base? Scientists predict that some lunar pits lead to lava tubes like the one seen here in Hawaii Volcanoes National Park. The Moon has similar tunnels, which were left behind after molten lava flowed beneath the surface. [Credit: Frank Schulenberg/Creative Commons]
The research team, which also included UCLA professor of planetary science David Paige and Paul Hayne of the University of Colorado Boulder, believes the shadowing overhang is responsible for the steady temperature, limiting how hot things get during the day and preventing heat from radiating away at night. Meanwhile, the sunbaked part of the pit floor hits daytime temperatures close to 300 F, some 40 degrees hotter than the Moon's surface.
"Because the Tranquillitatis pit is the closest to the lunar equator, the illuminated floor at noon is probably the hottest place on the entire Moon," said Horvath.
A day on the Moon lasts nearly 15 Earth days, during which the surface is constantly bombarded by sunlight and is frequently hot enough to boil water. Unimaginably cold nights also last about 15 Earth days. Inventing heating and cooling equipment that can operate under these conditions and producing enough energy to power it nonstop could prove an insurmountable barrier to lunar exploration or habitation. Solar power -- NASA's most common form of power generation -- doesn't work at night, after all. (NASA currently has no plans to establish an exploration base camp or habitations on the Moon.)
Building bases in the shadowed parts of these pits allows scientists to focus on other challenges, like growing food, providing oxygen for astronauts, gathering resources for experiments, and expanding the base. The pits or caves would also offer some protection from cosmic rays, solar radiation, and micrometeorites.
"Humans evolved living in caves, and to caves we might return when we live on the Moon," said Paige, who leads the Diviner Lunar Radiometer Experiment.
Diviner has been mapping the Moon continuously since 2009, producing NASA's second largest planetary dataset and providing the most detailed and comprehensive thermal measurements of any object in our solar system, including Earth. The team's current work on lunar pits has improved data from the Diviner experiment.
"Because nobody else had looked at things this small with Diviner, we found that it had a bit of double vision, causing all of our maps to a be a bit blurry," said Horvath. The team worked to align the many images taken by the instrument until they could achieve an accurate thermal reading down to the level of a single pixel. This process yielded much higher resolution maps of the Moon's surface.
Data from the early stages of this lunar pit thermal modeling project were used to help develop the thermal management system of the rover for NASA's proposed Moon Diver mission. Horvath and Hayne were part of the science team for this mission, which aims to have the rover rappel into the Tranquillitatis pit to research the layers of lava flows seen in its walls and to explore any existing cave.
Horvath and Paige are science team members for a new lunar-bound thermal camera (led by Paul Hayne) named L-CIRiS, which will head to the lunar south pole in late 2023 to get the first ground-based thermal images.
Published August 2022
Rate this article