All-new HyperX design software aimed at composites and metals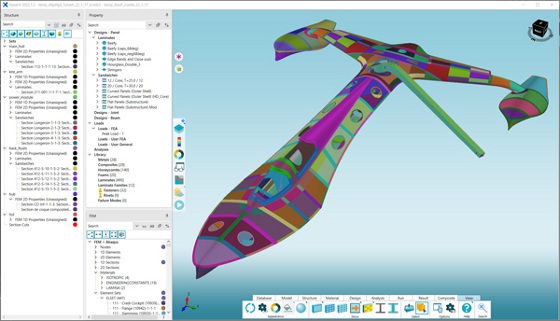 Collier Aerospace's newly released HyperX software analyzing the SP-80 craft.
Collier Aerospace recently introduced its new HyperX design and analysis software for composite and metallic structures used in aircraft, space, and automotive vehicles, and many other high-end applications.
This computer-aided engineering (CAE) solution provides powerful and sophisticated capabilities, including stress analysis and sizing optimization, which enable structural analysis and design teams to achieve several goals, including reducing structural weight, shortening development schedules, improving producibility, and achieving airframe certification.
"HyperX is our new flagship product, replacing HyperSizer," said Craig Collier, co-founder, CEO, and president of Collier Aerospace. "It's been reimagined from the ground up with greater speed, power, and data capacity to meet the demands of larger models and more complex designs."
Collier Aerospace used the latest software development technologies, methods, and best practices to create the most comprehensive and capable design sizing and aerospace analysis tool possible. This strategy delivered a host of enhancements, including streamlined workflows, an improved graphics engine, enhanced computer-aided design (CAD) integration, a redesigned relational database that can hold terabytes of data, and a highly intuitive interface. The HyperX software provides stress and failure analysis, sizing, reporting, and analysis traceability and visibility.

VIDEO: HyperX fundamentals. [Credit: Collier Aerospace]
The advanced HyperX software has been built around composites. Using this application, customers that are considering thermosets, thermoplastics, resin infusion, out of autoclave, tape, or fabric can see in seconds how different materials will affect a given design. The software solution can also analyze metals, so designs can incorporate each type of material for structural optimization and weight reduction.

VIDEO: HyperX interface introduction. [Credit: Collier Aerospace]
The software allows larger ply surface coverage with simpler layouts that do not significantly increase weight, but do reduce variation in build. This should reduce schedule time by speeding up the engineering cycle. The new software also gives customers the ability to analyze and design aerostructures concurrently, making it more efficient than other general tools. According to its maker, it's possible to perform aerospace processes 10 times faster with HyperX than with other aerospace company tools. Another efficiency benefit is the ability to generate stress reports in the form most usable for certification by the FAA and other agencies around the world.
In addition to aerospace and automotive, HyperX software can be used by the high-performance sports, medical, shipbuilding, and wind energy industries.
Source: Collier Aerospace
Published September 2022
Rate this article