LG shows off world's first high-res stretchable display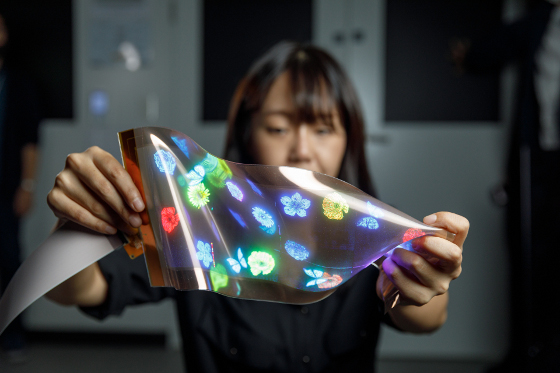 LG's latest flex display prototype is durable, stretchy, and produces high-res images. [Credit: Photo courtesy of LG Display]
Is a roll-up TV or tablet with an exceptional picture a real possibility for the near future? Researchers at LG Display think so. They've created the world's first 12-in. high-res stretchable display that can be extended, folded, and twisted without distortion or damage.
According to LG, this display is the industry's first to achieve 20% stretchability, full-color RGB, and a resolution of 100 pixels per inch (ppi), which is better than many 1080p sets (80+ ppi). In addition, its high flexibility, durability, and reliability maximize its potential for commercialization.
In images released by the company recently, the technology looks like it does, indeed, have a bright future. It could make for an unbreakable phone or tablet screen, for example. LG says the display also can be attached easily to curved surfaces such as skin, clothing, furniture, automobiles, and aircraft, so it has myriad other uses for everyday living.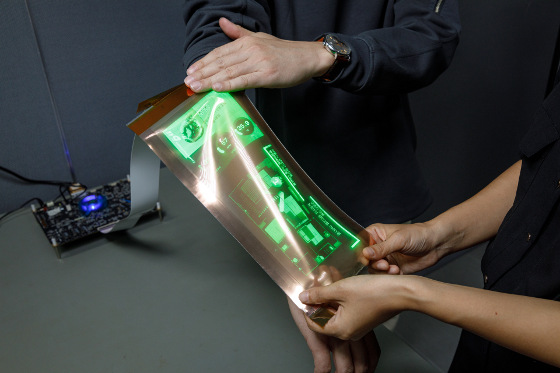 [Credit: Photo courtesy of LG Display]
Part of the secret sauce for the display is its foundational material -- a highly resilient film-type substrate made of a special silicone used in contact lenses. This silicone "boasts a rubber band-like flexibility that allows it to be stretched up to 14 inches," says LG. Other companies and research labs, including universities, have been pursuing displays that possess a stretchable quality for years, but none have been able to attain this combination of resolution, flexibility, and hardiness.
The stretchable display uses a micro-LED light source with a pixel pitch of less than 40 µm, "securing a high level of durability to withstand significant external impacts as well as a resolution that competes with most existing monitors," and unlike the conventional linear wired system, the display's "flexible S-form spring-wired system's optimal structure can endure repetitive changes to its form, assuring consumers of its incredible durability and reliability."
LG did not indicate when the stretchable display would be integrated into its product line, but it would be neat to see it sooner rather than later when it is perfected.
Source: LG Display
Published November 2022
Rate this article