Air Force unveils new B-21 Raider stealth bomber

The B-21 Raider's public debut on Dec. 2 was filled with dramatic touches. [Credit: U.S. Air Force photo]
The U.S. Air Force and Department of Defense, along with employees/developers from Northrop Grumman, hosted a big reveal of the B-21 Raider stealth bomber -- the first new, long-range strike bomber in more than 30 years -- on the night of Dec. 2, 2022.
We present the official version of what was shown at the event, along with many of the details that were left out of the celebrations.
-------------------------
An official account ...
-------------------------

By C. Todd Lopez, U.S. Department of Defense
The Defense Department unveiled its newest bomber aircraft, the B-21 Raider, on the evening of Dec. 2 in Palmdale, California. As the first strategic bomber in more than three decades, the Air Force's B-21 will serve as the backbone of America's bomber force, Secretary of Defense Lloyd J. Austin III said.
The B-21 Raider is expected to serve within a larger family of systems for conventional long-range strike, including intelligence, surveillance, and reconnaissance; electronic attack; communication; and other capabilities. It is nuclear capable and designed to accommodate manned or unmanned operations. Additionally, it will be able to employ a broad mix of stand-off and direct-attack munitions.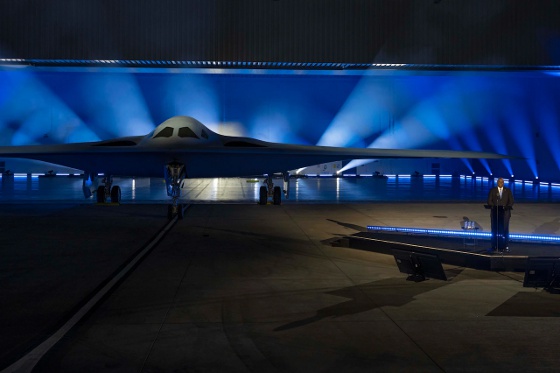 Secretary of Defense Lloyd J. Austin III delivers remarks at the U.S. Air Force B-21 Raider unveiling ceremony. [Credit: Photo by Chad McNeeley, DOD]
At the hangar of aircraft manufacturer Northrop Grumman, the B-21 was unveiled amidst dramatic music and lighting effects. The new bomber has a silhouette similar to that of the B-2 Spirit bomber.
"The B-21 looks imposing," Austin said. "But what's under the frame and the space-age coatings is even more impressive."
The range of the B-21, Austin said, is unmatched by any other bomber.
"It won't need to be based in-theater. It won't need logistical support to hold any target at risk," the secretary said.
Like the B-2 Spirit, the B-21 Raider is a stealth aircraft. It will be hard for adversaries to see that it's coming, Austin said.
"Fifty years of advances in low-observable technology have gone into this aircraft," he said. "Even the most sophisticated air-defense systems will struggle to detect a B-21 in the sky."
Austin also said the B-21 Raider is designed to be easily maintainable, which will help ensure that the aircraft is always ready to go when it's needed.
"We don't really have a capability unless we can maintain it," he said. "The B-21 is carefully designed to be the most maintainable bomber ever built."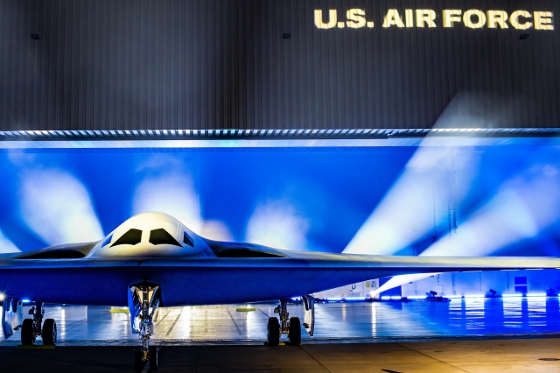 The B-21 Raider is unveiled at Northrop Grumman's manufacturing facility at Air Force Plant 42 in Palmdale. The B-21 will be a long-range, highly survivable, penetrating strike stealth bomber capable of delivering both conventional and nuclear munitions. [Credit: Photo by Air Force Airman 1st Class Joshua Carroll]
As a dual-capable penetrating strike stealth bomber, the B-21 Raider is capable of delivering both conventional and nuclear munitions. It will be able to support joint and coalition forces across the full spectrum of operations, Austin said, and is also designed to be flexible enough to meet the evolving threat environment. "The Raider was built with open-system architecture, which makes it highly adaptable," Austin said. "As the United States continues to innovate, this bomber will be able to defend our country with new weapons that haven't even been invented yet. And the B-21 is multi-functional. It can handle anything from gathering intel, to battle management, to integrating with our allies and partners. And it will work seamlessly across domains and theaters, and across the joint force."
The B-21 Raider was built by Northrop Grumman and was developed through deep partnership with stakeholders in the U.S. military, Austin said.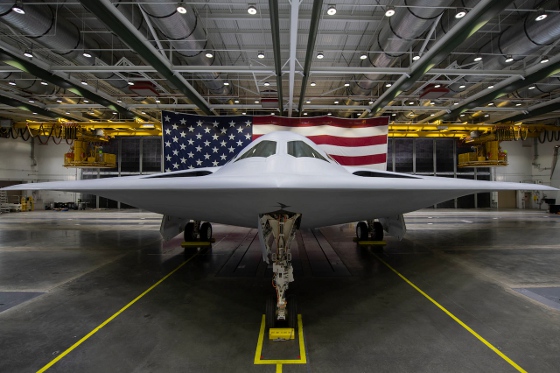 The B-21 Raider was designed to operate in tomorrow's high-end threat environment. [Credit: U.S. Air Force photo]
"The B-21 is the result of deep teamwork at this plant," he said. "Our Air Force pilots, maintainers, and DOD civilians have worked shoulder-to-shoulder with their industry counterparts. In fact, they've been on the production line here in Palmdale to assist. The B-21 is a testament to the best of America's vibrant and diverse industrial base. This is the sort of advance that makes us great, and this sort of advance doesn't just happen. It takes investment. It takes cooperation. And it takes partnership."
The secretary said he and the Defense Department are committed to continuing with that kind of cooperation with the defense industrial base to ensure that the best technology America can offer will be available to contribute to the nation's defense.
"The Department is going to continue to invest in tech," he said. "We're going to bring new companies into our supplier base, and we're going to keep honing our acquisitions process to get the right capabilities before we need them."
Development on the B-21 Raider began in 2015 when the Air Force awarded the engineering and manufacturing development contract. The Air Force expects to acquire a minimum of 100 of the aircraft.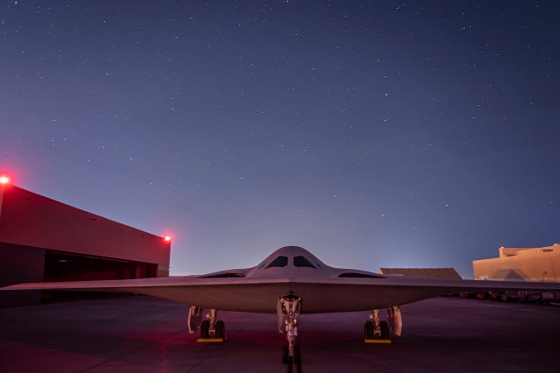 The B-21 Raider will play a critical role in ensuring America's enduring airpower capability. [Credit: U.S. Air Force photo]
The "B-21" designation, according to the Air Force, was chosen because the aircraft is the first new bomber of the 21st century, while the name "Raider" was chosen to represent the Doolittle Raiders, who flew a surprise attack during World War II.
"Eighty years ago, on a cold and rainy April morning, four months after Pearl Harbor, 16 U.S. Army bomber planes took off from an aircraft carrier in the Pacific," Austin explained. "Then-Lt. Col. Jimmy Doolittle embarked on a daring mission. At high cost, he and his team of aviators flew more than 650 miles to strike distant enemy targets. And the Doolittle Raiders, as they came to be known, showed the strength and the reach of American airpower."
Like the Doolittle Raiders defended America during WWII, the B-21 Raider is expected to do the same now and into the future, Austin said.
"This isn't just another airplane. It's not just another acquisition," Austin said. "It's the embodiment of America's determination to defend the republic that we love. It's a testament to our strategy of deterrence -- with the capabilities to back it up, every time and everywhere. That's what America does."
-------------------------
But we want more details ...
-------------------------

By Designfax
At the nighttime, live-streamed B-21 Raider unveiling, what wasn't detailed was just as noticeable -- and intriguing -- as what was presented, although we have to admit that the event had a lot of flair. The covered bomber was unveiled and rolled forward at Northrop Grumman's site in Palmdale, CA. Lighting effects flashed. Speeches were made about the challenges of design and manufacture (especially during the pandemic), and lots of thanks and praise went out to all involved. The aircraft was rolled back. The lights went dark.
However, lots of details were missing (which is to be expected, because this is a highly classified aircraft, after all). Everyone interested wants to know more, though.
For instance, with all the dramatic lighting, it was hard to tell what color the new bomber really was. That may have been on purpose, as a way to keep some of its stealth updates and special coating tech a secret in plain sight. The U.S. Air Force did release a well-lighted picture after the event (see above, with U.S. flag in background), but that image shows a light-gray skin and looks a little over-lit, so we do not know the real shade of the exterior yet.
A different version of that image released by Northrop Grumman after the event has the lower part of the plane in shadow, which really gives the parked aircraft a floating flying saucer kind of effect. That's neat.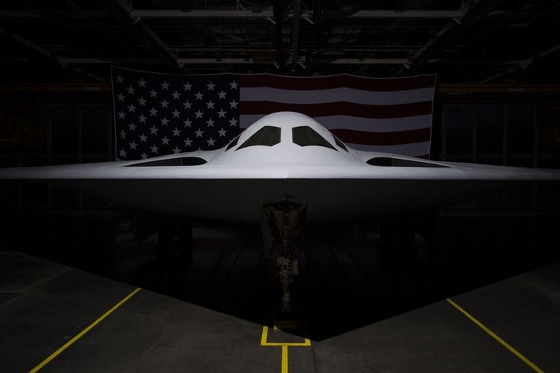 Northrop Grumman and the U.S. Air Force introduce the B-21 Raider, the world's first sixth-generation aircraft. [Credit: Northrop Grumman]
The back of the B-21 was also not shown, and there were no mentions of specific design changes compared to the aging B-1 Lancer and B-2 Spirit bombers. We do have some idea of the originally proposed changes, however, when we look back at the program's development history. The Air Force awarded the B-21 Engineering and Manufacturing Development contract to Northrop Grumman on Oct. 27, 2015. Northrop Grumman's partners on the B-21 program include Pratt & Whitney, Janicki Industries, Collins Aerospace, GKN Aerospace, BAE Systems, and Spirit Aerosystems. The initial order called for a minimum of 100 aircraft.
Back in 2017, Northrop Grumman released an artist's rendering of the B-21 in flight. Another was released in 2021. In these illustrations, you can clearly see the "W" (or "M") of the new rear wing design -- a vastly simplified shape when compared to the B-1 Lancer and B-2 Spirit Stealth planes, which featured more jagged back wings that were designed around the engine exhausts. The B-21 design does not appear to have these features.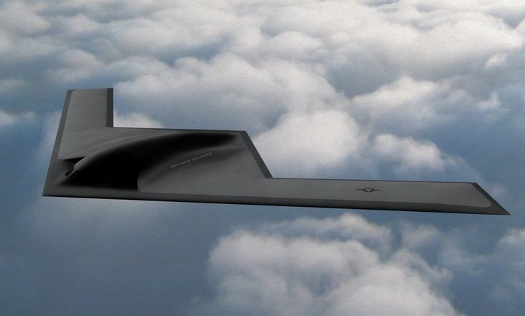 B-21 Raider artist rendering graphic 2017. [Photo: Courtesy of Northrop Grumman]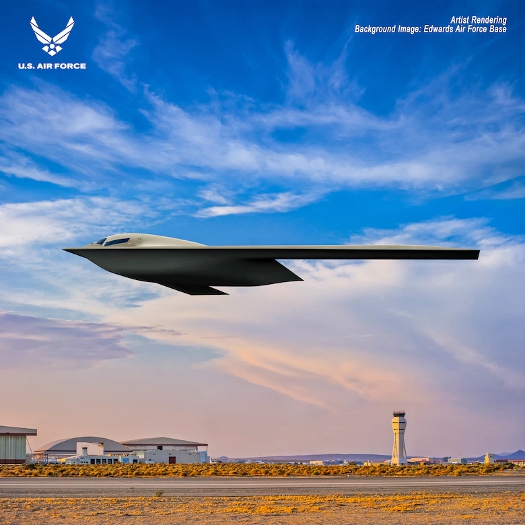 A B-21 Raider is shown in this 2021 artist rendering graphic. The rendering highlights the future stealth bomber with Edwards Air Force Base, CA, as the backdrop. [Photo: Courtesy of Northrop Grumman]
If you look at the media-released image of the B-2 Spirit bomber below, you can clearly see the more jagged, older design.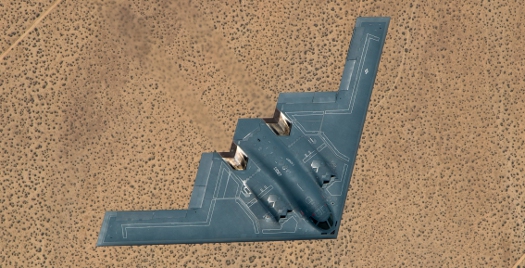 B-2 Spirit over desert. [Photo: Courtesy of Northrop Grumman]
Specs of the new the B-21 Raider have not been declassified. There is very little out there, but there has been some interesting sleuthing and conjecture. A March 2021 article in Air & Space Forces Magazine said that an image of a temporary B-21 bomber shelter at Ellsworth Air Force Base, SD (a possible future airbase for the B-21) hints that the B-21 may be substantially smaller than the B-2, with the B-21 sporting a wingspan that totals less than 150 ft (the B-2 has a wingspan of 172 ft). The B-21's payload could also be substantially less.
However, smaller, more technically advanced, and able to carry less are not characteristics that necessarily equate the B-21 to being less effective or lethal than prior stealth bombers. A November 2019 Forbes article stated, "It will be able to destroy any target, anywhere." Since the B-21 will be able to function autonomously, fewer USAF pilot lives will be in jeopardy.
According to Northrop Grumman, "Currently, only 10 percent of our nation's bomber force is capable of penetrating advanced adversary air defenses. As our adversaries have continued investing heavily in sophisticated technologies and weapons platforms that leave them free to act maliciously or extend their reach, a new bomber is critical to deterring potential adversaries, reassuring allies and keeping our nation safe." This is the primary hole the B-21 is designed to fill.
As for engine power, little is known. CT Insider says Pratt & Whitney will make the engines, but it is not known how many will be required for each B-21. "Military trade publications have cited analyst speculation that the B-21 engine may be a variant of the F135 engine Pratt & Whitney makes for the Lockheed Martin F-35 Lightning II fighter jet," the article states.
Production costs have made it out into the public space, however. According to a U.S. Air Force article about the B-21's reveal, the "Air Force officials envision an ultimate fleet of at least 100 aircraft with an average procurement unit cost requirement of $692 million (base year 2022 dollars)."
That Air Force article also let us know how many new bombers have been built. According to the article, "The specific B-21 unveiled Dec. 2 is one of six under production. Each is considered a test aircraft, but each is being built on the same production line, using the same tools, processes, and technicians who will build production aircraft. This approach has enabled production engineers and technicians to capture lessons learned and apply them directly to follow-on aircraft, driving home a focus on repeatability, producibility, and quality."
Northrop Grumman released a list of facts about the B-21 Raider just prior to the unveiling event. We learn some more details from the aircraft and its design and capabilities through them, such as:
The B-21 is referred to as a "Sixth Generation" aircraft. According to Northrop Grumman, "The B-21 Raider benefits from more than three decades of strike and stealth technology. It is the next evolution of the Air Force strategic bomber fleet. Developed with the next generation of stealth technology, advanced networking capabilities, and an open systems architecture, the B-21 is optimized for the high-end threat environment. It will play a critical role in helping the Air Force meet its most complex missions."
The B-21 will also be the "Backbone of the Fleet" and "will deliver a new era of capability and flexibility through advanced integration of data, sensors, and weapons. Capable of delivering both conventional and nuclear payloads, the B-21 will be one of the most effective aircraft in the sky, with the ability to use a broad mix of stand-off and direct attack munitions."
It will be a "Digital Bomber" that "uses agile software development, advanced manufacturing techniques, and digital engineering tools to help mitigate production risk on the B-21 program and enable modern sustainment practices."
It also makes heavy use of cloud technology. "Northrop Grumman and the Air Force successfully demonstrated the migration of B-21 ground systems data to a cloud environment. This demonstration included the development, deployment, and test of B-21 data, including the B-21 digital twin, that will support B-21 operations and sustainment. This robust cloud-based digital infrastructure will result in a more maintainable and sustainable aircraft with lower-cost infrastructure."
It was "designed from day one for rapid upgradeability" and will have a global reach. "In addition to its advanced long-range precision strike capabilities that will afford Combatant Commanders the ability to hold any target, anywhere in the world at risk, it has also been designed as the lead component of a larger family of systems that will deliver intelligence, surveillance and reconnaissance, electronic attack, and multi-domain networking capabilities. In a dynamic global security environment, the B-21 will provide the flexibility and deterrence critical to the security of the U.S. and our allies."
According to the U.S. Air Force, "The B-21 isn't expected to be operational and introduced into service for several more years," which gives us plenty of time to try and dig up more details. Stay tuned.
Sources: DoD, U.S. Air Force, Northrop Grumman, Forbes, Air & Space Forces Magazine
Published December 2022
Rate this article