Corvette 70th Anniversary Edition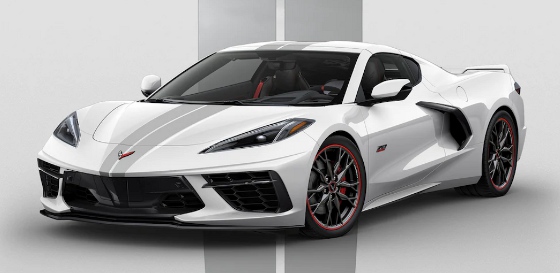 2023 70th Anniversary Corvette Stingray.
Chevrolet is celebrating the 70th anniversary of its iconic Corvette with special edition Z06s and Stingrays as coupes or convertibles for the 2023 model year. Corvette is the longest running nameplate of any car on the road today, and its birthday iterations include special badging and features. The 70th Anniversary Edition package will be available when production starts later this summer on 2023 Corvette Stingray 3LT and Z06 3LZ coupe and convertible models (which are both high-end trims).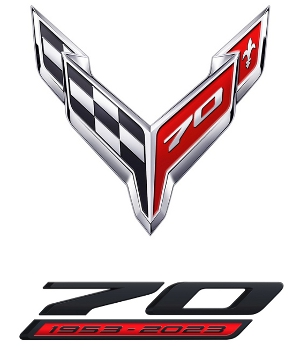 Also designated the C8, the 495-hp 2023 Corvette Stingray's exterior has a bold, futuristic design with mid-engine exotic proportions. Stingray had its major remodel in 2020 [Designfax article here]. The Stingray's heart is Chevy's next-generation 6.2L Small Block V-8 LT2 engine, the only naturally aspirated V-8 in the segment. It produces 495 hp (369 kW) and 470 lb-ft (637 Nm) of torque when equipped with performance exhaust -- the most horsepower and torque for any entry Corvette.
The location of the LT2 engine is truly the focal point for the car's design. It's the heart of this Next Generation Corvette. The engine sits like "a jewel in a showcase," visible through a lightweight, 3.2-mm-thick glass panel on the rear hatch that, in a real designer touch, mimics the shape of the brand logo. The panel features a cantilevered trailing edge to evacuate heat from the engine compartment.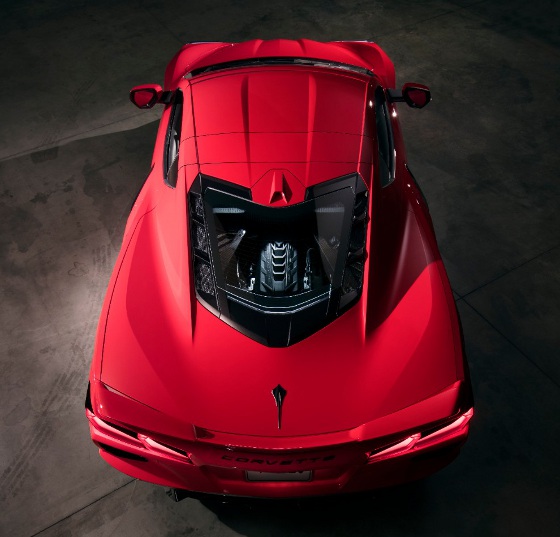 Standard Corvette Stingray showing jewel-box engine case.
True to its aeronautical and racing roots, the Stingray's canopy-forward stance was inspired by F22s, F35s, and other modern fighter jets and Formula One racing. Other classic Corvette signatures adapted to the Stingray include a distinctive face, a classic horizontal crease, aggressive front fenders, and familiar positioning of the dual-element headlamps.
The next-generation LT2 is paired with Chevrolet's first eight-speed dual-clutch transmission, which provides lightning-fast shifts and excellent power transfer. This transmission is uniquely designed with TREMEC to provide the best of both worlds: the spirited, direct connected feeling of a manual and the premium driving comfort of an automatic. The double-paddle de-clutch feature even allows the driver to disconnect the clutch by holding both paddles for more manual control.
The 2023 Corvette Z06 is an all-new model and will be rolling off the production line for the very first time this summer [Designfax article here]. It is wider than the Stingray, sports a luxe interior, and features the all-new 5.5L LT6 engine -- the highest-horsepower naturally aspirated V-8 to hit the market in any production car, ever. An all-new flat-plane crankshaft design encourages drivers to push the tachometer to an impressive 8,600 rpm, creating 670 hp. Chevy says its engineers spent two years crafting a distinctive, rich exhaust tone unlike anything ever heard from a Corvette.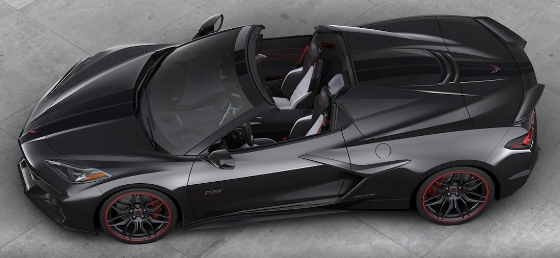 2023 70th Anniversary Corvette Z06 in Carbon Flash Metallic.
The performance envelope and rigid architecture of the Z06 builds on the foundation laid by the latest Corvette Stingray, as does Z06's design language and attention to detail. The Stingray's rigid structure has enabled engineers to fine-tune the car's chassis and suspension components with exceptional precision. The Z06 is so stiff that the track-capable Z06 is offered in a hardtop convertible model, and there is no variance in the suspension calibrations between it and the coupe.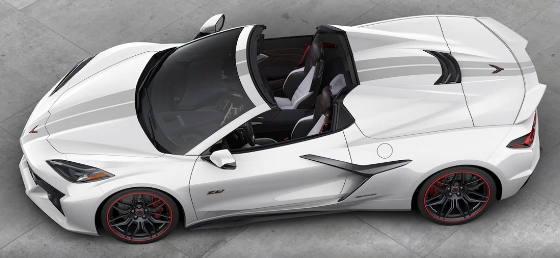 2023 70th Anniversary Corvette Z06 in White Pearl Tri-Coat Metallic.
The Z06 is 3.6 in. wider than the Stingray, accommodating massive 345-series rear tires and more airflow through side air vents. It also features unique front and rear fascias, a first for Z06. The front fascia is designed to optimize the Z06's cooling needs, including channeling air to a center heat exchanger, which is one of five for maximum cooling performance. Its unique, standard reconfigurable rear spoiler with adjustable wickerbill elements has been designed to improve high-speed stability and cornering capability on a racetrack.
Z06 also sports specific suspension tuning, including Magnetic Ride Control 4.0, and larger brakes (six-piston front) than the Stingray, which contribute to making the 2023 Corvette Z06 the most track-capable Corvette ever. It comes standard with 20-in. front and 21-in. rear forged aluminum "spider" wheels (with five available finishes) -- the largest wheels ever available on a production Corvette. Lightweight and rigid carbon fiber wheels that deliver a 41-lb reduction in unsprung mass are available.
The Z06 has an eight-speed dual-clutch transmission with a specific, "shorter" 5.56 final drive ratio compared to the Corvette Stingray, which Chevy says enhances the acceleration capability.
The 70th Anniversary Edition Corvettes feature distinct wheels with commemorative wheel center caps. While Stingray and Z06 each have separate wheel designs, the wheels share a similar dark finish and Edge Red stripe.
Motor 1 was able to obtain additional leaked images of the special Anniversary edition Z06 and has posted them on its site.
Inside the cockpit, drivers will find two-tone Ceramic leather GT2 or Competition Sport seats, red stitching throughout, red seatbelts, and sueded microfiber seat inserts and steering wheel.
Special edition highlights include:
Two unique exterior colors: White Pearl Tri-Coat Metallic with available Satin Gray stripes or Carbon Flash Metallic with available Satin Black stripes
70th Anniversary Edition exterior badging, including special Corvette crossflags
Red Stripe Wheels
Edge Red brake calipers
Unique Ceramic White Leather interior with Red Stitching and Red seat belts
GT2 two-tone seats or available Competition Sport Seats
Rear bumper protector and trunk cover
Custom luggage set with red stitching and 70th Anniversary Edition logo
70th Anniversary Edition Stingray coupes will also include an Edge Red engine cover.
All 2023 Corvettes, including those not equipped with the 70th Anniversary Edition package, will feature a commemorative 70th anniversary interior plaque located on the center speaker grille and a graphic imprinted on the lower rear window.
The 2023 Corvette Stingray 3LT coupe runs $77,545. The 2023 Corvette Z06 3LZ coupe has not been priced yet, but it should run around $107,000. The 70th Anniversary Edition package adds another $5,995 to each model.
Learn more about these cars at:
Stingray: https://www.chevrolet.com/performance/corvette.
Z06: https://www.chevrolet.com/upcoming-vehicles/2023-corvette-z06.
Sources: Chevrolet, Motor1 (reference only to additional images available on their site)
Published June 2022
Rate this article